Expert Analyst & Reviewer

UPDATED
Advertiser Disclosure: Our unbiased reviews and content are supported in part by
affiliate partnerships
, and we adhere to strict
guidelines
to preserve editorial integrity.
Twinfield
Pros
Well-designed UI
Suitable for large businesses
Numerous features
Cons
Not transparent
Unsuited for US business
No mobile apps
Learning curve
Poor customer support
Twinfield Overview
Founded in 2000 by André Kwakernaat and Maurice Tijhuis, Twinfield was the first cloud-based accounting service based in the Netherlands. The company now provides accounting not only in the Netherlands but across Europe.
Twinfield is very much tailored to professional accountants and is primarily aimed at mid- to large-sized businesses. The software boasts ample features, strong security, and VAT support and MTD compliance, making the software ideal for UK-based businesses. The UI is also well-organized, albeit a bit difficult to learn initially.
Overall, Twinfield seems to have a very small online presence with zero logged customer reviews, and the company is not transparent about its product or its pricing. Additionally, customer support is incredibly slow, making it hard to even learn anything about the software or book a software demo.
If these factors are any indication of this company's service, I wouldn't recommend Twinifield. For accountants or UK-based businesses, the software might be a viable option. However, there are plenty more accessible UK options out there, such as FreeAgent. US businesses are also better off looking at our top accounting options.
If you're still interested in Twinfield, read on for a very basic overview of the software and its offerings.
Pricing
Twinfield has a single base price of £52/mo. This price covers one user and one view-only user; additional users can be added at an additional fee, dependent on the user role (ranging from £7 – £34.50/user). Twinfield requires a commit to at least a 12-month contract with annual payments, and after 12 months you can cancel the service at any time (but you must provide at least one month's notice). You can try a demo version of Twinfield free for 30 days, no credit card required. You must attend a free online webinar about the program in order to get the free trial.
Note: This pricing information is from 2017. We were unable to reach an actual Twinfield representative to confirm if this data is still accurate and the company does not post any pricing online. Contact the company directly for up-to-date pricing figures.
Cloud-Based Or Locally-Installed
Cloud-based. No downloads or installation required.
Hardware & Software Requirements
As cloud-based software, Twinfield is compatible with nearly any device, so long as you have internet access. There are no longer any mobile apps available, although you can access Twinfield on your mobile web browser.
Specific Size Of Business
Twinfield can accommodate a range of businesses, from small to large; however, their focus is medium and large businesses. The software is also geared toward actual accountants. Twinfield is not particularly tailored toward sole proprietorships or micro-businesses, and is only available in Europe; US users will need to look elsewhere for accounting software.
Your subscription covers one user; additional users can be added at an additional cost. With any subscription, you can grant view-only access to one other user for free.
Accounting Method
Both accrual and cash-basis accounting.
Ease Of Use
With so many features available, Twinfield has a bit of a learning curve. The sheer number of features can make the software overwhelming at first, but the software is well-organized and fairly simple to navigate once you get used to it.
Features
Twinfield has a decent feature selection, which is the software's saving grace. Here is where Twinfield shines. If you want to know all the minutia and most recent updates, schedule a demo and free trial so you can see the software for yourself. Here are some of Twinfield's key features:
Desktop: From the desktop, you can view charts of your revenue, unpaid sales invoices, and top 10 customers. A list of tabs to the left highlights each function, and the home screen leads you to Provisional Transactions, Sales, Bank Statements, Supplier Payments, Supplier Ageing Summary, Extended Trial Balance, and VAT. The interface is arranged in appealing square tiles that take you to a quick-create menu for a new invoice, report, etc.
Invoicing: Twinfield offers one invoice template; you can modify this or create your own template using MS Word. You can create recurring invoices as well. You can easily view the status and timeline of any invoice.
Estimates: Quotes is a free add-on module that can be enabled. You can create, print, and e-mail quotes, along with customized e-mail templates; you can also easily convert quotes to invoices. Clients can accept or leave comments on a quote with the click of a button. Twinfield also provides a timeline of events concerning each quote; open the quote to see when it was saved, sent, viewed, commented upon, and its current status.
Contact Mangement: You can enter detailed data related to your customers and suppliers, including a credit limit, default discount or premium, and default billing currency.
Expense Tracking: With expense tracking, you can set up bank rules to automatically assign categories to new transactions. You can manually match payments and partial payments to existing invoices, but there's no automatic or suggested match function. There is a duplicate detection function to keep you from importing the same transaction twice.
Bank Reconciliation: Twinfield's bank reconciliation allows you to upload statements and reconcile them with your records in Twinfield.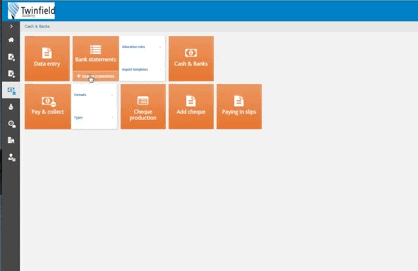 Accounts Payable: You can record purchase invoices and link them to specific projects. You can also create recurring purchase invoices.
Fixed Asset Management: Twinfiled includes fixed asset and depreciation reporting.
Items List: You can create and manage a basic list of items. However, there's no way to track stock quantity, cost to purchase or produce, profit/loss, etc.
Time Tracking: You can enter time for multiple employees or track time by project and activity. You can post time to the general ledger, but I did not see any way to easily convert time into invoices.
Reports: Twinfield offers an excellent reporting system, with 44 standard accounting reports as well as the ability to create your own. Reports are available for download in a variety of formats. There is some customization available for accountants to create their own reports as well.
Class Tracking: Twinfield includes very good support for job costing, allowing you to assign transactions and time to any number of projects, activities, and locations.
Default Email Message: You can customize an email template to accompany your invoices.
VAT Support: Twinfield is designed for European/UK tax structures, and it seems to work quite well for those localities. Twinfield can prepare your VAT return, and you can approve and file it through the software.
Multiple Currencies: Twinfield allows you to invoice in multiple currencies, but you will have to enter the exchange rates manually.
Importing & Exporting: Twinfield allows you to import and export information freely. You can import your general ledger information, invoices, contact list, inventory list, and more. All imports must be in Excel or .csv format. You can export data in a variety of formats.
Customer Service & Support
Customer support is available Monday – Friday during local business hours. In the past, my experience with support got off to a good start, with the webinar and a chat on the phone with a friendly, helpful representative. After that, it slid downhill rapidly. One of my e-mails wasn't returned for a week. Others returned at all. Upon reviewing the software again in 2017 and again in 2019, the response time hadn't improved at all. Based on my experience, I'd say users might be best advised to stick to phone support.
Here are the support resources Twinfield offers:
Phone: European customers can call Twinfiled directly.
E-mail: You can email Twinfield support, but responses are slow or nonexistent.
Online Help Center: Twinfield's Knowledge Base is pretty rudimentary. The articles are well-written and generally clear, but there were several times I had trouble finding what I was looking for. Either the articles simply didn't exist or they didn't show up in search results. I often found myself directed to a pdf guidebook; I'd have preferred to see individual "how-to" articles show up in the search results, rather than having to open the guidebook and scroll through the pages looking for the relevant section.
Vimeo: Twinfield offers a large selection of videos, ranging from tutorials to testimonials.
YouTube: Twinfield has also opened a YouTube account specific to its UK division. With email response times so irregular, I found this source particularly helpful for explaining certain features.
Training Courses: Twinfield offers training courses at an additional cost.
Blog: Read general business tips, interviews, and more on Twinfield's blog.
Social Media: Twinfield maintains Facebook, Twitter, and LinkedIn profiles.
User Reviews
Negative Reviews & Complaints
Twinfield does not have users reviews from customers. Until customer reviews are available, here is my own assessment of the weak points of the software:
iPhone App: Upon first reviewing Twinfield, they had an iPhone app (which had handy features for expense reporting, but many users complain that it lacked functionality they need for their businesses). This app no longer appears on either the iTunes or Android Google Play Store.
Not Transparent: The company is not transparent about the software or its pricing. Information on the company webpage is quite limited.
Unresponsive: In my experience, the company and its customer support is unresponsive and has a track record of not returning emails.
Positive Reviews & Testimonials
While there are no reviews on any customer review sites, Twinfield does have a page devoted to customer testimonials. An interesting thing to note is that these include only one end-user case study; all the rest are from accounting firms which use Twinfield for their clients. Some positive points from these testimonials include:
Scalability: Users like Twinfield's ability to grow with businesses, supporting them seamlessly as they grow in size and require greater functionality.
Good For Global Business: Accountants find that the software has good support for those who will be dealing in multiple currencies.
Ease Of Use: Some accounting firms praise the software's ease of use.
Good For Accountants: Many users who are accountants praise Twinfield for allowing them to create extensive reports and give direct access to their clients. A few also praise the customer service.
Here's what a few people are saying:
We started working with Twinfield about 18 months ago after we started seeing a trend for online accounting. We looked at a number of packages including Xero and QuickBooks Online but we really liked the intuitive nature of Twinfield. You can effectively "train" the system to reduce the book keeping time. Twinfield has developed a lot over the last couple of years and as a result we're very comfortable using the system for our online accounting service.

It keeps processes efficient and copes easily with growth. With Twinfield we have the tools to help our clients make better business decisions.
Integrations & Add-Ons
Twinfield only integrates with Wolters Kluwer's four other products: CCH Accounts Production, Basecone, CCH Central, and CCH Oneclick. There are no other integrations available, which is a big drawback. On the positive side, API is available for developers.
Security
Twinfield takes extensive security precautions; however, this data is not made readily accessible on the company website, which is why we've lowered the rating for this section. The company uses SSL encryption, hosts their own servers in multiple data centers to maintain maximum uptime, and undergoes external security audits every 3 months. User data is all stored in the E.E.A. (European Economic Area), meaning that no government has access to your data. Data is backed up hourly, and backed up off-site daily. They also carefully monitor and maintain quick server speed.
Final Verdict
Twinfield offers strong accounting and multiple features. VAT support and MTD compliance make the software a viable option for UK users. The software is best suited for medium to large-sized businesses and accountants; however, Twinfield's many drawbacks may rule the software out of the running for many businesses.
Twinfield is missing mobile apps, an inventory feature, and integrations. The software also has limited invoicing features, a slight learning curve, and poor customer support. In my experience the company is unresponsive, and I wouldn't trust a company that won't even get back to someone about a demo with my accounting.
For UK-based businesses, I'd recommend FreeAgent instead. You'll still get VAT support, MTD compliance, and tons of features in an easy-to-use, affordable software package. For US businesses, check out our top accounting solutions to find the right software for your business.
If you are still interested in Twinfield, reach out to their support team for a demo and trial, and let us know what you think in the comments below.
---
Try A Top Pick For Payroll
ADP Payroll


---
We like ADP Payroll for its advanced employee management, strong payroll features, and great customer support. Get three months free when you sign up through our links! Get Started.
Try A Top Pick For Payroll
ADP Payroll


---
We like ADP Payroll for its advanced employee management, strong payroll features, and great customer support. Get three months free when you sign up through our links! Get Started.
To learn more about how we score our reviews, see our
Accounting Software Rating Criteria
.