Expert Analyst & Reviewer

UPDATED
Advertiser Disclosure: Our unbiased reviews and content are supported in part by
affiliate partnerships
, and we adhere to strict
guidelines
to preserve editorial integrity.
Ucraft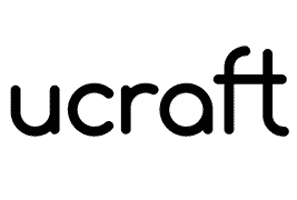 Pros
Easy to use
Good template designs
Mobile responsive templates
Good customer support
Good eCommerce app
Cons
Not ideal for complex websites
Limited design customization
Ucraft Overview
Ucraft is a relatively new website builder that emphasizes mobile-friendly design and painless website creation. If this formula sounds familiar, that's because it is — Ucraft is patterned along the lines of such modern mobile-centric website builders as Strikingly and SITE123.
Ucart is led by Gevorg Balyan and has offices in Armenia and Los Angeles. This website builder was founded in 2014 and has since grown to serve over 360,000 active users around the globe.
Although Ucart is not the most robust website builder on the market, it is a great option for users who are newcomers to website design and online selling. And the free option of the platform works well for those on a slim budget. Keep reading for a complete breakdown of Ucart's pricing, features, usability, and more.
Note: Ucraft and uKit are not the same thing. They are different products.
Business Types Supported
According to Ucraft's template selection, the software can be used to build websites in the following industries:
Agency
Fashion
Sports
Business
Events
Blogging
Events
Business
Photography
Personal
App
Education
eCommerce
Restaurants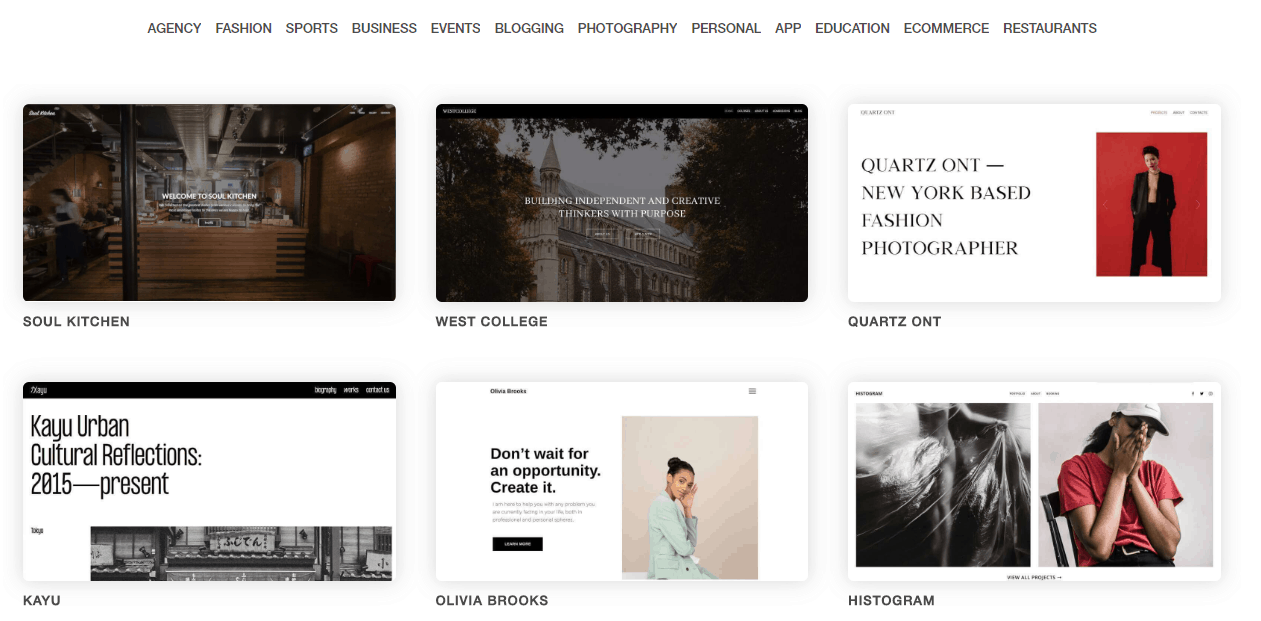 Pricing
There are currently four subscription plans available with Ucraft: Free Website, Pro Website, Pro Shop, and Unlimited. Starting at the Pro Website level, you can set up an eCommerce store. Ucraft also allows you to test the software for free with a risk-free 14 day trial.
Ucraft's subscriptions are billed monthly, although you can choose to pay for a full year upfront and gain a 15% discount. Here are the prices that Ucraft advertises for their software. Keep in mind that these prices represent the annual payment option and include a discount of 15%. The monthly payment option costs more.
Free Website
Ucraft's Free Website plan costs $0/month and includes:
Ucraft branding
Connect your domain
Hosting & SSL certificate
Unlimited bandwidth
15 pages
Basic page elements
Visibility settings
Google Analytics
24/7 support
Password protected pages
Pro Website
Ucraft's Pro Website plan costs $10/month (on the annual payment plan) and includes everything in the Free Website plan, plus:
Remove Ucraft branding
Free custom domain
Unlimited pages
Advanced page elements
SEO tools
Designer tools
Blogging tools
Multilingual website
Embed HTML/CSS/JS
Google and custom fonts
Invite team members
RSS feed
Membership functionality
20+ integrations
Online store features
Process payments with Stripe and PayPal
20+ shipping methods
Product filters
Pro Shop
Ucraft's Pro Shop plan costs $21/month (on the annual payment plan) and includes everything in the Pro Website plan, plus:
List up to 1000 products
Process payments with 50+ payment methods
Abandoned cart saver
Sell digital goods (1 GB per file)
Product variations
Product inventory tracking
Discount coupons
Order editor
Store management app
Offer tax exemption
Reverse-charge VAT
Edit invoices
Handling fee
Sell on Facebook, Instagram, Amazon, and eBay
Unlimited
Ucart's Unlimited plan costs $69/month (on the annual payment plan) and includes everything in the Pro Shop plan, plus:
List unlimited products
Sell digital products (10 GB per file)
Sell in person with a Square POS integration
Ease Of Use
Ucraft's editor is simple and straightforward. It can enable you to create contemporary websites in very little time. The buttons on the left of the editor allow you to reach every accessible aspect of the builder.
Buttons lead to the following sections:
Preview: Here, you can preview your website in desktop, tablet or mobile format.
Dashboard: The Dashboard leads you to a number of features and tools you can use to edit your site. More on this in the Features section.
Blocks: This button leads you to a selection of pre-formatted content blocks you can drop into your site. Here, Ucraft does the work for you by combining elements in an attractive way, so all you have to do is drag and drop.
Elements: For those who would rather not have their hand held through the website building process, the Elements button opens up all available individual elements so you can edit your site with a more precise touch than would be possible just using blocks. I appreciate that Ucraft gives users this option, in addition to the content blocks.
Colors: Here, you can drag a color of your choosing over to your site to quickly change the color of text, buttons, and more.
Effects: This button lets you apply a fade or parallax effect to any of the individual elements of your site.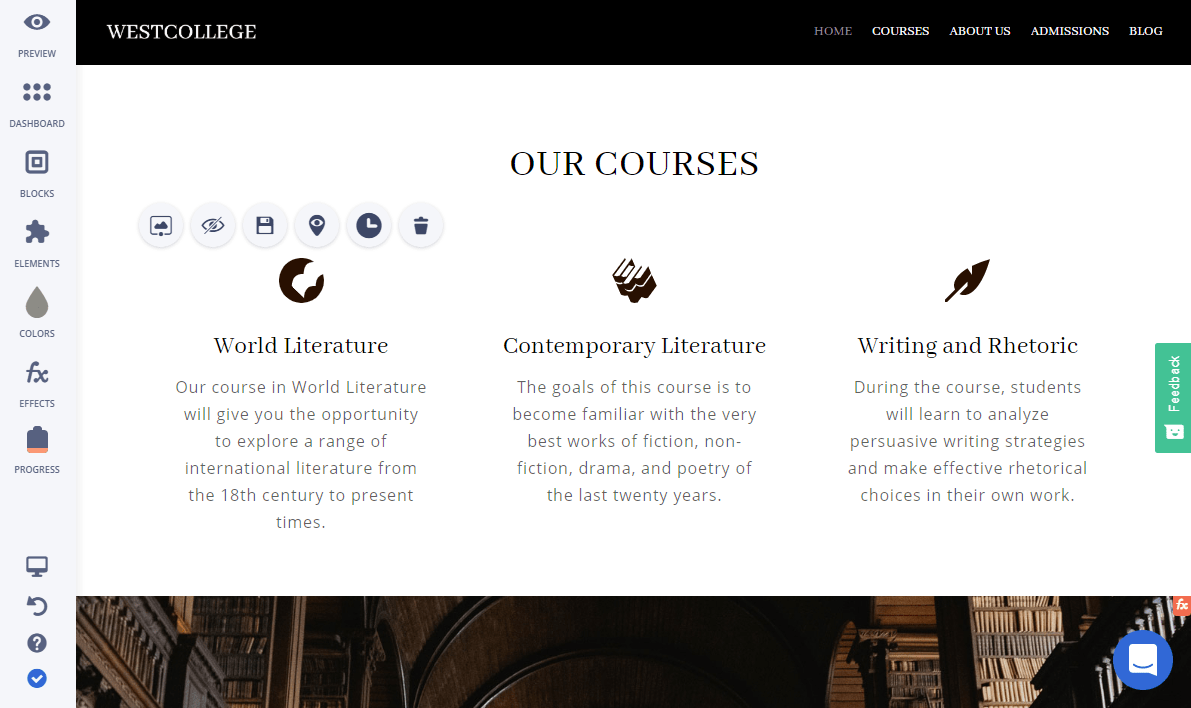 Hovering your cursor over your element blocks will reveal a Block Settings button in the upper left corner of the block. From here, you can adjust the block's settings, change the block background, and save your block (in case you put it together yourself) for future duplication. Hovering over an individual element also reveals an Effect marker that indicates what effect, if any, has been applied to the element in question.
In summary, Ucraft's builder is notably user-friendly, while still being flexible enough to allow for customization.
Hardware & Software Requirements
Because Ucraft is a cloud-based software, there are no hardware or software requirements that you have to meet. Ucraft supports the most recent versions of Chrome, Safari, and Mozilla Firefox. Ucraft does not support Internet Explorer.
For users on the Pro Shop and Unlimited plan, that is also a mobile app that you can use to manage the design and eCommerce aspects of your site.
Features
As I mentioned above, the Dashboard button takes you to a number of features and editing tools. The presented features vary slightly depending on which plan you're signed up for, but here's what it looks like: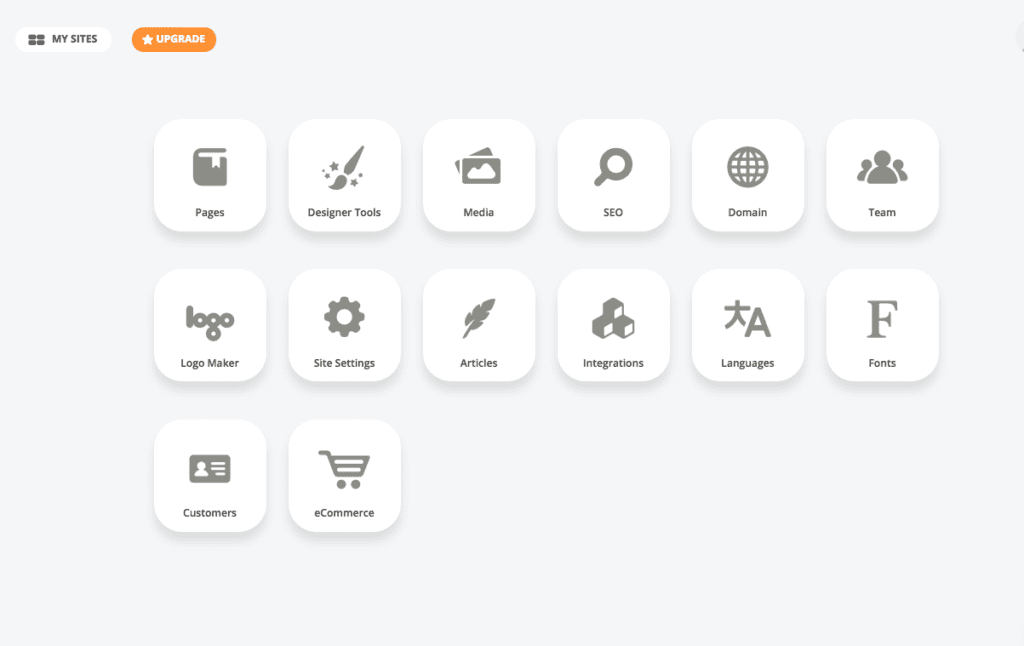 Here's what each feature does:
Pages App: The Pages app lets you add, reposition, and remove your Main (accessed via your homepage), Secondary (accessed through and internal links), and System pages within your site.
Designer Tools: This tool lets you fine-tune your typography, user interface, and the spacing of your site layout.
Media Manager: From here, you can upload images or add stock images via Ucraft's integration with Unsplash.
SEO App: This allows you to add an SEO page title, description, and image to the pages of your site.
Domain App: This lets you change your Ucraft-branded URL, connect your own domain, or buy a custom domain.
Team App: With this app, you can build a team of collaborators for your website. Email invites to people, and they'll be included in your account and get editing privileges if they accept. You can even specify whether they're a designer, marketer, store manager, etc.
Logo Maker: Create a logo and display it on your site.
Site Settings: Here's where you can change your site's name, change the site logo and favicon, enter your Google Analytics tracking ID, or inject some HTML into your site.
Articles App: The Articles app is Ucraft's blogging tool. It has some nice features, like the ability to specify tags and SEO descriptions for each post. You can also connect to your Disqus account to allow comments.
Integrations: Access a dozen or so Ucraft integrations, such as Google Analytics and HotJar.
Languages: Set the language options for your site.
Fonts: Add additional Google Fonts choices.
Customers: Manage customers and user groups. You can also create simple coupons.
eCommerce App: Ucraft has its own in-house eCommerce app, complete with all the features you'd expect from a website builder's eCommerce system. It looks like a white-label version of Ecwid's dashboard, which is actually quite good.
Pop-Ups: Create pop-ups to display on your website.
Other Ucraft features, available under "Elements" in the editor, include a photo gallery, a Google Map integration, a countdown clock, a custom HTML block, social media icons, a SoundCloud widget, a newsletter signup tool, and a contact form. The contact form is highly customizable, which makes it useful for a wide variety of businesses. Overall, it's a decent feature haul.
Web Design & Editing
Ucraft provides users with a number of cleanly-designed themes and easy-to-use design tools.
Templates
Ucraft's 80-ish templates are mobile-responsive, well designed, and very small business-friendly.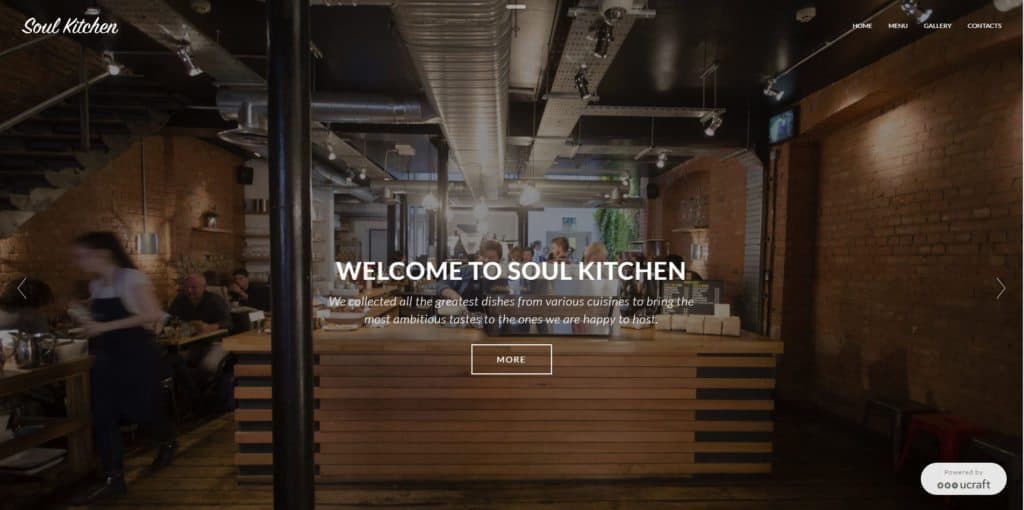 Desktop & Mobile Editor
Ucraft lets you customize your site with easy-to-use design tools in the desktop editor. You can add new content blocks or new elements to your site, and you can use drag and drop features to move around those elements. Easily change fonts, colors, and images.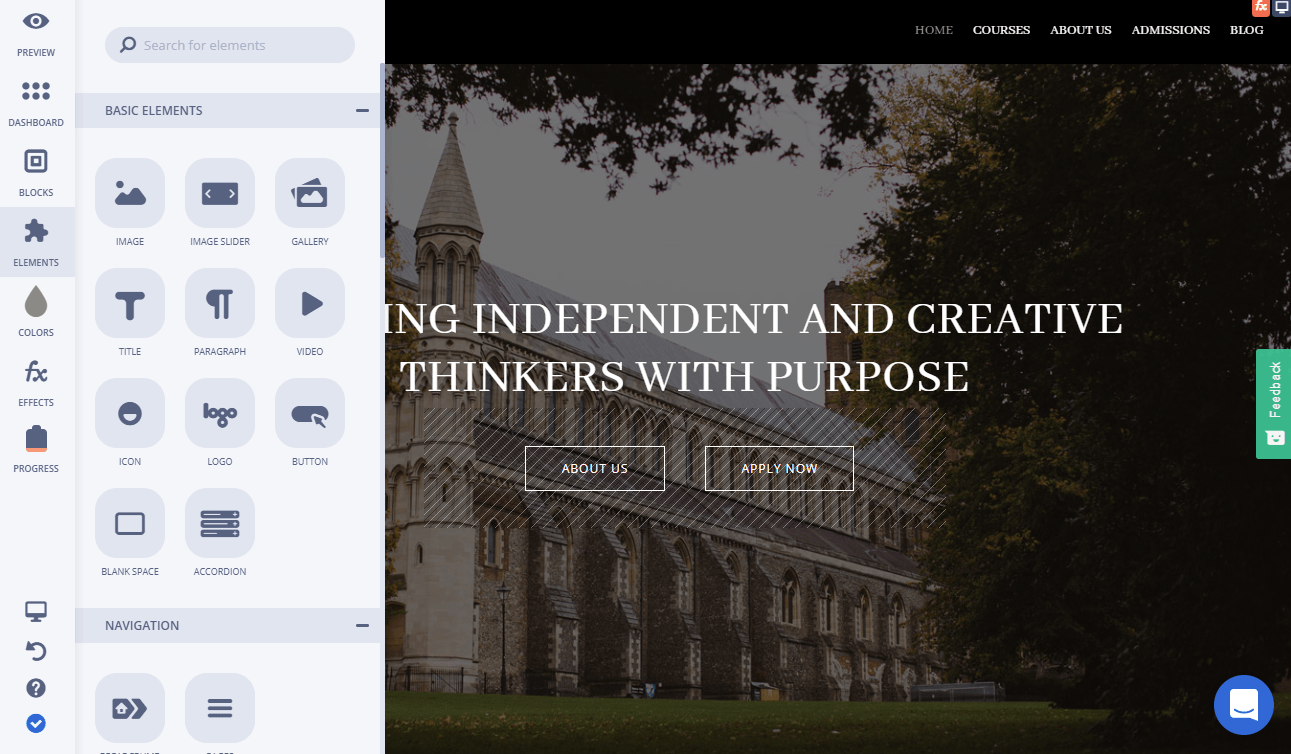 Users on the Pro Shop and Unlimited plans also gain access to a mobile app that they can use to customize their site design from a mobile device.
Mobile Responsiveness
As you design your site, Ucraft lets you toggle back and forth between desktop, tablet, and mobile page views. This feature makes it easy to ensure that your designs look good on all screens. You can even make customizations to the different versions of your site. I was able to change my banner text on my mobile site and have it remain unchanged on my desktop site.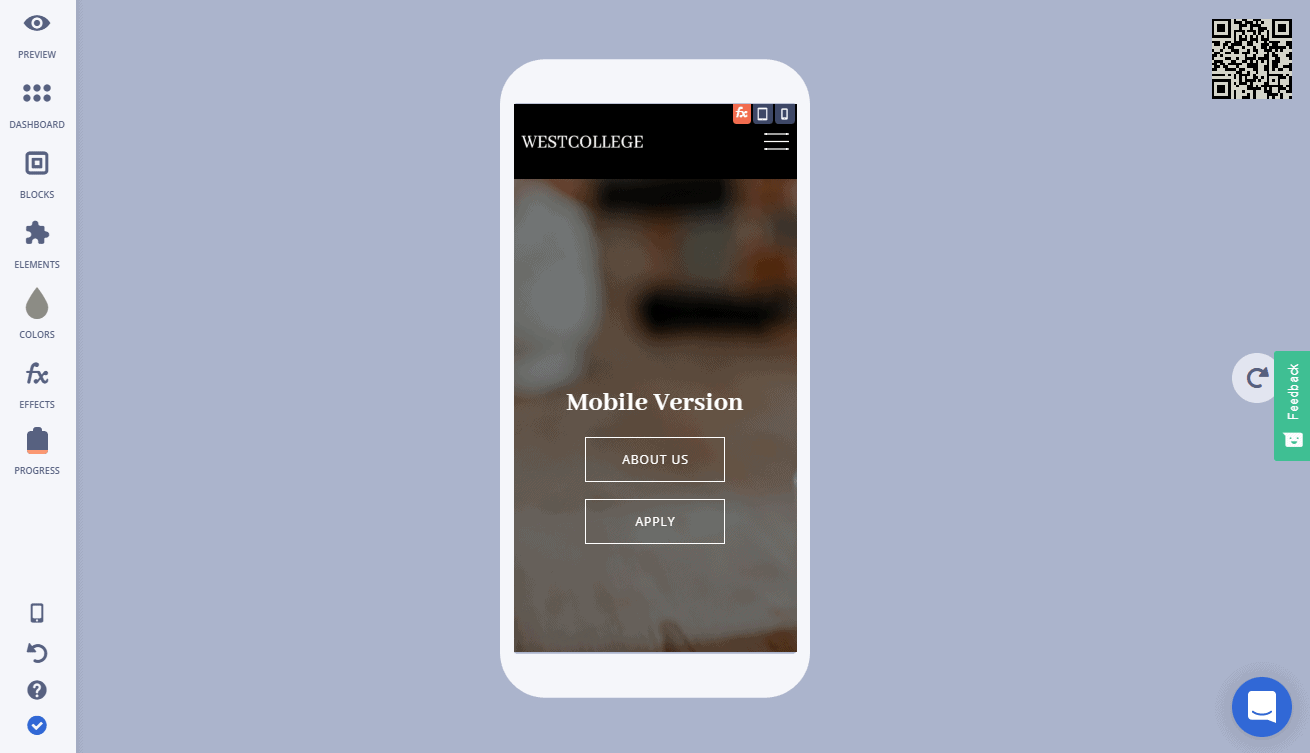 Integrations & Add-Ons
Some integrations are included as page elements or are otherwise already seamlessly integrated into your Ucraft UI. These include:
SoundCloud
Calendly
Eventbrite
iTunes
Social Media Feeds
Other integrations are offered through the special Integration page from the dashboard. These include apps like:
Google Analytics
HotJar
Zendesk Chat
Intercom
HubSpot
Disqus
Mandrill
Mailchimp
Hello Bar
LiveChat
Live Agent
Algolia
Facebook Messenger
Uservoice
Jivosite
Yandex Metrica
And finally, the eCommerce app provides access to more integration opportunities. These include:
Printful
TaxJar
Kliken Stats
Lucky Orange
71lbs
Security
All Ucraft websites are secured via HyperText Transfer Protocol (HTTPS) and Transport Layer Security (TLS). You also get access to free SSL encryption, even if you connect your own custom domain. In addition, Ucraft offers free WHOIS protection.
Ucraft partners with Google Cloud Hosting to host your website.
Customer Service & Technical Support
Ucraft's customer support comes in the form of a FAQs page, a knowledge base, and 24/7 live chat. Ucraft also has an active community forum and a blog with information on web design, eCommerce, and product news. Ucraft also has a Web Marketing Guide and Ucraft How-Tos that you can read as you get started.
I've seen several users comment that Ucraft support is good quality. Most of my own live chat queries were answered within an hour.
User Reviews
Negative Reviews & Complaints
Current users haven't had many major complaints about Ucraft. Here a few minor complaints we've seen mentioned:
Limitations On The Free Plan: While users appreciate that Ucraft offers a free plan, they do not like that Ucraft includes ads and watermarks on their free websites.
Not Ideal For Complex Sites: Some reviewers have pointed out that Ucraft's simplicity, while an advantage to many, can be a disadvantage if you're looking to create a sprawling, information-heavy website.
Limited Features: Users say that design tools and features are limited. In particular, users would like the ability to customize the HTML and CSS for their site.
Some Reports Of Poor Customer Support: Although users generally report having positive interactions with Ucraft's support team, I have found a few reviews that state the opposite. These negative reviews say that it was difficult to get in touch with a representative from Ucraft.
Positive Reviews & Testimonials
Review of Ucraft are overwhelmingly positive. Ucraft has earned 4.4/5 stars on Trustpilot and 4.7/5 stars on G2. Here's what users love about the software:
Easy to Use: Ucraft is easy to use, with a minimal learning curve. The visual design tools make it easy to customize your website, without writing any code.
Good Customer Support: Although there are some reports of poor customer support, far more users have a good experience with Ucraft's support team.
Connect Your Domain With The Free Plan: Ucraft lets users connect a third-party domain to their website, even on the free plan. Most website builders charge for this feature.
Logo Design Tool: Users love that they can create their own logo within the software.
I will also say that Ucart is very driven to improve the platform. They are constantly adding features, and they respond well to user feedback.
Final Verdict
For having more recently sprung up onto the scene, Ucraft is quite an impressive website builder. The interface is simple and the templates are well-constructed. What's more, Ucraft is constantly making improvements to the software.
Ucraft's way of presenting content makes it an excellent choice for mobile-focused businesses like restaurants and cafes and a good option for portfolio sites and visual blogs. And because Ucraft offers many of their features for free, it's a great choice for anyone who is looking to develop a website as a hobby.
Overall, Ucraft is a fresh, impressive entrant into the world of website builders. Although Ucraft still has room to grow when it comes to features and customization, we are excited to see what Ucraft offers in the years ahead.

---
We've done in-depth research on each and confidently recommend them.
We've done in-depth research on each and confidently recommend them.
To learn more about how we score our reviews, see our
Website Builders Rating Criteria
.