Expert Analyst & Reviewer

UPDATED
Advertiser Disclosure: Our unbiased reviews and content are supported in part by
affiliate partnerships
, and we adhere to strict
guidelines
to preserve editorial integrity.
Pros
Numerous excellent templates
Well-designed editor
Both in-house and Ecwid eCommerce
Numerous integrations
Free 14-day trial
Cons
No free plan
Limited customer support
The best templates require a Premium+ plan
uKit Overview
From Russia with cyber-love, uKit is a professional, mobile-responsive website builder aiming to empower businesses with easy, versatile website creation. uKit was launched in 2015 by the Russian/Ukranian tech squad behind the code-based website builder uCoz. With uKit, the uCoz team (led by CEO Evgeny Kurt) has sought to bring its website building prowess to a wider audience using an industry-standard WYSIWYG drag-and-drop interface. uKit is available in four languages: English, Portuguese, Romanian, and Russian.
While appearances can be (and often are) deceiving, the company's site exudes a sense of classiness. A visit to uKit's home page left me with the impression of a sleek, sophisticated product. Would my feeling be confirmed, or would my initial impression be revealed as mere credulity? Reading my uKit review will provide you an answer to this vexing question.
https://youtu.be/bpis-EEoDvU
Note that uKit and Ucraft are entirely different products with no connection whatsoever.
Pricing
uKit offers a 14-day free trial, so you'll be able to test the uKit platform without handing over your payment information. As for subscription plans, uKit has four of them: Premium, Premium+, eCommerce, and Pro. Details are given on the pricing page:
Premium
$4/month (annual plan)
$5/month (monthly plan)
$4.75/month (3-month plan)
$4.50/month (6-month plan)
$3.50/month (2-year plan)
Unlimited pages, disk space, and visitors
Unlimited SMS notifications
Unlimited domains
Connect your domain
Ad-free
24/7 support
Powerful statistics
Mobile-friendly site
Hosting
Up to 10 backups
200+ professional templates
Premium+
$8/month (annual plan)
$10/month (monthly plan)
$9.50/month (3-month plan)
$9/month (6-month plan)
$7/month (2-year plan)
All of the Above PLUS:
Live chat support
Premium templates
Goals in Google Analytics
eCommerce
$9.60/month (annual plan)
$12/month (monthly plan)
$11.40/month (3-month plan)
$10.80/month (6-month plan)
$8.40/month (2-year plan)
All of the Above PLUS:
eCommerce
Pro
$12/month (annual plan)
$15/month (monthly plan)
$14/month (3-month plan)
$13.33/month (6-month plan)
$10.50/month (2-year plan)
All of the Above PLUS:
Custom code
Custom color schemes
Additionally, uKit offers a service in which they will create a website for you, within 14 days, for $50.
As for payment, uKit accepts Mastercard and Visa. You may also pay with PayPal.
Web-hosted or Licensed
uKit is web-hosted.
Hardware/Software Requirements
Just make sure your computer's browser is up-to-date.
Business Types Supported
uKit provides an extraordinary 250+ responsive templates to the web-curious business. These templates are categorized as follows:
Agriculture & Farming
Automotive
Business & Finance
Cafes & Restaurants
Clothing & Shoes
Construction
Dancing
Education & Training
Emcee
Event Planning
Exhibitions & Art
Farming & Agriculture
Fashion Model
Flowers & Floristry
Food
Furniture
Handmade & Crafts
Health & Medical Care
Home Appliances & Electronics
Home Improvement
IT & Computer Services
Landscaping
Legal Services
Logistics & Transportation
Makeup & Cosmetology
Music
Nail Design
Photography
Printing & Advertising
Real Estate
Safety & Security
Software & Apps
Sports & Fitness
Tattoo Artist
Travel
Utility Management
Wedding
These templates all appear quite professional and in touch with modern web design trends. Plus, the sheer quantity of them makes it more likely you'll find one that fills your particular need.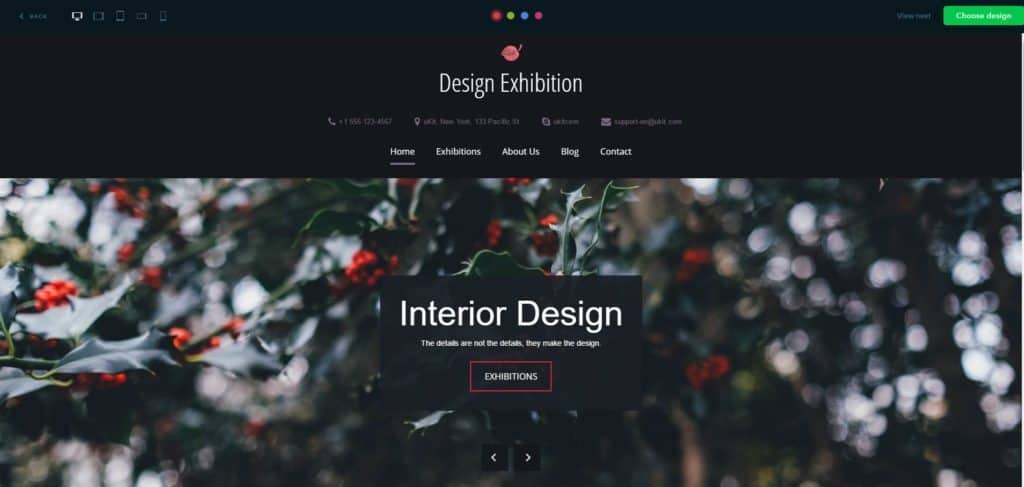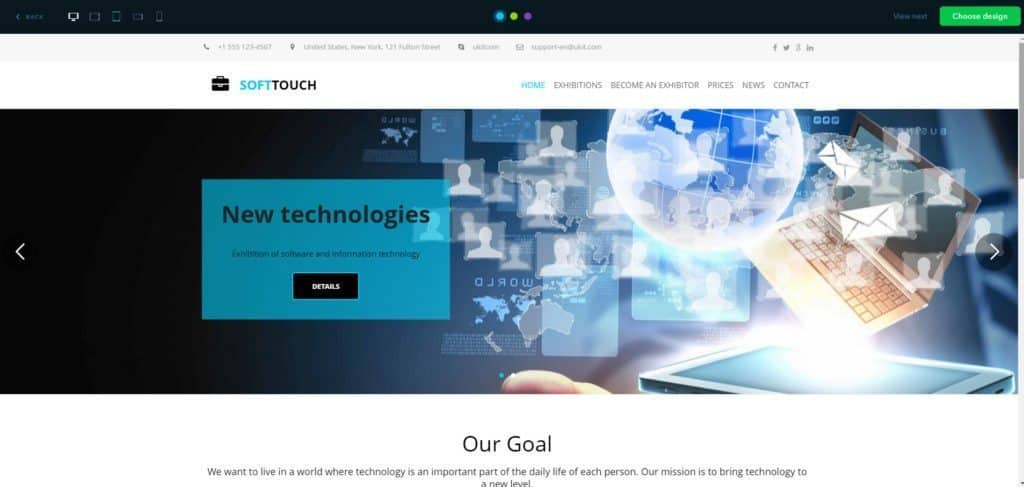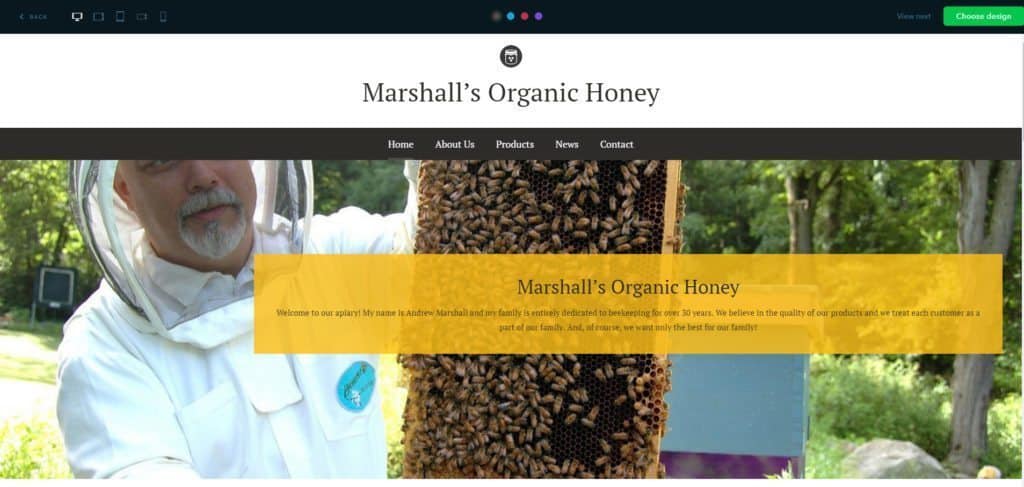 Ease of Use
uKit's editor manages to be both intuitive and deeply customizable. All your design and building options are laid out along the left of the screen, and when using the editor to add content to your site, you'll find that you can either drag and drop elements (referred to as Widgets by uKit) individually onto your site or add content blocks. These blocks are groupings of widgets specifically created for the template you're working within, so adding them will keep your site's theme consistent and coherent. I've noticed other website builders taking either one approach (add individual widgets where you want) or the other (add collections of preformatted content), so it's nice to see uKit giving their users a choice of approaches.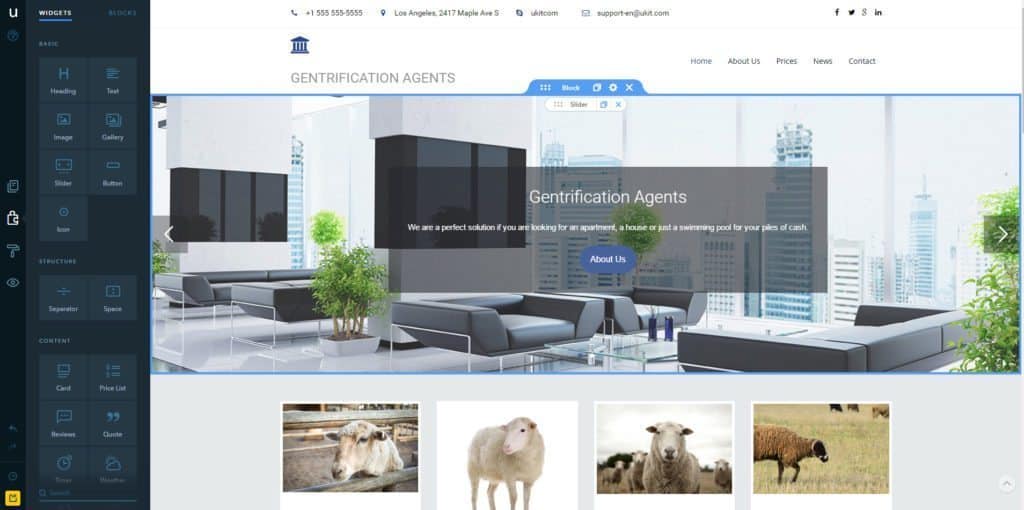 Once you've placed content on your site, rolling your cursor over the block of content reveals a settings button that leads to further customization options. One interesting thing you can do here is choose whether your content lies within a container block or a fluid block. A container block is a fixed size, meaning it will display at the same size regardless of the size of the screen it's viewed on. This is recommended for widgets involving text. A fluid block, in contrast, adjusts to the width of the viewer's screen and is recommended for image widgets. This allows you a degree of control over the responsiveness of your site that most competitors simply don't allow. It's indicative of the thoughtfulness of uKit's website creation system.
Furthermore, compared with editors of many competitors, uKit's editor allows you a greater ability to undo unwanted edits. Along with the undo/redo buttons one has come to expect from website builders, uKit lets you create saved backups of your site that can be restored at any time. This should permit you to make edits with better peace of mind. uKit's Preview feature also goes beyond the industry average in that you can preview your site not just in desktop, tablet, and smartphone view, but in both landscape and portrait modes in tablets and smartphones.
Additionally, if you're pressed for time and wish to devote no time at all towards creating your website, uKit gives you the option of converting your Facebook page into a website. Just point uKit towards your Facebook page and your content will be pulled from the page and imported into an auto-generated website. It won't look terribly sophisticated, but you can always edit it to your liking.
All in all, it's apparent that uKit has devoted a lot of energy towards the end-user experience.
Features
uKit provides a strong set of features for you to deploy while building your site. I'll walk you through them:
Blogging: uKit's blogging tool is quite solid, though you might not discover it at first glance. That's because it's not addable as a feature; you have to add it as a page. Simply choose "News" instead of "Page" when adding a new page, and you'll have your blog. Once added, you'll find a number of features tailored to bloggers. You can schedule your posts in advance, add images and video to your posts, include (or not) the author's name in your posts, determine the SEO settings for each post, add social media buttons to let users share your posts on a wide variety of social networks (some of which are primarily used in eastern Europe/Russia, such as VK), and allow comments through your Disqus account. Once you've added your blog as a page (via the means described above), you can add any number of posts to pages elsewhere on your site through the News Widget. A recent update has added post scheduling functionality so you can schedule your posts in advance. Put it all together and you get a thorough, well-designed blogging platform.
eCommerce: uKit has come out with its own in-house eCommerce system. It's now out of beta and has been officially released. Available starting at the eCommerce subscription level, it's a well-featured online store. You can sell your wares in one of 11 different currencies. You can get notifications with every order. You can customize the order form your putative customers will be filling out. You can create and add a variety of shipping options, but you can only offer them at a fixed price or for free — there's no way to vary the rate by weight, volume etc. For payment processing, you can choose from between PayPal and Wallet One. You can create and add offline payment options and customize the checkout page and the order success page however you like. And for every product you offer, you can set up however many product variants you want. It's not perfect, but it's a nifty in-house eCommerce solution. You can also connect your store to AmoCRM, in which case all messages sent through the contact forms, pop-up windows, and online store on your site will be forwarded to AmoCRM. Unfortunately, you can't offer digital products for sale.
Ecwid eCommerce: If uKit's in-house eCommerce doesn't float your boat, uKit is integrated with Ecwid's online store. Set up an Ecwid account or connect to your existing Ecwid store within uKit, and you'll be able to sell products on your uKit website. It's the same app that several other website builders integrate with, but that's not a bad thing: Ecwid is a flexible, well-designed eCommerce tool through which you can sell both physical and digital products to customers around the globe. Support for multiple currencies and 50 languages is included, along with many different payment options. You'll be able to sell up to ten products for no additional charge, but if you intend to build a larger store, you'll need to sign up for one of Ecwid's paid eCommerce packages.
Contact Form: For a website builder's contact form to be of much use to a small business, it must be customizable. With their contact form, uKit delivers this needed customization. You can add as many fields as you like (some other website builders limit you to four or five) and designate each field as mandatory or not. You don't get any options to alter the visual look of the contact form, but that's a decidedly secondary concern.
Other features provided by uKit include a timer, a weather widget, a SoundCloud integration for uploading audio tracks, SlideShare presentations, a callback button, a newsletter signup form from MailChimp, live chat apps from LiveChat, LiveAgent and JivoChat, and social media buttons. It's a very strong feature haul. One important feature uKit recently added to their packages is SSL security. It's free to set up for your site, though unfortunately, it takes about an hour to complete the process. It would be nice if uKit's sites had SSL security right out of the box, but oh well.
Web Design & Editing
Templates: uKit's 250+ templates are professional, mobile-responsive, and cater to just about every business type under the sun. Your website will present well in any screen configuration.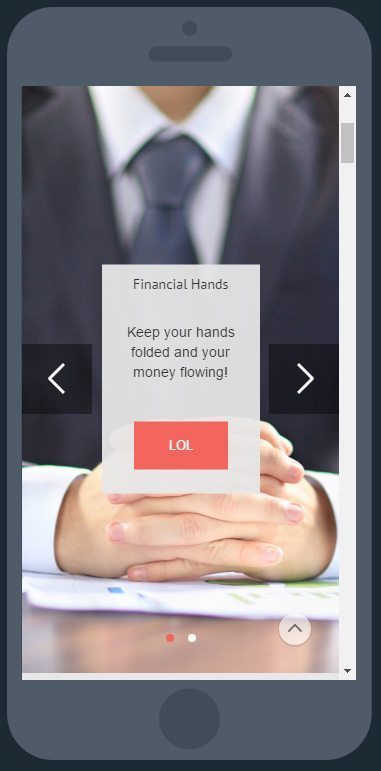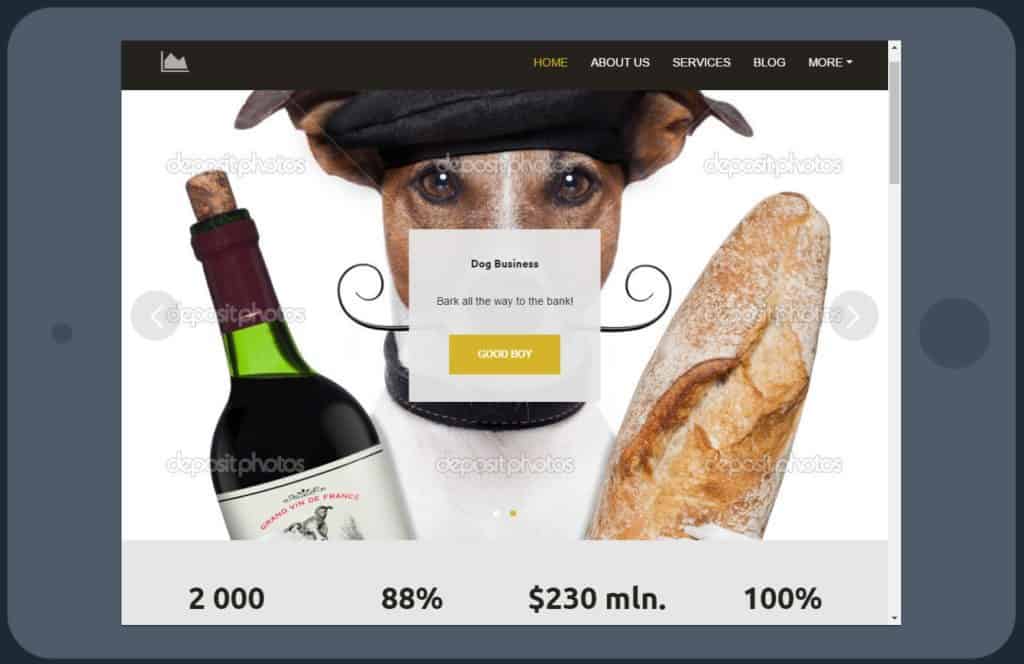 Mobile Editor: Unfortunately, uKit has no mobile editing app, and its desktop editor can't really be used on a mobile device. You won't find any options to customize your mobile site, either. It will simply be an optimized version of your desktop site. Some website builders will at least let you set up a special landing page for your mobile site visitors.
Integrations & Add-Ons
uKit is integrated with the following services:
SoundCloud
SlideShare
Google Search
Google Maps
LiveChat
LiveAgent
JivoChat
YouTube
Vimeo
Social Media (Facebook, Twitter, Instagram, Pinterest, VK)
Customer Support
uKit's customer service options consist of an FAQ, a company blog, and email support. My question, submitted via the email form, was answered within a day. Unfortunately, there are no live chat or user forums (always a good way to gauge community sentiment about a product), though there is a section devoted to uKit on the uCoz user forums.
Negative Reviews & Complaints
Reviewers really haven't had a lot to complain about regarding uKit, though they've had a few quibbles:
Positive Reviews & Testimonials
Critics have been impressed by uKit, applauding it in a number of respects:
Final Verdict
uKit has seemingly come out of nowhere to establish itself as one of the freshest, most user-friendly and well-featured website builders around. Within just a year of its unveiling, uKit has grown into a true competitor to the likes of Wix and Squarespace, and that's not something I can say about most of the new entrants to the website builder field. Seamless ease of use and a strong, robust feature set make uKit a compelling choice in this overcrowded industry. With just a bit more polish and attention to customer service, uKit would be close to perfection.
As uKit is such a young product, I look forward to seeing it develop further and lay claim to the kind of attention now held by its Super Bowl ad-buying competitors. The website builder industry just might get more crowded at the top.
---
We've done in-depth research on each and confidently recommend them.
We've done in-depth research on each and confidently recommend them.
To learn more about how we score our reviews, see our
Website Builders Rating Criteria
.