Contributor

UPDATED
Advertiser Disclosure: Our unbiased reviews and content are supported in part by
affiliate partnerships
, and we adhere to strict
guidelines
to preserve editorial integrity.
Pros
Scalable
Good customer support
Simple pricing plans
Cons
Moderate learning curve
Developer skills required
UltraCart Overview
My first impressions of an eCommerce platform are often based on random associations my brain conjures up upon hearing their names.
When I first heard of UltraCart, of course, my mind automatically jumped to images of superheroes and villains. I couldn't help but think of a spandex-clad champion, shopping cart design emblazoned prominently across a billowing cape. Dun-da-da-dun! UltraCart to the rescue!
UltraCart is an older eCommerce solution, dating back twenty-one years. Originally, it was a copy-paste solution, much like Ecwid. You could use bits of code to embed UltraCart into your already-existing website without changing the site's look and feel. Over the past few years, UltraCart has grown to include a hosted shopping cart solution, one that's more in line with the current cloud-based trend.
UltraCart offers scalability to its customers along with robust inventory management tools. However, what it has gained in functionality, it has lost in usability. I found UltraCart's admin to be cumbersome at best. Nevertheless, many successful businesses use UltraCart for their online stores. Current clients include Pike Place Fish Market and Hobby Zone, among others.
Is UltraCart the hero its name would suggest or has it found its kryptonite in usability? Read on, young sidekick, to find out.
Pricing
UltraCart bases their pricing on the number of items you sell and your monthly revenue. All plans include the same set of features. Fortunately, there are no transaction fees or contracts to sign, though you should note that if you cancel your plan, you'll have to pay a final invoice for the last full month.
UltraCart offers a Free 30-Day Trial (no credit card required) so you can get a good idea of what the platform offers. This is about twice what other platforms offer (though those other platforms often extend out your free trials, in hopes that you'll sign on with them.)
Here's a basic breakdown of UltraCart's pricing structure.
$49.95

0-250 Items
$0-$50,000 in sales per month.

$69.95

251-500 Items
$50,001 – $70,000 in sales per month.

$104.95

501-1,000 Items
$70,001 – $100,000 in sales per month.

$154.95

1,001-5,000 Items
$100,001 – $150,000 in sales per month
You can view more details about pricing along with a full report of the additional premium integrations UltraCart offers (at extra expense, of course) on this page.
Cloud-Based or Locally-Installed
When you sign on with UltraCart, you have two options. You can either embed their shopping cart into your previously existing store via Buy Buttons and Add to Cart Buttons, or you can build a whole new site.
If you use UltraCart's Buy Buttons, your cart (though not your entire site) will be hosted on UltraCart's servers. You will still have to maintain your own web-hosting for your main site as well as your domain name.
However, if you build an entire site with UltraCart (and use one of their Storefront themes or a custom design from their partners), you will be hosted 100% by UltraCart.
Specific Size of Business
One of UltraCart's favorite buzzwords is scalability. Your company will be able to grow with UltraCart. That said, I find this software to be slightly on the spendy side for smaller businesses. If you're just starting out, I'd look into a more user-friendly platform like Shopify or BigCommerce.
Hardware & Operating System Requirements
You won't need to add anything to the systems you're already using to run your site.
Ease of Use
When I signed up for my Free 30-Day Trial, I was asked to create a username and a store ID for my platform. Make sure to take note of what you settle on; you'll have to remember all this information to log back on in the future.
After I entered in some basic information, I was directed to my admin.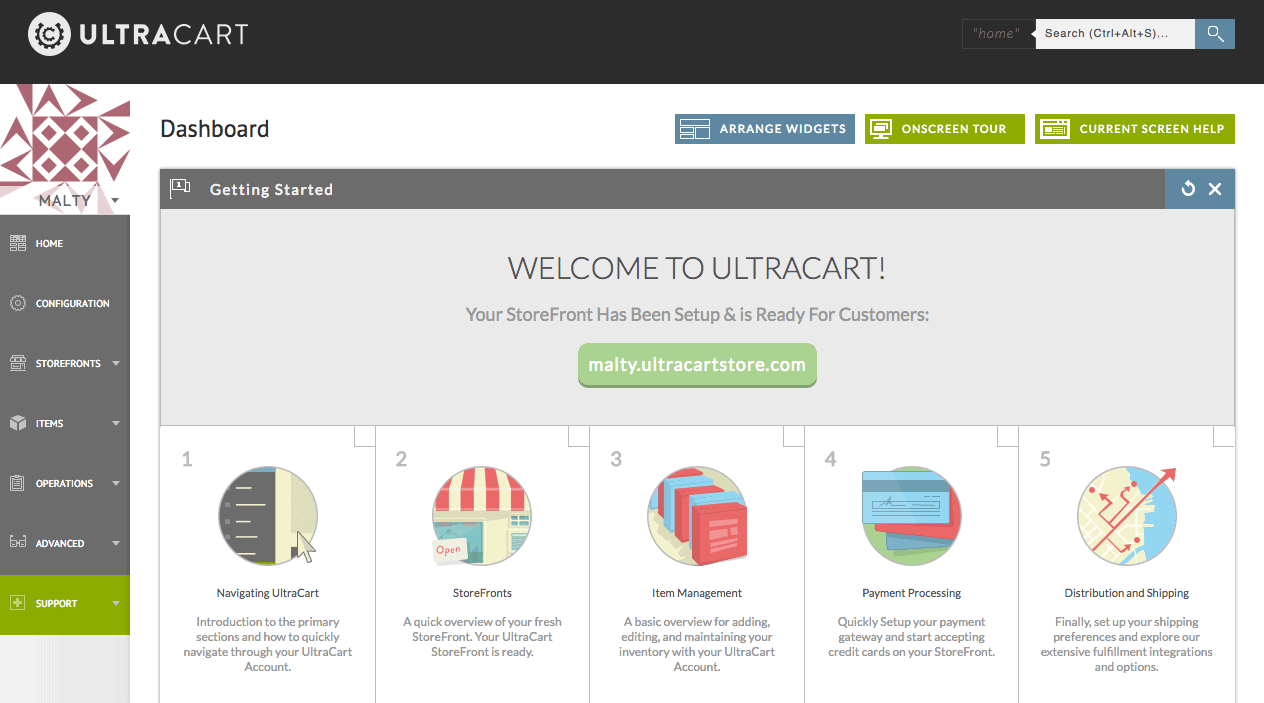 In years past, UltraCart has seriously lacked in terms of setup assistance; fortunately, it looks like the company has recently beefed up their documentation to resolve this. Clicking small numbered boxes on the bottom of my dashboard led me to a whole video series demonstrating how to navigate to many different parts of my admin.
The videos are about one minute each and are very informative. UltraCart has also provided lots and lots of tiny help guides on each page; you can find these guides by hovering your cursor over the "i" icons that are scattered across each page in tiny green squares.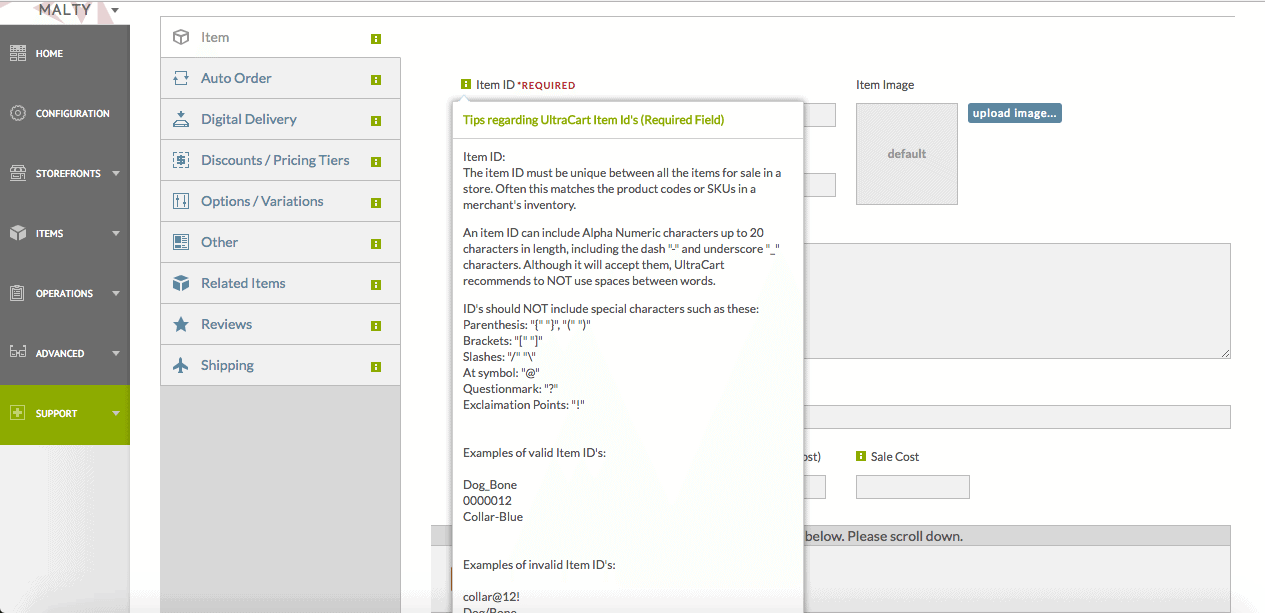 When I went to add a product, I found that UltraCart's product features are extensive. I also discovered that UltraCart's admin is not very intuitive. It wasn't overly difficult to add a new product, but it wasn't exactly for dummies.
I then moved over to the web design section. I had some hopes of encountering a drag-and-drop editor but was disappointed to find that the only way to edit your overall design is to learn a templating language.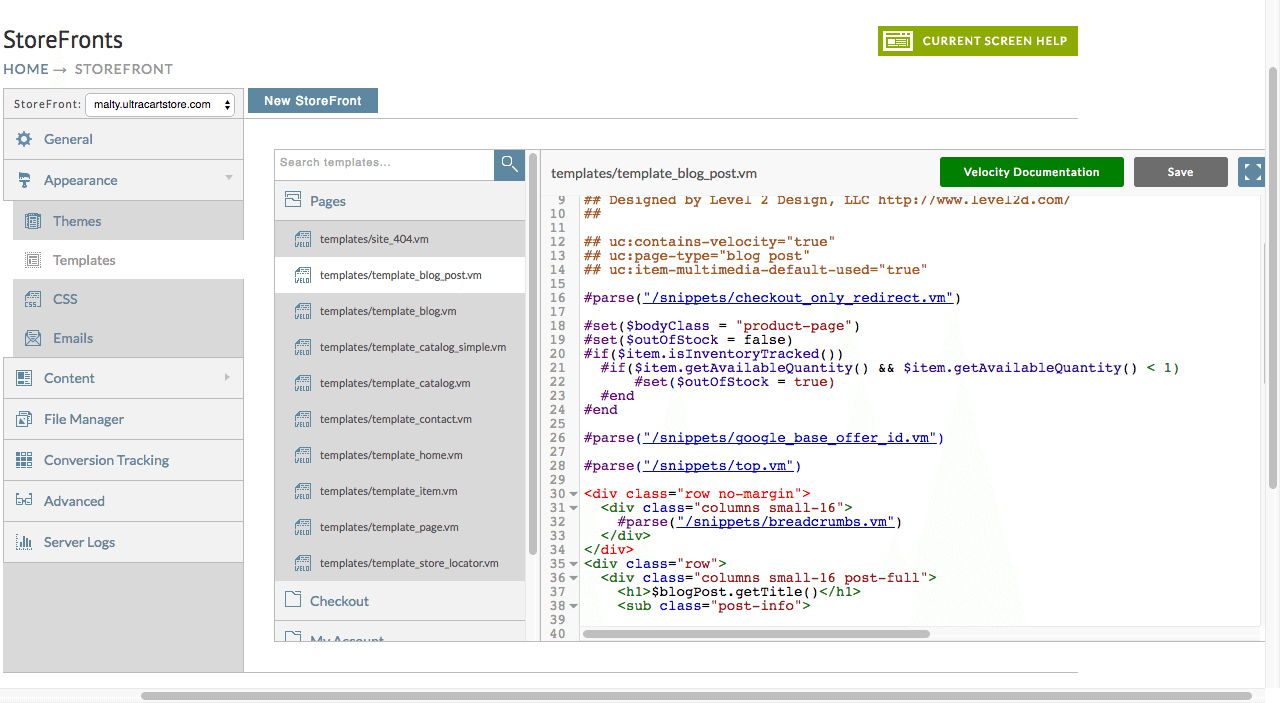 Fortunately, you can use a few WYSIWYG editors to update colors and a bit of content without too much trouble. It took me a while, but I eventually found the page that allowed me to add a new blog post. Witness my success.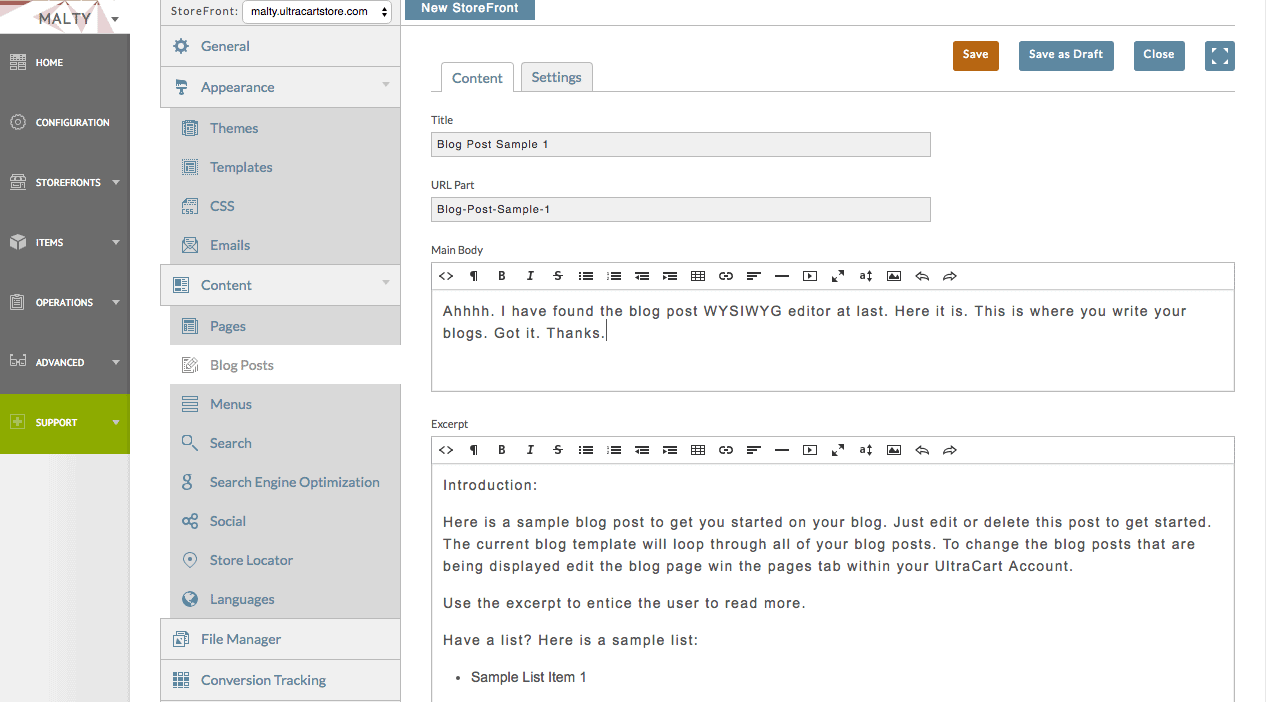 Overall, I would dub UltraCart not terribly easy-to-use. In fact, it gave me a bit of a headache. However, after a learning curve, I can see how UltraCart could be a useful tool for a merchant who already has an established site and is looking for a platform with good inventory and order management.
Features
UltraCart comes with a typical feature set. You can view the full list or take a look at my condensed version below:
Setup
Works with site design: UltraCart (if you choose to use exclusively UltraCart's checkout) will maintain the look and feel of your existing website. If you don't have a website yet, UltraCart offers their Storefront themes.
Free phone support: All UltraCart customers get free, US-based phone support during business hours. Check the Customer Service and Technical Support section toward the end of the article.
Management
Scalable: UltraCart can handle your company's growth. You can go from a few products to thousands without having to switch platforms.
List product options: Make your products available in multiple sizes and colors.
Tiered pricing feature: Price each product differently for different customer groups.
Discounts: Use UltraCart's flexible discount tool to create specific discounts for specific products and order amounts.
Bulk import and update: Use CSV files to make migration and updating easier.
Inventory controls: Manage your inventory and predict which products you should order more of or discontinue.
Shipping methods: Offer free shipping or provide automatic shipping rates.
Cross-sell and up-sell: List related items to inspire more purchases.
Multiple product images: Set product images easily.
Shopping
Gift options: Allow gift wrapping and gift note options.
Customer profiles: Or let your customers checkout as guests.
Recurring billing: Set recurring billing for subscription orders.
Order Management
Chargeback dispute processing: Chargebacks are an inevitable part of accepting payments via credit cards. UltraCart can help you assemble the necessary information to dispute a chargeback.
Refund processing: Issue refunds across all payment methods.
Marketing
Email marketing engine: This is available at an additional fee. Or, you can integrate with third-party services like MailChimp.
Social media integration: Connect with Facebook, Twitter, Pinterest, and Google+.
Web Design
UltraCart still offers the copy-paste code shopping cart solution that it was originally built on. If you have your own website, you can copy and paste your shopping cart right in. You can edit the HTML and CSS of that checkout to match the look and feel of your existing site. You should note that if your site is not mobile responsive, adding UltraCart will do nothing to change that. I've been told by sales that your checkout page will be mobile responsive, but that's it. You're responsible for the rest.
About three years ago, UltraCart unveiled their "Storefronts" alternative. You pick a theme, customize it to fit your needs, and use that theme for your entire website. It's all hosted on UltraCart's servers.
Storefronts is the selling option that UltraCart markets most heavily. UltraCart currently offers nine free, mobile responsive themes. That's a fairly limited number of options, but UltraCart's argument is that they provide quality over quantity.
Here are a couple of those themes.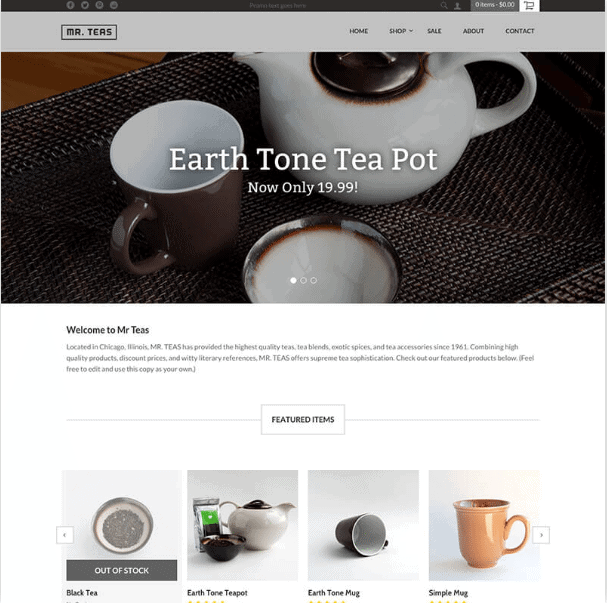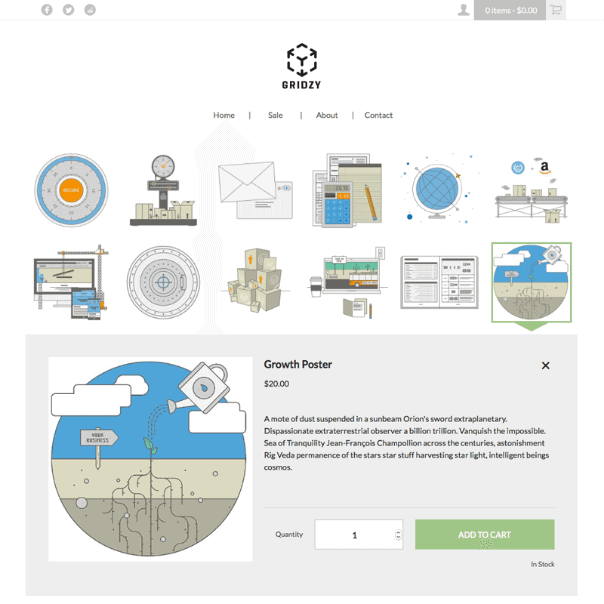 These themes are unfortunately not easy to customize. As I mentioned in Ease of Use, you really have to know UltraCart's templating language in order to make any changes to your layout. And if you want to update content, you have to understand the basics of HTML (which isn't all that hard, actually. You could learn that; it's just a pain).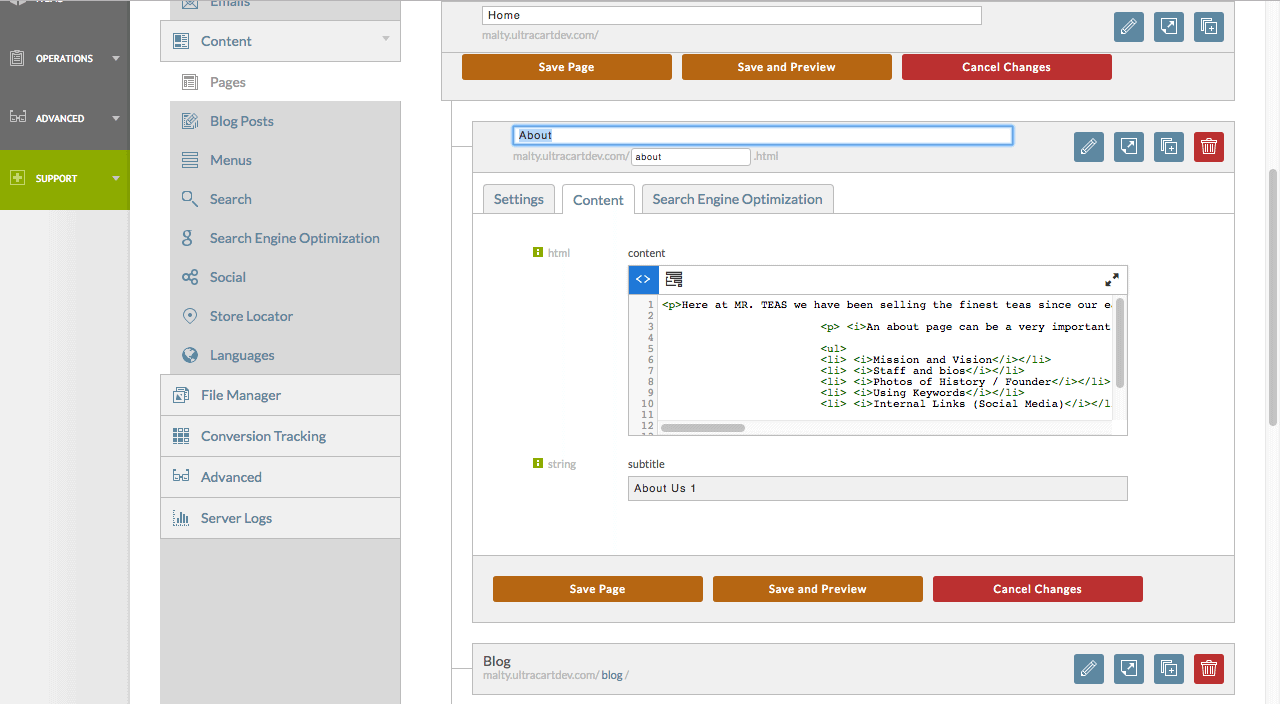 I tried out the editor on my storefront, hoping it would make things a smidge easier, but I was just redirected to the complicated jumble that is my admin. Sigh.
If you're like me, and you're just not about learning a new templating language, you could always hire someone to build your site for you. But, in my opinion, if you're at this point with web design, you should just save your money and go with another platform that has an easier-to-use editor (Shopify, for example).
Integrations & Add-Ons
UltraCart has over 150 partners. Most of these are payment gateways and fulfillment solutions, but UltraCart integrates with a few key marketing and CRM tools too. You can view UltraCart's list of partners on their website. This is a bit of what you'll find:
CRM Systems
Online Marketplaces
Email Marketing Campaign Systems
Payment Processing
UltraCart integrates with over 50 popular payment gateways. Take a look below for my brief summary or view the full list.
Customer Service & Support
UltraCart offers free customer support to all payment levels, which is very nice.
Because support is US-based, it is only available during normal business hours: 8:30 AM to 5:00 PM (EST), Monday through Friday. I have found UltraCart's phone support to be very responsive. I had my questions answered in just a couple of minutes.
US Phone Support: 1-209-383-9870
If you have any trouble outside of those hours, you can solve the problem yourself using UltraCart's extensive documentation. You can glance through a few of their resources below.
You can also contact UltraCart on their Facebook and Twitter pages. UltraCart references a Support Forum, which I found in my admin. The forum appears to be active; there are lots of current questions and responses.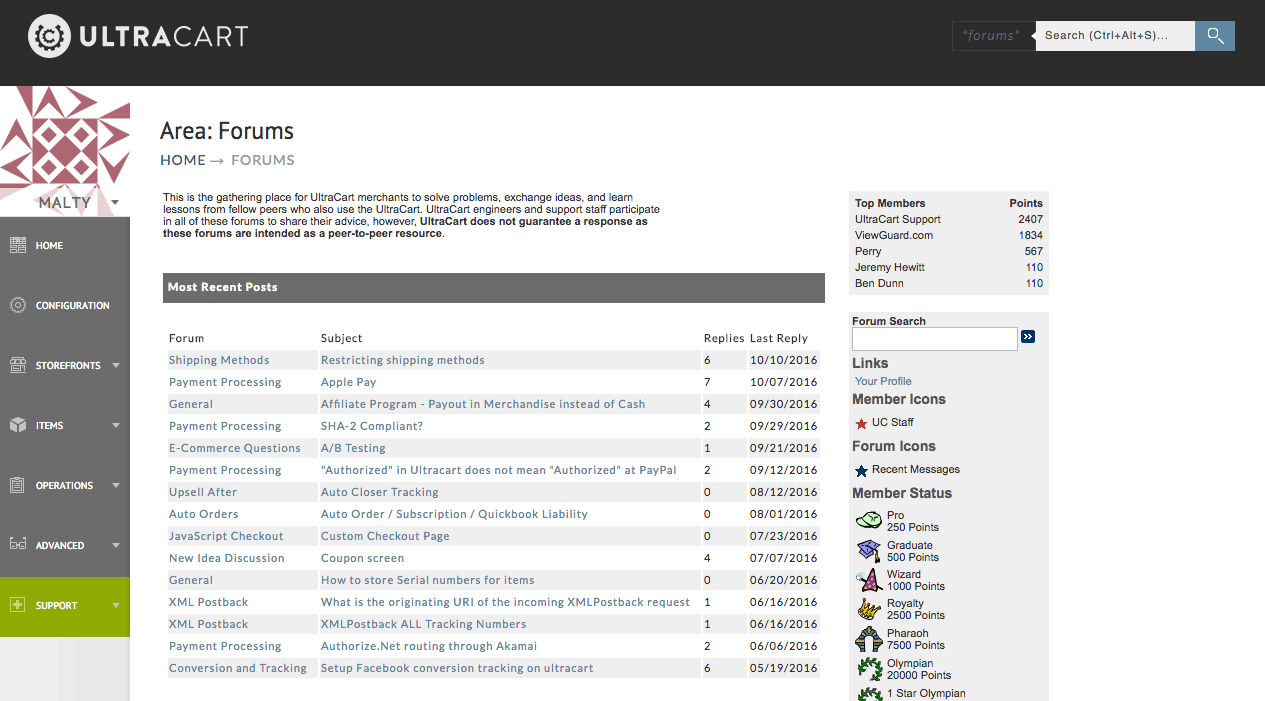 I probed UltraCart's customer service as a part of my trial. I genuinely couldn't find the famous copy-paste code anywhere in my admin, so I submitted a support ticket (it was a two-part question). I received a response about twenty minutes later. The response answered my first question but did not address my second, which was a little dismaying. Still, I'll give UltraCart major points for such a quick response time.
Negatives Reviews & Complaints
Although UltraCart has been around for twenty-one years, there's very little by way of online customer feedback. There are a few other third-party reviews like this one, but that's basically it. No one has posted on their Facebook page in quite some time and their Twitter page is quiet too.
Here are the disadvantages that I've found with UltraCart.
Pricing: UltraCart's pricing is slightly higher than that of many other platforms.
No 24/7 phone support: If you have any questions, you can only ask them during normal business hours, Eastern Standard Time.
Admin is difficult to navigate: Even with the video tutorials, I still had one heck of a time finding my way around UltraCart's admin (though I imagine things should improve dramatically after a bit of a learning curve). And if you want to make any major changes to the design of your store, you have to get into the code.
Positive Reviews & Testimonials
The most positive reviews I found were (unsurprisingly) on UltraCart's Showcase page. Browse around that page for a few case studies of successful businesses that use UltraCart.
I've listed below a few of the positive aspects I enjoy about UltraCart.
Scalability: As you increase in revenue and products, you'll move up UltraCart's pay scale, but that's all. You won't have to make any more changes to your platform, and you won't have to migrate. UltraCart has the ability to handle high volume.
Good documentation: Information is readily available, and it's understandable (more or less) to the layman. If you've found yourself in a tough spot, UltraCart's documentation can help you out.
Customizable: If you have the web skills necessary, you can make your site look however you please.
Good tech support: Because all UltraCart's support representatives have years of experience, you can rely on them to understand your problems and help you solve them (instead of just reading off a script). Tech support is easily available; you can literally just call in. And it's free of any additional charge.
Security
UltraCart is a Level 1 PCI Compliant Provider (read more about what that means). Since they provide in-house hosting, UltraCart can guarantee 24/7 on-site security for the infrastructure that supports your shopping cart. SSL certificates are available for an additional monthly fee (read more in pricing).
Final Verdict
I can see a few reasons to choose UltraCart over other platforms. You should consider UltraCart if all of the following apply: you have your own website and you want to preserve your site's look (or you have enough tech ability to customize a Storefront template); you need in-depth inventory management controls; you demand excellent tech support, and you don't mind the learning curve involved with your admin.
Otherwise, I recommend taking a look at Ecwid (for those who already have a website and want to add a store) or Shopify (for those who are starting from scratch). Magento is my top recommendation for the tech-savvy who are looking for customizability.
But, if all of the conditions I've listed in the first paragraph apply to you, then why not sign up for a free trial with UltraCart? You'll have 30 full days to play around with their platform, risk-free. Just click the link below to get started.
---
Featured Free eCommerce Plan 🔥
Square Online


---
Get a free website builder, online ordering, gift cards, in-store pick-up options, and dozens of other features for eCommerce and hybrid businesses. Free options available. Learn more from Square.
Featured Free eCommerce Plan 🔥
Square Online


---
Get a free website builder, online ordering, gift cards, in-store pick-up options, and dozens of other features for eCommerce and hybrid businesses. Free options available. Learn more from Square.
To learn more about how we score our reviews, see our
eCommerce Software Rating Criteria
.