Valued Merchant Services Review
Writer

UPDATED
Advertiser Disclosure: Our unbiased reviews and content are supported in part by
affiliate partnerships
, and we adhere to strict
guidelines
to preserve editorial integrity.
Valued Merchant Services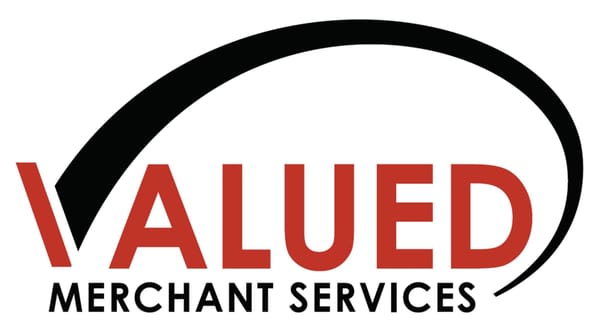 Pros
Spotless track record
Compatible with a wide variety of industries

eCheck processing offered

High-risk accounts offered
Cons
Limited pricing disclosed online
Early termination fee

Expensive hardware leases

Deceptive website & advertising
Valued Merchant Services Overview
Just as you can't judge a book by its cover, you can't judge a merchant account provider by its website. Actually, it turns out that in some cases, you can — with decent accuracy!
The website of Idaho-based merchant services provider Valued Merchant Services displays all the warning signs. Vague descriptions of products and services. no pricing page, and a strong emphasis on recruiting independent sales agents — let's just say that upon seeing it, my judging hackles were raised.
Then, a promoted A+ Better Business Bureau rating caught my eye. Mind you, I recognize that a good BBB rating is not the ultimate measure of quality, but I was still intrigued. Sure enough, Valued Merchant Services' profile had zero complaints. Zero. I searched the rest of the web and came up with similar results. VMS's online reputation is about as squeaky clean as they come. Score one for the anti-book-cover-judging cliche.
As I investigated further, I learned that VMS resells a lot of First Data (read our review) merchant accounts and accompanying First Data products (the Clover POS line, for example). I learned that they give mild lip-service to interchange-plus pricing, but seem to offer tiered plans as well. I also learned that merchants may also be offered a long-term, non-cancelable equipment lease, which is typically bad news.
My research also uncovered that one of the company's founders, Chris Del Grande, is sort of medium-grade Twitter-famous with over 100K followers. By any measure, he is certainly prolific. He has even associated his personal profile with some of the company's main social media accounts (and he's posted over 6,000 times on Instagram alone, leaving most of the Kardashians in his digital dust.) That may partially explain why Valued Merchant Services has maintained such a stellar track record online: this is a man who cares a lot about what's happening on the internet. It makes you wonder what the deal is with the company's lackluster website.
Mr. Del Grande is an interesting character, and both he and his co-founder list their own phone numbers on the VMS website. This attitude of approachability and putting one's own name and circular profile photo on the line for the company has likely served them well. With a potentially mixed bag of pricing and contract terms offered by an array of independent agents in the field, VMS still garners a positive reputation against all perceivable odds. This is the only real reason I'm giving VMS a cautious 3.5 stars until I hear otherwise.
In this review, I've attempted to get to the bottom of the strange contradiction that is Valued Merchant Services. Join me as we rip that pesky cover off VMS and see what we find!
Products & Services
You wouldn't necessarily pick this up at first glance (there's that judging-by-the-cover problem again), but Valued Merchant Services offers quite the dizzying array of products and services. Some of these are provided directly by VMS, but many are supplied by third-party partners.
I already mentioned the main website is fairly sparse on product descriptions. I stumbled across the real information jackpot on a VMS agent training page, not currently linked directly from the main site. Here, you'll find loads of PDFs, brochures, and spreadsheets meant for agents to use with merchants. Many were uploaded in 2016, but some are more recent. These provide much better insight into what this company offers than the "Products & Services" tab on the main site.
Below, I've pieced together a summary of offerings from the agent page and the main site. I've included some PDFs from the training site as well.
Merchant Accounts: First Data appears to be the primary processor VMS uses for accounts. The training page includes a TSYS application as well. I've also seen references to Global Payments and Chase Paymentech.
High-Risk Accounts: VMS may use more processors beyond the ones I've mentioned, including some specifically for high-risk merchants. A 99% overall account approval rate is advertised.
Card Terminals: EMV-capable terminals from First Data, Ingenico, PAX, and Verifone are highlighted. I've seen references to VMS leasing hardware via Executech, and the standard term looks like 48 months. We don't recommend leasing this type of equipment under most circumstances. Fortunately, they also offer purchase options and a free terminal plan. The fine print on this or any other "free" terminal offer is essential reading material, and watch for compensating adjustments in the rest of your contract.
POS Systems: The Clover line of POS products from First Data is heavily featured by VMS, as well as InStore (read our review) and ShopKeep (read our review).
Mobile Payments: Clover is featured again, along with ROAMPay from Ingenico.
Payment Gateways: A proprietary gateway called VMSConnect is offered, although it could be a white-label version of gateway provided by a partnered third-party. Either way, it looks quite full-featured. Authorize.Net is also discussed on the training site, as well as CardConnect (owned by First Data). I suspect VMS is compatible with most other common gateways as well.
ACH/eCheck Processing: You won't be surprised to learn that TeleCheck from First Data is promoted for processing checks. There's also a brochure for accepting ACH through Authorize.Net. Check guarantee services and check cashing services are also advertised.
ATM Machines: ATM sales, leases, and placement are described at the agent training site.
Gift & Loyalty Cards: The main site highlights the rewards program within Clover, as well as a service called Perka. Paycloud was an additional service I found at the training site.
Quickbooks Integration: This gets a couple "quick" mentions at the agent site.
Fleet Card Acceptance: These are special cards for purchasing fuel if your business involves a fleet of vehicles. Wright Express Fleet & Voyager Fleet card acceptance applications are posted.
Financing: This includes secured and unsecured business loans, cash advances, and lines of credit.
Reporting & Analytics: All I could find on this topic was a brochure for another First Data/Clover piece of software called Insightics. This will only apply if you're onboarded with Clover and therefore First Data.
Commercial Electricity & Gas: Well, this was a new one for me. VMS apparently connects with a network of utility providers to get you hooked up (so to speak) with lower rates for your business. Interesting!
Payroll & HR: VMS partners with a company called ADP to offer this service.
Social Media Management: Dream of becoming a Twitter star like Chris Del Grande? VMS can help your business up its social media game. Check out some of the "Dominator" packages.
Website & App Development: Yep, VMS offers this too.
Is that it? I think that's it! That was a lot of PDFs, but we made it. As you can see, VMS is a classic Clover reseller, but also has tacked on a gazillion other offerings for merchants. It's quite the menagerie of offerings — some of which I've never seen from a merchant services provider before.
Fees & Rates
Definitely anticipate a one-time or monthly fee for every one of those features we've just discussed, in addition to your regular merchant account fees and rates. VMS does include a few pricing PDFs on the agent training site. Unfortunately, I think much of the pricing is outdated. You'll want to inquire about any setup, monthly, annual, and per-transaction fees for each and every feature, and obtain them all in writing.
When it comes to the rates and fees for actual card processing — the costs we're most interested in — there is no centralized pricing page. From poking around this company's online materials, I've concluded that the most common pricing are all offered by VMS: interchange-plus, tiered, and a flat-rate plan that's intended to compete with Square.
In searching for a definitive statement on VMS's approach to pricing, the closest I came was the 7th point in a 2018 blog post by Mr. Del Grande. Under the heading "Interchange Pass Through Pricing" he writes:
Vendors tend to get hung up on rates and fees, but as a vendor, you want to hone in on what the processing company's markup is based on. There are generally two main pricing options. Those are tiered and interchange pass through. For many smaller businesses, especially those that don't do a high volume of credit card transactions, tiered is going to be the more expensive option.
Hmm. I was mostly tracking with him until that last sentence. Based on the title of this section, I was hoping for an explanation of the difference between the models, and a plug for the transparent markups of interchange-plus pricing. Instead, we get a strange and inaccurate blanket statement about tiered pricing that manages to indirectly recommend it for businesses with a high volume of credit transactions. Here at Merchant Maverick, we strongly recommend interchange-plus pricing as the most transparent and easily comparable pricing model. That advice stands whether or not you process lots of credit cards. The good news, I suppose, is that VMS at least offers interchange-plus.
Despite any mixed messages so far, I think it's safe to say that rates and fees are both negotiable with VMS. In the sample VMS application for processing through First Data, we see fees such as a $120 annual service fee, $120 annual PCI fee, and a $25 monthly minimum fee pre-loaded into the form. These are not out of the range of "normal," but they're also not great either. If you're considering signing with VMS, come prepared to negotiate a better deal. Take a look at our rates and fees guide to orient yourself first.
As we wrap up the pricing section of this review, I'll leave you with a snippet of a 2016 blog post under "Wave Fees, Not Rates," in which Del Grande gives his agents this advice:
We already mentioned not lowering merchant fees, but you do have discount options you can offer others without breaking your bank. If you're looking to potentially convert a business to your processing services, ask questions: do you have an annual fee currently? What is your contract length? Do you have any termination fees?

Offer to have these fees waived if they convert to your services. This gives them an incentive and relieves you of a one-time cash charge instead of a steady loss stream from one client.
There you have it, right from the boss. It looks like VMS agents may be more apt to lower or waive certain fees rather than lower your rates, but I bet they'd be willing to do either to win your business in the end. Meanwhile, let's take a closer look at what we know about VMS's contract terms.
Contract Length & Early Termination Fee
By encouraging agents to waive early termination fees if necessary, VMS is admitting to having them in first place. The First Data contract just referenced also includes a pre-loaded early termination fee of $395. Your first task in dealing with VMS is to either get that waived or look elsewhere. Again, to win your business, most MSPs will be flexible on this point.
In my research on this topic, I encountered more mixed messages from VMS. Let's look at point #8 from that 2018 blog post, with a promising heading of "Be Wary of Long-Term Contracts:"
You want to be wary about getting locked into a long-term contract, and if you are [locked into one], make sure it comes with some sort of leverage in terms of pricing. Long term contracts will often result in cancellation fees, and if you're not sure you're getting a good deal in the first place, then you want to shop around before marrying yourself to one credit card processing company.
So, the advice is to be wary of long-term contracts, but the subtext is that it's probably actually okay to have one, as long as it's with a good company (you know, like Valued Merchant Services, just as one completely random example). Here's another statement in the same vein from 2016, this time directed toward VMS sales agents:
Ease a customer's mind when it comes to contracts:

You never want to leave a customer in the dark when it comes to contracts. Merchant services contracts are usually pretty strenuous, and it's important to talk about them with transparency somewhere down the sales funnel.

Customers don't like to feel like they're signed into something they can't break away from, so it's essential that you assure them they aren't signing a deal with the devil when they hire you for your processing services.
Here, we have more subtext that contracts (potentially long-term ones) are actually okay, as long as you're signing them with VMS instead of the Prince of Darkness. I'd like to point out that the only way to protect yourself as a merchant is to read the merchant agreement carefully for yourself — before you sign it. Do not trust any verbal assurances from a sales agent that you can break away from the contract. Whether or not you "feel" like you've signed something you can break away from is also irrelevant.
I like Mr. Del Grande's advice from a 2014 blog post a bit better:
Look for a Short Term or Month to Month Contract – If a company is really going to deliver on their promises and provide low rates, great service and access to the programs and technologies business owners need, they won't need a contract to keep a business owner satisfied and loyal.
Oh, we're getting closer! Just take out "Short Term" (because who knows exactly how long that is — could still be multiple years) and that tip is pretty solid.
I'm being a little hard on VMS, but we can't escape that this merchant services provider leaves wiggle room for its agents to offer long-term contracts with ETFs. I'm sure part of this has to do with the fact that they accept high-risk merchants. These accounts often do require some sort of longer commitment and ETF. However, here is the best piece of news on this topic: I have not read any complaints of non-disclosure of contract terms or early termination fees from actual merchants using VMS. Until we hear otherwise, we must assume most merchants are happy with whatever terms they've received with VMS. And generally speaking, early termination fees are one of the first things unhappy merchants will complain about. So the lack of complaints actually does speak volumes.
Sales & Advertising Transparency
Ever visit a company's website for the first time, only to feel like you're being violently thrown back out again? Or perhaps like you're being "fish-slapped"? That's how I felt when I first visited the homepage of Valued Merchant Services. Instead of unwelcome fish, I was visually slapped with a giant stock photo of $100 bills and a promise that I'd be given $500 if VMS couldn't "beat my current processing rates and fees."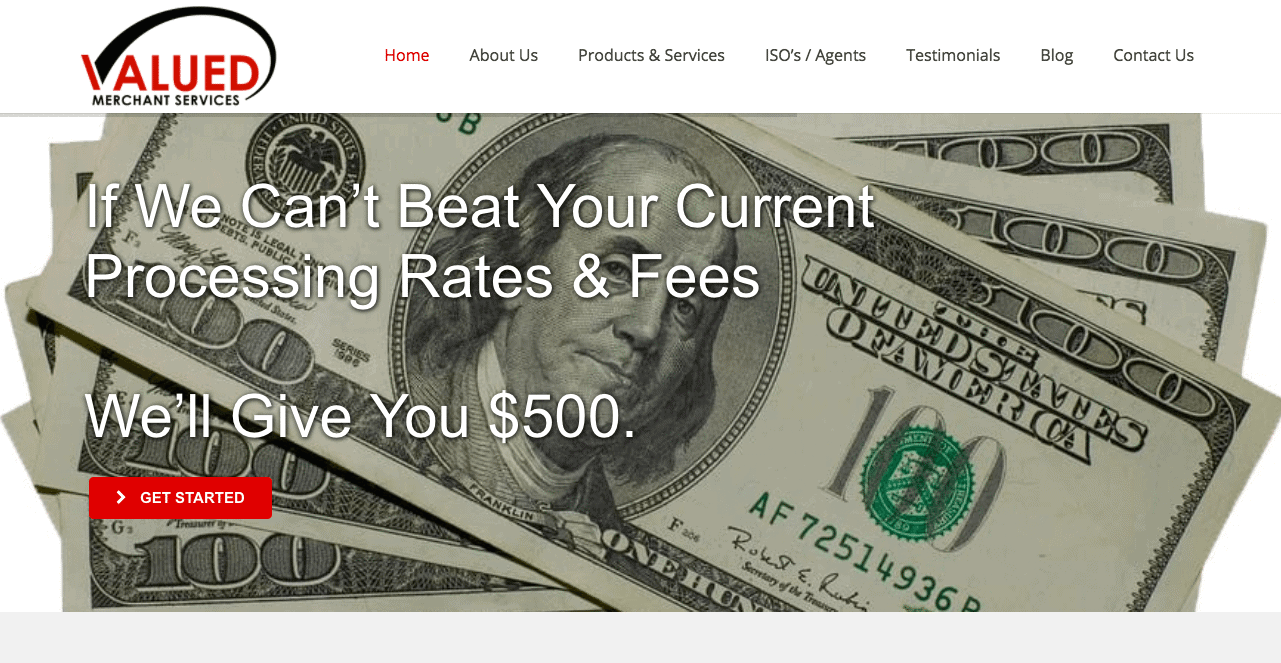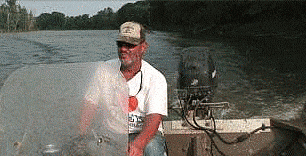 I don't like it. First of all, it's just tacky to flash huge bills in someone's face. Secondly, we see this sort of offer all the time — it's nothing original. Thirdly, there's no link to any conditions or fine print, so we don't actually know what this offer means. Sure, they'll probably be able to save you money on some aspect of your account, just like virtually any MSP could. Whatever the case, I suspect Valued Merchant Services is not regularly handing out stacks of hundreds.
VMS also claims to save merchants "10-30% or more" on the website. That number jumps to "10-50%" on LinkedIn. I don't like to see these unsubstantiated and unqualified claims from any merchant services provider. VMS likes throwing numbers around like this. Apparently, its competitors have "10 to 500 times more complaints" than VMS does. If so, this could always mean they're merely competing with the bottom of the barrel!
Several blog posts contain mixed messages about pricing, but some of the agent sales scripts are even worse. You can't claim elite access to "wholesale" pricing (a dubious assertion to begin with) and then pitch flat-rate pricing in the same breath. Flat-rate pricing has the least connection of all the pricing models to the wholesale processing rates of transactions. It's the classic case of stringing together sentences that sound nice, but don't actually make much sense.
What I can affirm amongst all of this mess is that we don't find any complaints about dishonest, misleading, or even pushy sales reps. I also like that they're pretty transparent about their sales tactics by leaving that agent site publicly accessible. Check out the hard-sell tactics in this agent training resource. There's nothing particularly unethical here, but I'd still run away screaming if I encountered an agent who was this annoying persistent.
I hope VMS leaves the agent site up, although I'm sure it could use an update. Drop us a comment if you notice the link suddenly and "mysteriously" breaks!
Customer Service & Technical Support
VMS advertises 24/7/365 customer support. You'd think that's a pretty self-explanatory piece of information, but this is not always the case. Often, MSPs have regular office/business hours, with support questions funneled automatically to third-parties (such as a backend processor or equipment supplier) outside of these hours. So, we don't know if there is an in-house team managing these lines 24/7, nor if/when and to whom any support is outsourced.
I had hoped someone at VMS could answer these and many other questions for me. In reaching out to a general email address for the company, I received a quick response from none other than Chris Del Grande himself. How promising! However, once I sent over my questions, the email chain promptly died without warning. I never heard from him again.
One would assume Mr. Del Grande would not completely shut out a potential client (as opposed to me, a lowly merchant account reviewer). Nevertheless, I was holding out hope that Mr. Del Grande was an open book, and that this would help explain how his company's positive reputation has hung on this long. I did test out the customer support phone number, where I reached a simple automated message and was eventually directed to leave a voicemail. By that point, it wasn't worth my trouble.
The main VMS website currently contains no FAQs, help articles, developer documentation, support ticket system, or educational resources we like to see posted for merchants. Even the VMS blog is sporadic and mediocre at best. The social media accounts — Twitter, Facebook, LinkedIn, Google+, Instagram, Pinterest, I could go on — are undeniably prolific, but lacking real substance for customers. If you enjoy tired "inspirational" quotes and memes, I suppose VMS might be your social media style.
I'll grant that no one else is really complaining about VMS's customer service besides me. For now, we're left to assume it's effective.
User Reviews
Negative Reviews & Complaints
The lack of negative online reviews for Valued Merchant Services is the stand-out aspect of this company by far. I've already mentioned zero complaints showing at the BBB in the last three years. In fact, VMS claims to have averaged under one complaint per year on its profile since it was accredited. Other review websites haven't racked up any merchant complaints, and I also checked other well-known hubs such as Ripoff Report, Google reviews, Yelp, and Facebook. There's absolutely nothing interesting on the negative side.
Are VMS complaints ending up with First Data or other processors? Or with profiles of sub-agents or ISOs? It's possible, but I haven't come across any evidence of this. Let us know in the comments if you've had direct experience with Valued Merchant Services. Don't forget to check our comment policy to help ensure it's published.
Positive Reviews & Testimonials
Does the absence of negative reviews equal a positive review? Not really. We still need to see affirmative evidence from real customers using Valued Merchant Services. The main VMS website includes seven testimonials on a dedicated page. Unfortunately, these are very formulaic — so much so that the exact same wording is repeated across nearly half of them. Perhaps they were hoping no one would actually read these. Well, I did, and I'm crying foul.
There are a few positive comments about VMS on other sites. The Facebook profile for VMS, for example, is scoring 4.6 out of 5 stars with 61 reviews, but there isn't much substance here. (I know — a lack of substance on Facebook? I'm as shocked as you are.) In my darkest moments of doubt about VMS, I find myself hanging on to the fact that it has made the Inc. 1000 list of "Fastest Growing Private Companies in America" a couple of times. I also found a few positive reviews from employees, but what I'd really like is to hear directly from a current client or two of VMS. If that's you, please reach out!
Final Verdict
Have I managed to uncover the mystery of Valued Merchant Services? Not to my own complete satisfaction, I'll readily admit. Even so, I learned enough to not simply slap 5 stars on this company just because they are not manifesting public complaints. I can't fully recommend VMS as a merchant account provider until I know more, especially when there are plenty of other vetted and qualified candidates ready for your business.
We don't require a company to have an amazing website to receive a good review, but especially for an organization that promotes website design as a service, I expect better from VMS. When I can't discern if sloppiness or intentional deception is at play (like with the abysmal testimonial page), it's a bad sign. What's more, I shouldn't have to lurk around your agent training page to learn the important aspects of your company. I'd hoped to let Chris Del Grande himself fill in the gaps on VMS, but I was ultimately met with a cold shoulder.
VMS focuses heavily on recruiting a large network of independent sales agents, which in this industry often leads to an unpredictable and mismanaged sales process, along with an ensuing flood of merchant complaints. Not so with this merchant services provider. We've seen that VMS is definitely capable of mistakes, so any resulting merchant frustration as a result must be expertly handled by the team.
If we had any sort of confirmed evidence of poor sales practices, undisclosed contract terms or other misbehavior, that would be more than enough to score VMS quite poorly. But instead we have an absence of complaints, which often indicates happy customers, combined with lackluster marketing and limited disclosures. And so for all of these reasons, Valued Merchant Services gets a 3.5-star score. It's a teensy bit above average, but not quite good. I encourage you to be on your guard when dealing with anyone from VMS.
If you do decide to work with VMS due to its good reputation and wide variety of product offerings, be sure to ask for interchange-plus pricing, and most importantly, a month-to-month contract with no early termination fee. We've seen evidence that this setup is possible with VMS, and plenty of other processors offer it too, so there's no reason you should settle for anything less. For the moment, you also have access to an entire sales agent training site's worth of information to use to your own advantage in negotiations.
---
Our Top Pick To Save On Payment Processing 💰
PaymentCloud


---
PaymentCloud has an excellent track record for service quality, support, and fair pricing. Learn more from PaymentCloud.
Our Top Pick To Save On Payment Processing 💰
PaymentCloud


---
PaymentCloud has an excellent track record for service quality, support, and fair pricing. Learn more from PaymentCloud.
To learn more about how we score our reviews, see our
Credit Card Processor Rating Criteria
.