Velocity Merchant Services Review
Expert Analyst & Reviewer

Updated on:
Advertiser Disclosure: Our unbiased reviews and content are supported in part by
affiliate partnerships
, and we adhere to strict
guidelines
to preserve editorial integrity.
Velocity Merchant Services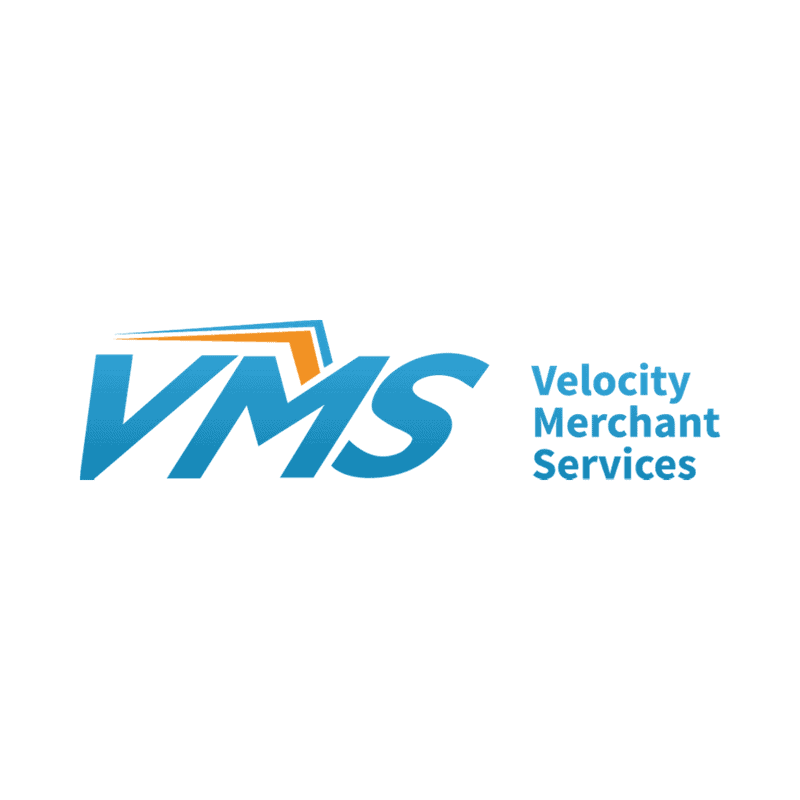 Velocity Merchant Services Overview
In our Velocity Merchant Services review, we had to do a bit of digging. Their website contains quite a bit of wording, but not a lot of specific information when it comes to rates, monthly fees, and contract length. We tend to see similar questionable patterns with this lack of transparency, and VMS credit card processing is no exception. We'll show you why we have some cause for concern in this post, so you can make the best choice for your small business. But first, a little background on the company itself.
Velocity Merchant Services is a merchant account provider based in Downers Grove, IL. The company is run by the wife and husband team of Dema Barakat (founder) and Danoush Khairkhah (CEO). Dema Barakat cut her teeth at EVO Merchant Services, doing business under them until 2006 when she registered her own ISO and started VMS. We gave EVO a 3.5-star rating in our initial and subsequent reviews, citing concerns about the unregulated practices encountered due to their reliance on independent sales agents, as well as a growing number of BBB complaints.
In some ways, it looks like Barakat has modeled her company after EVO. In the process, she may have taken the bad with the good.
In an interview published online a few years back, Dema discussed how she got in on the credit processing business at age 19. Barakat's story of building a business as a woman in a male-dominated field is pretty inspiring. Unfortunately, in the same interview, she goes on about how important offering terminal leasing and other services like cash advance loans are to her business. Both of these practices rarely benefit the merchant, so that was a bit disappointing to hear.
Velocity Merchant Services continues to grow each year and doesn't have the terrible complaints trail that you might expect to see from a business of this size and age. Overall, I'd consider VMS average when looking from the outside. Unfortunately, my investigation into their sales practices and rates revealed some pretty bad news including the potential for horrible rates/fees as well as unethical sales tactics. I'd encourage you to read the whole review for a more complete picture and to check back for updates. But for the moment, we can only offer VMS 3 out of 5 stars.
Read on to get the full scoop on VMS and their business services.
Products & Services
VMS offers basic processing products and services, but nothing too noteworthy. Here's what you'll get:
Merchant Accounts: It appears that VMS onboards new merchants with merchant accounts through First Data (read our review) or EVO Payments (read our review), depending on what services you need.
Gateways & Shopping Carts: VMS will gladly get your online business going with a payment gateway and third-party shopping cart.
VMS Charge: Using this virtual terminal allows users to accept credit cards.
POS Software: Merchants can get a Clover POS system for countertop payment processing. Clover as a piece of software is a fairly solid offering, but customer reviews for VMS point to possible predatory leases on the hardware. VMS definitely seems to fall into this category, so if you're interested in Clover, just know that other, more reputable providers offer Clover solutions.
Mobile Processing: VMS offers multiple mobile processing options, including Clover Go (read our review).
EBT/SNAP: VMS offers to help you get through the steps you need to process EBT transactions. You will need a USDA FNS program permit to do so.
Velocity Merchant Services offers a handful of "value-added" services. In my opinion, to call something a value-added service, it should be provided for free or at a fee much lower than the industry standard. This is how it ADDS VALUE. Otherwise, it's just a service, isn't it? I'm afraid in some cases VMS disagrees with me on that. Also, you should remember that nothing is completely free. You are going to pay for these so-called, value-added services whether you use them or not. It's just built into the cost of your service plan. Unfortunately, VMS does not disclose any costs associated with the "value-added" services, which includes:
Fast Cash: Velocity provides merchant cash advances (not loans… but basically loans) ranging from $3,000 to $250,000 based on your current credit card transactions. (Note: You'll have to sign up and provide your information to find out how much you qualify for.) What do you owe them? "The money is paid back only when you are making sales." This means they are getting a cut money made as it's processed. Maybe this is exactly what you're looking for, but be careful. The terms of this sort of contract can have devastating consequences. You can check out our guide to alternative financing for small business if you're looking for a bit of extra capital.
Website Development: VMS promises to build you a website tricked out with all the latest tech. (They even have a separate website, mysitebyvms.com, to showcase this feature. You'll see offers to "get a free website," but it's only free when you lease a terminal, and even then only if you qualify for it. Offering to pair website development with payment processing makes the most sense for eCommerce merchants, so the fact that you need to lease a terminal to be eligible just reeks of a gimmicky sales tactic. If this were actually a value-added service, it would be paired with VMS' gateway service. Plus, the website designs themselves aren't exactly inspiring, so you might be better off going with another website builder and doing it yourself (or paying someone else if you have the budget).
Loyalty & Gift Card Program: VMS says it offers a choice of loyalty programs to work with your business, and that includes gift cards and the ability to issue store credit. Keep in mind that if you go with a Clover POS device, you'll have access to the Clover app marketplace for loyalty programs.
Terminal Leases
VMS outsources their terminal leases, and will likely not disclose this during sales discussions. Their leasing provider, Northern Leasing Systems, settled with the state of New York in 2013 over an $11 million scheme to steal from customers' bank accounts (at least, that's how the state attorney general put it).
Terminal leasing rarely, if ever, benefits a merchant. Yeah, some terminals have high price tags. With limited investment capital, leasing seems tempting. Don't do it. You'd be better off borrowing the money to buy the terminal and paying interest than you would with a lease in almost all cases. Trust us.
Fees & Rates
Velocity Merchant Services does not disclose any fees or rates online. At all. There's not even a pricing page with misleading statements promising low rates and easy to read statements. Instead, VMS very much wants you to talk to one of its sales reps.
I contacted sales reps both by phone and through their online chat feature. Read my experiences below.
Online Sales Experience
Let me lead off by saying this was the single worst online chat experience with a processor I have ever had. With painfully slow responses that offered little information, the rep who served me was clearly either very busy or totally inept – or maybe a combination of the two. I asked about fees and rates for a business that primarily processes through keyed entry online. After ten minutes of failing to answer my initial question about fees and rates, I asked again to get us back on track. The sales rep answered:
Him (03:09:47): If you wanted our virtual [sic] terminal to process online your processing rate would be 1.29%
Me (03:10:52): Okay. Is that the only rate information I need to know?
Him (03:11:06): With a 0.15 transaction fee [sic]. The setup cost is a one-time gateway activation fee of $95.00
Me (03:12:15): Okay. What other fees would I expect to pay each month or year?
Him (03:15:43): You will need to process a monthly minimum of 25.00 in processing fees, along [sic] with a 5.00 statement fee. There is a semi-annual fee of 49.99, and to maintain the virtual terminal it is only 15.00
Him (03:16:28): If you need further explanation [sic] please feel free to contact us 888-902-6227 ext XXX
(I added bolding and removed names.)
This is wrong in so many ways. I've had oversimplified rates offered before, but nothing like this. This guy is telling me that I have only one rate to worry about: 1.29% with a $0.15 per transaction fee. What the what?! In what universe is that an appropriate response to my question about rates and fees? But then I remembered something I read on Ripoff Reports, allegedly from a sales agent with another processor trying to expose what VMS is doing:
Now what VMS is doing is giving them a rate of 1.29% on top of interchange. So what that means is the merchant is paying somewhere close to 3%. Now in my industry, it is getting very cutthroat so companies are getting creative with how to sell this product. But they're not getting creative; they're deceiving merchants. [Edited for typos.]
Yep, I knew I heard the rate 1.29% before. Anyone who knows anything about interchange knows that to charge a fixed rate of 1.29% is not possible, especially for online keyed-entry processing. The average interchange rate is closer to 1.8%, so every sale would be a loss for them. Educated consumers also know that 1.29% OVER interchange/assessment is way, way too high, especially with a $0.15 per transaction fee on top of that. I mean – really? I knew I had to get on the phone to straighten this out.
Phone Sales Experience
Day One
Can you imagine that it gets worse? Well, it does. An hour or so after my chat experience, I called the main number listed on the VMS site. An automated system picked up, which I worked my way through, and eventually selected the option to contact the sales department. After I selected sales, the line went quiet. A robotic voice came on the line ten seconds later to say "Goodbye," and hung up on me. Great. I called back, went through the steps again, selected the sales option… "Goodbye," click. Great.
I then called back and entered the extension the terrible chat-based rep gave me. This time a robot voice explained to me the party at that extension was currently unavailable and forwarded me to a voice mail system. Great. I understand that the sales department might have gone home for the day, but that still doesn't excuse this kind of service, especially on the sales end.
Day Two
The next morning I received an email from a new sales rep following up with me, as well as a phone call. In some ways, this marked a moment of redemption for VMS, especially in light of the previous day's nonsense.
This sales rep asked me a few questions, gave me a spiel about how they are a "direct processor," and then provided a rate quote for my online business:
Markup over interchange: 0.40%
Transaction fee over interchange: $0.08
While I've seen better rates, this quote impressed me. Rarely will a sales rep offer an interchange-plus deal right out of the gate. Good job VMS! He went on to give me the following fees:
Monthly Minimum: $10
Gateway Setup Fee (one time): $120
Gateway Monthly Fee: $15
Statement/Monthly Fee: $6 (discounted from $10)
Additionally, he promised:
Month to month agreement
No additional PCI Compliance fee
I asked again and again about the termination fee, and he insisted that I would not have one. That's pretty awesome, although it contradicts many complaints I've read. You might also notice that some of this information contradicts my online experience:
Previous Estimate
Processing rate: 1.29%+ $0.15
Gateway Activation Fee: $95.00
Gateway Maintenance Fee: $15.00
Monthly Minimum: $25.00
Statement Fee: $5.00
Semiannual Fee: $49.99
What gives? I asked the sales rep I had on the phone about the 1.29% rate I received the day before. He explained that this is the (absurdly high) markup offered to brand new businesses that have never processed cards before. Since I have an established business already, this wouldn't apply. Nice save, VMS. Too bad that I told the online rep at the beginning of our conversation that I'm doing $3,000 in monthly credit transactions currently. I think there's a little smoke-and-mirrors going on here.
In the end, the representative I spoke with was friendly and not too pushy. I had to dig some information out of him, but he provided a better sales experience than average, I'd say.
Contract Length & Early Termination Fee
Some previous customers have complained of a $700 cancellation fee if the customer cancels within the first two months. Other customers say a $495 fee applies in canceling during the three-year contract.
The website claims, "We don't use high-pressure sales tactics or long contracts…" The representative I spoke to promised no contract and no cancellation fee. Readers: Do any of you have a merchant agreement with Velocity Merchant Services that has no cancellation fee? Please chime in!
Sales & Advertising Transparency
Customer complaints have confirmed the use of high-pressure sales tactics by Velocity, although it's not clear whether upper management encourages these tactics or not. The job listings on the VMS site show that the company uses both in-house sales and independent sales offices. You should note that when you speak to an "Account Executive" at Velocity Merchant Services, you are talking to a salesperson. Don't let the title fool you. Every salesperson is an executive at VMS, apparently.
The Velocity Merchant Services website is seriously lacking key information, though I suppose I can give them some points for having an active blog full of small business topics. It still doesn't make up for the lack of disclosures elsewhere, though.
When we checked Glassdoor for some internal employee feedback, it is clear that the environment at VMS may put excessive pressure on salespeople to "close the deal." One reviewer says that VMS is, "A constant revolving door of salespeople…" Typically, a good overall product does not require a high-pressure sales team to lock a merchant into it. We strongly encourage you to proceed with caution if you consider VMS credit card processing.
Customer Service & Support
On their site, VMS promises 24/7 in-house support, which is nice to see. If any current customers care to chime in to verify this in practice, I'd love to hear from you. It looks like VMS uses a combination of phone and ticked-based email support. It's nice to see that VMS posts the phone numbers for different departments so you don't have to play the support-shuffling game and get transferred to 3 people before reaching someone who can help. You'll also see that VMS posts the support phone numbers for its back-end processors, EVO Payments and First Data.
My experience with their online chat representative was horrendous. Likewise, dealing with the automated service system gave me little hope for their customer service. Generally, the sales end of a business provides the most responsive service. If the sales support sucks, what will it be like after they get your name on the dotted line?
If you want to check out some shining examples of quality customer service, take a look at our highest rated providers in the customer service category. We have thoroughly confirmed their customer support as the best in the industry.
User Reviews
"A mixed bag" is a very fair assessment for the feedback and reviews we find for Velocity Merchant Services. Below we break it down by positive and negative reviews and let you be the judge.
Negative Reviews & Complaints
After reading through dozens of customer complaints, here are the most common ones:
Altered Contracts: VMS has faced some pretty intense accusations on review sites. Most frighteningly, some merchants have complained that VMS altered their contracts after signing. If this is true, the perpetrators will face some pretty serious charges. I can't confirm this, however, so I simply encourage readers to remain cautious.
Deceptive Sales Reps: Velocity's sales reps also received numerous complaints for impersonating various associations. This complaint has come up again and again, from merchants and former employees alike. Needless to say, this practice is entirely unacceptable, especially if encouraged by the company's management.
I think it's safe to say, though, that VMS's telemarketing practices are annoying to many merchants. Telemarketers are pretty annoying in general, but it sounds like some of the VMS telesales team won't take no for an answer.
Positive Reviews & Testimonials
Aside from the fair amount of complaints listed for VMS, several positive reviews and testimonials also came up in my research via Google Reviews.
Curiously, the company's Google reviews are mostly pretty good; however, you'll see 4 and 5-star scores alongside 1-star reviews citing poor salespeople, unfair rates, and deceptive business practices. The total number of reviews seems abnormally high for a merchant services provider, especially one as small as VMS. While we don't have any concrete evidence of gaming the system, positive reviews tend to echo each other and lack any real depth. So let's just say my spider senses are tingling.
Those who do give a good review for VMS credit card processing tend to call out a salesperson by name and we don't see any of the positive reviewers saying much beyond the initial experience. It is a head-scratcher indeed.
Final Verdict
Because of questionable sales practices and patterns of customer feedback, Velocity Merchant Services is not one of our higher-rated merchant account providers.
At the end of my research, I don't feel like VMS has much integrity or trustworthiness to offer. Their sales copy and sales talk have contained apparently dishonest statements time and time again, according to what we can uncover with consumer reviews of VMS. I'm sure Dema Barakat's company serves many happy merchants, and that at least some of those merchants are actually getting good rates. Don't let your guard down with Velocity, though. They have a bright and shiny exterior, but underneath all of it, the standard processing industry problems await you.
For these reasons, Velocity Merchant Services earns just three stars.
If you've had any experiences whatsoever with VMS, drop us a comment! Afterward, go find a processor that works for you and your business. You can start by checking out our top-rated merchant accounts.
---
We've done in-depth research on each and confidently recommend them.
We've done in-depth research on each and confidently recommend them.
To learn more about how we score our reviews, see our
Credit Card Processor Rating Criteria
.
Read Next