Volusion Review
Though a solid and easy to use solution for startups and small businesses, this eCommerce platform may not have enough features for larger businesses.
Expert Analyst & Reviewer

UPDATED
Advertiser Disclosure: Our unbiased reviews and content are supported in part by
affiliate partnerships
, and we adhere to strict
guidelines
to preserve editorial integrity.
Volusion

Pros
Easy to use
Free 14-day trial
Competitive monthly cost
Cons
Limited features
Sales caps on plans
Limited integrations
Limited payment gateway integrations
Volusion Overview
Volusion is cloud-based eCommerce software that lets sellers quickly build an online store, add products and payment details, and begin selling on their website. Volusion's VOLT platform is said to be flexible and scalable, using mobile-first indexing to improve organic search rankings and draw more shoppers to your store. Will this full, unbiased Volusion review back up that claim?
Volusion users and those curious about the platform started feeling skittish when the company filed for Chapter 11 bankruptcy protection in the summer of 2020. A year later, in 2021, the company emerged from bankruptcy after restructuring debt, now repositioned, they say, for long-term health and refocused on platform enhancements.
Some things haven't changed. Volusion's VOLT's block-based site designer still is made to be easy to use, allowing even novice site designers to create a professional site using prebuilt themes and blocks. That includes product review displays, integrated blog, announcement bars, and more — and you can don't see what you like in the block library, you can create your own from scratch. It's easy to reuse the block across multiple pages and to change colors, fonts, layouts and more across one block or the whole domain.
Keep reading for a full Volusion review that will help you make your mind up about this software company, including whether it's right for your business. We'll look at pricing, features, add-ons, customer service, and even some Volusion complaints as well as users' praise for this all-in-one solution.
Volusion Pricing
Volusion organizes its pricing tiers according to the volume of sales a business makes on a trailing 12-month basis. When a growing business surpasses the annual sales cap on its selected plan, the user will be bumped up to the next pricing tier. Each step up in pricing includes access to more advanced features and customer support options. Volusion offers four plans, each with clear upfront pricing. (After Volusion's reemergence from bankruptcy, the Startup plan seems to have gone away.)
Users can choose to pay monthly or save about 10% on their plan by paying for a year in advance. Before you make that decision, take advantage of Volusion's 14-day free trial, with no credit card required, so you can test out the platform risk-free. Users can change their plan level at any time. Also, for sellers who plan to build multiple stores, there is a 10% discount on each additional store you create with Volusion.
If and when you decide to use Volusion to host your online store, you can choose from these subscriptions, at these rates for monthly billing:
Personal
Volusion's Personal plan costs $29/month and includes:
Up to $50K in annual sales

One staff account

100 products

Unlimited file storage and bandwidth

Secure checkout
Free, responsive themes
Drag and drop tools
Inventory management
SEO tools
Social media integrations

Coupons and discounts

Automatic tax calculator

Manual orders

Integrated dropshipping

Online support
Professional
Volusion's Professional plan costs $79/month and includes everything in the Personal plan, plus:
Up to $100K in annual sales
Five users
5,000 products
Ratings and reviews
Newsletters
Import/export
Abandoned cart reports
Automatic tax calculator
Phone orders plus CRM

Online and phone support
Business
Volusion's Business plan costs $299/month and includes everything in the Startup plan, plus:
Up to $500K in annual sales
15 users
Unlimited products
Amazon and eBay integrations
API access
Batch order processing
Deal of the day
Customer loyalty plan
Advanced report builder
Third-party shipping calculated rates
Third-party gateways
Priority support
Prime
Volusion's Prime plan is available at custom pricing based on gross merchandise volume. It includes everything in the Business plan, plus:
Over $500K in annual sales
Unlimited staff accounts
VIP support
No matter which plan you choose, Volusion does not charge any transaction fees on sales.
Cloud-Based Or Locally-Installed
Volusion is a cloud-based solution.
Hardware & Software Requirements
Just keep your computer and internet browser current and maintain a strong internet connection, and you're ready to use Volusion. Volusion does not support older versions of some web browsers, so it's recommended that you stay up to date. Specifically, Volusion supports Firefox 13 or newer, Google Chrome, and Safari 3.0 or newer for Mac OS, although certain Easy Editor image uploading functions are not supported in Safari.
Specific Size Of Business
Although Volusion is set up so your website can grow with you, we think it's best suited for small to medium-sized businesses, including startups. Although Volusion comes with a reasonable feature set, some advanced features are lacking. Plus, the sales caps on plans include a steep jump, from $79/month to $299/month when you top $100K in sales, and if you're doing more than $500K, you're looking at custom pricing. So if your sales are hovering in the high five figures, be aware that your website expenses are about to go up.
Ease Of Use
Volusion offers a free 14-day trial to all prospective customers. Although you have to provide contact info, you do not need to pull out your credit card to sign up. As you test the software, you'll probably find that, in general, the basic features of Volusion are easy to use. It's a straightforward matter to add a product, set shipping preferences, and make small adjustments to the look and feel of your website.
That said, when it comes to locating advanced features, Volusion can be fairly clumsy. The toolbar on the left side of the screen does not expand into nesting subcategories, which means that if you're looking for a specific feature, you often have to click into multiple pages to find it.
What's more, Volusion doesn't offer the same level of functionality as other eCommerce software. In fact, one reason Volusion is easy to use is because it doesn't have very many features, and that's one of our biggest Volusion complaints. Take a look below for a few of the features that you can expect from Volusion, as well as a discussion of the software's limitations.
Volusion Features
A Volusion review of features shows that the software delivers the basics most small businesses need to create their online stores. A closer look shows that Volusion's VOLT is still missing some more advanced features. Here's a quick breakdown of the features that are currently available:
Dashboard: Volusion's admin panel is simply organized, with categories listed in a toolbar to the left. When you first sign up, the Home page features the steps you need to take to set up your online store. Once you've published your site, this page gives you a more general overview of your store.
Products: Manage and update your inventory by uploading CSV files. Showcase your products with multiple photos, videos, and item descriptions. Improve your customers' browsing experience by choosing the right navigation style as you design your site, and include advanced search tools to help them locate products quickly. Highlight discounts and promotions on your home page using Volusion's Slideshow feature. Use product category pages and subcategories to customize your site. Set custom pricing for product variants. Use the Related Products feature to display items related to previous purchases and encourage customers to buy. Unfortunately, Volusion's VOLT does not currently support automatic downloads of digital products.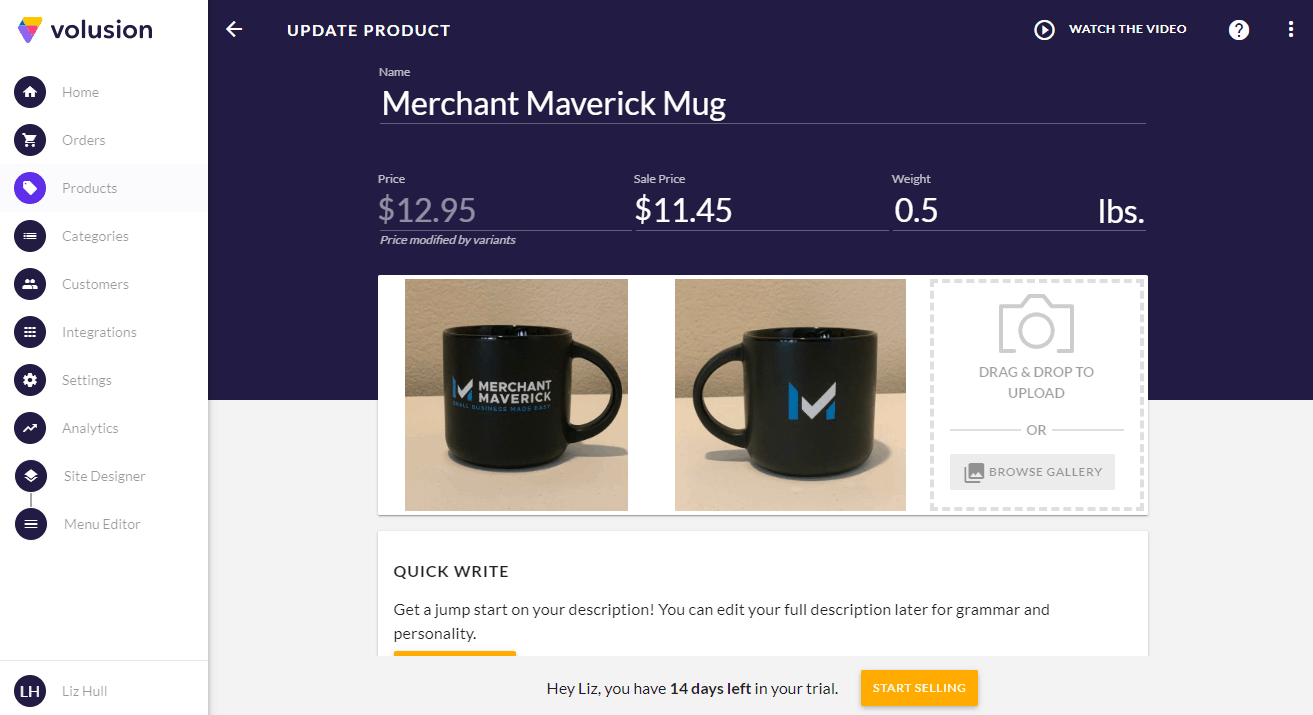 Source: Volusion
Multichannel Selling: Link your Volusion store to Facebook, eBay, and Amazon, and manage your Facebook store directly from your Volusion admin panel. You can also link your social accounts to your online store and post to Facebook and Twitter directly from your store admin.
Sell Internationally: Built-in currency tools support sales across the globe.
Checkout: Volusion's standard checkout page is secure and PCI-certified. A tax calculator is included, so you can calculate current rates.
Inventory Management: Generate custom barcodes for products, making inventory management easier. Track stock with Volusion's inventory management system, displaying products status, stock reorder levels, low stock alarms, and quantity verification. Create custom codes for vendors to make managing stock easier and more efficient. Tools are included to manage returns.

Marketing:

Customers can leave detailed product reviews, which you can manage from your dashboard. Generate and manage store gift cards. Create discounts with percentages or dollar amounts and set custom start times and durations. Link them to specific products, categories, or your entire store. Create a Deal of the Day so shoppers visit often.

Dropshipping: Users can install Volusion's Fulfillment Services App from the Integrations tab on their store's admin panel. That lets you choose a dropship partner and set up order processing. Choose whether to automate order fulfillment or set it to manual, so you can separate dropship items from those you want to fulfill locally.

Blog: If you want to add a blog to your Volusion store, you'll need to link to a third-party site. Volusion does support a Newsletters feature that allows you to keep in contact with customers.
SEO Tools: Use built-in tools to manage metadata, including descriptions, title tags, and URLs, to keep pages, products, and categories SEO-friendly. Use sitemap indexing to make it easier for search engines to find you. Use Volusion's editable robots.txt file to prevent search engines from crawling certain pages.
Reports & Analytics: Gain insight by creating reports, including information on live and abandoned carts. You can also see purchases, RMAs, product and category views, and CRM tickets.
Volusion Web Design
A Volusion review that looks at web design should cover three areas: elegant design templates, usable theme editors, and customization options.
Volusion offers 11 free and 34 paid themes, all of which are professionally designed and mobile responsive themes. This is an improvement from recent years, when a common Volusion complaint was that only 16 themes total were offered. These designs are attractive and image-focused. You can click on any theme to access a demo that gives you a feel for that theme.
Volusion lets you make changes to your design in a few ways. Users with less refined technical skills can use Volusion's intuitive Easy Editor tool to make changes with no backend coding required. You can even use the Style Editor to choose from several premade color and font combinations within themes. These tools are easy to use, but they don't offer a high degree of customization. Those who know their way around HTML and CSS can fully customize their store's design and functionality fully customized.
Integrations & Add-Ons
Volusion currently lists only 37 integration partners offering modules and other third-party software. As with the number of available themes, discussed in web design above, this number is actually an improvement from recent years. Still, it's a relatively low number compared to other eCommerce solutions, especially those in the same price range as Volusion. And with so few integrations available, it's valid to question why three of them have to do with domain management.
Fortunately, one of the applications on offer is Zapier. A connection with Zapier allows users to integrate multiple third-party solutions beyond the listed applications. You'll recognize a number of other big-name integrations, such as Google Analytics, Shippo, Xero, QuickBooks Online, and Pinterest. However, we would like to see Volusion continue to add integrations to its VOLT platform.
There's also an API available if you'd prefer to have your developers build a new connection.
Volusion Payment Processing
While Volusion offers integrations with a small selection of payment solutions, it's not an extensive list. This is another area where Volusion complaints can be made.
Currently, Volusion connects with PayPal and Stripe in addition to its own payment solution called Volusion Payments — more on that in a minute. All payment options are available on all pricing plans.
Volusion's payment solution, Volusion Payments, is not actually its own payment processor. Instead, Volusion Payments is another name for "Volusion Merchant Services," which connects you with a third-party payment solution. Available payment options are Authorize.Net and Volusion Risk, for high-risk merchants. Through these services, Volusion Payments can offer some merchants discounted payment processing rates. The Volusion website currently lists a 2.15% transaction rate in addition to monthly fees. A free mobile commerce app allows you to accept payment and process orders wherever you're working.
Volusion Payments is only available to US merchants who are also US citizens.
Customer Service & Technical Support
Support is available 24/7 to users on all Volusion plans. However, support options are fairly basic on lower-level pricing plans, with better support options becoming available on higher-level plans. All users can find a fair amount of self-help resources online. Here's a rundown of the support options available for Volusion VOLT users:
Phone: Schedule a phone call with Volusion from your admin panel. This option is not available on the lowest-tier Personal plan.
Live Chat: Users on the Professional plan and higher can access live chat support on the Volusion website or in your admin panel. Volusion's live chat support says they respond within a few hours, but I have always gotten responses within a few minutes.
In-Software Help: Click the "?" icon in your admin panel to access the Help Center and live chat support or schedule a time for a phone call.
Videos: If you prefer to learn through examples, you can find tutorial videos throughout your admin panel during the setup process. There are also a few videos available on the VOLT resource page, and Volusion offers a larger selection of videos and webinars on YouTube.
Help Center: Volusion offers two different Help Centers: one for Volusion V2 (aka VOLT) and a separate one for a previous version of the software, Volusion V1. Because of this, it is sometimes difficult to search for a specific question; I often end up in the wrong Help Center. Make sure you check the version number at the top of the Help Center as you search for answers to your questions. One other limitation of the Help Center is that articles are not dated. Almost every article states that it was "updated over a week ago," which makes it very difficult to ensure that information is up to date.
Quick Wins: Volusion's "Quick Wins" are support services offered at flat-rate pricing. With the majority priced between $100-$400, these provide expert help in SEO, ads, design, and the use of specific programs like Facebook Pixel and Google Analytics, among other topics.
Training: Users on the higher-level payment plans gain access to priority support and training through a dedicated success team and a traffic growth consultant. Users on the Prime plan also get access to Volusion's Slack account, where they can chat with Volusion higher-ups directly.
Blog: Volusion maintains an active blog, which covers various topics, such as online selling, site building, and marketing. You can also find industry news and Volusion product updates in the blog.
Social Media: Volusion is fairly active on Facebook, Twitter, Instagram, Pinterest, and LinkedIn. Although the top results on the company's YouTube account are fairly recent, the majority seem to be from a year or more ago.
Volusion Reviews
Judging by online Volusion reviews by the software's users, it's about in the middle of the road in terms of satisfaction. The 58 users who have review Volusion at G2Crowd rate the software a collective 3.5/5 stars, and over at Capterra, it's a slightly better result, with 3.8/5 stars from 38 reviewers. Keep reading for some insight into Volusion complaints and compliments from actual users.
Negative Volusion Reviews & Complaints
It was difficult to find reviews from after the company's bankruptcy-related reorganization, perhaps reflecting improvements or a lack of new users. We'll keep our eye on review sites and update with any new trends we spot. Here are the most relevant, recent, and recurring complaints from those using Volusion software:
Too Expensive: Users report feeling nickeled and dimed. Merchants sometimes have to pay extra for services, such as Fraud Score and premium SSL certificates. And some users say that the free templates are too simple, meaning you need to pay for a theme.
Limited Integrations: Volusion only has a couple of dozen integrations, and that number has not increased over the past few years. It doesn't seem like developers are interested in building connections with the software, which makes it difficult to add advanced features to the platform.
Too Simple: Volusion lacks features in a few key areas. There are no tools for creating a blog, although you can integrate a blog from another site, and there are limited marketing features. I've also seen several reviews that say Volusion needs stronger reporting and shipping tools.
A Lot Of Bugs: Users frequently report bugs and glitches. A few comments say Volusion's updates cause more bugs than they resolve.
Limited Support Options: Users don't like the lack of an email support option, and some say the live chat option isn't a good one. Users on the base plan particularly dislike that phone support is no longer available to them.
Positive Volusion Reviews & Testimonials
While we do find positive reviews of Volusion, there are more negative reviews out there. Here are a few positive features that we see users commenting on frequently:
Ease Of Use: Users say it's simple to set up an online store and you can add your products online quickly and easily. Users appreciate how the software is all-inclusive, which takes out many of the technological challenges of running a website.
Good Customer Support: I've seen numerous reviews that praise Volusion's support team. These positive reviews tend to mention live chat support, specifically.
Security
Volusion works to maintain site security for users and its customers. Volusion is PCI (Payment Card Industry) Level 1 compliant, and an SSL certificate is included with every plan. Volusion uses Google Cloud Platform, which maintains a 99.99% uptime record. Shopper data is sent using military-grade encryption.
Unfortunately, Volusion does not have a perfect record. Volusion experienced a recent security breach in October of 2019. Hackers were able to alter JavaScript code within the Google Cloud Platform to skim credit card information from 6,500+ stores. Since this incident, Volusion has been working to strengthen its security procedures.
That includes encryption algorithms to protect sensitive data. Volusion uses AES-256 and TLS v1.2 encryption. The company takes a defense-in-depth model to cybersecurity, including a web application firewall (WAF) and intrusion prevention system (IPS). Changes to critical files are monitored using a file integrity monitoring (FIM) solution. Penetration testing is performed every six months, and Volusion partners with a bug bounty space to reward white-hat hackers who identify and responsibly disclose vulnerabilities.
Volusion FAQs
Final Verdict
While Volusion has its fans, I can't recommend it to new users. It's simply not the best option out there, in any of the categories we studied. Volusion's limited features and integrations make the software less scalable than I would like it to be. And I'm never a fan of subscription levels that automatically bump you up based on gross sales, because the types of products you sell and their unique profit margin aren't taken into account. I much prefer plans that allow users to scale up to the next level when they want access to more advanced tools and features.
Of course, there's nothing specifically wrong with this software. It may not score the highest, but a thorough Volusion review shows some positives as well as some negatives. Although there are better eCommerce solutions available, such as Shopify, with a 14-day free trial of Volusion available, those who are curious about the software have very little to lose from giving it a go.
All in all, I do recommend that you look for a different solution unless you are a small business owner with limited experience in eCommerce looking for an easy entrance to online selling. Even then, we think there are better options for beginners available.
If that sounds like you, go ahead and take Volusion's trial for a spin. Just click the link below to sign up. Or, if you're curious to see what else is out there and think something might suit your needs better, check out our picks for the best eCommerce platforms. These options are suitable for small businesses and large alike.
---
We've done in-depth research on each and confidently recommend them.
We've done in-depth research on each and confidently recommend them.
To learn more about how we score our reviews, see our
eCommerce Software Rating Criteria
.