Expert Analyst & Reviewer

UPDATED
Advertiser Disclosure: Our unbiased reviews and content are supported in part by
affiliate partnerships
, and we adhere to strict
guidelines
to preserve editorial integrity.
Webflow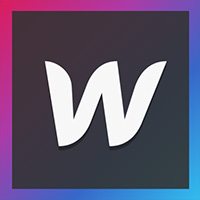 Pros
Well-designed editor
Numerous templates
Generous free plan
CMS features
Cons
Steep learning curve
Limited customer support
Webflow Overview
Webflow is more than just your typical website builder. Most builders these days focus on making website creation as easy and painless as possible for the masses by giving you prefabricated blocks of content to arrange like Legos. Webflow, on the other hand, is a sophisticated web design tool geared towards professionals who, individually or in teams, design websites for their clients (though individuals can certainly take advantage of Webflow to create their own website).
Launched in 2013 by Vlad Magdalin, Sergie Magdalin, and Bryant Chou, Webflow is based in San Francisco. Webflow touts itself as a visual CMS that combines professional, code-free (though the code can be freely edited) design tools with the user-friendliness of WYSIWYG website builders. In this respect, Webflow sets itself apart from the likes of Weebly and Wix. Instead, this builder's Photoshop-flavored approach to web design places it in the company of such services as Webydo.
With over 500,000 users accumulated thus far, Webflow looks to be an exciting and forward-looking website creation tool. Read my review to see if Webflow lives up to its billing.
Business Types Supported
Webflow gives you hundreds of templates to work with, though of these, only 46 are free to use – the rest are strictly Premium and must be purchased separately. Both the free and Premium templates are quite classy and attractive, though. The templates are adaptable to just about any kind of business, though many are tailored to restaurants, eCommerce shops, and web design agencies.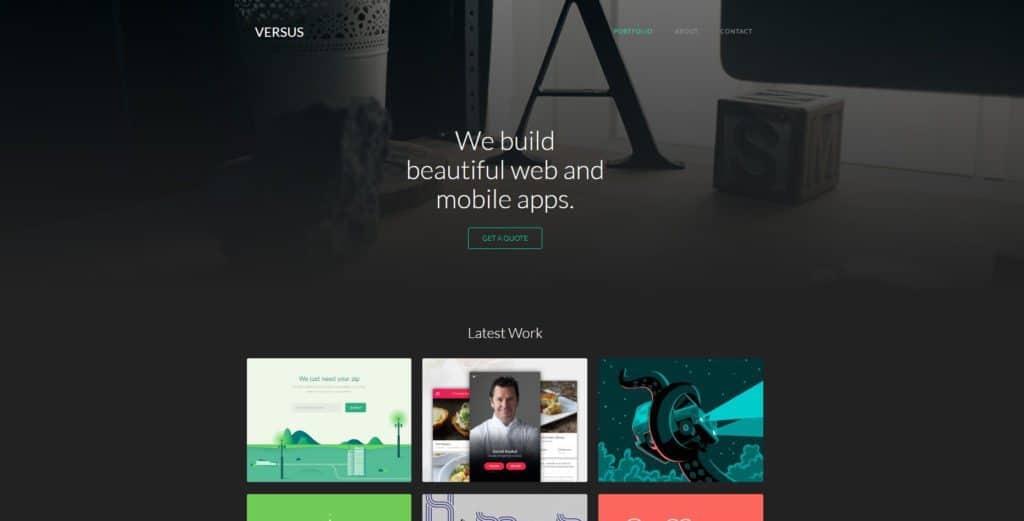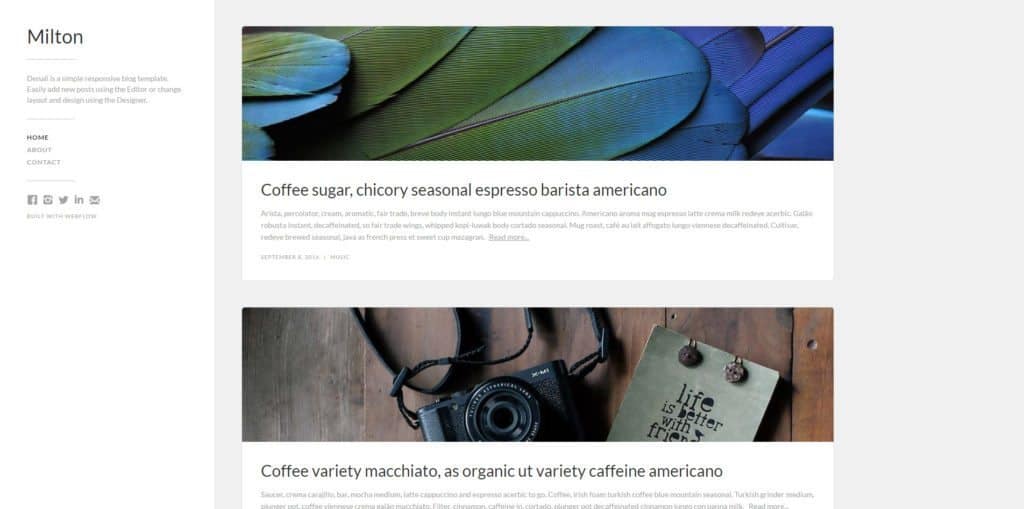 Pricing
Webflow's pricing is quite complicated, so steel yourself.
The company offers two sets of paid plans: one set (Site Plans) geared toward people needing one website for their own use, and one set (Account Plans) for designers/freelancers anticipating multiple projects. Thankfully, there's also a basic free plan. Here are the details:
Free plan
2 projects
Full design control
100+ hours of tutorials
Publish to webflow.io
Here are the Site plans:
Basic
The Basic site plan costs $12/month and includes:
Custom domain
100 pages
25,000 monthly visits
500 form submissions
CDN
50 GB CDN bandwidth
CMS
The CMS plan costs $16/month and includes everything in the Basic plan plus:
100,000 monthly visits
2,000 collection items
1,000 form submissions
200 GB CDN bandwidth
Limited API
3 content editors
Site search
Business
The Business plan costs $36/month and includes everything in the previous plans plus:
1 million monthly visits
10,000 collection items
Unlimited form submissions
Form file upload
Global CDN
400 GB CDN bandwidth
10 content editors
Enterprise
You'll have to contact Webflow for a quote if you want the Enterprise plan as no pricing is given. It includes:
No monthly visit limits
400+ CDN bandwidth
Unlimited API
Number of content editors is negotiable
Enterprise support
Training & onboarding
99.99% uptime
Custom billing & MSA
Three eCommerce-enabled Site Plans are also offered:
Standard
The Standard eCommerce plan costs $29/month and has all the features of the CMS Site plan plus:
Sell 500 items
Custom checkout, shopping cart, and product fields
Email customization
Integrated CMS for blogs
2% transaction fee
Stripe-powered payments
Automatic tax calculation
Apple Pay and Web Payments
PayPal support
Facebook/Instagram/Google Shopping/Google Analytics/Mailchimp integration
Custom code
Configure manual shipping rules
3 staff accounts
$50K yearly sales volume
Plus
The Plus eCommerce plan costs $74/month and includes all the features of the Standard eCommerce plan and the Business Site plan plus:
Sell 1,000 items
Unbranded emails
No transaction fee
10 staff accounts
$200K yearly sales volume
Advanced
The Plus eCommerce plan costs $212/month and includes all the features of the Plus eCommerce plan and the Business Site plan plus:
Sell 3,000 items
15 staff accounts
Unlimited yearly sales volume
And now for the Account plans:
Lite
The Lite Account plan costs $16/month and includes:
10 projects
Client billing
Enhanced staging
Code export
Unlimited project transfers
Client Billing
Free Staging
Pro
The Pro Account plan costs $35/month and includes everything in the Lite Account plan plus:
Unlimited projects
White labeling
Site password protection
Finally, there are 2 Team Account plans:
Team
The Team Account plan costs $35 per team member per month and includes all the features of the Pro Account plan plus:
Enterprise
Contact Webflow for pricing and feature details
Whew.
Hardware & Software Requirements
Use of the Webflow platform requires either Google Chrome or Safari.
Ease of Use
With a design platform as sophisticated as Webflow, you're likely going to need some assistance. Anticipating this, Webflow makes numerous tutorial videos available within the editor, and given the complexity of the tools available, you're probably going to need them.
In testing the editor, however, I was pleasantly surprised to see aspects of Webflow that gave me a sense of familiarity—aspects that wouldn't be out of place in a simpler DIY website builder. Adding elements to your page doesn't require a degree in web design. You simply click the Add Elements button in the top left corner, select your element, and give it the ol' drag-and-drop onto your page. Similarly, the device view options along the top of the screen let you both preview and work on your site in desktop, tablet, and mobile (landscape and portrait) mode.
Webflow's smart approach to mobile-responsiveness is apparent here: Style edits made to your desktop site will carry over to your tablet and mobile sites (adjusted for screen size of course), whereas style edits made to your mobile site will not carry over in the other direction, giving you the freedom to customize the look of your mobile site independent of your desktop site. Furthermore, with every element you place, you can specify the devices on which the element will appear. Webflow handles mobile-responsiveness and device-specific editing as well as any builder I've seen.
That's not to say building your website is going to be a walk in the park. I had a rough time just trying to create a simple photo gallery. If you're not a tech whiz, expect a bit of a learning curve. However, if you study the tutorials, it's entirely conquerable, even for a non-techie.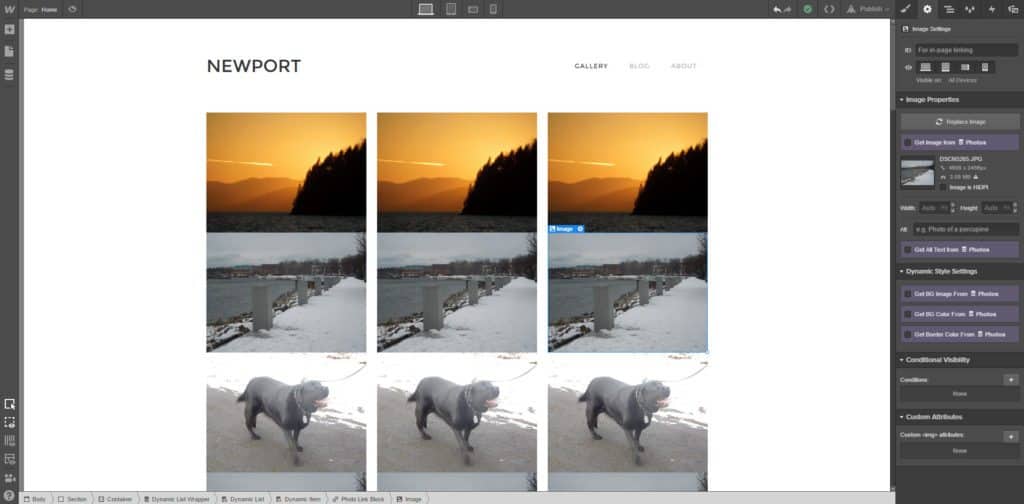 Fortunately, Webflow's backup feature gives you some margin for error. You get the usual undo/redo buttons for cycling through your recent edits. This is where many website builders stop in terms of letting you go back in time, as it were. Webflow automatically creates a backup of your site with every 20th auto-save performed. Backups can also be manually created by pressing Ctrl+Shift+S (⌘+Shift+S for you Mac users).
Features
Positioning itself as a visual CMS and blogging platform for professional web designers, Webflow doesn't have a great deal of ready-made widgets/apps for you to plop down. Let's take a look at the features that are made available by Webflow:
Dashboard: Webflow's dashboard gives you access to all your sites/projects. What's cool is that along the top of the screen, you'll get links to various projects created through Webflow as well as a listing of freelance web designers who use Webflow.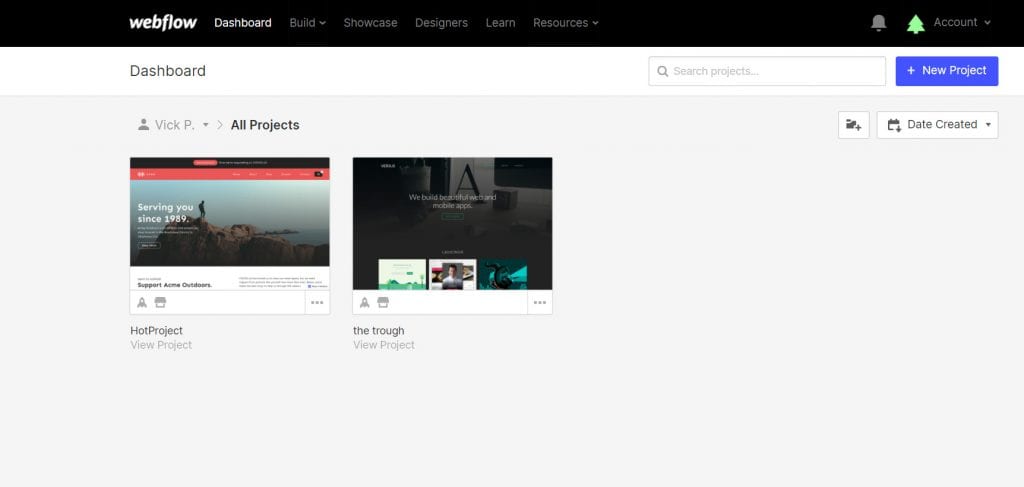 Form Builder: Webflow's form building tools give you the precision you need to create forms that meet your exact specifications. Start by plopping down a Form Block, which is a container that will hold all your form elements. You can then create your form using labels, input fields, text areas, checkboxes, radio buttons, drop-down menus, and Submit Form buttons. You can elect to receive notifications whenever a visitor submits a form. You can also go into your Site Settings to view all forms that have been submitted, as well as export all your form data as a CSV file. Not too shabby.
Online Store: Webflow's eCommerce system is plenty capable, especially with a higher-tier subscription. You can accept card payments through Stripe as well as PayPal and Apple Pay payments. Integrations with Facebook, Instagram, Google Shopping, and Mailchimp provide yet more heft. Just be warned that the lowest-tier eCommerce plan hits you with a 2% transaction fee on your sales. Serious eCommerce outfits will want to move up the subscription tier ladder to avoid paying this transaction fee.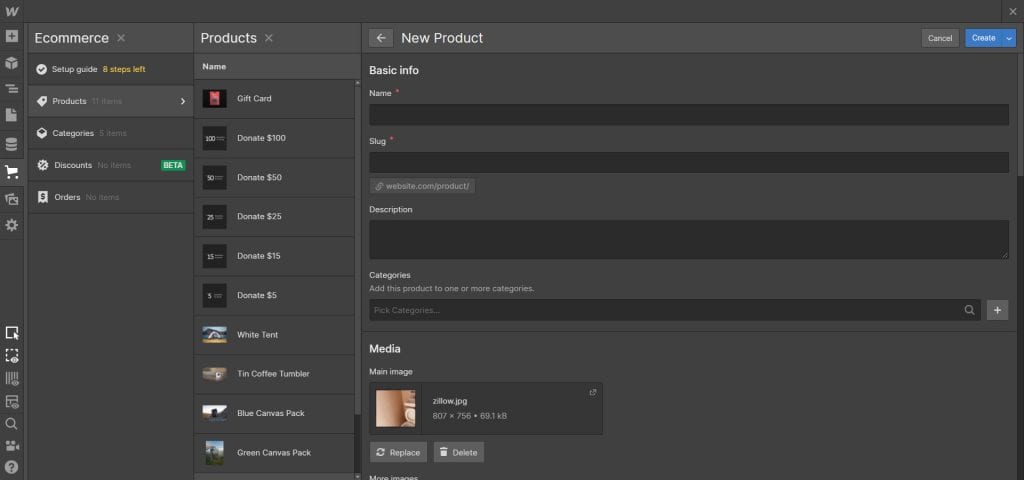 Blog: Launching a blog is no simple matter with Webflow. While most website builders offer some kind of basic blogging feature, Webflow's blogging is backed by the weight of a full CMS. This means that the learning curve is a lot steeper than with most competitors, but the result is a blogging solution well suited to teams of contributors working on professional projects. Webflow's CMS lets you not only manage and arrange your blog posts — you can also determine what fields will appear when one of your designated authors creates a new post. There's a lot to learn here, which is why Webflow created a 40 minute walkthrough detailing how to create a blog using their CMS. Once you've figured out all the odds and ends, you'll have a blogging system in place that rivals WordPress.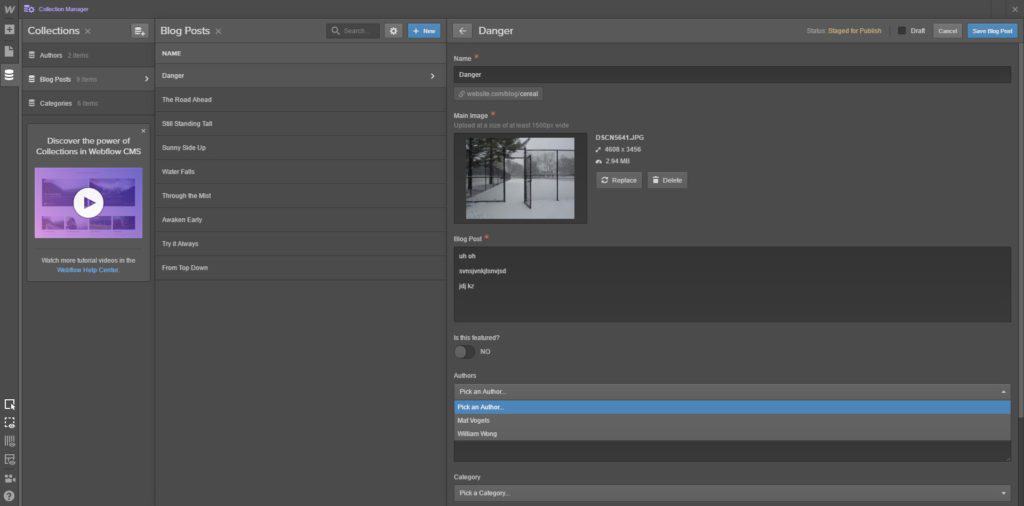 Web Design and Editing
Templates
Webflow's templates are professional, well-designed, mobile-responsive, and — for users willing to plop down some money — plentiful. Most Webflow templates are designed to connect with Webflow's CMS.
Desktop Editor
Webflow's website editor is intricate, powerful, and not for the timid. If you have a designer's eye, you're probably going to like what you find. Ditto if you have some web development experience. Beyond that which I've already covered, one key feature of the editor is the ability to export your website's code, freeing you to do whatever you want with it. With most website builders, your website is inseparable from the builder's servers, so this is a major plus for Webflow.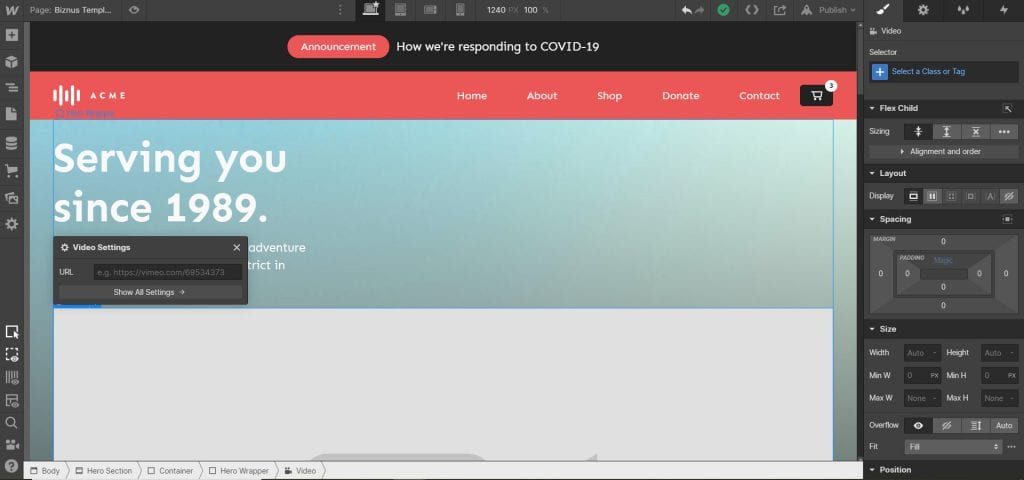 Mobile Responsiveness
Webflow gives you the tools to create a mobile responsive website. You'll have more ways to do this than you will with most other website builders.
Integrations & Add-Ons
Webflow sports a long list of integrations. Of particular note are the Zapier and Shopify integrations.
Security
Webflow's security is pretty thorough. In the words of the company:
Webflow adheres to state of the art web application security practices, with on-going, third party audits on our hosting infrastructure and on Webflow.com itself. CSRF, XSS, XFS, SQL Injection, and other web application attack vectors are thoroughly screened as part of our engineering and QA processes.

While no internet service is completely safe from attacks, Webflow has Advanced DDOS protection measures in place to alleviate the most common attacks.
Customer Service & Technical Support
Webflow's customer service includes email support, a knowledge base, tutorial videos, and a community forum. My email query was answered after two days- not the fastest response time in the industry. I found the community forum to be promising, though. One sure-fire way to determine the viability of a website builder is to check the recent activity on its user forum. If you find an empty or near-empty forum, that's an unmistakable warning sign. Webflow's forum is full of activity. This is a good thing.
Sadly, there is no live chat support or phone support.
User Reviews
Negative Reviews & Complaints
Reviewers and users have sounded mostly positive notes on Webflow, though there has been some criticism. The complexity of the editor gets some stick for being difficult to learn, though this complaint is far from universal. Pricing is another issue that sometimes comes up, especially as many of the best templates must be purchased separately.
Positive Reviews & Testimonials
Webflow has been well-received by reviewers, receiving plaudits for the following:
You can export your sites
Users can add Google fonts, Adobe TypeKit fonts, and upload custom fonts
Editor is powerful, intuitive, and flexible
Templates can be freely customized
Final Thoughts
Webflow isn't for absolutely everybody. If you find yourself overwhelmed by Adobe products like InDesign and Photoshop, or if your interest is in simply creating a static site for yourself or your small business in as little time as possible, you may want to look to website builders of the Wix/Weebly/Squarespace variety.
However, I couldn't help but be impressed with Webflow. Its potent combination of web designer-friendly site creation tools and advanced CMS features makes it an attractive option for bloggers, designers, and businesses alike. Its eCommerce capabilities are pretty impressive in their own right. Essentially, what you get here is a website builder capable of the sophistication and utility of Webydo, but with affordable plans. It's a killer combination, and Webflow looks well-positioned to continue expanding on into the future. Four and a half stars.
---
We've done in-depth research on each and confidently recommend them.
We've done in-depth research on each and confidently recommend them.
To learn more about how we score our reviews, see our
Website Builders Rating Criteria
.