Expert Analyst & Reviewer

UPDATED
Advertiser Disclosure: Our unbiased reviews and content are supported in part by
affiliate partnerships
, and we adhere to strict
guidelines
to preserve editorial integrity.
Pros
Competitive pricing
Customizable contact form
Modern templates
Cons
Outdated eCommerce sites
Poor mobile editor
Limited customer support
Difficult to use
Webnode Overview
Webnode is an attractive website builder that produces clean, crisp, mobile-friendly websites. Founded in 2008 in Brno, Czech Republic by Vít Vrba, Webnode employs over 90 people and has spawned 22 million websites worldwide. Webnode recently replaced its old website editor with something more up-to-date and is gradually replacing the features that were initially eliminated in the overhaul. The recent feature updates mean Webnode warrants a closer look.
Let us examine the ways in which Webnode, for better or worse, separates itself from the pack.
Pricing
When you start creating a free Webnode website, you'll be guided into one of two subscription paths. You'll be asked whether you want a standard website or an online store. When you choose a standard website, you get one set of subscription plans offered to you, and if you choose the online store option, you get another. Be warned, however, that Webnode's eCommerce websites are based on an older, uglier version of their site editor.
Webnode's plans are offered for terms of one, two, five and TEN years. Will we even be alive in ten years? I'd say the jury's still out on that.
Beyond the limited free option, here are Webnode's standard subscription packages:
Limited
$3.58/month (1-year plan)
$2.86/month (2-year plan)
$2.15/month (5-year plan)
$1.79/month (10-year plan)
100 MB Storage
1 GB Bandwidth
Use your own domain
Premium customer support
Mini
$5.95/month (1-year plan)
$4.76/month (2-year plan)
$3.57/month (5-year plan)
$2.97/month (10-year plan)
All of the Above PLUS:
Free Domain for 1 year
500 MB Storage
3 GB Bandwidth
1 Email Account
Form Builder
Website Statistics
Background Video
Standard
$11.91/month (1-year plan)
$9.53/month (2-year plan)
$7.15/month (5-year plan)
$5.95/month (10-year plan)
All of the Above PLUS:
2 GB Storage
10 GB Bandwidth
20 Email Accounts
Remove Webnode Ads
Google Analytics
Membership Registration – 100 Members
2 Languages
5 Backups
Profi
$19.83/month (1-year plan)
$15.86/month (2-year plan)
$11.90/month (5-year plan)
$9.91/month (10-year plan)
All of the Above PLUS:
5 GB Storage
Unlimited Bandwidth
100 Email Accounts
Unlimited Members
Unlimited Languages
Unlimited Backups
Here are Webnode's eCommerce subscription plans:
Mini E-shop
$7.95/month (1-year plan)
$6.36/month (2-year plan)
$4.77/month (5-year plan)
$3.97/month (10-year plan)
100 Products
300 MB Storage
3 GB Bandwidth
1 Email Account
Use Your Own Domain
Credit Card Payments
1 Backup
Premium Support
Form Builder
Standard E-shop
$19.91/month (1-year plan)
$15.93/month (2-year plan)
$11.95/month (5-year plan)
$9.96/month (10-year plan)
All of the Above PLUS:
1000 Products
1 GB Storage
20 GB Bandwidth
20 Email Accounts
5 Backups
Import and Export Products
Export XML File
Product Details
Profi E-shop
$39.75/month (1-year plan)
$31.80/month (2-year plan)
$23.85/month (5-year plan)
$19.87/month (10-year plan)
All of the Above PLUS:
10000 Products
4 GB Storage
Unlimited Bandwidth
100 Email Accounts
Unlimited Backups
Offline Version
Secure E-shop
With each available plan, Webnode offers a 15-day money back guarantee. For payment, Webnode accepts Visa, Mastercard, American Express, Alipay, and UnionPay credit cards. PayPal and wire transfers can also be used.
Web-hosted or Licensed
Webnode is a modern website builder and is therefore completely web-hosted.
Hardware/Software Requirements
The only hardware requirement is a computer. Software-wise, Webnode is compatible with all major browsers.
Business Types Supported
Webnode's 65 mobile-responsive templates aren't categorized by industry, but in browsing through them, I found templates tailored to the following fields:
Restaurants
Fashion
Exercise
Design
Salons
Music
Legal
Animal Care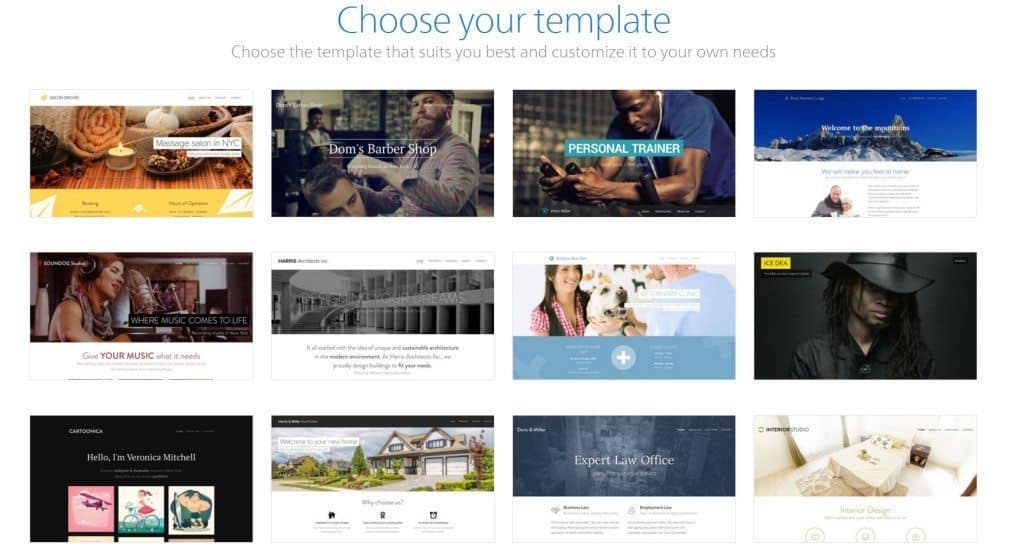 Additionally, like many website builders, Webnode's editor has a few features (such as a reservation taker) particularly suited to the restaurant industry.
Ease of Use
After reviewing a decent number of website builders, I've noticed that there seems to be some convergent evolution towards the drag-and-drop model, with content blocks available beside the editing screen which you can drag and insert into your page where you wish. Webnode operates differently and, in my opinion, a bit less efficiently. Editing your website involves clicking on whichever portion of your site you wish to edit and doing whatever the resulting options allow you to do. With the exception of the title and subtitle in the header, you can't freely edit the fonts used on your website – the font is inseparable from whatever template you chose in the beginning. Combined with the fact that you're locked into using your original template and cannot change it midstream, this becomes a harsh limiting factor in customizing your site. (Webnode has told me that the ability to freely switch your template for your site will be added in the future)
Further style editing can be accomplished by clicking a settings button that appears in the top right corner of whatever section you move the cursor over. Unfortunately, this button only allows you to change the background of the content block you're in. Webnode provides a good selection of free images, colors, patterns and even videos for this purpose, lets you apply filters and color overlays to the background, and even allows you to choose whether you want the background to remain fixed or to scroll with the page. It would be a decent image editor but for the fact that you can't edit all the images on your page this way – only the background images.
Adding Sections: To add content to your page, you have to find the "seam" between one block of content and another on your page. Hovering over this area reveals a circle with a plus sign. Click it, and you can add one of 16 different content blocks (referred to as "sections"). It's not the most natural way to add content to your website – and once you place a content block, you can't move it elsewhere on the page. Though your content will look crisp and fresh, you may well find yourself frustrated that you can't do more with it.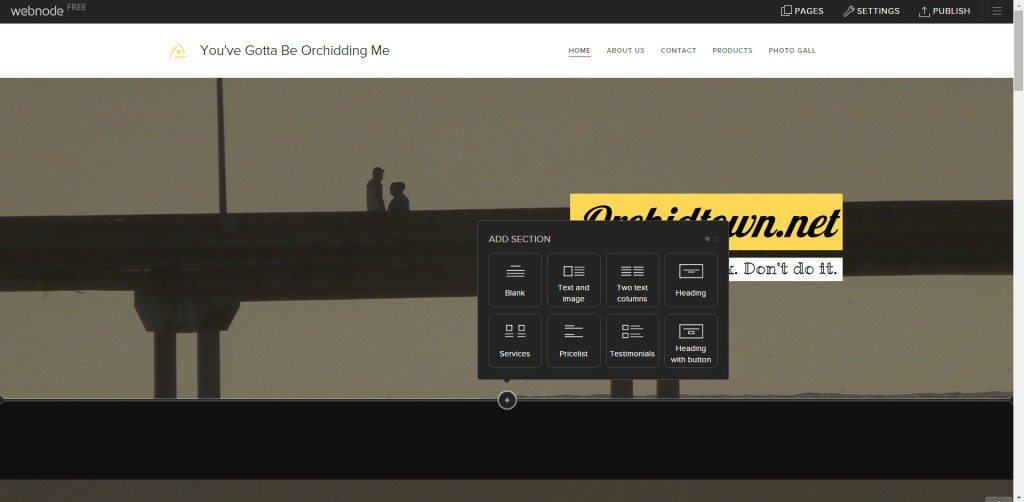 Frustratingly enough, certain content, like the video link, contact form, and the HTML widget, can't be added at the "seams" but only within an existing block of content. Because of this, it took some time before I even discovered these things!
Disappointingly, Webnode offers no Preview mode. Though your edits are saved in real time and will look in real life the way they look in the editor, this means you can't, say, preview your mobile site while using the desktop editor, or vice versa. The Preview Mode has become such a standard feature of website builders that I normally hesitate to even mention it, so its absence in Webnode is rather baffling. On the plus side, Webnode has added undo-redo buttons, so your edits aren't set in stone any longer.
Features
Webnode isn't the most well-featured website builder on the market, but they've added a number of key features over the last few years, including blogging. Here's what they offer:
Blog: Webnode's recently-added blogging tool is a welcome addition to the repertoire. You can arrange your blog posts in a number of different ways by choosing one of the handsome layouts provided. You can also choose to schedule the publishing date of your posts in advance, password-protect individual posts, and even set SEO settings for individual blog posts. Kudos to Webnode for bringing blogging back.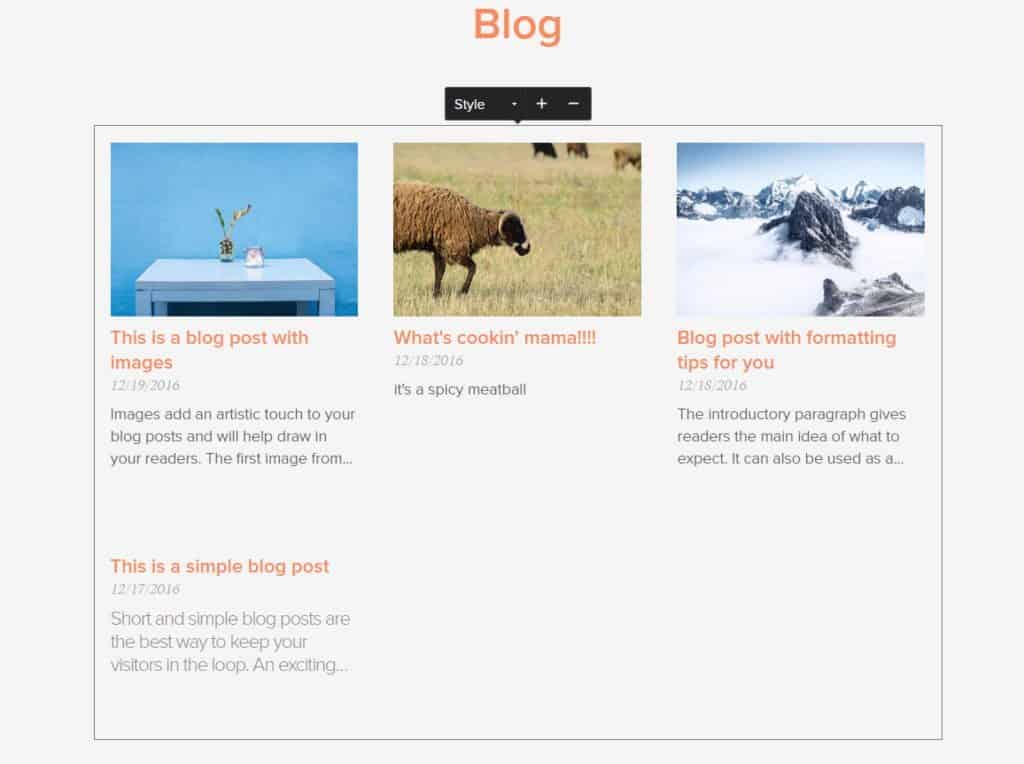 Photo Gallery: Add the Photo Gallery, and you'll be directed to upload some photos. Do so, and you'll see that they will display four to a row, going down your page. There are no alternative means to display your photos, no ways to edit your photos, and no slide show. Webnode's Photo Gallery is one of the lazier ones you'll come across.
Contact Form: Webnode's contact form is decent and on par with what one would expect of a modern website builder. You can add drop-down lists, multiple choice boxes, and allow for file uploads, although the latter is a premium feature. You'll need a premium subscription to add more than five fields to a form, as well.
SEO: Webnode provides a modest set of SEO options. Add a meta description and meta keywords to your pages, edit the page title and URL, or insert custom HTML header/footer code.
eCommerce: Webnode's eCommerce system — available only if you buy an E-shop subscription — is pretty strong if you're just looking at the features provided. You can sell up to 10 thousand products (with the priciest eCommerce plan), choose from multiple payment gateways, manage your orders and customer data, import and export products, and more. The problem is that the E-shop packages use an old version of Webnode's site editor, and not only is it a pain to work with, but the eCommerce websites it produces look painfully outdated. If you're looking to sell products online, I'd choose a different website builder.
Other Webnode features include a newsletter signup form, an order form, a reservation form, a map from Google Maps, and an option to insert HTML code into your page. There's also a product list and a price list, though these have no real eCommerce functionality.
Web Design and Editing
Templates: Webnode serves up 65 mobile-responsive templates to its users. Aesthetically, most of them are about an 8 out of 10. They're crisp, attractive, and stack up well against the competition. It's unfortunate that your ability to edit them is so limited. As mentioned before, your site's font choices are inextricably bound to your template. You can't separate the two. Also remember that you can't use these templates with an online store.
Mobile Editor: Webnode does, in fact, allow for mobile editing; there is no app, so this is done simply through accessing Webnode through your mobile browser. However, I wouldn't recommend trying it. The mobile editor is flaky and unstable – even scrolling through your site can be a problem. I was unable to simply edit the blocks of text on my site. When compared to the seamless mobile editing apps offered by competitors like Weebly and Jimdo, Webnode's glitchy, mostly useless mobile editor is a massive letdown.
Integrations and AddOns
Webnode includes a map function provided by Google Maps. There's also video integration with YouTube and Vimeo. There are currently no other third party integrations or add-ons. Now Webnode assures me that many of the features that have gone missing in the transition from the old to the new editor will be returning soon. As they are virtually starting from scratch, however, it might be some time before all the old features return.
Customer Service
Customer support is limited to an FAQ and a support email address. Unfortunately, Webnode has taken down their user forums.
As for response time, my email query was answered in two days' time. Furthermore, a Webnode representative assured me that although they don't provide a phone number for North American users, this is due to the time difference involved (Webnode is Czech-based). He added that Webnode representatives will discuss North American customers' issues over the phone if they request such a discussion via email.
Negative Reviews and Complaints
Bearing in mind that many reviews of Webnode refer to the old version of their website editor, and as such are of limited utility, reviewers have had the following critiques to make of Webnode:
Webnode's eCommerce Sites Are Badly Outdated
Some Webnode users have said that their customer service is too slow and that their help forums are inadequate.
Positive Reviews and Testimonials
Webnode has received reviewer praise on the following points:
Customers generally report satisfaction with Webnode's services, as evidenced by Webnode's 8.9 average customer rating on Trustpilot. Webnode isn't perfect, but they do seem to be an honest company, and that counts for something. Especially in this industry.
Final Verdict
Though Webnode has drawn breath since 2008, the company's recent total revamp means that, for all intents and purposes, it's a brand new website builder. While this new website building platform felt incomplete the first time I tried it, it has now matured a bit, with improved ease of use (the undo/redo buttons were an essential add) and the introduction of a decent blogging system.
Because of these changes, and other improvements, Webnode deserves a star boost. I hereby use my powers to raise Webnode's rating to 3.5 stars. They said they would continue to improve Webnode 2.0, and by gum, they have. Here at Merchant Maverick, we appreciate a commitment to improvement. If only they would modernize their eCommerce packages!
---
We've done in-depth research on each and confidently recommend them.
We've done in-depth research on each and confidently recommend them.
To learn more about how we score our reviews, see our
Website Builders Rating Criteria
.