Expert Analyst & Reviewer

UPDATED
Advertiser Disclosure: Our unbiased reviews and content are supported in part by
affiliate partnerships
, and we adhere to strict
guidelines
to preserve editorial integrity.
Pros
Numerous templates
Membership pages and forums
Free plan
Cons
Outdated editor
Outdated templates
Limited support for Starter plan subscribers
Limited integrations
Webs Overview
Webs is a drag-and-drop WYSIWYG website building platform with a particular focus on small businesses. It was founded amidst the still-incandescent fallout of the dot-com bust in 2001 by brothers Haroon and Zeki Mokhtarzada. While in their final year at the University of Maryland, they created a company known at the time as Freewebs. A result of this legacy is that to this day, dog-eared websites of a certain vintage can be found bearing the old freewebs.com URL. Do a search for one if you find yourself jonesing for a quick nostalgia fix.
In 2008, the company changed its name in an effort to shift the emphasis from the free version of its offerings, though Webs has continued to offer a free package to its users. By 2011, having just acquired PageModo and ContactMe (adding social media marketing and contact management to its features), Webs itself was acquired by Vistaprint, a digital marketing company of which it is now a subsidiary. Headquartered in Silver Spring, Maryland and employing 50 people, Webs currently hosts 55 million websites.
Having dealt with website building companies that provide no actual information about themselves and which seem immaculately conceived in some nameless Siberian spam sweatshop, the fact that this information even exists about Webs is enough to give me some small measure of reassurance.
As is common in the field, Webs posits itself as especially suited to the small business owner, while still being an appropriate choice for non-profit or personal use. With marketing tools and eCommerce offered in the premium plans, Webs's ambitions have grown since its salad days as a competitor to GeoCities. So how do they stack up in this crowded market?
Pricing
Free riders will be happy to see that Webs offers an actual free plan — and not just a free trial. Of course, the usual conditions associated with free site builder plans apply – you'll be constrained to five pages, direct customer support will be limited to email, and you'll have to accept Webs advertising banners on your page and a Webs-branded URL. As Marshall McLuhan never got around to saying: If the product is free, then you are the product.
On their official pricing page, Webs lists three paid subscription plans (Starter, Enhanced, and Pro) in addition to their bare-bones free plan:
Free
Up to 5 pages
Email Support
Webs Branding
Starter
$5.99/month (2-year plan)
$6.99/month (1-year plan)
$7.99/month + $5 one-time setup fee (monthly plan)
Unlimited Pages
Webs Branding Removed
Password-Protected Pages
Basic Statistics
1GB Storage
Email Support Only
Enhanced
$8.99/month (2-year plan)
$9.99/month (1-year plan)
$16.99/month + $10 one-time setup fee (monthly plan)
All of the Above PLUS:
5GB Storage
20 Web Store Items
Premium Themes
Email + LiveChat Support
Pro
$11.99/month (2-year plan)
$14.99/month (1-year plan)
$34.99/month + $15 one-time setup fee (monthly plan)
All of the Above PLUS:
Unlimited Storage
Unlimited Web Store Items
Search Engine Submission
$100 Google Ad Credit
SEO Booster
Email + Live Chat + Phone Support
For payment options, Webs accepts the big four credit/debit cards (Visa, AmEx, Mastercard, and Discover) in addition to Paypal. Users are offered a 30-day money back guarantee with their plans, something that is, surprisingly, not universal in this industry.
Web-hosted or Licensed
As one would expect in 2018, Webs is entirely web-hosted. You won't have to install anything.
Hardware/Software Requirements
Being cloud-based, there are no hardware requirements beyond having a computer. As for software, Webs recommends using Google Chrome or Mozilla Firefox. A Webs representative specifically warned me against trying to use Internet Explorer or Edge (Microsoft's newest browser) with the editor. Not that I was going to.
Business Types Supported
Owners of small businesses will be glad to see an extensive selection of templates – referred to as themes by Webs – on offer. Premium subscribers can choose between 502 templates – yes, I counted – with each one falling into one of the following categories:
Agriculture & Farming
Animals & Pet Care
Art & Entertainment
Automotive & Transportation
Beauty & Spa
Business Services
Construction, Repair & Improvement
Education & Child Care
Finance & Insurance
Food & Beverage
Health & Social Services
Information & Technology
Law, Public Safety & Politics
Manufacturing
Marketing & Communications
Real Estate
Religious & Spiritual
Retail & Sales
Sports & Fitness
Travel & Accommodation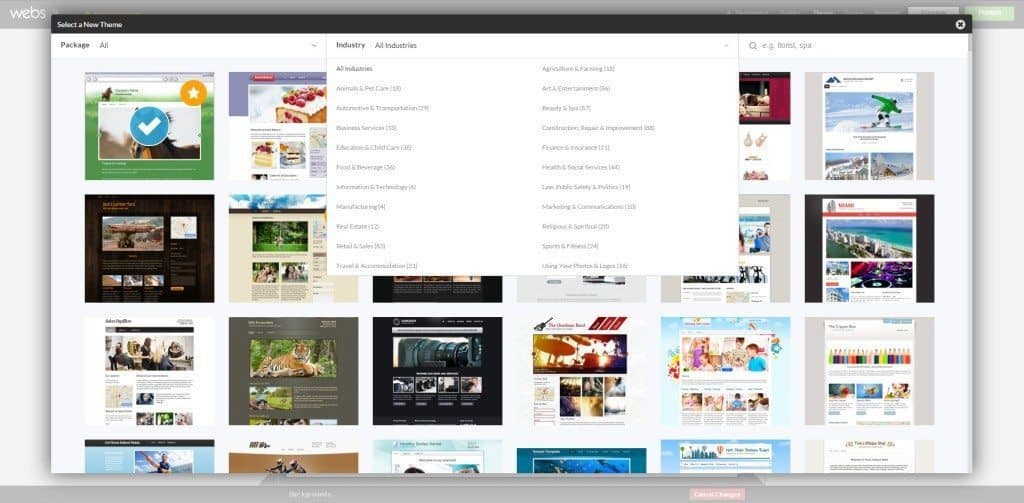 Unfortunately for users of the free service, the vast majority of themes on offer – and nearly all of the better-looking ones – are only available to paid subscribers. For those subscribers, however, the range of options is truly impressive and makes it likely that you'll find a theme tailored to your specific professional needs. Considering that the number of templates offered by some competitors doesn't even reach the triple digits, this is an undeniable advantage. What's more, should you decide to switch themes midstream, all your content will be transferred over to the new one; you won't have to start from scratch. Now, as I'll get into later, you may find yourself disappointed if you want to alter the look of your chosen theme in any significant way, but the number and variety of semi-attractive and functional themes provided should be commended.
Ease of Use
When using the editor, you'll notice that all the elements you can drag-and-drop onto your site are located on the dock at the bottom of the screen. From images to columns to embedded video to social media modules, everything you can add to your site is easily added. There's a tutorial video for the editor, but you probably won't need it. It's easy and exceptionally intuitive.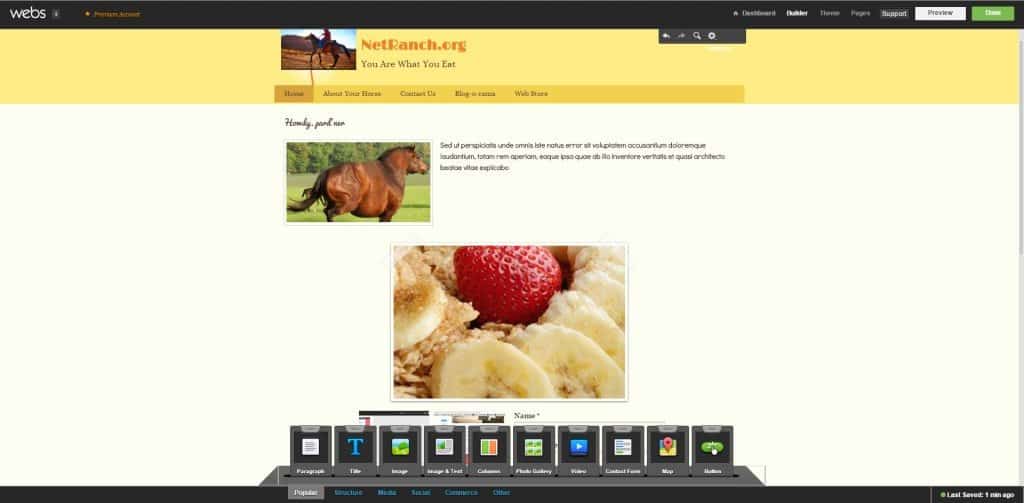 Another thing you'll notice after choosing a theme is that you're essentially limited to editing a box in the middle of the screen. You can't make changes to the background of your site with most themes; you can edit the header somewhat, but you are unable to edit or even move the background image affixed to most headers. And while you can add your own custom HTML to the body of your site (no CSS or Javascript), you can't use code to alter the look of the theme itself. Editing your site produces a sensation akin to painting while wearing a straitjacket.
Undo/Redo Buttons: Slightly protruding from the top bar of the editor are the Undo and Redo buttons, which are essential (and pretty much obligatory at this point) tools for editing. Sadly – and Webs is far from alone on this – there is no History button that would allow you to browse the history of your edits and go to the evolutionary point of your choosing. Anybody who has used Photoshop knows how important to the creation process this tool can be. I shall never relent in my advocacy for universal adoption of the History button in every website editor!
Preview Mode: Hit the Preview button on the top toolbar, and, right on cue, you'll be shown a preview of the edits you've made to your site. Regrettably, you can't preview the mobile look of your site in preview mode. To do this, you'll have to exit the editor entirely and go back to the Dashboard.
Features
Webs gives you access to a number of nice features:
Flickr Creative Commons Images: Drag the Image element up from the dock and you can upload your own image or choose one from Flickr's searchable Creative Commons, a nice repository of images to have on hand. You can frame, rotate, crop, or zoom in on the image, but you can't apply a filter to the image or edit it in any other way.
Blog: Webs provides a quality blogging tool, though it has to be added as its own dedicated page through the App Store and not as an element from the dock. It's strangely inconspicuous, as it's one of the better features offered by Webs. Start a Blog page and you'll have an attractive blog up and running immediately. You can include photos and video in your blog posts, and each post's HTML is fully editable.
Membership Pages: Something not found in the features list of most competitors, Webs gives you the tools to set up a membership site. Drag the "Subscribe" link from the dock (located in the "Other" tab) to whatever page you want to be password-protected, and you'll get entry fields for a user's name and email address. Then, you'll have to go back to the out-of-the-way App Store to find the Members App. Install it and enter the settings to access the membership functions. You can manage members' permissions, send email blasts, and let members sign up/log in through Facebook Connect. You can even set up profile questions to ask of potential members if you feel so compelled. Attach membership to the Forums App (also available from the App Store) and you can create a members-only message board. Experience what online social interaction was like before the advent of trolls!
…But who am I kidding; that time never existed.
Anyway, though the membership functions might be a bit much for the beginner to handle, it's the one thing that sets Webs apart from most of its competitors as a product. Other features include a guestbook, calendar and a photo gallery, all solid and unremarkable.
Web Design and Editing
Templates: As I boasted earlier, I hand-counted 502 templates (referred to as themes) on offer, most of which are tailored to specific fields and industries. They look decent enough, yet they all share a somewhat dated feel, and there's not much you can do to change the look of any theme in the editor. Thankfully, you can switch templates and all your content will transfer over to the new template.
Mobile Editor: Webs has no mobile editing app, nor any other mobile app to speak of. Doing anything with your Webs site will involve the use of a computer. However, Webs's templates are responsive, so your mobile site will nicely retain the style options of its desktop counterpart. In fact, you can even design a custom landing page for your mobile site, customize your header for mobile, and change the style options of your mobile site from those of your desktop version to "light" or "dark." Many competitors don't actually allow you to specifically alter the look of your mobile site, so Webs gets some flexibility points for facilitating this.
Integrations and AddOns
Older reviews of Webs describe an App Store with a number of 3rd party apps available to add as pages. However, aside from a contact form app provided by ContactMe, Webs has removed all 3rd party apps from their site. The App Store now just lets you add in-house apps such as the guestbook, photo gallery and user forums.
You can add PayPal buttons for purchasing and donating, social media links (I liked the option to add a Twitter feed to your site), embedded YouTube video and a map from Google Maps. Aside from the Flickr Creative Commons images, no further integrations are to be found.
Payment Processing
You are given the choice between Stripe and PayPal for payment processors. When I asked them about it, Webs told me there are no transaction fees taken from your sales by either the payment processors or Webs. Most competitors can't say the same of their eCommerce plans.
Customer Service
For users of the free Webs service, customer service is limited to email support and the use of a searchable support database of frequently asked questions. Those subscribing to the Starter package are not given any further options for direct support. To get live chat support from Webs, you must be subscribed to the Enhanced plan, and for telephone support, a Pro subscription is required. Escalating levels of support based on the level of one's subscription package are not unique to Webs, and indeed Webs' representatives were prompt and helpful in my interactions with them. However, one would think Starter subscribers would deserve at least some degree of direct support.
Negative Reviews and Complaints
Professional reviewers have a number of problems with Webs, including the following:
Dated, inflexible templates – With the functional but uninspiring templates on offer, many reviewers bemoan the lack of ability to edit the HTML/CSS of the templates.
Highly Limited Free Plan – One reviewer notes that Webs's free plan is less generous than that of competitors such as Weebly.
Lack of Product Development – Webs's current version of their software, SiteBuilder 3, was introduced in 2012 – a reviewer noted that few improvements have been introduced since then.
A search for customer feedback regarding Webs reveals a lot of discontent over the stability of the editor, with many users experiencing frequent downtime – not exactly conducive to growing a small business. Some report problems with keeping their domain name after not receiving a domain renewal notice from the company, while many others report billing disputes. Customers have even found themselves locked out of their own site without explanation. Obviously, these are not promising indicators. However, one thing that can be said of Webs is that they do have people responding to user complaints and suggesting solutions on user forums and in comment sections. The fact that they are responsive to customers' problems speaks well of the company, but I would be remiss not to note the extent of said problems.
Positive Reviews and Testimonials
Webs is given high marks by reviewers for the following:
Webs currently has an average user rating of 7.7 out of 10 on Trustpilot. Read through the reviews and you will notice many instances of the complaints detailed above; however, the majority of users are satisfied with the company and their services.
Final Verdict
As a website builder, Webs has distinct advantages. Its 500+ templates provide a plethora of industry-specific options for the entrepreneur looking to establish an online presence, provided you don't feel compelled to fine-tune them. Webs' eCommerce and blogging tools are strong, and the longevity of the company – something of an anomaly in the industry – reassures the customer of its staying power. Furthermore, its tools for creating membership sites make it a great choice for community fan forums. Those of us with fond Netscape-tinted memories of the anarchic pre-social-media Web 1.0 of Freewebs's callow youth should doff our hats to that.
In the face of fresher, livelier options such as Squarespace, Wix, and Weebly, however, I find Webs hard to recommend to businesses with an eye for the future. All in all, building a site with Webs did not exactly imbue me with a sense of wonder and possibility. But if your primary objective is to establish a passable online presence with as little time and effort invested as possible, Webs is worth a look – particularly as you can try it for free. And if you're setting up a membership-based site, Webs stands out in the market.
---
We've done in-depth research on each and confidently recommend them.
We've done in-depth research on each and confidently recommend them.
To learn more about how we score our reviews, see our
Website Builders Rating Criteria
.