Expert Analyst & Reviewer

UPDATED
Advertiser Disclosure: Our unbiased reviews and content are supported in part by
affiliate partnerships
, and we adhere to strict
guidelines
to preserve editorial integrity.
Webydo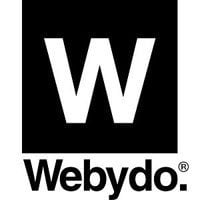 Pros
Well-designed editor
Numerous features
Excellent customer support
Excellent templates
Cons
Expensive pricing
Steep learning curve
Many features require their own subscription
Webydo Overview
Compared to its contemporaries, Webydo is a different breed. While most website builders market themselves as DIY tools for hobbyists and small businesses, Webydo presents itself as a tool for web designers to create code-free responsive websites for their clients. Founded in 2012 by Shmulik Grizim and Tzvika Steinmetz and headquartered in Tel Aviv, Webydo is a powerful design tool many have likened to Adobe products (such as Photoshop and InDesign). Direct comparisons with such industry leaders as Wix and Squarespace are difficult, as Webydo targets a different audience than most of its peers (it is perhaps most akin to Webflow). In fact, it is the web design equivalent of using an X-Acto knife instead of merely relying on scissors. This focus has attracted 246,621 paying customers to Webydo thus far.
In addition to being a website builder, Webydo acts as a CMS for content management. However, it's the website builder aspect of the software we're interested in reviewing here. Let's see if it gets the job done.
Business Types Supported
Webydo gives you 32 templates to choose from, along with four "wireframes" (arrangements of empty boxes into which you place your content). You can also start from a blank canvas if you're into the whole tabula rasa thing. As one might expect from a design-focused website builder, the templates are ahead of the curve aesthetically; in fact, they are exceptionally good-looking. Templates for photography, music, restaurants, architecture, and interior design are all represented here.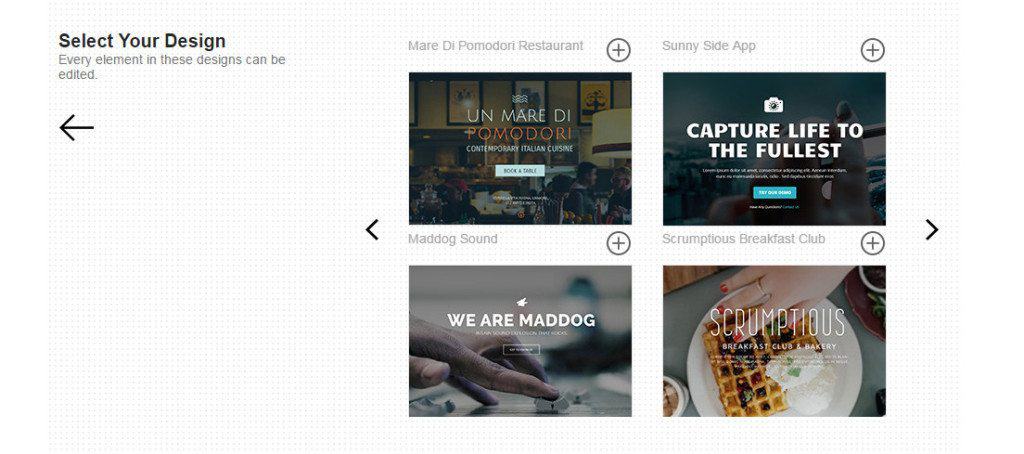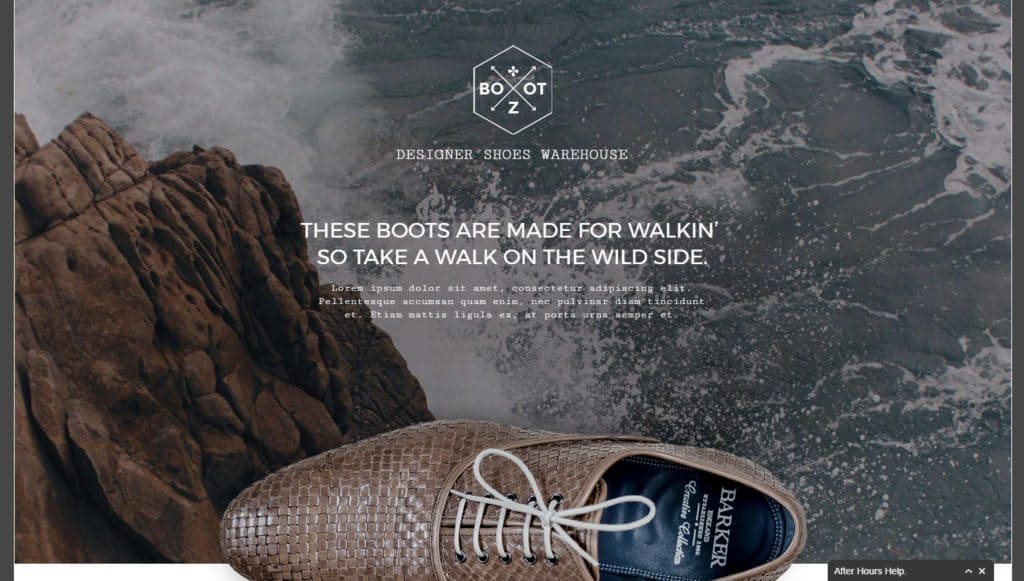 As an aside, the placeholder text in this template led me to think that someone should put together a Nancy Sinatra/Lou Reed mashup. Please make one and send it to me.
Pricing
Webydo has no free plan, though it does let you try its packages on a trial basis for one month. Webydo offers four different subscription levels, and due to the inclusion of advanced CMS functions, the prices far exceed anything you'll see offered by standard DIY website builders.
Here are the details of Webydo's plans. The pricing listed is for an annual subscription, though monthly subscriptions are also available (though they are more expensive on a per-month basis).
Pro
The Pro plan costs $75/month and includes:
One designer account
Free hosting and CMS for 10 sites
Email support
Client billing
Team
The Team plan costs $150/month and includes everything in the Pro plan, plus:
Three designer accounts
Free hosting and CMS for 30 sites
Full onboarding and setup
White-label CMS and branding
Add code to your site
Agency
The Agency plan costs $400/month and includes everything in the previous plans, plus:
10 designer accounts
Free hosting and CMS for 100 sites
Dedicated account manager
Full white-label and site code
Customer template generator
100 site exports
Enterprise
Pricing for the Enterprise plan is not listed; you'll have to call Webydo for a quote. It includes everything in the previous plans, plus:
Custom accounts
Custom support
Custom site exports
For payment, Webydo accepts all major credit cards, along with PayPal.
Hardware & Software Requirements
Webydo is cloud-based. There are no hardware requirements (beyond having a computer). Software-wise, Webydo is compatible with all modern web browsers. Just make sure yours is updated to the most recent version.
Ease Of Use
Spending some time playing with Webydo's editor helped me grasp the extent of the difference between Webydo's designer-oriented website builder and that of its DIY competitors. In short, Webydo is not easy to use for the layman. Then again, that was never the intent.
Many of the familiar trappings of a website builder are apparent in Webydo's editing interface. You'll see options to preview/publish your site along the top bar. One thing unique to Webydo (due to its business model) is the Content button, which enables you to see your site from the CMS end-user's perspective. You can update content but not alter the design. You'll also find elements along the left-hand side that are available to drag-and-drop onto your website. Addable elements are divided between menus full of basic elements, photo galleries, buttons, social media add-ons, plugins, and widgets. Indeed, all of these elements can be dragged-and-dropped onto your site with little fuss.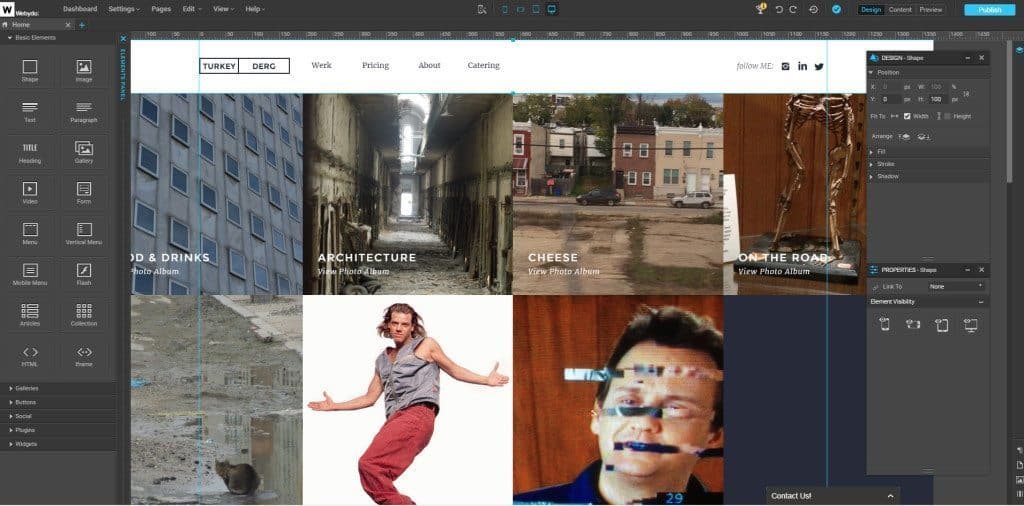 Once I started clicking around in the editor itself, the complexity of the software truly became apparent. A plethora of design editing options let you customize every element's appearance on your Webydo site to a degree unmatched by the competition. Likewise, you can adjust the properties of every element you place six ways to next Sunday. Add to this the challenges of managing your layers, and it soon became clear to me during my trial that my basic knowledge of Photoshop (knowledge obtained back in the oughts) would be insufficient to create the kind of slick, precise website Webydo is capable of producing. Of course, Webydo is for actual web designers, so the fact that the rest of us might struggle with the editor shouldn't be held against it.
For the designer, the feeling of complete freedom is likely to make for a more enjoyable editing experience than you would get with the typical cookie-cutter website builder (where you're mainly just dropping content into boxes and then rearranging the boxes).
One thing you may notice when you sign in with Webydo is that an Updates window will pop up to inform you of any new features, changes, and/or bug fixes. It's a nice way to keep everyone in the loop.
Features
Webydo provides many sophisticated features for the web designer to take advantage of. Let's take a look under the hood and see what features you'll be getting for all that money:
Dashboard: Webydo's dashboard is fairly standard. You'll have access to your sites, your account settings, and so forth. I like that you can add CMS users to your sites and bill your clients for your sites right from the dashboard.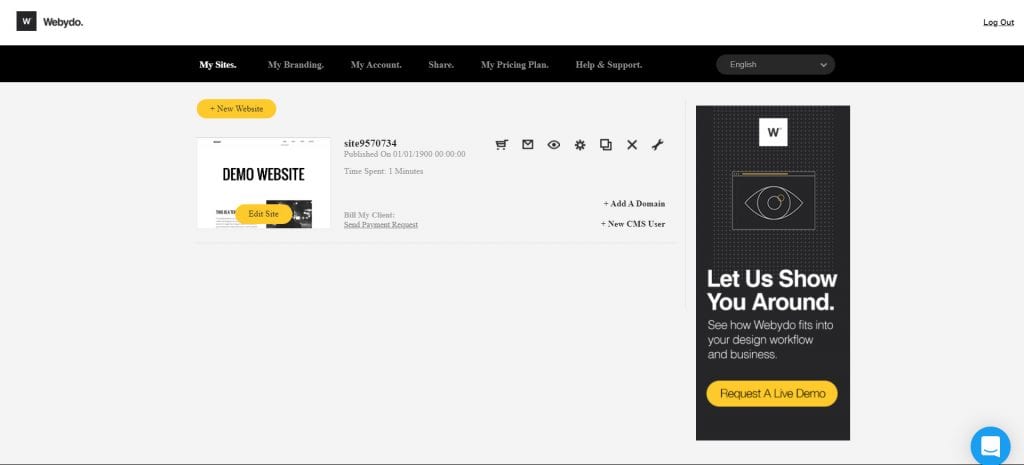 Form Builder: One of Webydo's strongest features is its form builder from POWr. It's a robust tool you can use to create exactly the contact form you want. Every form element can be tweaked just so, every button adjusted to your liking. You can even add Captchas and/or password-protect the form. One thing you might be surprised to find, however, is that to gain access to the form builder's more advanced features, you'll need to buy a paid subscription to POWr's form builder. These subscriptions range in price from $4.49 a month to $44.99 a month. That's a big chunk of change when you're already paying a significant amount for the website builder itself!
Blog: Another POWr feature, Webydo's Microblog, is a comprehensive and sophisticated blogging tool, despite the name. Add pictures, video, and whatever else you want to your posts, and the result will be a nice looking blog somewhat reminiscent of Tumblr. Unfortunately, Microblog is another freemium service. The free version limits you to 20 posts and forces a POWr logo on you. To remove the posting limit, allow for addable CSS/JS code, or hide a plugin behind a password, you'll need a Microblog subscription, which can run from between $2.69 and $44.99 per month. Webydo really stretches the freemium business model as far as it can possibly go.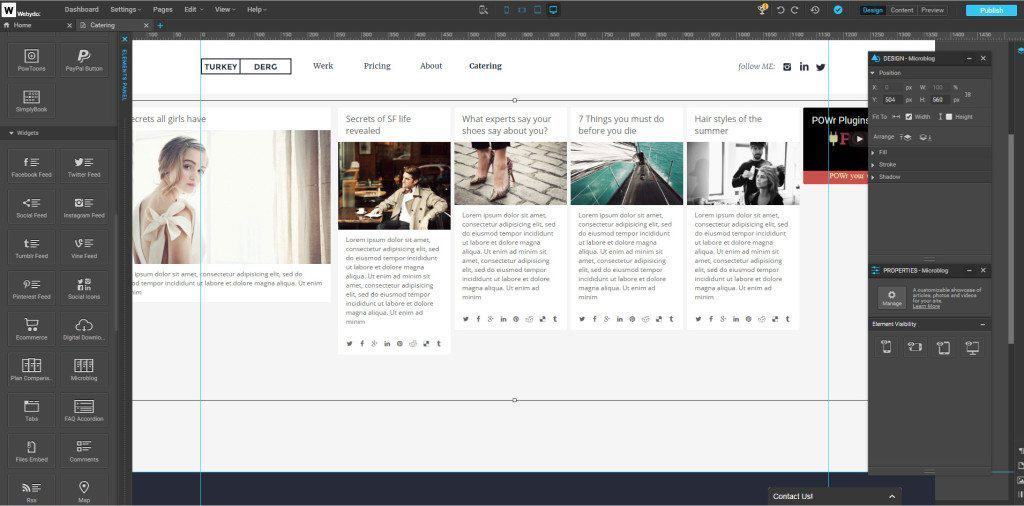 Online Store: Webydo's eCommerce, another POWr freemium feature, is a decent option for selling physical and digital goods. Though you'll have to connect it to your PayPal account to use it (payments have to be made through PayPal), the product listings are about the best looking I've seen in a website builder. You'll be able to add products and change shipping costs and the like with little trouble. To remove the limits on product listings and allow for larger digital downloads, you'll need to sign up for another subscription. eCommerce subscriptions run from $6.29/month to $44.99/month. If you don't like the POWr store, you can add an Ecwid store instead. You'll need to set it up through Ecwid, though.
3D Parallax: One of Webydo's more interesting features is a 3D Parallax element, which is useful when you wake up in the morning and find your parallaxes to be dimensionally-challenged. Who among us hasn't had that happen at least once? Seriously, though, you can use this tool to create graphical elements that are layered to appear to move in relation to the cursor when you wave the cursor around the element. It's a cool effect, and it's not even a freemium feature! Imagine that!
Webydo includes many more features, and to thoroughly describe them all would require several more articles' worth of writing space. These other features include a full set of SEO options, social media feeds for just about every social networking service, a wide variety of photo galleries, live chat from Olark and Tidio, an RSS feed, a map from Google Maps, live video streaming through Meerkat, a remarkably thorough photo editor, and a countdown timer. Many of the better features are third-party freemium services.
Web Design & Editing
Templates
Webydo's 32 templates are the nicest looking templates this side of Squarespace. With Webydo, though, the templates aren't as crucial as they are with a more traditional website builder, as web designers will be less apt to rely on preformatted templates than the amateur site builder. Nonetheless, Webydo's templates can hold their own.
Desktop Editor
Webydo's desktop editor is as sophisticated a design tool as anything you'll find in the DIY website builder industry. It's not the most user-friendly editor ever released, nor is it the esoteric nightmare one might have feared.
Mobile Responsiveness
Webydo's sites are mobile responsive, and what's more, you can customize the particulars of how your website displays on mobile devices.
Integrations & Add-Ons
Webydo has a lengthy list of third-party integrations when compared to most website builders. You'll get a plethora of eCommerce, form building, blogging, statistics, and social media tools.
Security
Webydo enables you to add an SSL certificate to your website, though you'll have to do so manually; it's not automatic.
Customer Service & Technical Support
Webydo offers plenty of customer service options. It has a knowledgebase, an FAQ, a community forum, video tutorials, and direct support via live chat and email. I found Webydo's customer service to be helpful and prompt.
User Reviews
Negative Reviews & Complaints
Reviewers have taken note of the following issues with Webydo:
Steep learning curve
Better for building static websites than anything more complex
No advanced blogging or user management
Customers also gripe about Webydo's high prices. Some have complained about the stability of the editor. Others have found that certain Webydo elements are more mobile-responsive than others. One positive sign from Webydo is that it often responds to customer complaints in comment sections.
Positive Reviews & Testimonials
Reviews of Webydo have been mostly positive, praising it for the following:
Good advanced tools for the web designer
Good SEO tools
Advanced mobile responsiveness
Among users, Webydo's reception has been mixed. Webydo currently has earned a middling average customer rating of 2.6 out of 5 from users on Trustpilot, though the sample size is quite small.
Final Verdict
Webydo is quite a compelling package for what it is: a tool for web designers to create code-free responsive websites for their clients. Its editor is several steps beyond that of most website builders, with Photoshop-esque complexity and precision design tools. Webydo also includes a comprehensive feature-set (such as blogging and eCommerce) to keep the clients happy. It's just a shame that the features are mostly third party (and mostly freemium, to boot). To get the most out of the eCommerce, blogging, and the form builder features, you may end up paying startlingly more than the already high prices for a standard subscription.
It may be a decent solution for established companies needing an elegant but somewhat static web presence. For other fields, it's hard to say that Webydo is an ideal solution. When I saw restaurant-oriented templates among Webydo's choices, it made me think about emerging restaurants trying to make it amidst insanely high big-city rent payments. Not many of them will have the spare change to throw at a web developer. They have more pressing priorities, and a DIY responsive website builder (such as Weebly or Wix) will serve them just fine and at a fraction of the cost. That said, Webydo does what it does and does it well.
---
We've done in-depth research on each and confidently recommend them.
We've done in-depth research on each and confidently recommend them.
To learn more about how we score our reviews, see our
Website Builders Rating Criteria
.