Wells Fargo Business Secured Credit Card Review
Expert Analyst & Reviewer

Updated on:
Advertiser Disclosure: Our unbiased reviews and content are supported in part by
affiliate partnerships
, and we adhere to strict
guidelines
to preserve editorial integrity.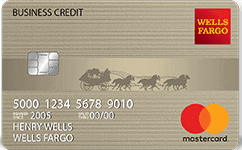 Need help finding a lender?
Date Established

1852

Location

San Francisco, California
Wells Fargo Business Secured Credit Card Overview
Wells Fargo Business Secured Credit Card provides a way for business owners with either low credit scores or no credit history to obtain a credit card. Because this is a secured card, you'll have to place down a security deposit. While this might seem unfortunate at first, you'll be able to build up credit and get into the habit of paying off a monthly balance. This will help your business in the long term.
This card also offers a way to earn rewards — something that isn't exactly common when it comes to secured cards. It additionally provides an option to request extra cards for your employees, as well as a few standard credit card benefits.
It's also worth noting that this is one of the few secured cards designed specifically for businesses. If you want to consider other secured options, you'll likely need to go with a personal credit card for your business.
To get the full breakdown on this card, keep reading below!
Wells Fargo Business Secured Credit Card At A Glance
Eligibility
Wells Fargo designed this card with credit-building in mind. As such, you should be fine to apply if you have a poor credit score (in the 500s or lower) or don't have a credit history. If you are unsure of your credit score, you can find out by visiting one of these free sites.
| Banner | Description | Next Step |
| --- | --- | --- |
| | Get your credit report and FICO score for $1 | Start Trial |
It's also worth noting that you'll want to make sure you have money set aside for your security deposit. Wells Fargo requires a minimum deposit of $500, so you'll need to at least have that much available when you apply.
Rewards & Fees
This card includes a unique feature where you get to pick which type of rewards scheme you want. When you enroll, you'll be able to select between receiving cash back or earning reward points for purchases.
If you select cash back, you'll nab 1.5% back for every dollar spent on purchases with the card. This is a very reasonable rate for a secured card, especially because it's focused on credit-building. Frequently, cards targeted at users building credit don't offer any rewards.
If reward points are more your thing, you'll collect one point for every dollar you spend with the card. After your company reaches $1,000 spent in a monthly billing period, you'll also rack up an additional 1,000 bonus points. This means that if your company will regularly spend between $1,000 and $2,000 per month with this card, you could collect rewards at a faster clip via points. Otherwise, you'll generally be better off going with cash back.
Those who choose the points option will also have access to Wells Fargo's Earn More Mall program. This program will enable you to earn additional points or discounts when you buy from select retailers, both in-store and online. You can earn up to 10% in rewards when you make a purchase from an eligible retailer.
For APR, Wells Fargo has set this card to the prime rate plus 11.90% on purchases. Note that because the prime rate is variable, your APR may fluctuate over time. There is no introductory rate for new accounts.
While Wells Fargo advertises that their rewards program has no fees, there is a general annual fee of $25 per card. In some cases, you may also have to pay a fee for balance transfers, although Wells Fargo doesn't disclose rates prior to approval. Cash advances require a 4% fee (with a $10 minimum charge). On the plus side, this card has no foreign transaction fee, which is beneficial if you travel overseas for business.
Like with most secured cards, you'll also be required to make a security deposit. Your credit line will equal the amount you pay. Wells Fargo requires a minimum deposit of $500 and allows up to $25,000. Periodically, Wells Fargo will check to see if you can qualify for an unsecured card, allowing you to gain access to potentially better rewards while no longer needing to worry about a security deposit.
Redeeming Rewards
If you choose cash back, you'll receive your rewards in the form of an account credit or a deposit to your eligible checking or savings account every quarter.
For reward points earners, points can be redeemed for gift cards, merchandise, airline tickets, and more. If you redeem through Wells Fargo's online portal, your points will be worth an extra 10%.
Other Benefits
Additional features included with the Wells Fargo Business Secured Credit Card include the ability to add up to 10 employee cards. However, do note that each card added will cost an additional $25 annually, so you'll want to request more cards only if they are necessary.
Other benefits come in the form of standard credit card features, such as a zero liability program and purchase assurance for stolen items. You'll also be able to access and manage spending reports, payments, and transfers via Wells Fargo's online portal.
Final Verdict
Is the Wells Fargo Business Secured Credit Card right for your business? You might want to apply for this card if:
You need a secured card because you lack a credit history or a high enough credit score to apply for an unsecured card.
You want a customizable rewards scheme that fits with your spending habits.
You travel abroad and want to avoid foreign transaction fees.
On the other hand, you might want to pass if:
Your credit score is high enough that you can apply for cards with better rewards and lower fees.
You need multiple cards for employees and want to avoid the annual per card fee.
---
⭐️ Featured Free Corporate Card ⭐️
Divvy offers a free corporate card for virtually any business. Start earning rewards with your corporate spending today. Get your free card.
⭐️ Featured Free Corporate Card ⭐️
Divvy offers a free corporate card for virtually any business. Start earning rewards with your corporate spending today. Get your free card.
To learn more about how we score our reviews, see our
Business Credit Card Rating Criteria
.
Read Next