Expert Analyst & Reviewer

Updated on:
Advertiser Disclosure: Our unbiased reviews and content are supported in part by
affiliate partnerships
, and we adhere to strict
guidelines
to preserve editorial integrity.
WePay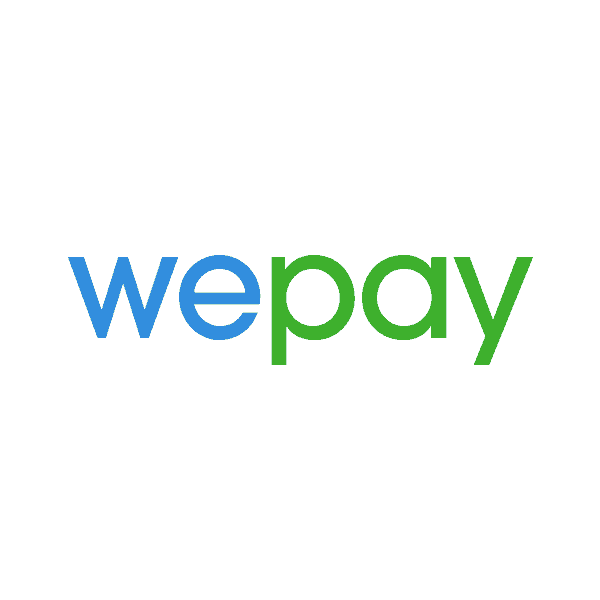 Pros
Good developer tools
Good marketplace tools
Chip card hardware
No setup or application fees
Cons
No pricing disclosed online
Account stability issues
WePay Overview
WePay is a third-party payment facilitator (rather than a direct merchant account provider), placing it in the same category as Stripe, PayPal, and Square. As you'd imagine, this is an extremely competitive space. Currently, WePay differentiates itself by serving both as a payments processing website and a platform partner. JP Morgan Chase purchased the company in 2017.
Let's take a moment to define the term "platform partner." A platform partner is an online space where lots of business owners, sellers, or fundraisers conduct some aspect of their business. Here are some of the types of platforms WePay partners with, along with an example of each:
Event Management (ConstantContact)
Accounting/Invoicing (FreshBooks)
eCommerce/Shopping Carts (Ecwid)
Fundraising (GoFundMe)
So say you are a merchant who uses the FreshBooks software platform for your accounting and invoicing needs, but you also need a way to accept credit cards for your invoices. Or you are managing a list of attendees for a conference in ConstantContact and need a way to collect payment from them. Perhaps you've got an online shop all set up via Ecwid, but you still need to decide how you're going to accept payments from your customers.
That's where WePay comes in. WePay's goal is to have its payment facilitating capability already embedded inside the platforms that merchants use every day. Merchants can then quickly and easily start accepting payments without ever leaving the software platform they were already using. As a small business owner, you can't sign up for WePay in isolation as you might with PayPal or Stripe. Instead, you'd only encounter WePay if you happened to use one of its partnered platforms.
WePay takes this specialization in platform partnerships even further. Aside from exclusively embedding payments directly into platforms, WePay also supplies each software platform with its own self-branded payment solution. For example, WePay's partner Freshbooks now offers a payment solution called Freshbooks Payments by WePay.
WePay calls this setup "white-label" payments for platforms. A white-label setup provides certain advantages to the platforms themselves, the merchants who use the WePay-powered payment solution inside these platforms, and even the end-user making the payment. We'll touch on these benefits throughout the review.
It's worth pointing out that the audience for this review will likely be both platform owners who might partner with WePay and the merchants who use these software platforms. If you don't find yourself in either of these two categories, but you still need card processing services, I'd suggest checking out our top merchant account providers.
There's no denying that the multiple layers of the platform economy make reviewing WePay a bit of a hairy endeavor. Nevertheless, I'm confident we've gathered some good information to help you decide if WePay is worth considering for your situation.
Products & Services
As you read about WePay's features, don't forget that WePay targets the platform owners themselves, not merchants using the platforms. Like WePay's website, this section of the review is written so that platform owners can understand what WePay offers. Still, I think merchants will benefit from knowing more about how platform payments work. I would not recommend skipping this section — or any section for that matter!
WePay's website is sparse on descriptions of specific products and features. The company is more interested in explaining the overall value proposition of integrated platform payments. Here is my crack at summarizing WePay's key offerings for platforms:
Payment Processing: WePay is a third-party processor, like Stripe or Square, as opposed to a traditional merchant account provider. WePay's FAQs state that it currently only supports US-based merchants and a growing number of Canadian merchants on a few platforms. However, we've noticed that WePay also has a merchant agreement for UK-based merchants listed on its Terms of Service page. WePay also has developer documentation for setting up UK merchants. That tells me UK merchants can also use WePay and that the information on its webpages is most likely out of date.
"White-Label" Payments: As a platform, you'll get your own, self-branded payment solution when you partner with WePay, without the hassle of actually becoming a payment facilitator yourself. Your brand-name payments service will still probably have "Powered by WePay" as part of its logo. I like to think of it as more of a "gray-label." Another common industry term is co-branded.
Developer Documentation/API: WePay describes itself as a payments API company. As such, the website's developer section is the best place to find concrete information about WePay's capabilities and how they can be customized to suit your needs.
Simultaneous Onboarding: Platforms can set up their onboarding process to include WePay's onboarding process, minimizing extra steps for merchants. As the Merchant Onboarding Overview explains, the partner platform has the option to set up WePay for all new merchants, with further verification steps required after merchants are already selling.
Revenue From Payments: Platforms may have the opportunity to add their markups to transaction fees. See more on this in the WePay Fees & Rates section of this review.
Risk Management & Fraud Protection: WePay claims to provide 100% coverage of a platform's payments-related risk. That means the company will cover fraud losses and chargebacks. They also secure payment and customer information, which helps platforms achieve and maintain PCI, KYC, and OFAC compliance.
Mobile Point Of Sale (mPOS): WePay enables white-label, mobile POS for platforms. Merchants use the platform's app and mobile hardware to collect payments. Here again, I'd refer you to the mPOS developer section of WePay's site for the best information. A few highlights:

Customizable EMV-Certified Card Readers: Choose between the Moby 3000 reader or RP350x, both by Ingenico/ROAM.
iOS & Android SDKs: Integrate payments into the platform's mobile app.
Fulfillment Service: This lets the platform ship readers directly from WePay's warehouse to merchants.
Apple Pay: Add this capability to the platform's regular website in addition to the mobile app.

Customizable Payouts: Platforms can choose to allow merchants daily, weekly, or monthly payouts.
Automatic Account Updater: Merchants can retain more recurring customers with an account updater for expired and replaced cards.
WePay Fees & Rates
WePay does not list any pricing information on its website. I have to admit, however, that this isn't too surprising considering WePay's complex business model.
Since WePay is a "white-label" payments provider, it works with each partnered platform individually to determine the pricing. Then, that platform communicates pricing plans to its merchants.
Once platforms have their pricing worked out with WePay, they are free to set their fees for processing both transactions and exceptions. This means that platforms may choose to charge an additional fee on top of WePay's rates.
In WePay's Merchant Terms of Service, the company includes a few basic rates and fees that WePay will charge if the platform does not choose to negotiate a specific rate (we suspect that platforms can negotiate rates that are lower than these basic rates). Here are the basic rates that WePay charges:
Per Transaction: 2.9% + $0.30
Chargeback Fee: $15
ACH Return Fee: $15
Research Fee: $25 (charged if an account is deemed abandoned)
WePay also mentions that it will pass through fees for "Payment Network Liabilities" to the merchants. You can read more about those fees in Section 8 of the Terms and Conditions.
Keep in mind that the rates I've listed above are just examples of WePay's basic rates. The rates and fees the platform pays depends on its agreement with WePay. In the same way, the rates and fees that merchants pay depend on their platform.
If you're a merchant looking to process payments through one of WePay's partnered platforms, be sure to look into the specific rates and fees offered by your platform. Those are the costs that will be the most relevant to your situation.
Before we move on, I want to mention one other notable fee quickly. In 2015, WePay introduced a rate of 1% + $0.30 for ACH payments via partner platforms. When we checked in 2016, we were able to verify that the rate had remained the same. At the time of this review update, we cannot find any information on rates for ACH payments, but we wouldn't be surprised if it was still 1% + $0.30.
Contract Length & Early Termination Fee
Here, we will mainly focus on the merchants using WePay's partnered platforms. I'm sure the platforms themselves have special contracts dictating their relationships with WePay, but we're not privy to those. Instead, we have access to Terms of Service agreements for merchants in the US, Canada, and the UK.
These documents rightfully point out that even if a platform offers white-label payments, the platform itself probably also has a separate merchant agreement with terms and conditions for using the software. Bottom line: Both the platform's general-use agreement and WePay's Terms of Service (just for payments) are important documents to understand.
Sections 26 through 28 of the WePay Terms of Service address account termination. As a merchant, you may cancel WePay's payment service at any time with no early termination fee. While you're looking through the rest of the terms, be sure to note WePay's policies on payout holds and account closures. You should also look at WePay's Reserves FAQ, which covers both reserves and payout thresholds. These are common points of contention and misunderstanding when it comes to merchant aggregators — WePay included.
Sales & Advertising Transparency
Now, we're back to examining WePay's relationship with platforms since it doesn't advertise directly to merchants anymore. I know this is a lot of focus-shifting in one review. Merchants should stay engaged for this section, though. You want to know what type of company you're dealing with for payments.
Despite any shortcomings, WePay is not a sleazy, scammy, or dishonest company. I'm still disappointed that it doesn't publish pricing anymore, especially when more visible competitors do offer some hard figures. While pricing may be complicated with platforms in the mix, WePay needs to figure out a way to increase online transparency on the pricing front.
The great news about fully-integrated payments with WePay is that merchants are spared from aggressive sales agents, flashy ads, and gimmicky deals. It's up to the software platform to "sell" its own co-branded payments provider over any others it may offer. I also like that WePay's Terms of Service are posted, and they're pretty easy to read. WePay has done us all the favor of simplifying the legal jargon in a "Basically…" phrase to the right of each section. You should still do your due diligence, though, and read the Terms of Service in its entirety. You don't want to miss important fees and requirements by just reading WePay's paraphrasing.
All in all, WePay is doing a respectable job in terms of transparency, but there's still room for improvement. For example, we'd like to see the website updated with some more complete and current information. And we also want to see pricing information provided in some form or another.
Customer Service & Technical Support
In theory, WePay and its partnered platforms work together on behalf of merchants and their customers to provide support. It should help that WePay and the platforms have access to each other's data and support records. It's all a great theory, but it makes you wonder how well it works in reality. The answer seems to be: It depends.
Whether you're a merchant or customer, I don't see established guidelines for contacting the platform versus contacting WePay for support. WePay provides an email ticketing system and links to customer support pages for various platforms on its contact page. You're invited to make the decision yourself on which route to take.
WePay's "Customer Delight" support team (yes, that's the actual name) is available from 6 AM to 6 PM PST Monday through Friday. That time frame refers to email ticket support only. WePay indicates the team will respond to inquiries within one business day. Live chat was offered at one point but has now vanished. The same goes for a phone number — gone. I understand why big merchant aggregators avoid phone support, but that doesn't mean I have to like it.
The Knowledge Center offers up a few guides and white papers that are helpful for understanding payments processing in general. However, these resources don't give any specific information about using WePay on a day-to-day basis, which is really what I'm looking for. Honestly, I think these resources would have worked better as posts in WePay's blog.
Fortunately, the Support Section has some decent FAQs and even answers a few questions regarding partner sites. WePay also maintains active Twitter and LinkedIn pages.
Overall, I'm underwhelmed by the support WePay provides. It's a confusing setup for merchants and end-consumers, and the lack of phone support seems to be a common frustration among users. Let us know in the comments below about your own experiences with WePay's customer support. Were you delighted?
WePay User Reviews & Complaints
Negative Reviews & Complaints
WePay maintains an A rating with the Better Business Bureau, with 98 registered complaints in the last three years (41 in the last 12 months). Overall, 98 complaints is a fairly low number for a third-party processor that serves so many people. That said, many of these involve the usual complaints you'll find with third-party processors, such as account holds and freezes. It doesn't hurt to read more about how to avoid holds, freezes, and terminations yourself.
Here are some common complaints in WePay reviews:
Withheld Funds: Holds related to "high-risk" transactions often result in account cancellation. Relatedly, disputes over WePay's reserve accounts also crop up occasionally. Several merchants have reported delayed and inadequate explanations for holds and terminations.
Frozen Or Terminated Accounts: After quick initial approval, some accounts have been subsequently frozen or terminated. Merchants and WePay often dispute the proper interpretation of WePay's business-type restrictions or whether or not subsequent verification requirements were completed properly. Problems refunding payments to customers and donors sometimes ensue.
Long Processing Time: Some users are unhappy with the two to five-day (or beyond) wait to receive funds when a "hold" is not in place.
Poor Customer Service: Merchants say WePay's customer support is slow to respond. In particular, merchants are frustrated by the lack of phone support.
This is a good time for another quick reminder to read both the platform's and WePay's Terms of Service and list of Prohibited Activities (Section 7 in Terms of Service). High-risk merchants may need an alternate, specialized merchant account.
Positive Reviews & Testimonials
While most complaints about WePay's services seem to come from merchants, most positive reviews seem to come from end-consumers and donors. They often praise the help they received with understanding WePay charges on their credit cards or resolving donation issues at crowdfunding sites. I noticed that these comments often praise the same support reps over and over. In particular, customers seem to appreciate a support rep named Mira. Raise a glass to Mira, everyone!
Positive feedback from merchants tends to highlight a few different factors. Here are the positive comments I've seen most often from merchants in WePay reviews:
Seamless Integration: WePay's ability to integrate with established platforms makes it very easy for merchants to set up and use. Partners also love this quality of WePay.
Lower Rates Through Some Platforms: Merchants on a couple of platforms commented that they were able to access lower processing rates with WePay than with another payment provider. These merchants tended to be using WePay through Zoho and Classy.
Easy Checkout: WePay's checkout process is simple and intuitive for the end-consumer.
Final Verdict
As a third-party payment facilitator, WePay has relentlessly sought its own niche among household names such as PayPal and Stripe. With such intense competition for market share, I think targeting platforms was probably a wise move for WePay. In turn, WePay's partnered software platforms, and marketplaces appear to appreciate this specialization.
This doesn't mean WePay has cornered the market on embedded, co-branded payments. Platforms can (and should) still shop around, and platforms must examine each payment provider in light of their unique pool of merchants. This is where aspects such as customer service, account stability, fraud protection, and the payment service's geographical availability come into play.
To make direct comparisons, you'd have to look at the platform-embedded, co-branded version of each payment service. Teasing out that specific feedback may be impossible, but I can still offer some general observations. If you are a merchant based anywhere other than North America or the UK, you'll need to look elsewhere. A few options you might consider are Stripe, Braintree, and Adyen, which all cover merchants in loads more countries. If you are concerned about account stability, you might consider finding a dedicated merchant account provider, such as CDGcommerce or Fattmerchant.
To sum up, I don't think WePay is a bad option for either platforms or merchants. In its current state, I'm giving WePay 4 stars. Co-branded payments may be the way of the future, but WePay's solution is not a magic bullet. I think it still pays to keep the payment field more open for now — for platforms to retain other third-party options and for merchants, campaigners, and donation recipients to set up more than one payment method if possible.
My main advice to merchants is to remember that the quality of a platform's payment experience is directly tied to the platform's quality. This is especially true when the two are co-branded. You can't evaluate one without the other (which made it tough to review WePay by itself!). Understand the Terms of Service for WePay and the Terms of Service for the platform it's integrated with. Examine transaction fees for the payment solution within the context of the platform's overall pricing structure. Look at the features and reputation of both companies. I wish you the best of luck!
---
We've done in-depth research on each and confidently recommend them.
We've done in-depth research on each and confidently recommend them.
To learn more about how we score our reviews, see our
Credit Card Processor Rating Criteria
.
Read Next