Wix Review 2022: Pros & Cons, Features
Expert Analyst & Reviewer

Updated on:
Advertiser Disclosure: Our unbiased reviews and content are supported in part by
affiliate partnerships
, and we adhere to strict
guidelines
to preserve editorial integrity.
Wix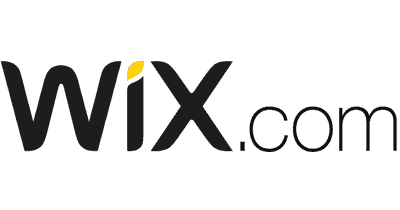 Pros
Excellent eCommerce features
Easy learning curve
Intuitive editor
Beautiful design templates
Numerous integrations
Cons
No live chat support
Numerous public complaints
Limited functionality
Wix Overview
Wix, the planet's most popular website builder, was founded in 2006 by Avishai Abrahami, Giora Kaplan, and Nadav Abrahami. Since then, Wix has expanded by leaps and bounds, boasting over 3,200 employees in cities throughout the world.
With this Wix review, we hope to give you a thorough, in-depth look at this website building colossus.
Wix's sleek editing interface, when combined with excellent training material and hundreds of apps and integrations, is extremely effective. It has resulted in enormous profits and an exponential growth rate for the company. To date, there are more than 180 million website owners, distributed across 190 countries, who use Wix.
Wix's versatility is highlighted by the fact that it essentially offers three website building tools. You can build a Wix website using its standard drag-and-drop editor, or you can use Wix ADI, an AI-powered system that takes your content and designs a mobile-friendly website for you. Or, if you have access to developers or experience with code, you can use Corvid by Wix (its open dev platform) to build web applications and connect to APIs.
Read our Wix review to see if the website builder justifies the hype.
Business Types Supported
Website builders must be ready to serve a wide variety of business needs. With hundreds of templates to select from, customers in virtually any niche can find the perfect layout. Wix's templates are separated into five overarching categories (Business & Services, Store, Creative, Community, and Blog), and once you choose a category, you'll see options for choosing templates tailored to just about every business type in existence. For example, clicking on the Business & Services category opens up a slew of sub-categories like so: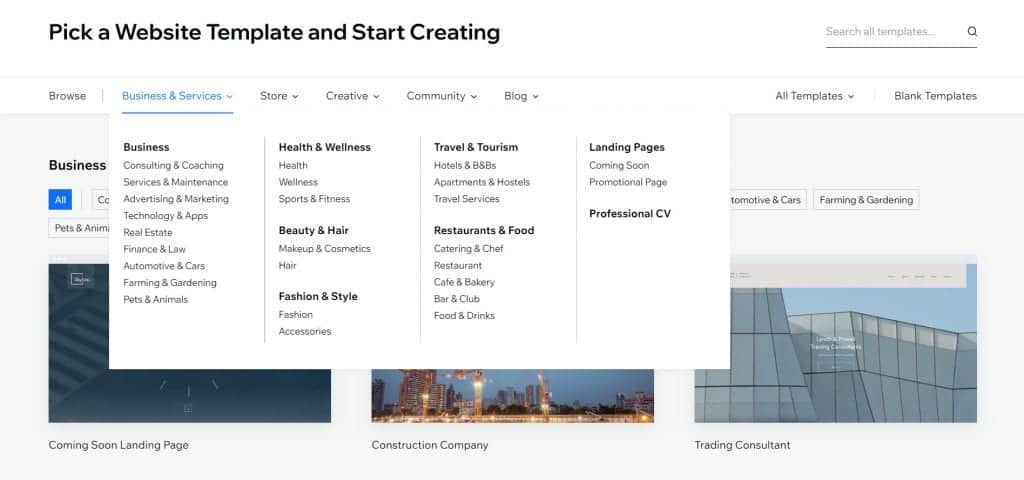 Wix is highly adaptable and can accommodate most small businesses. That said, businesses in the following industries have particular reason to be attracted to Wix:
Restaurants
Hotels
Photographers
Design firms
Small- to mid-sized online stores
Wix Pricing
Simplicity and brevity have never been hallmarks of Wix pricing plans. Wix has long offered a higher number of subscription plans than most competitors.
Wix provides its free version to anyone who signs up for the service and that includes:
Full usage of Wix's design and editing platform
500MB storage
500MB bandwidth
Free hosting
Free Wix domain
Wix brand ads
Online payments not included
Google Analytics not included
Note: Sites created with the free version display small advertisements for Wix, and a free site's domain name includes Wix branding. It looks like this: "username.wixsite.com/siteaddress."
Wix's premium packages are listed and described on the website's pricing page. This page includes pricing for Wix's annual plan, which must be paid upfront. Below, we have including the pricing for both the annual purchasing plan and the month-to-month plan. Subscribing to the annual plan will save you in the long term; however, you may not want to commit to a full year right off the bat. Wix also offers two-year plans, which offer a 30%-40% discount on the monthly rate, and three-year plans, which offer a 30%-50% discount on the monthly rate.
Again, you should stick to the month-to-month pricing until you decide that Wix is the right website builder for you.
Let's take a look at Wix's "Website" (non-eCommerce) plans:
Combo
The Combo plan costs $18/month ($14/month when paid annually) and includes:
2GB bandwidth
3GB storage
Connect your domain
Remove Wix ads
30 minutes of video
Free domain for one year
Free SSL certificate
24/7 customer care
Unlimited
The Unlimited plan costs $23/month ($18/month when paid annually) and includes everything in the previous plan plus:
Unlimited bandwidth
10GB storage
One hour of video
$300 ad vouchers
Site booster app (Free for one year)
Visitor analytics app (Free for one year)
Pro
The Pro plan costs $28/month ($23/month when paid annually) and includes everything in the previous plans plus:
20GB storage
Two hours of video
Events calendar app (Free for one year)
Professional logo
Social media logo files
VIP
The VIP plan costs $47/month ($39/month when paid annually) and includes everything in the previous plans plus:
35GB storage
5 hours of video
Priority customer care
The following Business & eCommerce plans allow you to accept online payments.
Business Basic
The Business Basic plan costs $28/month ($23/month when paid annually) and includes:
Secure online payments
No transaction fees
Unlimited bandwidth
20GB storage
Connect your domain
Remove Wix ads
Five hours of video
Google Analytics
Free domain for a year
$300 ad vouchers
Plans & recurring payments
Customer accounts
Unlimited products
Abandoned cart recovery
Sell on social channels
Online bookings platform
Ticket & event management
Take online food orders
Manage hotel reservations
Monetize your art & content
Business Unlimited
The Business Unlimited plan costs $33/month ($27/month when paid annually) and includes everything in the previous eCommerce plan plus:
35GB storage
10 hours of video
Professional logo
Social media logo files
Subscriptions
Multiple currencies
Automated sales tax – 100 transactions/month
Advanced shipping
USPS discounts – up to 60%
Sell on marketplaces
Dropshipping by Modalyst – up to 250 products
Product reviews by KudoBuzz – 1,000 reviews
Business VIP
The Business VIP plan costs $56/month ($49/month when paid annually) and includes everything in the previous eCommerce plans plus:
50GB storage
Unlimited hours of video
Priority customer care
Customized reports
Automated sales tax – 500 transactions/month
USPS discounts – up to 70%
Dropshipping by Modalyst – Unlimited products
Product reviews by KudoBuzz – 3,000 reviews
Loyalty program by Smile.io
Enterprise
The Enterprise Plan features custom pricing (call Wix for a quote) and includes everything in the previous eCommerce plans plus:
Custom storage space limits – negotiable with Wix
VIP support
Custom ticket sales commission
Wix Professionals
Annual security audits
Custom DDoS mitigation
Personal HTTPS/SSL implementation
Dedicated account manager
All Wix website packages, including the free package, provide users with access to customer support lines as well as "top-tier industry hosting." Furthermore, all Wix plans come with a 14-day money-back guarantee.
Wix also offers a discount for students. You can get "Wix for students" at a discount of 50% off premium yearly plans.
Ease Of Use
Wix offers two main products that you can use to build a website, neither of which require any coding knowledge. I tested both the Wix ADI (Artificial Design Intelligence) and the standard Wix Editor. To summarize: Wix ADI is designed for beginners. It's incredibly simple and easy to use since the software does most of the work for you. After answering a few questions and choosing a theme, you'll be taken to your design editing tool. You can quickly make large-scale changes to your site by changing the color scheme and by choosing from a few selections of design blocks. All in all, Wix ADI was extremely easy to use.
By contrast, the Wix Editor allows a lot more customization, and there are far more editing tools available. You can easily change text, background color, and content. You can also drag-and-drop text and media, and add in content blocks to include things such as contact info, social media links, and videos. Compared to Wix ADI, the Wix Editor gives you much more control over your site while remaining very easy to use. For more help with Wix, read our guide to building a Wix website.
Hardware & Software Requirements
As cloud-based software, there are no system requirements for Wix. As for browser compatibility, use the latest version of Chrome, Firefox, Safari, or Microsoft Edge (Edge does not support Wix ADI, however).
Wix Features
Wix offers an exceptionally wide range of features. Everything is well-designed, straightforward, and easy to put together. What's more, the feature list keeps growing with time. Recent feature updates include the ability to display booking services anywhere on your site, schedule social posts, and assign tasks to site contributors. Other features include the following:
Dashboard: Wix offers a standard dashboard that lets you access your sites and adjust settings that your sites have access to.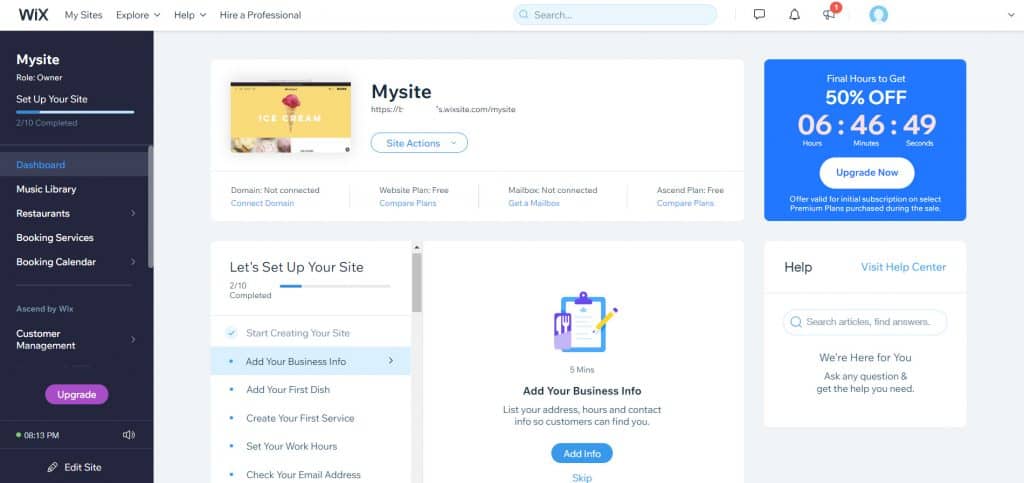 Form Builder: Wix offers a capable and customizable form builder, and if you want more functionality, there are several apps in the App Market offering advanced form building.
Online Store: With Wix eCommerce, it's easy to create an online store. You can manage the look and feel of your store with Wix's editing tools, create coupons and discounts, and set customized tax and shipping rules for your orders. Adding products is a simple process — you can upload images, write product descriptions, and create product variants (such as different sizes and colors) on the same page. You can also create discounts and coupons from your product pages. Wix's eCommerce features are great for smaller merchants, but if you need to list over a few hundred products and you process over 500 orders a month, you'd do better with a dedicated eCommerce platform like Shopify or 3dcart.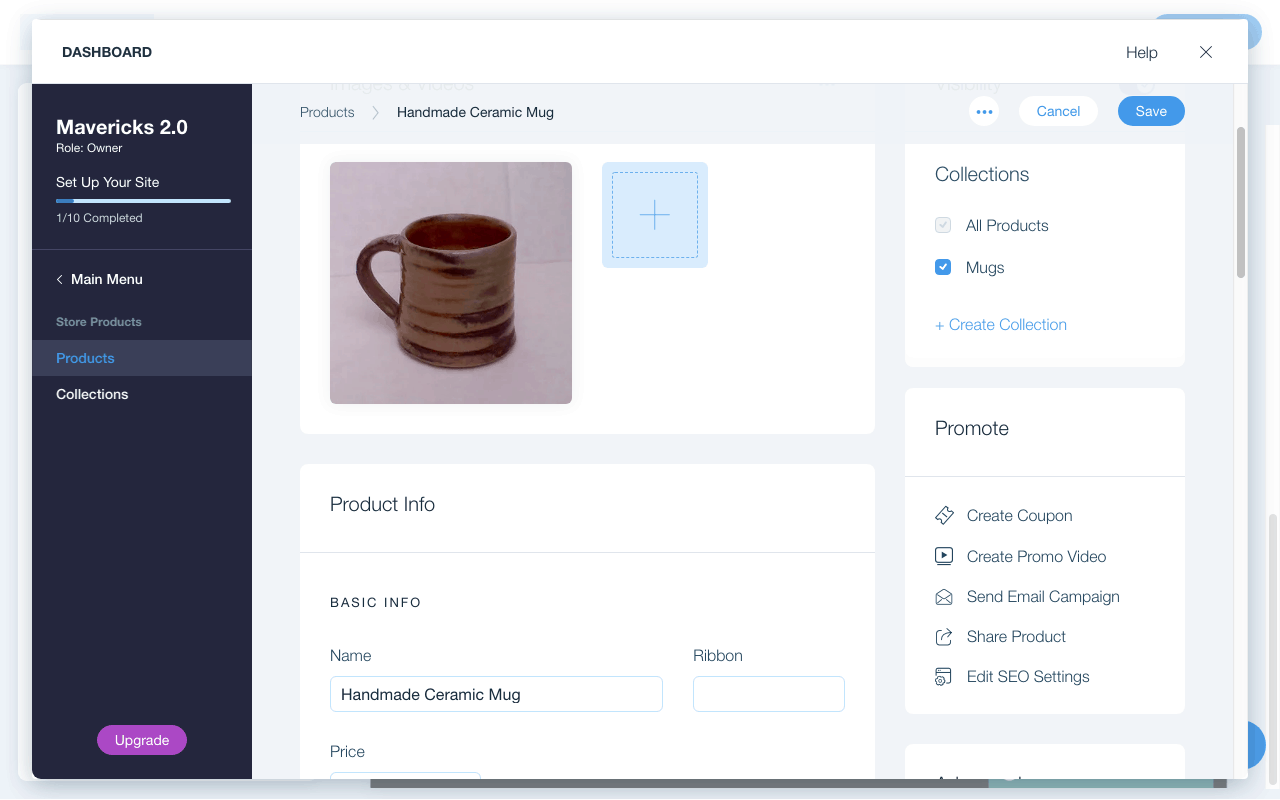 Blog: Add a Wix blog to any website. You can add images/videos and allow users to comment on your blog. You can also add contributors to manage the blog on your behalf.
SEO Tools: Wix's SEO tools let you can add up to three keyword phrases, set alt tags for images, set meta descriptions, and more.
Reports & Analytics: Wix Analytics Reports gives you pre-built reports that display your site's sales, traffic, behavior, and people data.
PCI Compliance: Every Wix website is PCI compliant. Wix is accredited as a level 1 service provider and merchant.
Mobile Responsiveness: Site visitors can view your website on any mobile device. You can also manage a few elements of your site from mobile. For example, you can track inventory and manage orders, accept bookings, and manage your blog using the Wix Mobile App.
Social Media: Wix is highly integrated with social media platforms and allows users to add Facebook comment boxes, Twitter Tweet buttons, a hot bar of links to social media outlets, and various other social media widgets.
Wix Restaurant: For the budding restaurateur, Wix offers a menu element, a reservation system, and, most impressively, a full online ordering system. You can offer both pickup and delivery.

Wix Forums: Wix Forums lets you host your membership-based online community, separated from the noise and drama of social media. Visitors will need to become members to gain posting privileges, although anybody can read posts.
Wix Chat: Use live chat to connect with your site visitors and provide customer support.
Wix Web Design
With Wix, there are over 600 well-designed templates to choose from, some with styled layouts and others that are completely blank. It should be noted, however, that once you choose a template, you're stuck with it. If you're unhappy with your choice, you can either make edits or start from scratch with a new site. You can have multiple sites under the same account, however, so you may build a new site with an entirely new layout, then retire your previous one without any downtime.
Wix lets you make precise design changes to the overall atmosphere of the website. Some users have expressed concern with the fact that all aspects of the editor are executed via drag-and-drop (though you can now embed code with the HTML element). However, for the layman, Wix's editing features are ideal.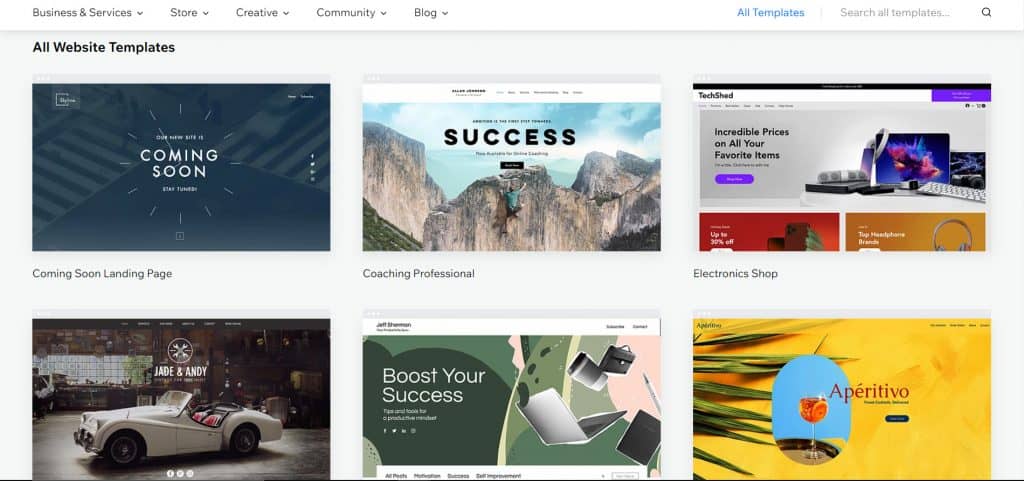 Wix Customer Service & Support
All Wix users have access to Wix support — even free subscribers. You can contact Wix by submitting a web ticket or requesting a callback. I should mention that my own experience with Wix's customer support was positive. The reps I contacted were knowledgeable and responded in a timely manner. However, numerous comments online suggest that this experience is not universal. Sadly, Wix does not offer live chat support.
Here's a quick list of the support Wix provides, both direct and indirect:
Phone: Wix does not display a phone number publicly. However, you can request a call from Wix. Wix displays an estimated wait time online for this callback. Typically, the wait time is under an hour and is often around five minutes. Callback availability depends on the language. English language phone support is offered 24/7, while support in other languages (Spanish, Italian, French, etc.) is typically offered Monday through Friday during business hours.
Email: Get your questions answered via Wix email support. Wix recommends that you categorize your issue to help speed up their response time.
In-Software Help: The Help Center is the support route Wix will send you to most often. It's easy to search and is full of relevant and helpful articles and user guides.
Community Forum: Wix has three community forums: one to discuss Wix's blog features, another for Corvid users, and one to discuss Wix's forum features (meta, right?).
Videos: Find tutorials on basic operations and videos with news on product updates on Wix's YouTube channel.
Find An Advisor: View designer portfolios, and choose a professional to design your site.
Social Media: Wix maintains its social media presence on Facebook, Twitter, Instagram, Pinterest, and LinkedIn.
Wix Reviews
Negative Reviews & Complaints
To get a better feel for how Wix serves its customers, I took a deep dive into user comments posted to review boards and third-party review sites (such as ours). Overall, while professional Wix reviews are typically positive, user reviews of Wix trend towards the negative. Here are a few of the complaints that arise again and again:
Inadequate Support: Users don't like that there's no way to call Wix directly. You can request a callback, or you can submit a support ticket, but you will always have to wait for Wix to respond to you. Some users go on to say that once you finally are able to get ahold of a support representative, they aren't always the most helpful. Representatives often misread support tickets, and they respond with basic copy-paste style emails. I've also seen comments that suggest that Wix's support team does not know enough about the software to help.
Auto-Renewal Billing: Wix prominently advertises its annual pricing plan. What it doesn't make clear is that after your first year with Wix, your annual plan will automatically renew for another year. You'll pay upfront the full cost of that next year, and if you didn't mean to stay with Wix for much longer, tough luck! They don't seem to issue refunds.
Glitches & Bugs: I've seen lots of reports of bugs within the software. Also, it seems that Wix representatives don't often believe users when they find a bug.
Slow Loading: Wix can be slow to load, both on the front end (your website pages) and the back end (the user interface).
Features Not Advanced Enough: These complaints most often mention industry-specific features, such as the booking features or the online store features. While Wix is great for website creation, it often falls short in its business management features.
All in all, Wix doesn't have the best set of user reviews. In particular, I'm most concerned about the billing issues, and the less-than-attentive customer support. Make sure that you keep these things in mind as you consider Wix.
Wix currently sports an average user score of 1.5 out of 5 on Trustpilot. However, I will note that the company does respond to many of the negative reviews.
Positive Reviews & Testimonials
It's not all doom and gloom, however. Some users really like Wix, leaving glowing 5-star reviews to balance out the scathing ones. In general, these positive comments had two things in common:
Beautiful Design Templates: Wix's selection of free and modern templates is very popular with its users.
Ease Of Use: Wix users also mention how simple it is to build and operate a website with Wix.
These positive comments are what I expected to find, as they line up with my own experience with Wix. If you've never designed a website before, and you're looking for a launchpad, Wix is a good option.
Wix Integrations & Add-Ons
The Wix App Market is evidence of what third-party integration can bring to a website. Because developers can create and share their add-ons, other Wix users have the opportunity to expand and diversify their websites as well. The Wix App Market includes over 250 applications. Some of the most popular integrations include add-ons for image galleries, blogging, chat, eCommerce, and analytics. You can also find integrations with popular platforms and software, such as Instagram, Amazon, and Google Drive.
One handy integration that was recently added is Zapier. You can now use Zapier to connect Wix Automations to third-party apps like Slack and Google Docs.
Security
All Wix sites feature SSL and HTTPS security, and the Wix Stores checkout process is secured by HTTPS/TLS encryption. Wix provides a complete rundown of its security features in its help center, while further information regarding the security of Wix Stores is provided here.
Final Verdict
There's a reason Wix is so broadly popular: it's one of the most user-friendly and flexible website builders in existence. With its vast repository of add-ons, Wix is able to accommodate the needs of a wide variety of small businesses. When testing the platform, nearly every step I took was smooth and expertly guided, and the resulting Wix website was excellent. I could hardly ask for a better site building experience.
Wix manages to make the website building experience enjoyable. I was surprised to find myself having fun with the tools it provides. Initially, I didn't know what to expect, but it quickly became apparent that Wix's mass appeal is justified. I also appreciate the fact that Wix still offers a free option for users who don't need the more advanced features.
That said, Wix still has room to improve in their customer support, and a few of their features could use some strengthening to support user needs. However, as a website builder, Wix does its main job very well. That's why Wix has earned a 5-star score.
For more on building a website with Wix, read Merchant Maverick's guide to building a Wix website in 6 easy steps.
---
The Merchant Maverick Seal of Approval 🏆
Wix


---



After hours of in-depth research and evaluation, we can confidently recommend this brand to our readers. Get started today and see Wix for yourself.
The Merchant Maverick Seal of Approval 🏆
Wix


---



After hours of in-depth research and evaluation, we can confidently recommend this brand to our readers. Get started today and see Wix for yourself.
To learn more about how we score our reviews, see our
Website Builders Rating Criteria
.
Read Next