Wix Review
Wix is easy to use and affordable, but has limited functionality for small business owners.
Expert Analyst & Reviewer

UPDATED
Advertiser Disclosure: Our unbiased reviews and content are supported in part by
affiliate partnerships
, and we adhere to strict
guidelines
to preserve editorial integrity.
Wix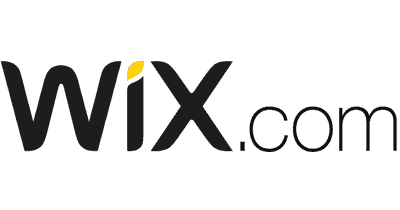 Wix At A Glance
Simple template-based website builder
Digital product sales and content monetization
Event ticket and service sales
---
Pros
Easy learning curve
Beautiful (free) design templates
Numerous integrations
Flexible drag-and-drop builder
Cons
Pricing not transparent
Limited functionality
Difficult to scale your business
Hard to move domain away from Wix
What Is Wix?
Wix is a cloud-based website builder with eCommerce capabilities. Users pick a template, edit with the drag-and-drop editor, add apps from the Wix Marketplace for more site functions, then publish their site. Alternatively, Wix can generate a website for you to customize.
Wix Pricing
Wix has two types of plans: website plans and business plans. Since we're reviewing the eCommerce features of Wix's web builder, we'll focus on the business plans.
Business Basic
The Business Basic plan costs $34/month ($27/month when paid annually) and includes:
Secure online payments
No transaction fees
Unlimited bandwidth
50GB storage
Connect your domain
Remove Wix ads
Five hours of video
Free domain for a year (you will be charged again upon renewal)
Plans & recurring payments
Customer accounts
Unlimited products
Automated abandoned cart recovery emails
Sell on social channels (Facebook and Instagram)
Online bookings platform
Ticket & event management
Take pickup and delivery food orders
Manage hotel reservations
Monetize your art & content
Wix Fit fitness instructor solution
Business Unlimited
The Business Unlimited plan costs $38/month ($32/month when paid annually) and includes everything in the Business Basic plan plus:
100GB storage
10 hours of video
Subscription products
Multiple currencies
Automated sales tax (up to 100 transactions/month)
Advanced shipping (print shipping labels, manage end-to-end fulfillment orders, access advanced shipping apps)
Sell on marketplaces (eBay, Amazon, Wish)
Sell on Google Shopping (with paid app)
Dropshipping by Modalyst (up to 250 products)
Product reviews by KudoBuzz (up to 1,000 reviews)
Business VIP
The Business VIP plan costs $64/month ($59/month when paid annually) and includes everything in the Business Unlimited plus:
Unlimited storage
Unlimited hours of video
Priority customer care
Customized reports
Automated sales tax (up to 500 transactions/month)
Dropshipping by Modalyst (unlimited number of products)
Product reviews by KudoBuzz (up to 3,000 reviews)
Loyalty program by Smile.io (offer coupons, discounts, etc.)
Wix also offers a 50% discount on yearly plans for students via Student Beans.
Wix Extra Costs & Fees
| Wix Extra Costs | Price |
| --- | --- |
| Custom Domain Name | Starts at $14.95/year after the first year |
| Ascend Marketing | $0/month-$45/month |
| Wix Marketplace Apps | $0/month-$100+/month |
Wix offers a suite of marketing and customer management tools called Wix Ascend at the following pricing:
Ascend Free: $0
Ascend Basic: $10/month
Ascend Professional: $24/month
Ascend Unlimited: $45/month
There are limitations on the number of email and social media campaigns you can run, the number of lead capture forms you can make and collect, and the chat/email customer service features you're allowed to use.
Many apps in the Wix marketplace cost extra, and you must pay for your "free" domain name after the first year.
You also have to pay for custom email addresses through the Wix/Google Workspace integration.
Wix Billing Practices
One of the most common complaints about Wix is the way the company bills, specifically the fact that Wix subscriptions (including Wix-hosted domain names and business emails) are set to automatically renew by default.
While this isn't an "extra cost" per se, it can be when you see a huge credit card bill from Wix without much prior warning. There is no refund or cancellations on auto-renewals.
Your best bet is to turn off auto-renewal for your site, domain name, and any business emails until you're sure Wix is the right store builder for you. You have to turn off auto-renewal for each subscription plan separately.
If you want to stick with Wix in the long run, simply reactivate automated billing.
Wix Features
Wix offers a wide range of beautiful design templates and allows you to sell everything from concert tickets and digital downloads to product subscriptions and hotel reservations.
However, many critical eCommerce features and general website management features are not built into the site builder. Many business owners will require multiple apps (some free, some not) to create a fully functional website that meets their needs.
Wix Themes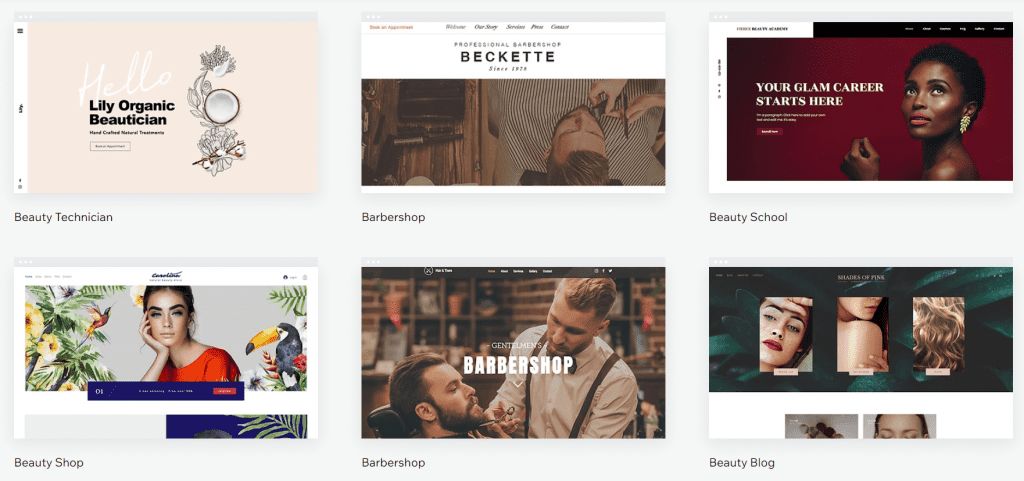 Wix offers over 900 themes for a variety of business types. It's easy to create an online store to sell physical or digital products, subscriptions, online services, or book appointments at a physical location. Just tell Wix about your store and it will suggest some site themes. Choose one and start editing with Wix's intuitive site editor.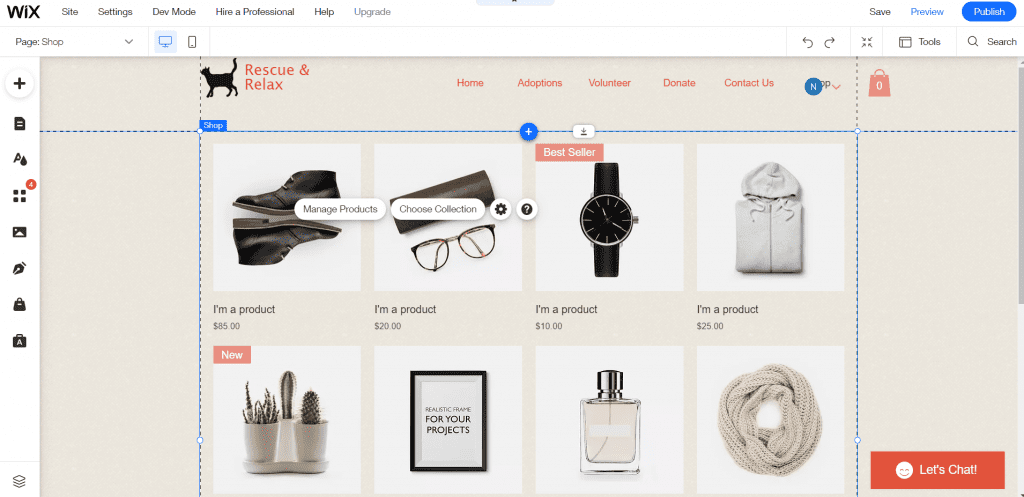 While the templates themselves are beautifully made and incredibly easy to use, there are a few downsides to Wix visual theme editor:
You always have to start with a theme, there's no starting from scratch
While the freedom to move objects anywhere is nice, it's easy to misplace or misalign things
You may have to manually make your theme mobile-responsive (the auto-optimizer doesn't work very well when you're moving things around)
If you want to change your theme, you have to start your whole website over
While themes are beautiful, it takes a lot of code to make them look so nice, so they load slowly on the user's end
Types Of Payments Accepted With Wix
Wix accepts the following payment types:
Wix has also partnered with high-risk payment providers such as Evergreen Payments Northwest, Priority Payments, and Pinwheel so you can sell CBD online. Square (also partnered with Wix) is one of the best CBD merchant account providers.
Selling On Multiple Sales Channels With Wix
You can use Wix to sell on Facebook and make Instagram posts shoppable. You can also sell on Etsy, eBay, Wish, and Amazon Marketplace (as long as your products are approved by Amazon.)
Note: You need at least a Business Unlimited Wix account to sell on marketplaces like eBay and Amazon.
There is an app in the Wix Marketplace that allows you to fulfill orders through Amazon.
Does Wix Offer Buy Buttons?
Wix currently offers buy buttons that, when clicked, allow shoppers to proceed immediately to checkout. (Learn how to sell on your website with buy buttons.) This makes the checkout process much more streamlined and helps reduce shopping cart abandonment.
Wix buy buttons come in the form of apps you can add to your website. You can add a PayPal buy button for free, but the general "Buy Now" button apps require a paid subscription.
Selling Internationally
Wix offers currency conversion starting at the Business Unlimited plan. The website builder does have a built-in language translation function, although languages are not automatically translated.
You must go through and manually translate most on-page and off-page elements of your website by hand or using Google Translate if you want to display it in another language. Alternatively, you can pay for a website translation app.
Also, some elements of Wix websites, such as text inside tables, cannot be translated.
Wix Marketing Features
Wix marketing functionalities depend on whether you purchase an Ascend marketing plan and whether you install any additional apps from the Wix marketplace.
Email Marketing
Wix offers free email marketing templates to everyone on a Wix business plan. You can send a total of 5,000 emails over three email campaigns per month for free. All Wix users can also set up automated abandoned cart emails to remind users of the items in their cart.
Note: Free email marketing campaigns have Wix branding attached to emails.
If you send more than your allotted number of emails or want to remove Wix branding, you must upgrade to a paid Ascend plan.
There are also Wix apps that allow you to create opt-in email popups, coupons, loyalty signups, and exit intent popups.
You may integrate your Wix store with email marketing platforms like Mailchimp, Klaviyo, Constant Contact, and Onmisend.
Social Media Marketing
Depending on your Ascend marketing plan, you can execute at least five social media marketing campaigns per month using customizable drag-and-drop post template builders. You may schedule posts in advance. You can connect to Facebook, Facebook Messenger, and Instagram through Ascend.
There is also an app available in the Wix marketplace for you to connect your product feed to Pinterest.
SMS Marketing
The Wix marketplace has apps available for SMS marketing, including an SMS app for automated appointments, sales, and coupon reminders.
Paid Advertising
Wix has apps to connect your products to Google Ads, Google Shopping, Facebook ad retargeting, and for partnering with other sites to get your products shared on other web pages.
Wix Product Limits
There are no limits on the number of physical or digital products you can have on your site.
There are limits around how many products you can dropship with Wix's dropshipping integration (250 on Business Unlimited plan; unlimited number on Business VIP).
You also get a limited number of automated tax calculations on sales (100 on the Business Unlimited plan; 500 on the Business VIP plan.)
Inventory Management With Wix
Wix has the following inventory management capabilities:
Up to six product options (type of option such as "color")
Up to 100 option choices (option choices such as "blue" and "green")
Up to 1,000 variants (the specific item you're selling, such as "small, blue" and "large, green")
Automated and manual inventory management
Assign SKU numbers to products
Digital product listings
Appointment bookings
Unfortunately, Wix does not have a native low-stock alert function, but you may find a limited free app or paid app to add low-stock alerts. You will also need a Wix app to sell product bundles, sync inventory across multiple locations, and track recipe stock.
These apps may fit the needs of very small businesses, but they certainly do not make the list of best inventory management software or best restaurant inventory management software available.
Selling Digital Products
Wix has many features that support creators looking to monetize their digital products.
For example, there is a free Wix app, Salesdish Content Protection, that was created specifically to protect images and text from being stolen.
You can also create watermarks and digital licenses for your art, create flipbook catalogs, and share special content with private website subscribers.
Wix Shipping Tools
Unfortunately, Wix does not appear to have a built-in shipping connection with big-name shippers like USPS, UPS, FedEx, and DHL.
Wix offers (mostly paid) shipping integration apps such as Shippo, ShipStation, and Easyship. You would do most of your shipping management through these third-party apps.
Dropshipping
Wix does integrate with a number of the best dropshipping apps, including CJ Dropshipping, Aliexpress DSers, Spocket, Printify, and Modalyst.
Wix SEO Tools
Search engine optimization (SEO) is very important for business owners, as a high SEO ranking from Google means that your web pages will appear higher in search engine results. The higher your website is, the more likely it is that people will click on your web page.
For a high SEO ranking, your website needs to:
Be mobile-friendly (i.e. easy to use on cell phones)
Be user-friendly
Follow online safety standards (especially when selling products)
Load quickly
Tell Google what exactly is on the page through descriptions of page elements such as images and videos
Use keywords that are relevant to your product offering
Post fresh content to stay relevant
Show real customer interaction through comments and product testimonials
Wix offers the following built-in SEO tools:
Wix SEO Wiz, a suite of SEO tools that helps you with everything from automatically generating sitemaps for Google to scan and rank in search results, to customizing web page URLs for readability, to managing redirects from old web pages to new ones
Automatically generated mobile-friendly version of your website template; however, the more you shift elements on the page, the less likely it is that an automatically generated mobile version of your site will look nice and work well
Header tags, meta descriptions, and alt-text to describe your web pages to Google search bots
Apps to connect to your social media channels
Apps to collect and display customer comments and testimonials
Integrations with Google Analytics and Google Search Console to monitor your site's SEO
Running SEO checklist as you're building out your site
Note: Wix templates are easy to use, but drag-and-drop templates may load slowly because of the amount of backend coding that goes into making each visual element. Also, the more apps you add to your website, the slower your site will load.
Read our post on how to improve your business website for both viewers and Google search engine bots (or read it if SEO fascinates you as much as it fascinates me.)
Blogging
It's easy to add and maintain a blog using Wix's built-in blog editor or a Wix blogging app from the Wix marketplace.
You can add on design elements like Soundcloud and Spotify music embeds, video embeds, and podcast embeds. Add social sharing, commenting, blog search bar, and AI text-to-speech apps, too.
If you want to monetize your content, you can add the Premium Content Monetization app.
Note: The content monetization app is free to install and activate, but you will have to pay a 10% transaction fee per sale for the monetization service.
Wix delivers blog posts as Google AMP pages, which load quickly and will improve your blog's SEO ranking.
Wix Discounts & Coupons
Wix has native coupon and discount functions so you can incentivize potential and existing customers to complete transactions on your site.
You can create discounts based on percentages or dollar amounts, offer free shipping, create BOGO sales, and more.
Send coupons via email or SMS marketing campaign, automated cart abandonment email, and automatically send coupons when a customer completes an action such as signing up for a newsletter.
There are also apps in the Wix marketplace that you can use to start a loyalty program that offers birthday discounts, reward points, and/or referral discounts.
Developer Tools
Wix's main selling point is that it's easy for non-techy people to build websites. However, Wix also offers a full-stack developer platform, Velo, that combines the visual Wix editor with JavaScript and Velo APIs.
Users can switch from the standard Wix visual editor to Velo Dev Mode and add custom functionalities to a standard Wix site template. Developer work is hosted on Wix's cloud services.
In-Person Selling Tools
You can use Wix POS (point of sale) or Square POS to sell products, tickets, or services in person.
You must use Wix Payments as your payment processor if you want to use Wix POS software. You can only use Wix POS software if you purchase Wix POS hardware. Wix POS hardware is powered by Stripe.
Note: Products sold in person with Square do not automatically trigger inventory updates. You have to manually update your Wix inventory or use an app to track stock.
Is Wix Easy To Use?
Wix is extremely easy to use for inexperienced website designers.
Since templates are pre-built and optimized for the web, all you have to do is customize the template's content, add your products, add a domain name, and launch your website. The visual editor dashboard is easy to use and there's a setup checklist that's easy to follow.
Also, Wix's help center has several explainer posts and how-to videos to help you get your site up fast.
However, it's important to note that once you veer away from the original template, your website may not turn out aesthetically pleasing or mobile-friendly. Use the drag-and-drop functionality sparingly to make sure your website turns out as nice as possible.
It's also easy to add Wix apps from the marketplace. However, some users express their frustrations with many of the marketplace apps, so check reviews and use free trials before committing to any paid apps. Also, add apps slowly, that way it's easy to identify what apps are working and which are not.
Wix Customer Service & Support
| Wix Support | Availability |
| --- | --- |
| Phone Support | On Business VIP Plans |
| Email Support | |
| Support Tickets | |
| Live Chat | |
| Dedicated Support Representative | On Custom Enterprise-Level Plans |
| Knowledge Base or Help Center | |
| Videos & Tutorials | |
| Company Blog | |
| Social Media | |
All Wix users have access to Wix support — even free subscribers. Here's a quick list of the support Wix provides, both direct and indirect:
Phone: Wix does not display a phone number publicly. However, you can request a call from Wix. Individuals on the Business VIP plan get priority phone support.
Email: Get your questions answered via Wix email support. Wix recommends that you categorize your issue to help speed up their response time.
In-Software Help: The Help Center is the support route Wix will send you to most often. It's easy to search and is full of relevant and helpful articles and user guides.
Community Forum: Wix has three community forums: one to discuss Wix's blog features, another for Corvid users, and one to discuss Wix's forum features (meta, right?).
Videos: Find tutorials on basic operations and videos with news on product updates on Wix's YouTube channel.
Find An Advisor: View designer portfolios, and choose a professional to design your site.
Social Media: Wix maintains its social media presence on Facebook, Twitter, Instagram, Pinterest, and LinkedIn.
Wix Integrations & Add-Ons
The majority of Wix's functionalities come in the form of apps, either apps made by Wix or from third-party developers. The Wix App Market includes over 250 applications.
Some of the most popular integrations include add-ons for image galleries, blogging, chat, eCommerce, and analytics. You can also find integrations with popular platforms and software, such as Instagram, Amazon, and Google Drive.
One handy integration that was recently added is Zapier. You can now use Zapier to connect Wix Automations to third-party apps like Slack and Google Docs.
Wix Reviews
Negative Wix Reviews & Complaints
Overall, while professional Wix reviews are typically positive, user reviews of Wix trend towards the negative. Here are a few of the complaints that arise again and again:
Inadequate Support: Users don't like that there's no way to call Wix directly. You can request a callback, or you can submit a support ticket, but you will always have to wait for Wix to respond to you. Some users go on to say that once you finally are able to get ahold of a support representative, they aren't always the most helpful. Representatives often misread support tickets, and they respond with basic copy-paste style emails. Many user comments suggest that Wix's support team does not know enough about the software to help.
Auto-Renewal Billing: Wix prominently advertises its annual pricing plan. What it doesn't make clear is that after your first year with Wix, your annual plan will automatically renew for another year. You'll pay upfront the full cost of that next year, and if you didn't mean to stay with Wix for much longer, tough luck! They don't seem to issue refunds.
Glitches & Bugs: There are lots of reports of bugs within the software. Also, it seems that Wix representatives don't often believe users when they find a bug.
Slow Loading: Wix can be slow to load, both on the front end (your website pages) and the back end (the user interface). Wix websites are also not very mobile-responsive.
Features Not Advanced Enough: These complaints most often mention industry-specific features, such as the booking features or the online store features. While Wix is great for website creation, it often falls short in its business management features.
All in all, Wix doesn't have the best set of user reviews. In particular, you should be most concerned about the billing issues, and the less-than-attentive customer support. Make sure that you keep these things in mind as you consider Wix.
Positive Wix Reviews & Testimonials
In general, positive reviews had two things in common:
Beautiful Design Templates: Wix's selection of free and modern templates is very popular with its users.
Ease Of Use: Wix users also mention how simple it is to build and operate a website with Wix.
It's important to note that most positive reviews do not come from people who use the website builder for eCommerce.
Final Verdict Of Wix
Wix is a decent simple website builder for artists, musicians, bloggers, and other creative types who want to showcase their skills and/or monetize their content.
Wix can also be a simple solution for individuals or small businesses interested in selling a small number of event tickets or services.
However, Wix is not ideal for business owners who want several in-person or eCommerce features, any custom functionalities, or to scale their business. It's also very hard to move your website away from Wix (especially if you get your domain name from Wix.)
Plus, Wix websites can get pricey, considering that Wix's most expensive plans don't have all the basic functions of an eCommerce site, and you'll probably have to pay extra for apps.
Small business owners who see themselves growing their business, whether that's expanding to an in-person space, adding multiple locations, or just growing their sales volume in general, should probably stay away from Wix.
Instead, read up on some of the best eCommerce platforms to build your small business's website.
Wix FAQs
---
The Merchant Maverick Seal of Approval 🏆
Wix


---
After hours of in-depth research and evaluation, we can confidently recommend this brand to our readers. Get started today and see Wix for yourself.
The Merchant Maverick Seal of Approval 🏆
Wix


---
After hours of in-depth research and evaluation, we can confidently recommend this brand to our readers. Get started today and see Wix for yourself.
To learn more about how we score our reviews, see our
Website Builders Rating Criteria
.