Expert Analyst & Reviewer

UPDATED
Advertiser Disclosure: Our unbiased reviews and content are supported in part by
affiliate partnerships
, and we adhere to strict
guidelines
to preserve editorial integrity.
WordPress

Pros
Outstanding blogging tool
Numerous plugins for Business/eCommerce subscribers
Excellent themes
Cons
Moderate learning curve
Site editor feels somewhat dated
No phone support
WordPress Overview
WordPress is the colossus of the Content Management System (CMS) universe. Launched in 2003 as a free, open-source blogging platform, WordPress has since evolved to the point where it supports a wide variety of websites and online stores. In fact, according to data from W3Techs, over 35% of the websites currently in existence are powered by WordPress (and this includes our own website!). This speaks to the broad adaptability of the platform.
If you're a small business owner looking to build a website, know that WordPress isn't an all-in-one WYSIWYG website builder along the lines of Wix, Squarespace, or Weebly. It doesn't have a drag-and-drop interface, and much of its functionality comes from plugins rather than built-in integrations. Using plugins may require coding knowledge, so unless your site is simple or you have some web development experience, building a WordPress site won't be a do-it-yourself endeavor.
Another aspect of WordPress that might confuse the average small business owner is the fact that it comes in two forms. You can get the self-hosted version of WordPress for free from WordPress.org or, alternatively, a freemium hosted version of the software from WordPress.com. There are a number of differences between the two products. While the WordPress.org version of WordPress is completely free and can be used with the entire WordPress plugin universe, it is self-hosted, so you'll need to find your own WordPress-friendly hosting service to host your site.
By contrast, the version of WordPress available from WordPress.com comes with hosting, so just as with Wix and Squarespace, you won't need to go looking for a web host for your site. Additionally, you can't just install whatever WordPress plugin you want. Instead, you'll get a set of built-in features if you're on a free subscription and access to a particular set of plugins if you subscribe to the Business plan.
In this review, we'll focus on the version of WordPress offered by WordPress.com, as it has more functional similarities with all-in-one website builders than does WordPress.org and therefore is generally more accessible to most small business owners. That doesn't mean the product is superior or that all businesses would find it preferable to work with, however. Those in the business of online publishing stand to benefit from the supreme flexibility offered by WordPress.org's self-hosted product.
Business Types Supported
Due to the wide variety of themes and plugins available in the WordPress ecosystem, WordPress can be adapted to fit just about any business type. However, publishers and bloggers have typically found the most to like about WordPress.
Pricing
You can set up a website with WordPress.com without paying a cent. However, you won't be able to install plugins, your site will have to carry advertising, and you can't add Google Analytics to track your site performance. Your options expand as you move up the subscription tiers. With a Business subscription, you can add from a selection of compatible plugins, use Google Analytics, and eliminate the WordPress ads (though you can use WordAds and run ads that you can make money from).
All things considered, WordPress.com's pricing is quite competitive when considering what you get for your money. Here's the full list of WordPress.com subscription tiers along with what you'll get from each:
Free Plan
3GB storage
Must carry WordPress.com advertising
WordPress-branded domain
Access to free themes
Community support
Access to Jetpack essential features
Basic design customization
Personal
$4/month
Free domain (not WordPress-branded) for one year
6GB storage
Remove WordPress.com ads
Subscriber-only content
Email and live chat support
Premium
$8/month
All of the above, plus the following:
Unlimited premium themes
Advanced design customization
13GB storage
Simple payments — sell items with a simple PayPal button
Google Analytics integration
Advanced social media functions — schedule your posts in advance
Site monetization
VideoPress video player support
Business
$25/month
All of the above, plus the following:
Access to Jetpack advanced features
200GB storage space
Install from a set of compatible plugins
Install themes
Get personalized help
SEO tools
eCommerce
$45/month
All of the above, plus the following:
Accept payments in 60+ countries
Integrations with top shipping carriers
Offer unlimited products/services
eCommerce marketing tools
Premium customizable starter themes
Ease Of Use
While the process of editing your WordPress.com site isn't quite as intuitive as it is with many DIY website builders, it really isn't that much more difficult, as I was pleasantly surprised to discover. After you initially create your account, you are led through the process of establishing the basics of your new website, including its name and menu structure. You're also directed to edit the placeholder website that has been created for you.
Once you're in the editor, you'll find that the placeholder content is organized into blocks. Click on a block, and you'll be able to edit the block from controls along the right of the editor. Along the top of the editor, you'll find buttons that let you add new content blocks, analyze the structure of your page, undo/redo your edits, preview your site, save your edits, change your heading, change base fonts, and adjust other settings.
You'll likely need to spend some time learning the system before you're completely conversant with the editor, but once you've figured it all out, you'll find that you have the tools available to effectively edit and perfect your site.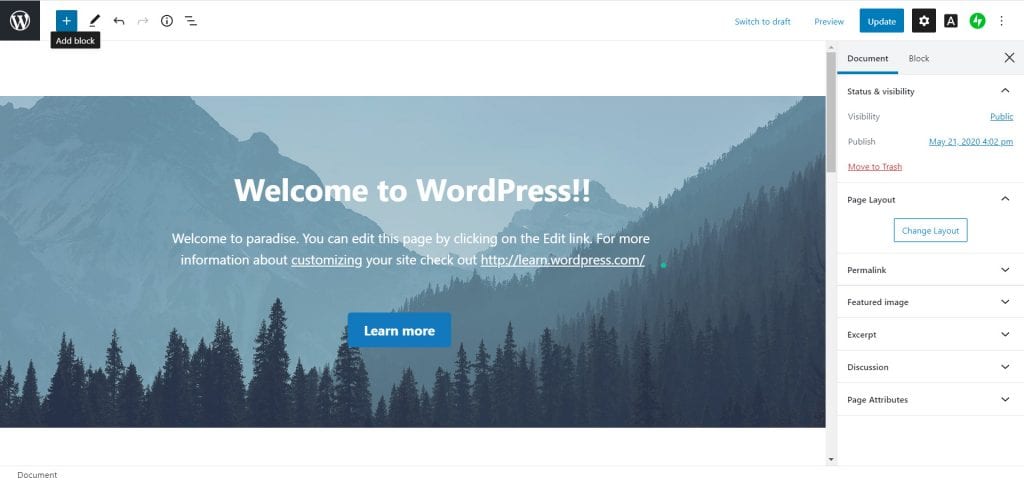 Hardware & Software Requirements
With WordPress.com, the hosting is taken care of — this means that all you'll need to launch and maintain your WordPress website is a modern, updated web browser.
WordPress.com also offers a free mobile editing app. It is compatible with all iOS and Android devices.
Features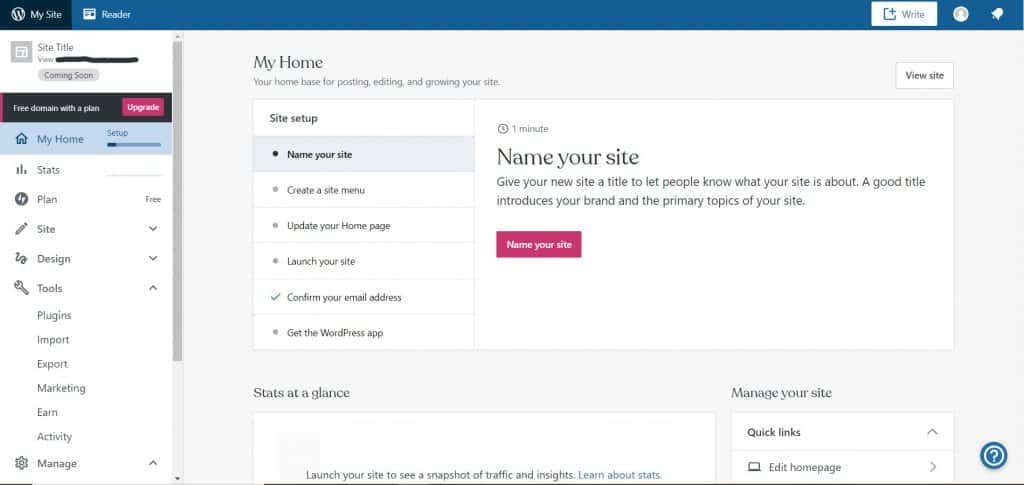 The beauty of WordPress is its ability to connect to a wide range of plugins to expand your site's functionality. You'll be able to take advantage of these plugins as you move up the subscription tier ladder. However, the base WordPress.com product still features plenty of handy features for your business website.
Blog: Blogging was WordPress's original specialty, and it remains one of the platform's bright spots. From the dashboard, simply click the Write button along the top bar, and poof, you're writing a blog post. You'll find that the blog post editor is identical to the editing interface used to edit any other page. That means you can easily add whatever you want to a post: a form, business hours, a video, a social media link, a payment button, etc. Other features include post scheduling, password protection for individual posts, assign categories and tags to posts, and allow for reader comments. What's more, your blog will be part of WordPress.com's blog community, accessible from the Reader button on the dashboard.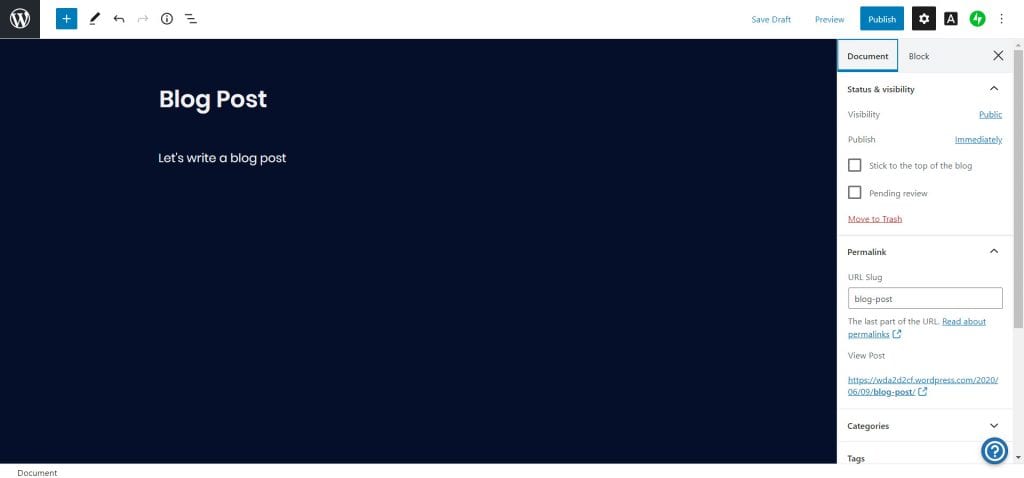 Form Builder: WordPress has a nice selection of ready-made forms (a contact form, RSVP form, registration form, feedback form, and an appointment form), but if you want to create a form of your own, WordPress supplies a form builder. You can add as many prompts as you wish in whatever order you want. I just wish you could add radio buttons. I like radio buttons.
eCommerce: WordPress offers simple PayPal elements for accepting payments, both one-time and recurring, for users with at least a Premium subscription. At the Business subscription level, you can integrate with a number of eCommerce plugins, including WooCommerce, a popular WordPress-based shopping cart made by WordPress.com's developer. For more information, read our full WooCommerce review. At the eCommerce subscription level, you'll get a WooCommerce-powered online store that comes loaded with free and premium extensions along with several Storefront child themes. Add it all together, and WordPress.com can either enable you to sell a few items or run a full-fledged eCommerce business, depending on your subscription level.
SEO Tools: At the free level, while you can take basic SEO steps, such as adding alt text to the images you upload, you don't get access to any real SEO tools — not even Google Analytics. At the Premium level, you'll gain access to Google Analytics. At the Business level, you'll be able to take advantage of a broader range of SEO tools. WordPress.com provides a thorough guide to taking advantage of these SEO tools for Business and eCommerce plan subscribers.
Web Design & Editing
As I said earlier, editing a WordPress site isn't as easy as editing a website using the most popular website builders. Still, once you get accustomed to the system, you'll find that you have great flexibility in creating the type of website your business needs.
Themes
Once you've set up your WordPress.com account, you'll have access to a great selection of themes. With a free subscription, these themes are either free or "Premium," meaning you'll have to pay to use them. With a Premium (or higher) plan, you'll have access to all Premium themes for no additional cost.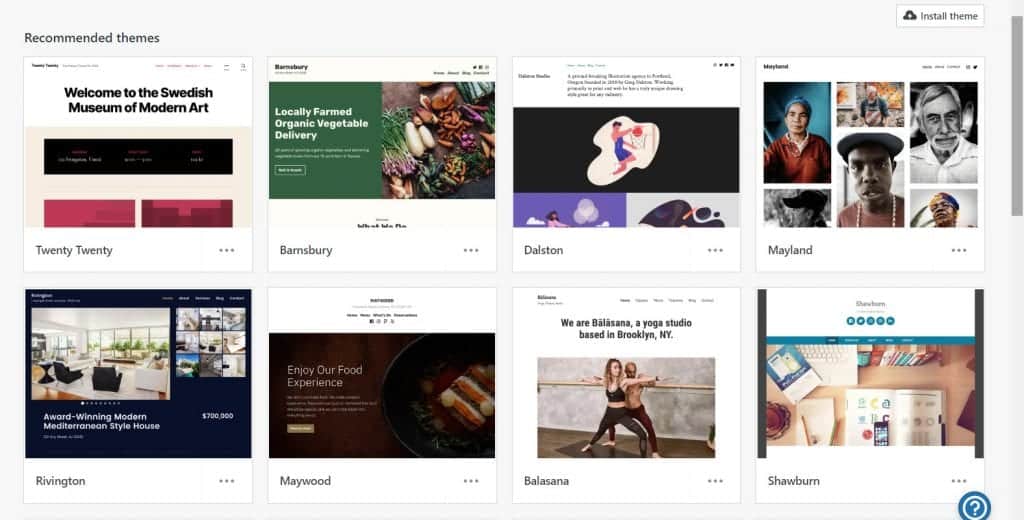 While you might assume that the themes available for free are somehow subpar, most of them are just as good as any you'll find with any competing website builder.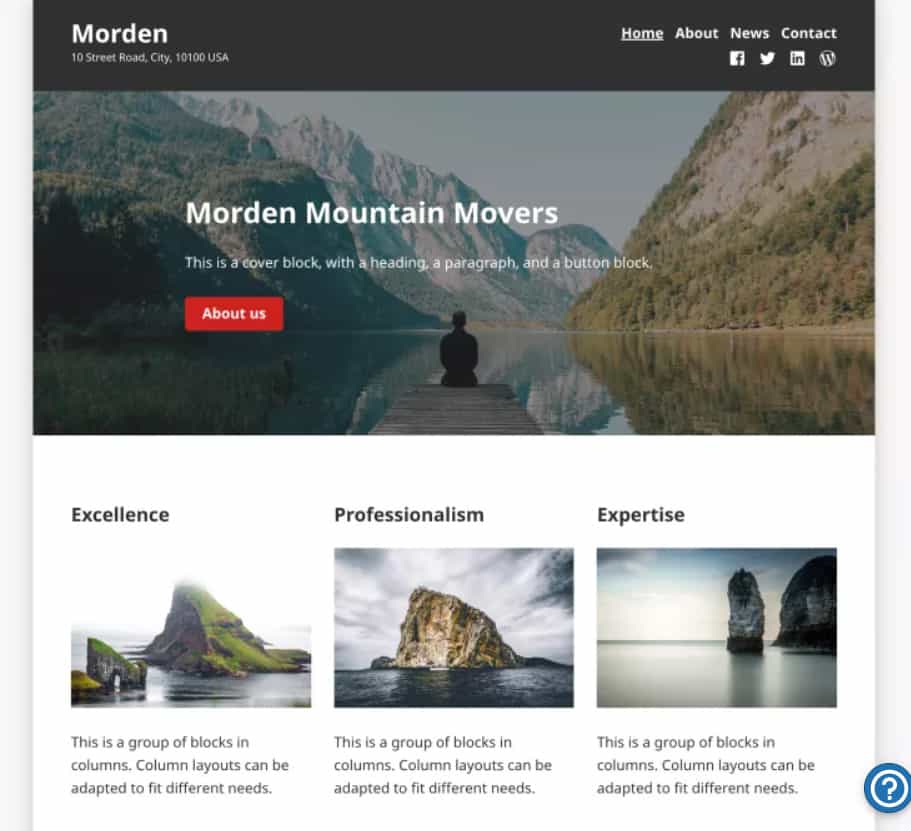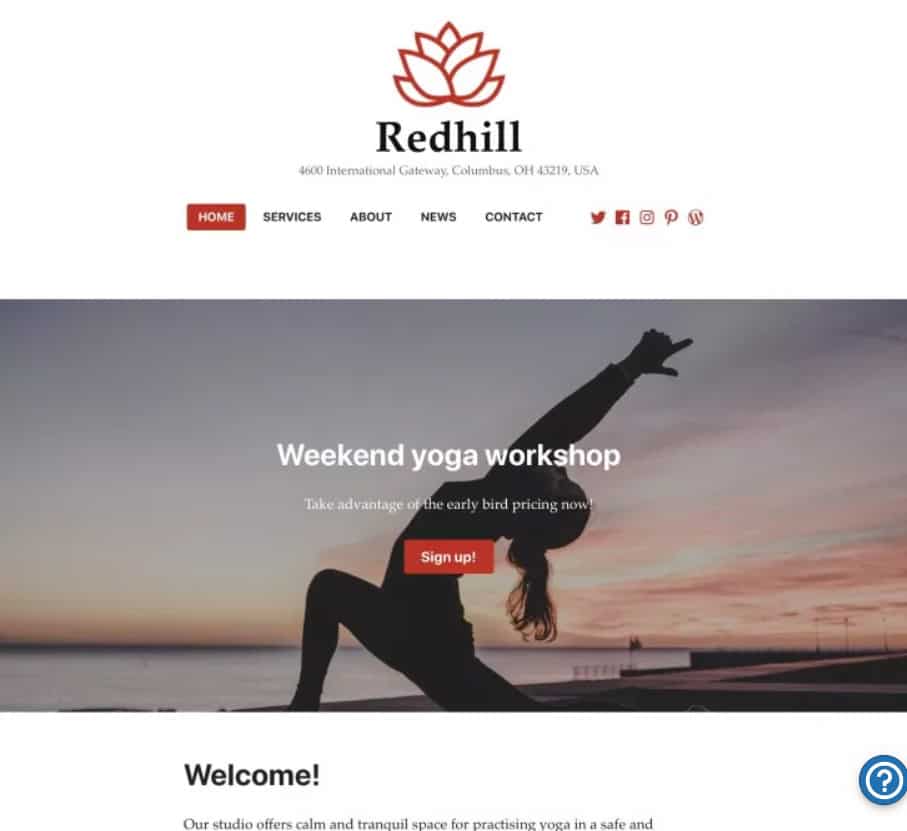 Desktop & Mobile Editors
WordPress.com's desktop editor is certainly capable of building a decent website for your business. The Pages tab on the dashboard takes you to the editor where you can make granular edits, while the Customize tab lets you make changes at the macro level. However, most modern website builders don't force you to change interfaces to make different kinds of edits to your website. What's more, when you add a page to your site, you have to start with a blank slate — you can't start with a prefab About Us or Contact page as you can with most competing site builders.
While the desktop editor is certainly a capable tool, it simply isn't that enjoyable to use and feels a few steps behind the times.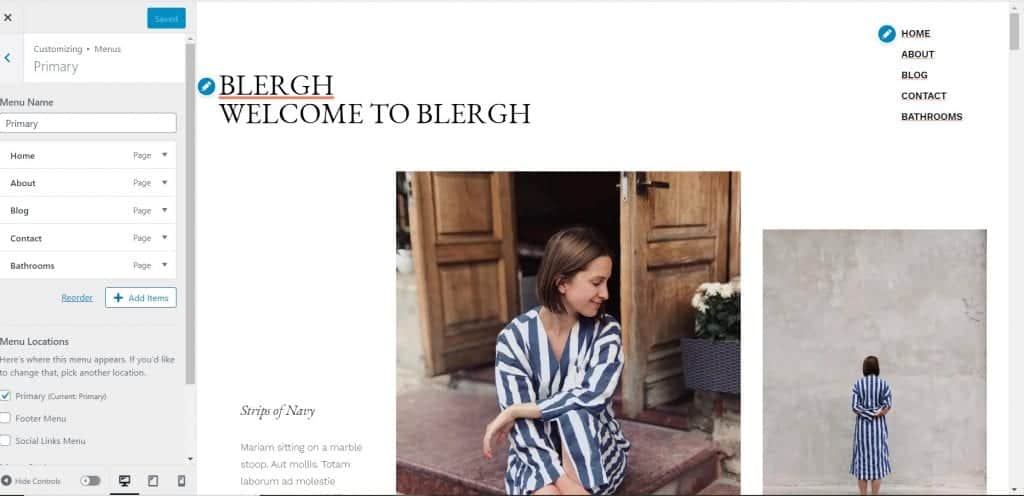 As for mobile editing, WordPress.com does offer a mobile app for iOS and Android devices that you can use for on-the-go website editing. As with most mobile website editors, however, it's not the best way to make complex edits to your website. It's pretty handy for creating blog posts, though.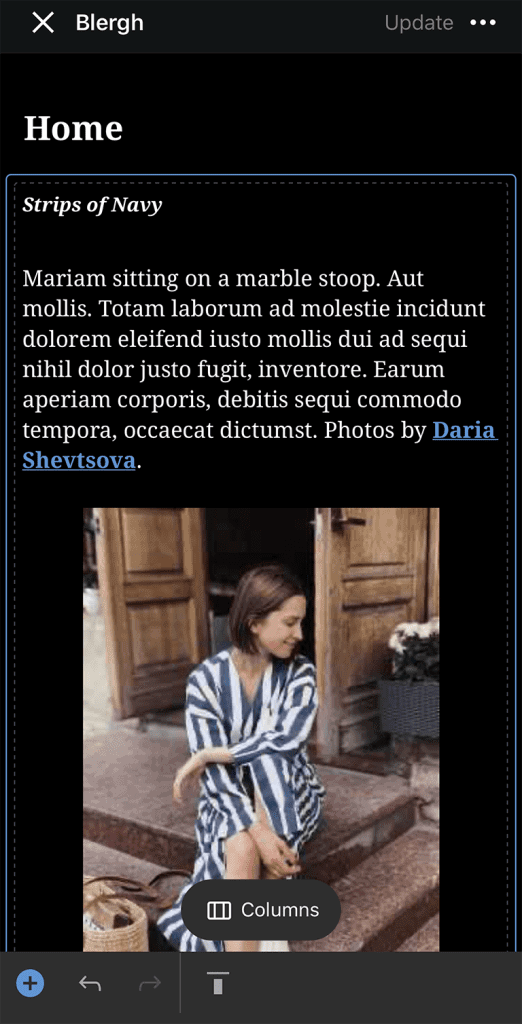 Mobile Responsiveness
All WordPress themes, whether free or premium, are mobile responsive. That means your sites will display handsomely on mobile devices and that Google won't penalize them.
Integrations & Add-Ons
Even with a free WordPress.com subscription, you'll have access to some useful integrations, such as Eventbrite Checkout, Google Calendar, and various social media widgets. A Premium subscription will get you access to more built-in integrations. However, it's the Business and eCommerce subscriptions that truly allow you to make the most of WordPress, as that's when you'll be able to choose from between thousands of compatible plugins to add whatever functionality your business website needs. Your team will likely need web development experience to integrate these plugins properly, however.
As stated earlier, the centerpiece of the eCommerce subscription tier is the built-in integration with WooCommerce. With this setup, your payment processing options will be Square, Klarna Payments, Klarna Checkout, EWay, and PayFast.
Security
All WordPress.com sites are protected by SSL security — you won't need to install a plugin for an SSL certificate. You'll also get the HTTPS encryption standard.
In addition, according to WordPress.com, HSTS security is used as well: "Currently, we send a Strict-Transport-Security (HSTS) header with our HTTPS responses." Web development folks will know what this means.
Customer Service & Technical Support
Your customer support options will depend on your subscription plan. Unfortunately, WordPress.com doesn't offer phone support at any subscription level, and no active customer support is available to free subscribers.
Here are WordPress.com's customer support options:
Email: Email support is available — but only for paid subscribers.
Live Chat: Live chat support is available to Personal and Premium subscribers, but only during business hours. 24/7 live chat is available to Business and eCommerce subscribers. The live chat is responsive and helpful — expect a response to your query in a minute or less.
Knowledgebase: WordPress.com has an extensive knowledgebase that addresses most of the questions you might have about the software.
Community Forum: An active community forum is provided — if you can't find help elsewhere, this forum is your best bet.
Video Tutorials: WordPress.com offers several video tutorials that walk you through various aspects of the site creation process.
Training: WordPress.com offers free training courses via email. These mainly have to do with using the blogging engine.
Blog: WordPress.com uses a blog to keep users informed about the latest product updates.
While WordPress does have a Twitter account and a Facebook page, these are specific to WordPress.org, so these accounts may not have the answer to your particular question.
User Reviews
Negative Reviews & Complaints
WordPress.com gets mostly good marks from both reviewers and users. However, some complaints do come up. Here are a few of the more common ones:
Outdated Editor: Some have noted that WordPress.com's editing interface, while great for blogging, just doesn't have the intuitive simplicity of most of the leading website builders of today. Others have found WordPress.com's block-based editing system too simplistic.
Few Free Features: Some users have complained that many features that were once free have since been put behind the paywall.
WordPress.com's lack of phone support has come in for criticism as well, as has the platform's lack of a photo editor.
Positive Reviews & Testimonials
Reviewers and users have found a lot to praise about WordPress.com as well.
Blogging: The WordPress.com blogging engine is the one universally-praised aspect of the platform. Simply put, WordPress has perfected the art of online publishing.
Great Themes: WordPress.com's themes have been praised for their quality, with some likening them to Squarespace's famously elegant templates.
Convenience: Many users like WordPress.com due to the fact that it's a much easier website solution to implement than the self-hosted version of the software available at WordPress.org.
On the whole, WordPress.com's praise/criticism ratio is pretty good — better than that of many of its primary competitors.
Final Verdict
WordPress.com is a great tool for blogging and a handsomely capable tool for creating a business website. Its themes are elegant and plentiful, and its versatility is impressive at the higher subscription levels. Given the number of plugins available, just about any small business can build a functional and attractive business website.
The main issue with WordPress.com is the fact that, in a sense, it faces challenges from multiple directions. What I mean is this: While WordPress's publishing capabilities are universally acknowledged, if you intend to build a comprehensive publishing business or software review website (such as the website you're on right now!), you're probably better off taking advantage of the supreme adaptability and scalability of the self-hosted software at WordPress.org. Alternatively, if yours is a small retail business or restaurant, you'll likely have an easier time building and maintaining a website with a drag-and-drop website builder along the lines of Wix, Weebly, or Duda.
Smaller publishers and small-to-midsize online stores have plenty of reasons to consider WordPress.com, however.
---
We've done in-depth research on each and confidently recommend them.
We've done in-depth research on each and confidently recommend them.
To learn more about how we score our reviews, see our
Website Builders Rating Criteria
.