Expert Analyst & Reviewer

UPDATED
Advertiser Disclosure: Our unbiased reviews and content are supported in part by
affiliate partnerships
, and we adhere to strict
guidelines
to preserve editorial integrity.
Pros
Very easy to use
Mobile responsive
Numerous templates
Customizable contact form
Cons
Limited blogging tool
Basic templates
Cannot undo your edits
Over-complicated pricing
XPRS Overview
XPRS is the new website builder from IM Creator. Founded in New York in 2011 by Jonathan Saragossi, IM Creator was developed as a simple drag-and-drop website builder that allows businesses and individuals to establish cloud-based websites, blogs, and online stores without being fluent in code. According to the company's most recent tally, 11,240,766 websites have been created using IM products.
In 2015, IM officially introduced their new builder platform, christening it XPRS. Somewhat confusingly, IM still offers their original website builder alongside XPRS, referring to it as simply IM Creator. As XPRS is easier, more contemporary, and — most importantly, seeing as it's 2017 — mobile responsive, it is this product I'm interested in reviewing.
Let's delve into XPRS and its simple block-based website building platform.
Pricing
For those of you simply looking to launch a website for your business or your personal interests, XPRS offers a free option and a more fully-featured Premium subscription. For professional designers, resellers, and hosting companies, XPRS White-Label allows you to design websites for your clients with your own brand, domain name, support, and templates. We're focused on the features of the website builder itself, however.
XPRS's subscription details are given here:
FREE
Free URL in the form of imxprs.com/free/username/
50 MB Storage
Access to the Template Collection
Basic Support
Premium
$7.95/month (annual plan)
$6.95/month (2-year plan)
$5.95/month (3-year plan)
$9.95/month (biannual plan)
All of the Above PLUS:
Connect to Any Domain
Unlimited Storage
Unlimited Bandwidth
10 Custom Email Addresses
Premium 24/7 Support
Pro & White-Label
Starts at $350/year
Remove XPRS branding and get your own branded website builder
Launch your clients' sites and allow them integral editing experience under your brand (clients-domain.com/editor/)
Reseller control panel and tracking
PRO Support
If you're a student, artist, or nonprofit, you're in luck, because if you email the company with your academic/nonprofit email address (or if you just show them your finished website), IM will give you a free Premium XPRS account. That's a definite plus.
Ah, but with every plus comes a minus. You've had your Yin, so it's time for your Yang. Though XPRS lists "Access to our entire templates collection" as a benefit of both a free and a Premium subscription, this is somewhat misleading. In fact, some templates are free while others are designated as Premium. These Premium templates must be purchased, even if you're already a Premium subscriber. Clicking on a Premium template will prompt you to either buy the template for a one-time price of $29, buy a Premium subscription package that includes the template in question, or buy a Premium subscription that includes all Premium templates.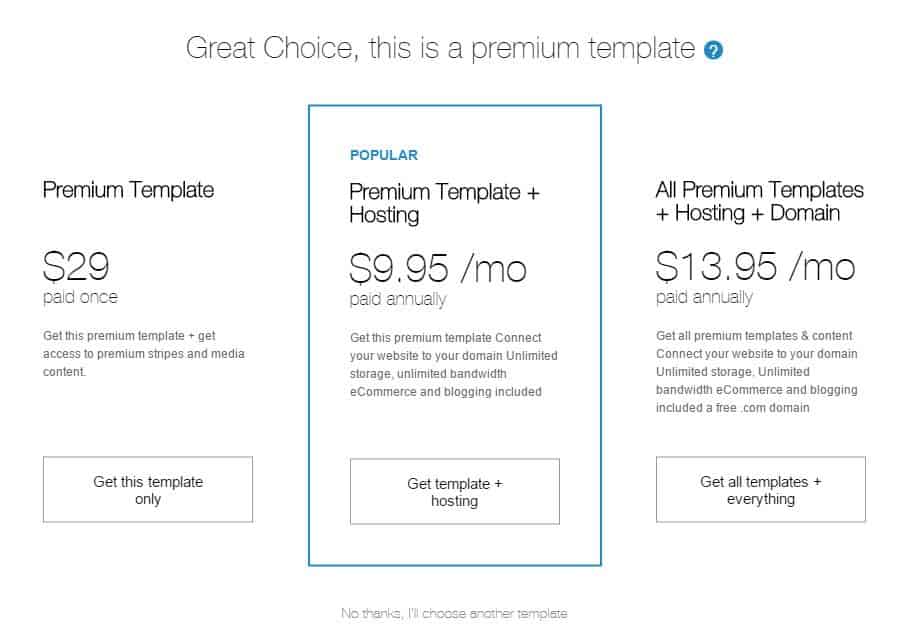 If this seems unnecessarily complex, that's because it is. XPRS's competitors have largely eschewed convoluted pricing schemes for more straightforward plans.
For payment, Visa, Mastercard, American Express and Maestro are accepted. IM offers a 14-day money back guarantee on all annual plans.
Web-hosted or Licensed
XPRS is web-hosted, though mobile editing will require the XPRS app on your iOS device. Sorry, Android users, but XPRS currently has no Android app.
Hardware/Software Requirements
XPRS works with all major browsers, though they recommend using Google Chrome (as XPRS was designed with Chrome in mind). The mobile app will require an updated iOS.
Business Types Supported
XPRS provides well over 100 templates to choose from, though many of them are Premium. They are divided into the following categories:
Business
Services
Art & Design
Health & Wellness
Photography
Restaurants & Food
eCommerce & Retail
Fashion & Beauty
Weddings
Music & Video
Lodging
Tech
Reseller
XPRS's templates are clean, professional, and will scale well to any device. However, they tend to share a characteristic common to many responsive website builder templates these days in that they look rather basic in desktop form.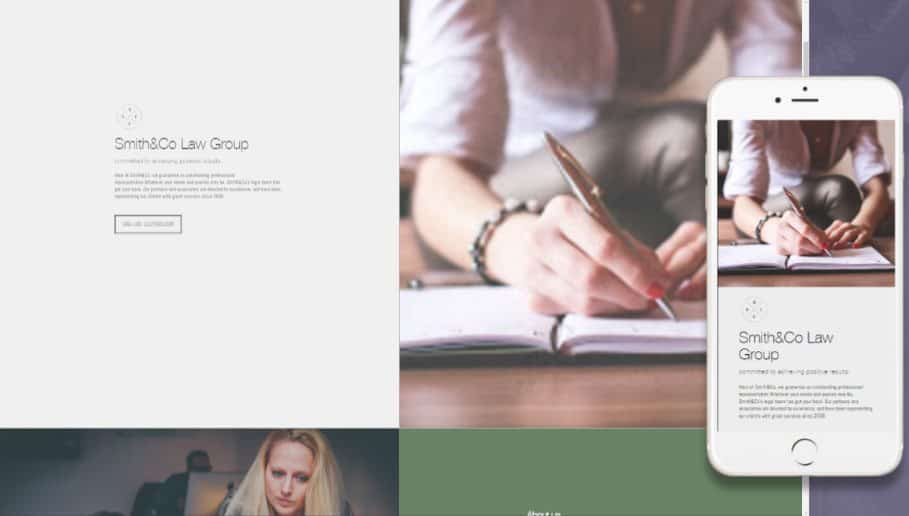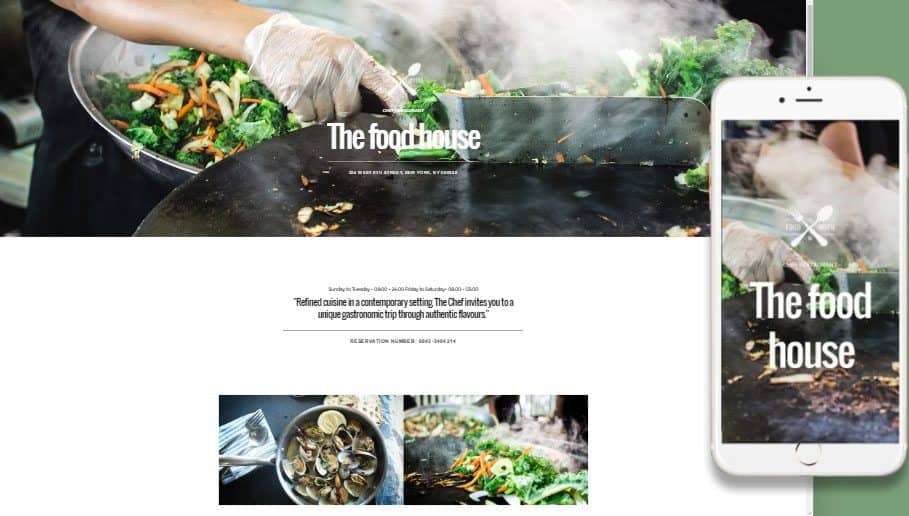 Ease of Use
XPRS was designed from the ground up to be as easy and intuitive as possible, and it largely delivers. XPRS sites are composed of Lego-style stacks of content blocks, referred to by IM as "stripes." These stripes are divided into the following content categories:
Header
Projects
Services
Features
Gallery
Pricing
Team
Article
Text Block
Bio/CV
Store
Blog
Forms
Slideshow
Social
Call-To-Action
Testimonials
Logos
Maps
Widgets
Elements
To add a stripe to your XPRS site, simply click on the plus symbol that appears when you hover over the seams between your existing stripes. Each stripe you add to your site comes pre-populated with content, so to build your own website, you'll simply have to choose a template, add whatever content stripes you wish, swap out the content with your own, and poof! there's your website. It's not rocket science. It's not even remedial high school science. I find it hard to imagine a simpler website editing system. Furthermore, when you add stripes to your site, you'll be asked if you'd like to apply your website's existing style to the stripe, so it's easy to maintain a unified style throughout your site no matter what content you add.
This kind of website builder may not attract a lot of fans who value uniqueness and individuality in website creation. However, for most would-be website owners, the website is a means to an end, not an end in itself. For the typical website builder user of 2017, a website exists to attract visitors to your restaurant, or to build a following of monetizable site visitors, or to sell trinkets online. So long as the site is clean, clear, and easily navigable on all internet-capable devices, its purpose is fulfilled. That's the kind of website builder XPRS is, and for the most part, it does what it sets out to do.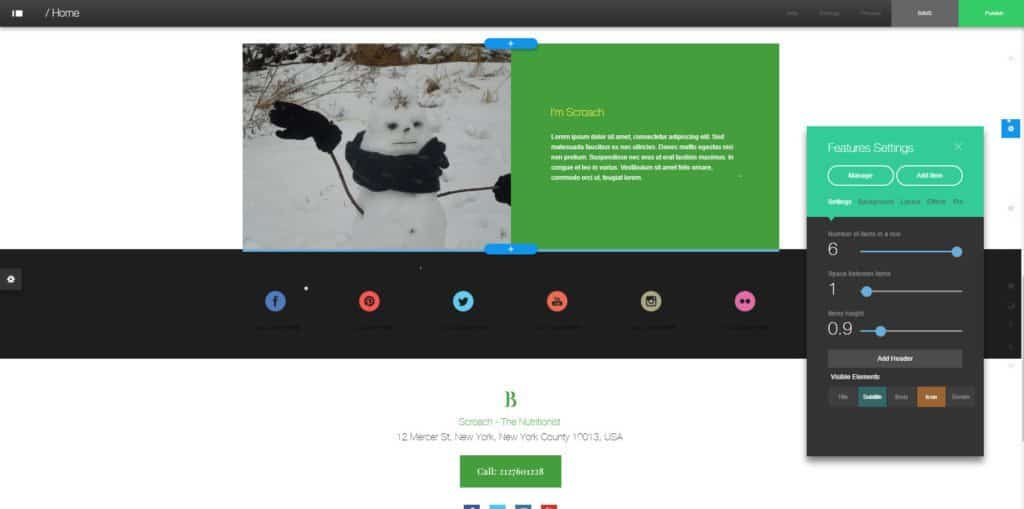 When you hover over a stripe, several buttons appear along the right-hand side of the screen. These buttons let you edit the particular feature contained in your stripe, copy your stripe to the clipboard, move your stripe up and down the stack, and delete it. A button on the right of the editor enables editing of your entire website's style. Finally, the Preview button up top lets you preview the look of your site in either desktop, tablet or mobile form.
Unfortunately, XPRS lacks a set of undo/redo buttons in the editor for quickly reverting your changes. However, you can make backups and save copies of the website you're working on through buttons at the top of the editor, so your edits won't necessarily be set in stone.
Features
XPRS gives you what I've decided to start calling "the big three" features crucial to website building: blogging, eCommerce, and a form builder. Along with these features comes an assortment of other widgets and doodads. Let's start with the big three:
Blog: XPRS's blog isn't so much a blog as it is a system that lets you quickly add image and text fields to your page. I suppose this is what passes for a blog in these grim times when Mark Zuckerberg dominates our means of communicating and sharing information. The thing is, there's no commenting system. There's no way to schedule your posts. There's no way to group your posts by date (in fact, all posts are undated). There's no easy way to link to the author's information, nor any way to allow for multiple blog editors. XPRS's blog is just a means of arranging the text and images you decide to input. I even had trouble editing and managing my posts. If you're looking for a good blogging platform, I'd look elsewhere. Read my Squarespace review if you're looking for a website builder with top-notch blogging.
eCommerce: Through an integration with Shoprocket, XPRS delivers eCommerce to its users. Just add a "Store" stripe to your page, and you'll get an online store pre-populated with content, and from there you can swap out images, descriptions, and prices. Bringing up the Dashboard lets you access the heart of the store, where you can manage your products, add new ones, set up automated emails to your customers, track customer orders, and choose from 18 different currencies. There's also an option that pops up when you click on the images and elements of your site called "Sell this product" — click this, and a Buy button will be added to said element. It's not the most fully-featured eCommerce system out there, but it's a solid addition. Just watch out for the fees (particularly you small-time sellers). Shoprocket will take 2% out of your revenues, and on top of that, Stripe (the payment processor) will take out a fee between 1.9% +20¢ and 2.9% + 20¢ from each transaction. Additionally, if you make less than $500 per month, IM will send you your earnings via PayPal, which charges an additional 5% fee for each transfer. That's three rent-extraction chokepoints, for those keeping track.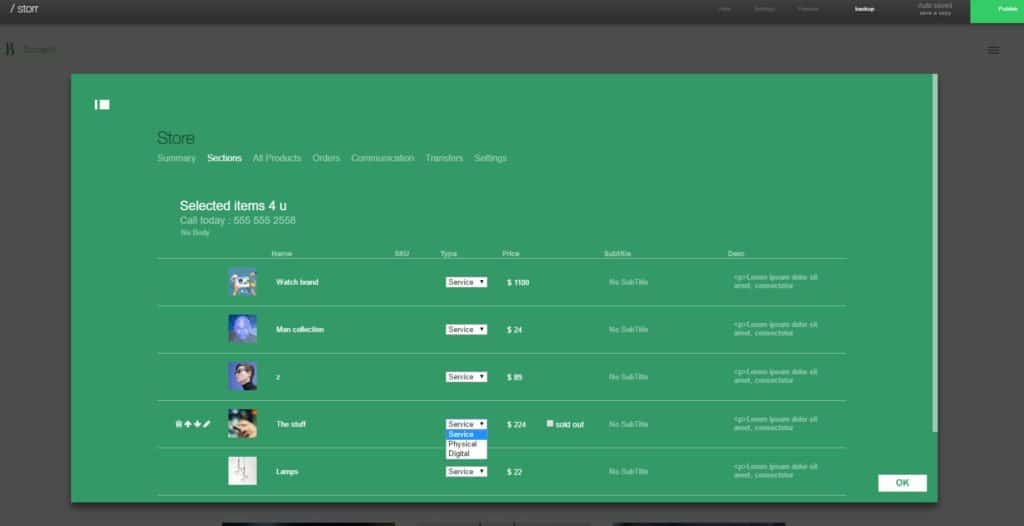 Form Builder: XPRS's form builder is workmanlike but flexible, and shouldn't hinder you in reaching out to your clientele. Choose from 13 different contact form templates, and from there, you can add as many fields as you wish, label them, mark them as mandatory, etc. You can then specify whether submissions will be sent to your email or added to a mailing list. You can't add anything more than submission fields, though, so forget about file uploads or radio buttons. Sadly, there's no option to connect the form builder to MailChimp or any similar service.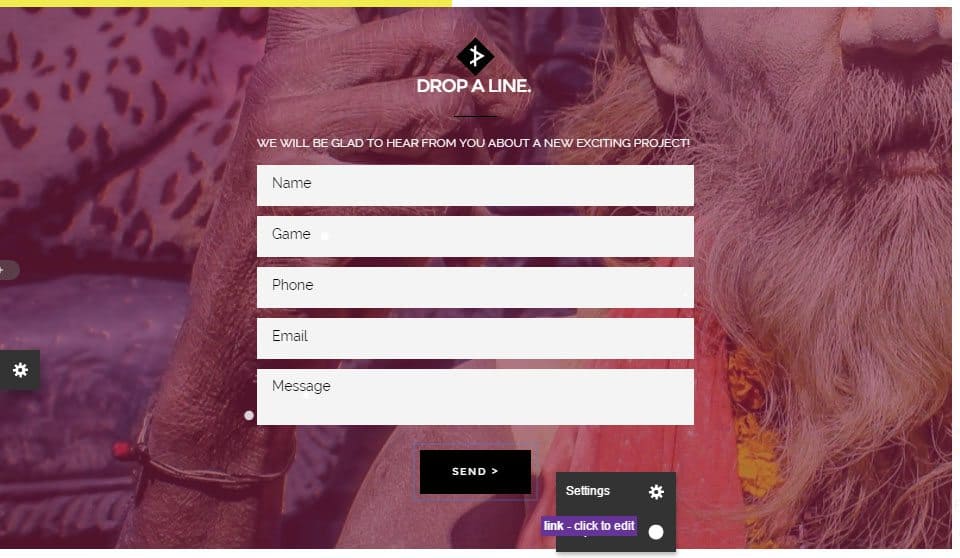 Other XPRS features include a restaurant reservation system from OpenTable, Facebook comments, a PDF viewer, a SoundCloud player, Google Calendar, Google Maps, and a countdown clock for all you fans of counting down to things. There's also basic site-wide SEO that integrates with Google Analytics, though you can't set SEO options for your individual pages.
When viewed in the light of XPRS's mobile-readiness, the OpenTable app helps make XPRS an appealing site building option for the restaurant industry.
Web Design and Editing
Templates: As I said earlier, XPRS's templates aren't exactly groundbreaking, but considering how easy it is to swap out the existing content for your own, the basic simplicity of the templates can be seen as an asset and not a hindrance. Most importantly, all XPRS templates are mobile responsive and will leave you well-equipped to handle traffic from the kids these days.
Mobile Editor: XPRS's mobile editing app (available only for iPhone) is something of a disappointment. I was able to edit the existing content I'd already placed on my site using the desktop editor, but I found myself unable to add new apps or rearrange my existing content stripes. Getting mobile website editing right is a difficult task, but given XPRS's mobile focus, I was hoping they'd do a better job of it.
Integrations and AddOns
XPRS is integrated with the following:
Google Analytics
Google Maps
Google Calendar
YouTube
Vimeo
SoundCloud
OpenTable
Shoprocket
Facebook Comments
Social media links (FB, Pinterest, Twitter, Instagram)
Customer Support
XPRS offers customer support via a knowledge base, a single tutorial video, an FAQ, and an email ticketing system. My question for XPRS Support was answered well within the promised 12 hour response time. I thought the knowledge base and FAQ could have been a bit more comprehensive, though. For instance, I found no information concerning XPRS's iPhone app in any of the documentation.
Negative Reviews and Complaints
Reviewers have made mostly positive noises about XPRS, though some complaints have been voiced:
Positive Reviews and Testimonials
XPRS has been lauded for the following:
IM Creator currently scores an average customer rating of 9.2 out of 10 on Trustpilot. This rating isn't specific to the XPRS builder, but it goes to show that IM Creator's users are, on average, quite happy with their experiences.
Final Thoughts
XPRS is the very definition of a simplified website builder for the non-techie masses. In very little time at all, you can create a functional website for your business or personal project that won't bring embarrassment down upon your head. Most people will have no idea you didn't hire some hip tatted-up web designer for the job. Unfortunately, the big three features — blogging, eCommerce, and the form builder — are all underwhelming and/or problematic in some way, and the mobile editing app leaves much to be desired.
At its heart, however, XPRS is a solid website platform and brings easy, fun website building to those for whom a website is a tool to achieve greater things, not a precious creation to be endlessly fussed over. With some smoother, more sophisticated features, XPRS could be one of the greats. Let's hope it happens.
---
We've done in-depth research on each and confidently recommend them.
We've done in-depth research on each and confidently recommend them.
To learn more about how we score our reviews, see our
Website Builders Rating Criteria
.