Expert Analyst & Reviewer

UPDATED
Advertiser Disclosure: Our unbiased reviews and content are supported in part by
affiliate partnerships
, and we adhere to strict
guidelines
to preserve editorial integrity.
Pros
Software is free
Numerous templates
Cons
Outdated editor
Outdated templates
Must download old version of Java to use
No blogging tool
Yahoo SiteBuilder Overview
Yahoo SiteBuilder is a woefully outdated offline fossil of a website builder, though its continued existence long past the point of irrelevancy makes it acutely representative of the terminal malaise of its erstwhile corporate parent.
Yahoo, for those of you too young to have memories of Netscape Navigator, was the original Internet search giant. From its humble origins as "Jerry and David's Guide to the World Wide Web" in January 1994, Yahoo! (often spelled with a playful exclamation point, like "Jeb!") soon established itself as the place to go to find Chandler Bing quote sites and Waco siege conspiracy theories. Riding the wave of the first dot-com bubble, Yahoo's stock peaked at $118.75 a share on January 3, 2000.
The 21st century has been far less hospitable to Yahoo.
As it happens, Yahoo's primary claim to newsworthiness as of late comes in the form of revelations about embattled Yahoo CEO and proud golden parachute owner Marissa Mayer. Reports of her impending firing by Yahoo's board for steering the company towards ruin with a series of disastrous acquisitions and investments have been accompanied by reports of the $54.9 million in severance she stands to gain as a reward. Mayer's gilded saga is Exhibit A in the decline of capitalism's "brand" and the increasingly pitchfork-curious mood of a palpably angry country. It is therefore no small irony that this outfit, having become emblematic of corporate excess and systemic inequality, gained prominence by offering free services to everyday people. One such service is Yahoo SiteBuilder.
One of the few remaining old-school offline website building programs, Yahoo SiteBuilder had been paired with the web hosting services of Yahoo Small Business, which has since been rebranded as Aabaco Small Business. Though Yahoo retains ownership of Aabaco, plans are afoot to spin it off into its own separate company. Clearly, website building and web hosting are legacy aspects of Yahoo's bruised portfolio they no longer want anything to do with.
Aabaco offers the ability to publish SiteBuilder sites with its hosting packages, yet Yahoo SiteBuilder remains a separate downloadable program that anybody can download and install for free.
As the Yahoo name is still associated with the product, I had assumed that they would make at least a modicum of effort to update it in accordance with the times. My careless assumption was challenged right off the bat when the first link I came across when searching for "Yahoo SiteBuilder" was broken. The mere fact that I ultimately had to download SiteBuilder from a site with the URL "http://yahoositebuilder.en.softonic.com" speaks to what I was going to find once I tried using the product.
So, what's Yahoo SiteBuilder like? Let us catalog the atrocities.
Pricing
Yahoo SiteBuilder is a free downloadable product. However, to publish any website you create through Yahoo SiteBuilder, you'll need a web hosting account with Aabaco Small Business, whose web hosting packages run from $3.75/month to $8.99/month. Trust me, though – you won't want one of these packages, as Aabaco is a poorly-rated web host and Yahoo SiteBuilder is a painfully outdated product.
Web-hosted or Licensed
Yahoo SiteBuilder is a program you have to actually download and install on your computer. Weird, right?
Hardware/Software Requirements
To use Yahoo SiteBuilder, I had to download and install an older, out-of-date version of Java on my computer, as SiteBuilder is not compatible with the current version of Java. If nothing else, the time spent waiting for an old version of Java to download – and resisting ever-helpful attempts by the installer to make Yahoo my default home page – gave me time to reflect on the tragicomic absurdity of human existence.
(Note: Installing outdated Java probably creates security vulnerabilities. I doubt you should do any of this.)
Business Types Supported
Yahoo SiteBuilder comes with 422 templates – one of the largest template offerings by any website builder! These templates are divided into categories specific to a wide array of different business fields.
However, the templates all look like this: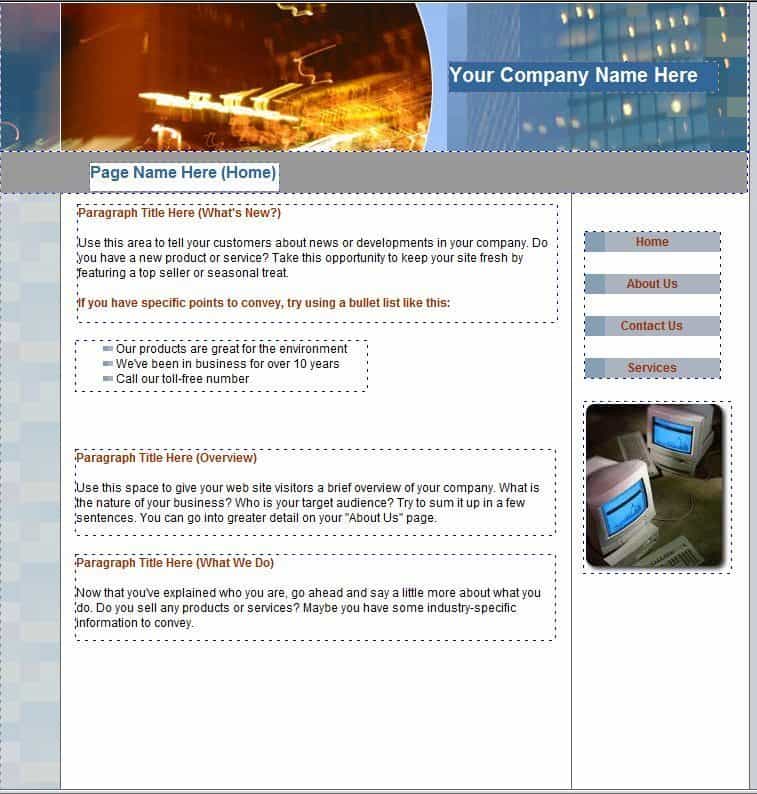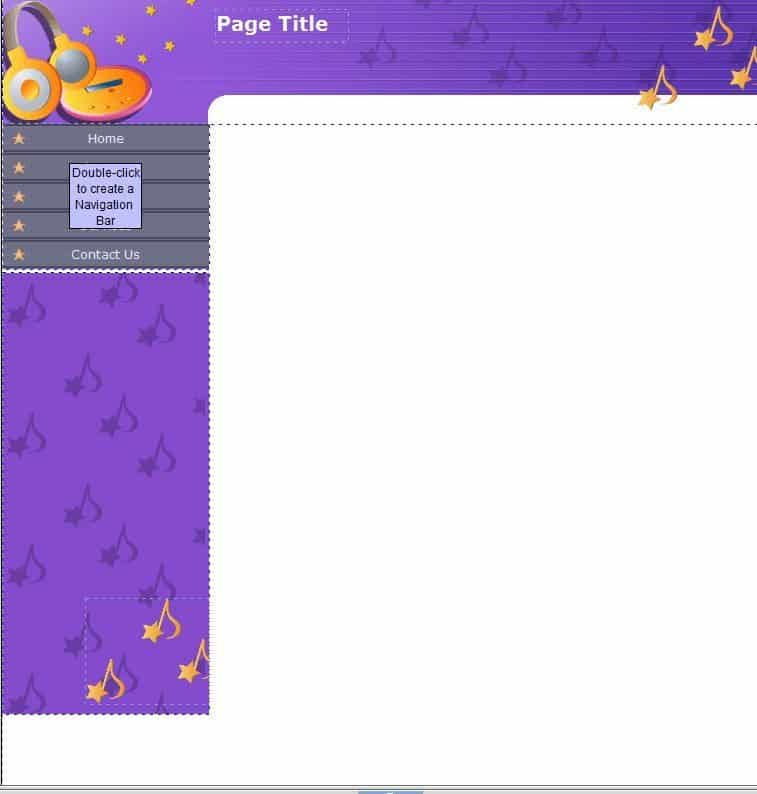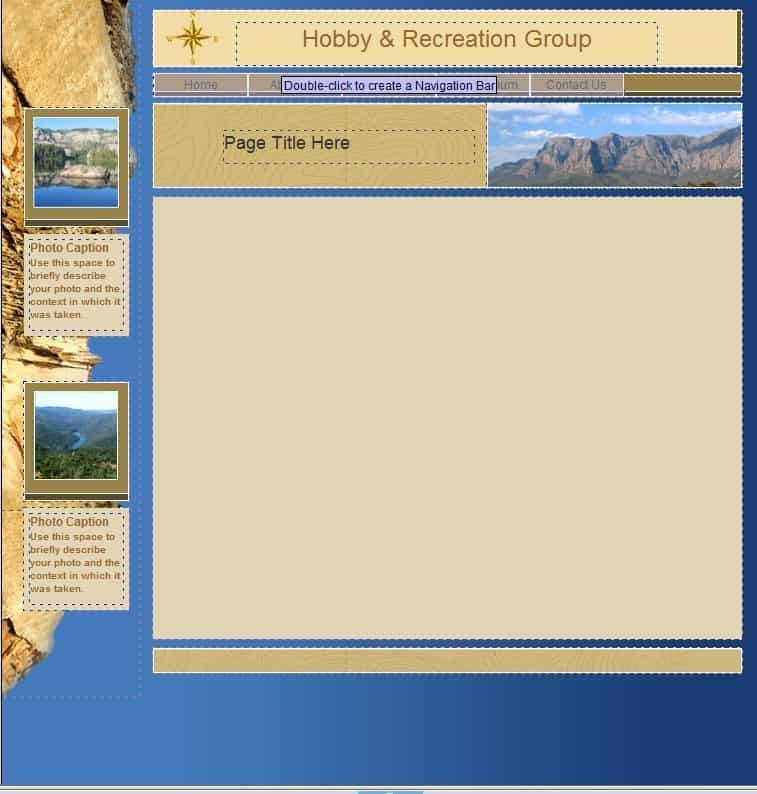 There's only one appropriate response to Yahoo SiteBuilder's templates:
LOL.
Ease of Use
If you remember what creation-type software from the late 90s was like, Yahoo SiteBuilder isn't all that difficult to use. In fact, within minutes of installation, I was able to create this gem: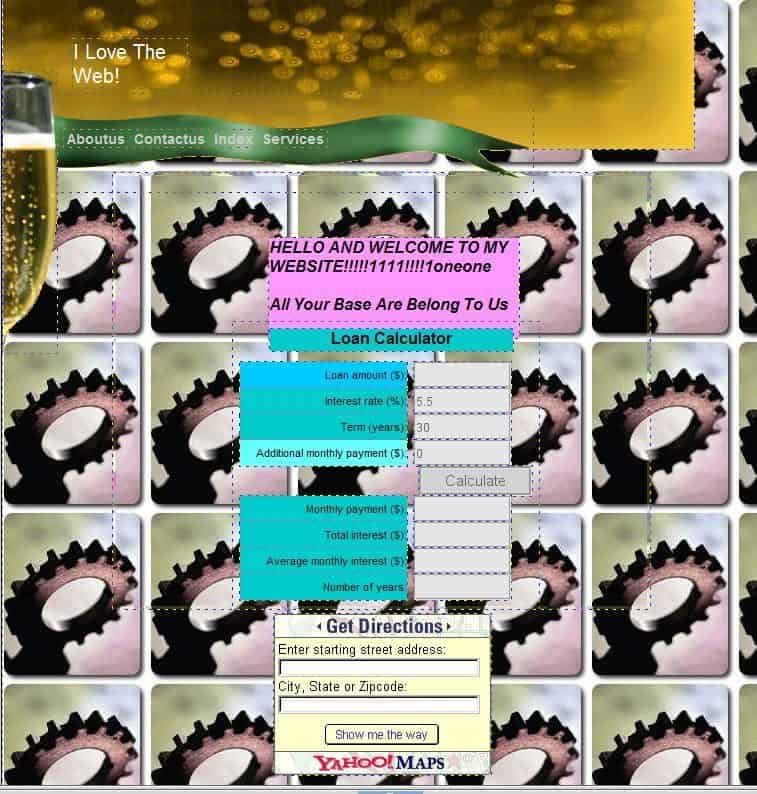 Thankfully, for the sake of our collective amusement, a set of vintage online tutorials is available here. The copyright on the tutorial page says 2005, though the product would have seemed anachronistic even then.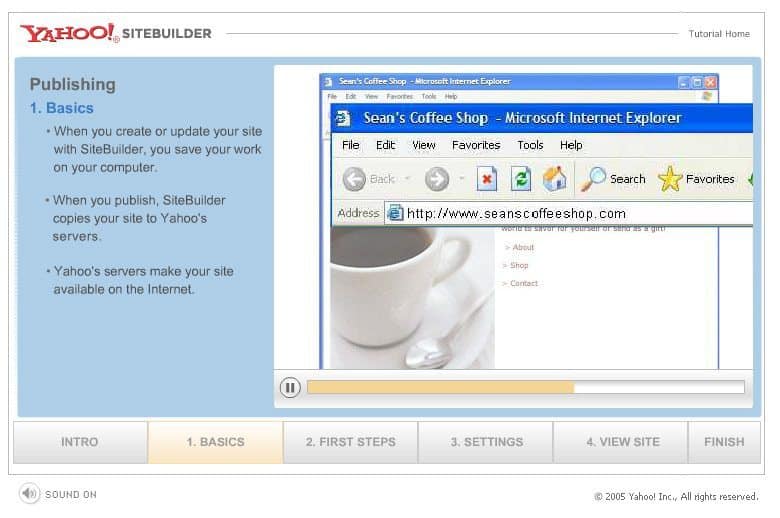 Features
I was surprised to find that Yahoo SiteBuilder does, in fact, have features. You can add a contact form with customizable form elements, a loan calculator, a time and date stamp, and Yahoo-branded search boxes, maps and directions widgets. You even get a PayPal donation button and, if you have an Aabaco Merchant Solutions account (you shouldn't), a shopping cart for eCommerce!
It would be a decent set of options if you could publish your Yahoo SiteBuilder site for free, and if the resulting site didn't inevitably look like a bad joke. However, neither of these conditions are true.
I neglected to mention my favorite Yahoo SiteBuilder feature: the hit counter! Yes, the ultimate web analytics tool of 1996 is at your disposal!
Web Design and Editing
Templates: Yahoo SiteBuilder comes with 422 templates. They are not mobile responsive at all, and will be virtually unusable on mobile devices. Also, they're all horrible.
Desktop Editor: There was a time when the Yahoo SiteBuilder desktop editor would have been a decent solution for low-cost DIY website publishing. We're at least 15 years removed from that time.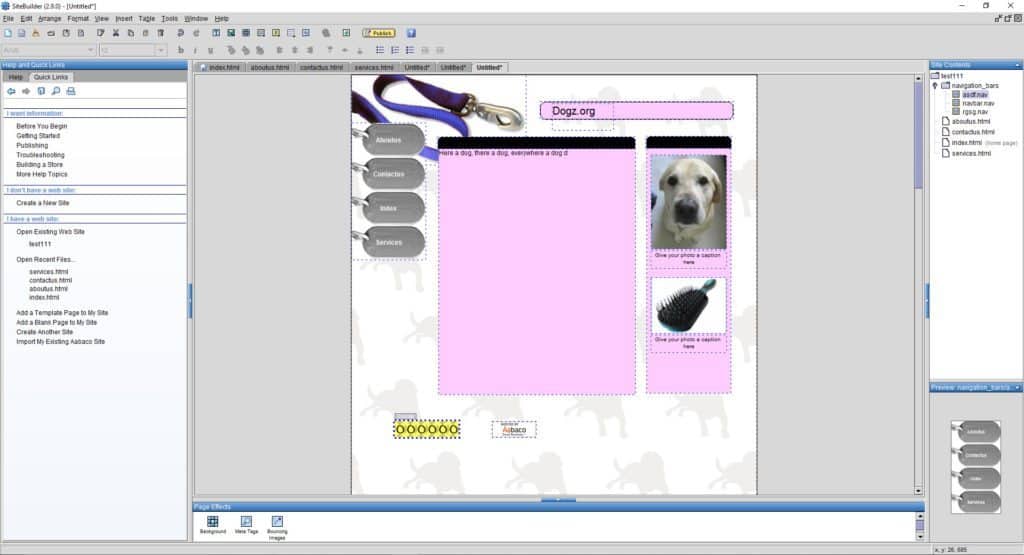 Integrations and AddOns
In case you needed more reasons to avoid Yahoo SiteBuilder, it is integrated with Yahoo Maps.
You can add PayPal buttons for donations as well. Presumably, these donations would be put towards signing up with a real website builder.
Customer Support
Any customer support having to do with Yahoo SiteBuilder will have to be obtained through Aabaco, and based on user reviews, Aabaco's customer support is atrocious.
Negative Reviews and Complaints
Reviewers and users have found fault with Yahoo SiteBuilder for the following reasons:
I think you get the point.
Positive Reviews and Testimonials
There are no positive reviews of Yahoo SiteBuilder. If you find one, ignore it.
Final Verdict
If this dumpster fire of a website builder had a different name, I wouldn't consider it worthy of review. However, if you still lend any misplaced credibility to the Yahoo name, you might be tempted to check out Yahoo SiteBuilder based on the fading legacy of this once-considerable internet company. Well, let me set your mind at ease: Yahoo SiteBuilder is a sad relic that would have been laughed out of the park ten years ago. Steer clear. Steer very, very clear.
For an actual modern website builder, do yourself a favor and check out Wix, or Squarespace, or Jimdo. Or Weebly. Or DudaOne. None of these options will provide you the same degree of amusement as does looking through Yahoo SiteBuilder's templates, but they'll allow you to publish a website with both feet firmly planted in this century.
Now to figure out how to re-update Java on my laptop.
---
We've done in-depth research on each and confidently recommend them.
We've done in-depth research on each and confidently recommend them.
To learn more about how we score our reviews, see our
Website Builders Rating Criteria
.