Expert Analyst & Reviewer

UPDATED
Advertiser Disclosure: Our unbiased reviews and content are supported in part by
affiliate partnerships
, and we adhere to strict
guidelines
to preserve editorial integrity.
Pros
Numerous features
Numerous style editing options
Free plan
Cons
Few good templates
No blogging tool
eCommerce tool is sold separately
Outdated editor
Cannot backup your work
Yola Overview
Yola. Yo-Yo-Yo-Yo-Yola.
Boasting a name that sounds like a Kinks song, Yola is a simple website builder with good eCommerce and a considerable user base. Founded in Cape Town, South Africa in 2007 as 'SynthaSite', Yola rebranded itself in 2009 and established headquarters in San Francisco. Its name is derived from the Hindi word "jhola" which means 'hatch.' "Yola is the place where you can hatch your big ideas" reads Yola's FAQ.
Yola once generated a bit of buzz in terms of tech media mentions, though that buzz seems to have quieted in recent years. Sporting 12 million users worldwide and employing over 60 people in the US and South Africa, Yola is no minnow in the website building industry. But have they done enough to stay fresh and relevant in an ever-evolving field? Read on, and you, lucky reader, will receive an answer.
Pricing
Yola employs a freemium subscription model similar to that seen in most of its competition. One aspect of the pricing I found odd was the fact that eCommerce is not included in any of the plans and must be purchased separately for $10 per month. It makes a Yola eCommerce website less competitively priced than it would first appear.
Yola's plans, prices, and features are listed here:
Free
2 Websites
3 Pages
1 GB Storage
1 GB Bandwidth
5 MB Max File Size
Basic Style Templates
Yola-Branded Subdomain
Password Protection
Availability in 6 Languages
Site Statistics
Standard Email Support
Bronze
$4.16/month (annual plan)
$6.95/month (monthly plan)
All of the Above PLUS:
5 Websites
Unlimited Pages
Unlimited Bandwidth
2 GB Storage
Priority Email Support
Priority Live Support
Free (for one year) Custom Domain
Attach Your Domain
Private WHOIS Registration
Silver
$8.33/month (annual plan)
$14.95/month (monthly plan)
All of the Above PLUS:
25 Websites
5 GB Storage
100 MB Max File Size
Premium Style Templates
No Yola Branding
Mobile-Ready Website
Publish Your Website To Facebook
Navigation Submenus
Advanced CSS Editing
Gold
$16.66/month (annual plan)
$29.95/month (monthly plan)
All of the Above PLUS:
Unlimited Storage
150 MB Max File Size
SEO Scan
SEO Report Keyword Usage/Traffic
Continuous Automatic SEO Monitoring
Online Store (Sold Separately)
$10/month
Up To 1000 Digital or Physical Products
No Yola Transaction Fees
Integrated Tax and Real-Time Shipping Rates
Accept Credit Cards
Over 160 Currencies
Manage Your Inventory
Manage Your Store With An iPhone App
Create Coupons/Discounts
Multi-Channel Sales Feed Submission
Order Tracking & Customer Communication
Product Option Selection
Sell on Facebook
Social Sharing
Personalized Email Address (Sold Separately)
$9.96/year
Single Mailbox with Unlimited Aliases
5 GB Storage
25 MB Per-Message Send/Receive Size
I appreciate the fact that free users are permitted not one, but two websites. Looking at the particulars of the paid plans, the 25 websites offered in the Silver and Gold plans are rather generous. However, I can't help but notice that Yola's Gold plan, at twice the cost of the Silver plan, doesn't give you that much more for the money. The only additional things you'll get are some SEO tools and increased file size/storage limits. Throw in an online store and email, and pretty soon, you're talking real money.
All the major credit cards, along with PayPal, are accepted as payment.
Web-hosted or Licensed
Yola is completely cloud-based.
Hardware/Software Requirements
To use Yola, all you'll need is a computer that turns on when you press the power button. Also, use the latest version of Chrome, Firefox, Safari, Internet Explorer or Edge. (Yola recommends Chrome or Firefox for the best experience)
Business Types Supported
Yola's template selection can only be described as disappointing. When you begin creating your site, Yola gives you 15 responsive templates to choose from. By comparison, Weebly gives you 60 templates, and Wix gives you 283! Furthermore, the templates all feel a bit dated and mundane. Nothing terrible, just a step or two behind the times.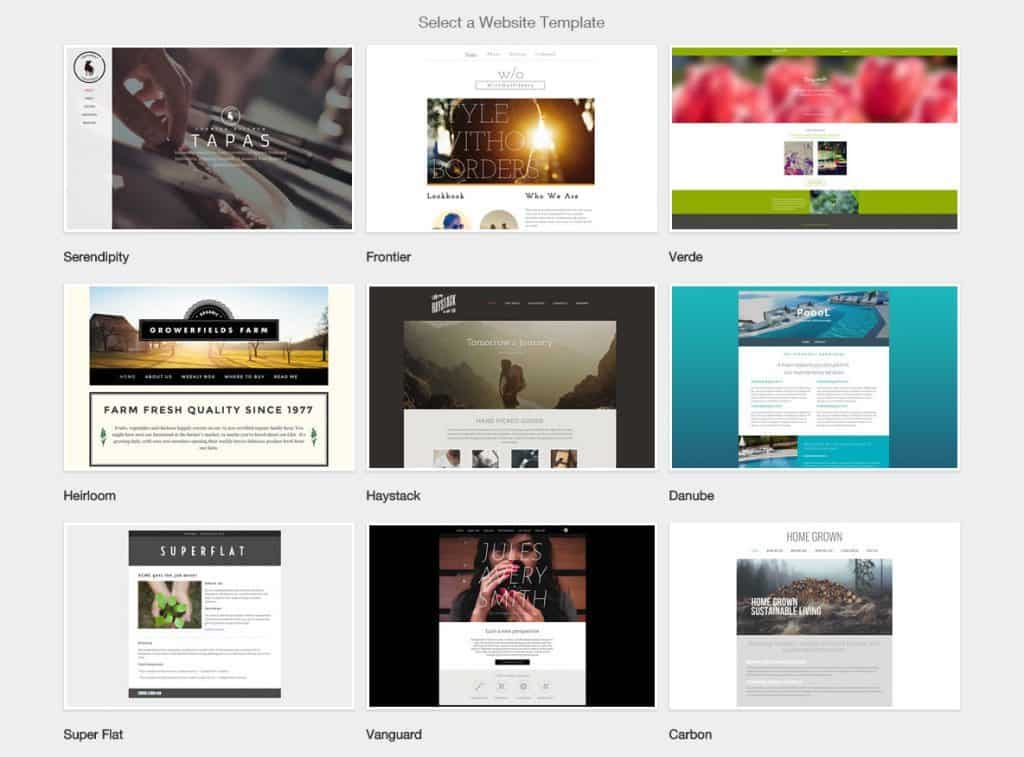 The provided templates aren't sorted into categories, but in perusing them, they appear suited to those in the following fields:
Photography
Contractors
Travel
Restaurants
Non-Profits
Consulting
Now, upon creating your site, you'll find an option under the Style heading to change your template. If you have at least a Silver subscription, you'll find an additional 76 "Premium" templates to choose from. You might be thinking "Oooh, premium templates–they wouldn't call them that if they weren't any good, right?" Well, I hate to pee in your Cheerios, but not only are these templates not mobile responsive, they're also far uglier than the other templates! Not to be a wise guy, but just look at what suffices as a "premium" template on planet Yola: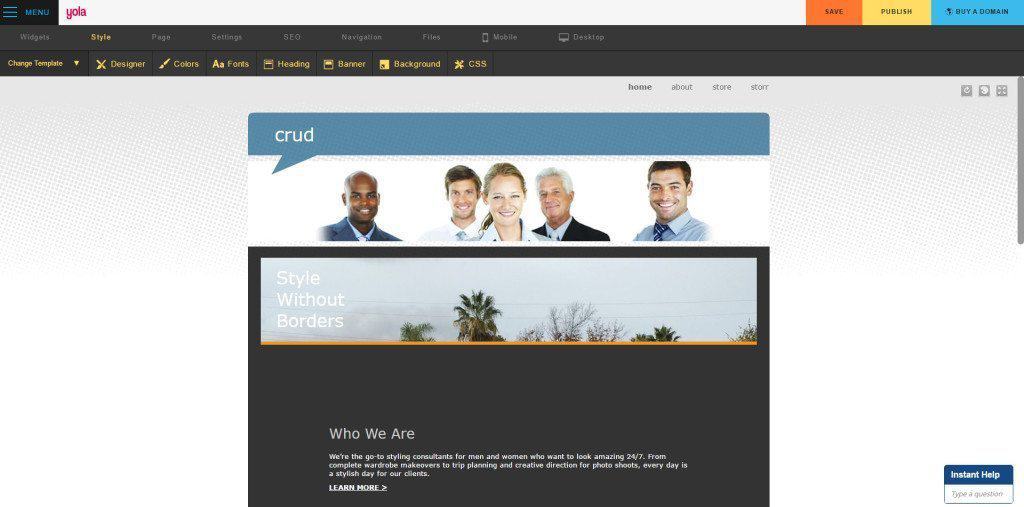 2007 just called, requesting the safe return of its missing templates.
Also included are 100+ "Free" templates. They make the other templates look like visionary design masterworks. Check out this beauty: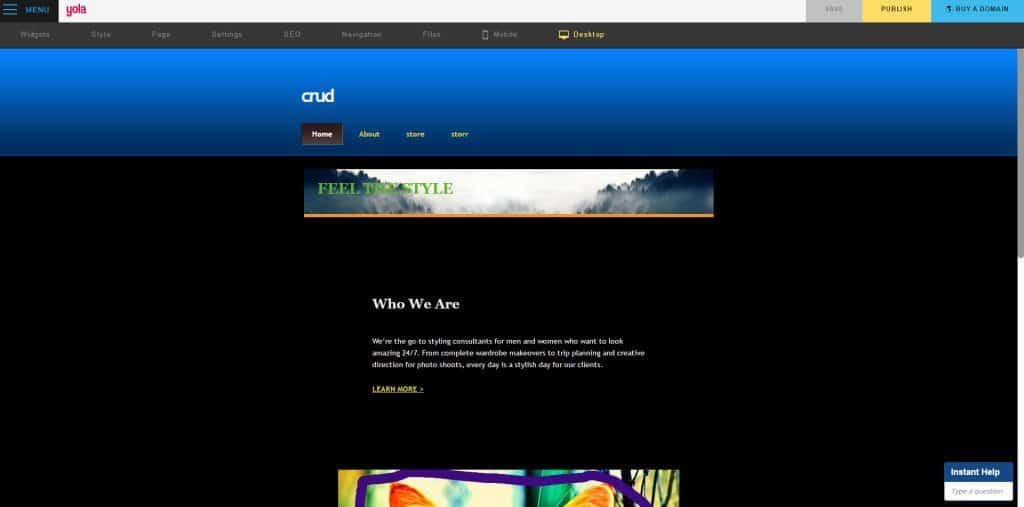 These "Free" templates are outstanding if you're looking to create a strictly ironic website (an underserved audience in the website builder field).
Ease of Use
Editing your Yola website is simple enough, though the process manages to feel clunky and counter-intuitive at times. Starting with the Windows 98-like margin boxes you immediately notice as you roll your cursor over your elements, the site editing experience provided by Yola feels somewhat out-of-place for a website builder in 2017.
Yola doesn't give you a great deal of freedom when dragging and dropping elements onto your site. When placing an element, or moving an existing one around, you'll notice your element snapping to the predefined slots into which content can be placed. There's little indication beforehand as to where, precisely, these invisible slots are on any particular template, so in editing your site, you're reduced to playing paint-by-numbers, essentially. Only it's not clear where the lines are until you try to put your brush to the paper.
Building your website ought to be a fun activity. It shouldn't feel like a chore—and if it does, it's probably not your fault. After all, these are products aimed at the layman, not the professional designer. Simply put, Yola's editor is more frustrating than anything else.
Style Editor: Thankfully, given the lackluster quality of some of the templates, Yola gives you an extensive array of style editing options. Clicking "Style" along the top bar will bring up a plethora of options to edit the themes, colors, fonts and layouts used on your site. For Silver/Gold subscribers who know a thing or two about coding, Yola allows you to edit the CSS/HTML of your site however you like.
Preview Mode: As is standard in the industry, Yola lets you preview the look of your site on both desktop and mobile devices. Just click "Desktop" or "Mobile" along the top bar.
Unfortunately, Yola doesn't give you any undo/redo buttons, nor does it provide any kind of History button for restoring previously saved versions of your website. I don't like making edits to my sites without a safety net, and if you ever make mistakes, you probably don't either.
Features
Yola's features run the gamut from impressive (the Ecwid-powered eCommerce) to mysteriously nonexistent. Why is there no blogging feature? Yola is an established player in the industry, so its lack of blogging is hard to figure.
eCommerce: Through an integration with Ecwid, Yola's Online Store feature is probably its most appealing aspect. Yola walks you through every aspect of setting up your shop, and with support for over 160 currencies, a lack of transaction fees, and the ability to offer up to 1000 products, it's an impressive eCommerce solution. You'll get plenty of options for accepting payment as well. You can even link it to your Google Analytics account, which will enable the sending of ad content to your customers based on the items they viewed in your store during prior visits. While it's not an in-house feature, the Ecwid store works well in every website builder that uses it, and Yola is no exception in this regard. And unlike the rest of your Yola site, the online store can be managed via your smartphone. Just download the Ecwid Online Store app and connect it to your store.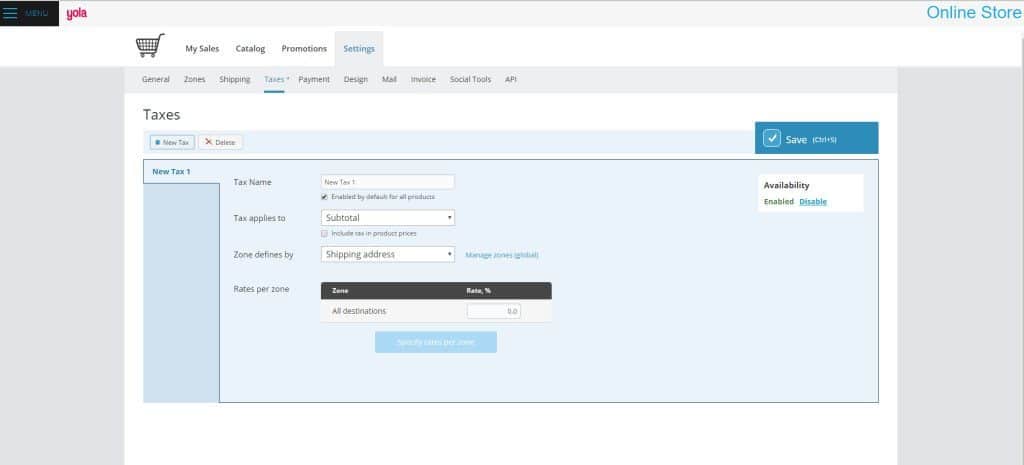 Image Editor: Through an integration with Aviary, Yola facilitates easy photo editing. It's actually the same photo editor used by many website builders, but I think Yola is the only builder using it that acknowledges the integration. It's a decent photo editing tool and is completely intuitive. You won't struggle with it.
Contact Form: Yola's customizable contact form is one of their finest features. You can add as many fields as you like, along with multiple-choice bubbles, checkboxes, and more. And with Yola's recent feature update, the input fields are all responsive, so they will automatically expand in width to accommodate whatever is entered. You can customize the message that users will see upon completion as well. Yola's contact form builder is well-suited to the needs of a small business.
Translation: Yola's Google Translate widget provides some degree of multi-lingual support to its users. Google Translate seems to give a more accurate translation than it did in the past, so I'm less squeamish about using it than I once was!
Traffic Builder: A feature reserved for Gold subscribers, Yola's Traffic Builder is an SEO solution that helps you select keywords, tracks your search engine ranking, and will scan your site for SEO-friendliness. It offers more than the average website builder, SEO-wise, though some reviewers have questioned its usefulness.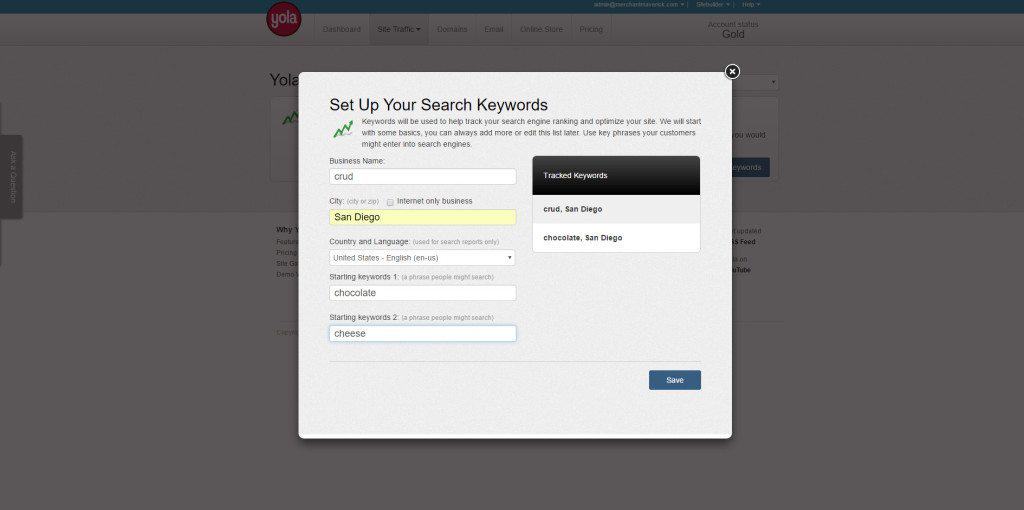 Other Yola features include:
A newsletter signup tool from Constant Contact
Wufoo contact forms
A photo gallery
A Flickr gallery
A map
Video from YouTube and Metacafe
A Tumblr feed
A PayPal donation button
Google Adsense
Facebook, Twitter and Google+ integration
Password protection
Parallax scrolling
Video backgrounds
Web Design and Editing
Templates: As I explained in the intro, Yola gives you 15 respectable responsive templates to choose from when creating your site, and once you've signed up, you gain access to a boatload of "Premium" and "Free" templates that range in quality from lame to this-is-hilarious bad. So much depends on the quality and selection of templates provided by a website builder, which is why weakness in this area is so consequential.
Mobile Editor: Yola has no app for mobile editing, though again, you can use Ecwid's Online Store app to operate your eCommerce. And while Yola's 15 responsive templates will look decent on a smartphone, using any of the other templates will necessitate the creation of a separate mobile site based on your chosen theme. It will look even worse than the desktop version of the non-responsive templates. Pro tip: Don't use those templates.
Integrations and AddOns
You won't find an App Store for third-party widgets like those of Wix and Weebly, but you do get a fair number of third-party features. As I mentioned, you'll find integrations with Ecwid, Aviary, Constant Contact, Wufoo, Flickr, Google Maps, Google Adsense, PayPal, YouTube, Metacafe, Facebook, Twitter, and, last (and very much least), Google+.
Payment Processing
Yola's Ecwid store gives you a wide range of payment processors to choose from. Here's the full list:
For US users:
For non-US users:
eWay
eSELECT Plus
Realex Payments/Global Iris
ROBOKASSA
PayOnline
PayU Money
PayUbiz
Paytrail
BBVA Bancomer/eGlobal
MultiSafepay
iPay88
iPayment von 1&1
iDEAL/Mollie
PagSeguro UOL
PayFast
Virtual Card Services
PayPal Payments Pro Hosted
e-PATH
2can
Your customers can also pay via offline means.
Customer Support
Yola's customer support comes in the form of an FAQ, a series of tutorials, email support, and, for paid subscribers, live chat. I found their support to be prompt and helpful. I was impressed that my email was answered within 12 hours on a weekend.
Negative Reviews and Complaints
Professional reviewers have had a number of complaints regarding Yola:
One reviewer found the SEO options included in the Gold subscription package to be lacking, stating "(T)hey offer a Yola Gold package which is essentially an SEO package for people who don't understand SEO. The package will do nothing for your website and there are much better free alternatives. It bothers me that they sell this to unsuspecting users."
One thing I've noticed in reviewing customer feedback about Yola is a lot of complaints about their billing practices. Yola representatives do often try to respond publicly to these grievances, but I'd be remiss if I didn't take note of their frequency and persistence. If you buy a Yola premium subscription, double-check your credit card bill.
Positive Reviews and Testimonials
Yola has been praised by reviewers for the following:
Final Verdict
I couldn't help but notice that Yola's better features–the eCommerce, the image editor, etc.–are third-party integrations found in many of Yola's competitors. It's in this light that I have to question if Yola brings anything of particular value to the website builder world, even if their overall package is solid enough. Though they once seemed to enjoy a bit of buzz, Yola seems to have become complacent in recent years. It would be worth consideration as a low-cost tool, but the paid plans (particularly the Gold plan) don't quite deliver enough for the money.
I have a fondness for website builders with a specific focus, whether it be superior aesthetics, mobile-friendliness, or even restaurant-friendliness (with tools like menus and reservation widgets). Yola doesn't really have any unique characteristics to tout unless you count the comically tragic "Free" templates.
Hopefully, Yola will invest in a revamp and regain some of its earlier momentum. Until then, it's staying at 3 stars.
---
We've done in-depth research on each and confidently recommend them.
We've done in-depth research on each and confidently recommend them.
To learn more about how we score our reviews, see our
Website Builders Rating Criteria
.