Zen Cart Review
Web-savvy small business owners might love Zen Cart's no cost customizable interface. But is the steep learning curve worth it?
Expert Analyst & Reviewer

UPDATED
Advertiser Disclosure: Our unbiased reviews and content are supported in part by
affiliate partnerships
, and we adhere to strict
guidelines
to preserve editorial integrity.
Zen Cart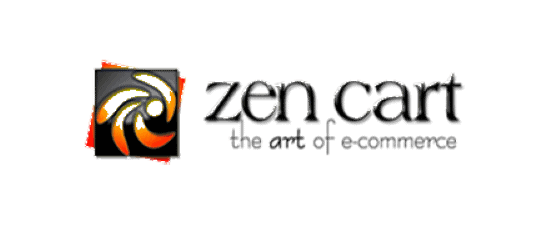 Zen Cart At A Glance
Free open-source shopping cart software
Operates on a standard LAMP stack — PHP, MySQL, Apache — and should be hosted on a Linux server
Relies heavily on users' tech expertise
---
Pros
Free to download & use
Highly customizable
Strong user community
Cons
Steep learning curve
Outdated UI
No customer support
What Is Zen Cart?
Zen Cart is an open-source eCommerce shopping cart software for the web-savvy or for those with access to a developer. The software, based on PHP/MySQL, is fully customizable and completely free to download.
Because Zen Cart is open-source, community-focused, and relies heavily on the user's tech expertise, those who lack technical know-how or the patience to learn may encounter difficulties and frustrations with the platform. Support consists mostly of self-help options, although you'll find a robust and active user base in the Zen Cart user forum.
If you're someone who's ready to revel in the complete customizability that open-source software provides, keep reading for a full Zen Cart review.
Zen Cart Pricing
As open-source software, Zen Cart is completely free to download and use. Zen Cart comes with a GPL2 license, which guarantees that the software will always be free, and anyone can modify the source code as they please. (All third-party plug-ins must be GPL as well.)
That does not mean, however, that there is no expense to using Zen Cart. You will have to pay for web hosting and a domain name as well as an SSL certificate. You can download Zen Cart and install it yourself on your server, or you can have it hosted on a platform of your choice. Because Zen Cart is a fairly popular option that's been around for a long time, many web hosts provide quick Zen Cart installation options. Zen Cart's affiliate hosting companies are Geek Host, Digital Ocean, My Zen Cart Host, Digital Ocean, and Node Ping. If you choose another host, be sure to pick one that performs regular updates and backups. You likely will have to purchase some add-ons and perhaps a third-party template, too.
Because Zen Cart is built for those who have technical expertise, and it provides no-frills tools to accomplish what you'll need at no cost, Zen Cart earns a good rating in the pricing category. However, if you have limited web experience, you may also have to budget for a web developer and designer to help you customize your store for your business.
Zen Cart Features
| Zen Cart Features | Availability |
| --- | --- |
| Retail Equipment Available | |
| International Sales | |
| Currency Conversion | |
| Shoppable Social Posts | |
| Gift Cards | |
| Customer Loyalty | |
| Marketing Tools | |
| Hosted Platform | |
| Reports | |
| Staff Accounts | |
| Buy Buttons | |
| Multi-Platform Integrations | |
| Shipping Tools | |
| Shipping Discounts | |
| Free Themes | |
| Unlimited Products | |
Zen Cart follows a core+extensions model and comes with enough features to get you rolling. From there, you need to add integrations to make your site perform exactly as you choose. Here's a rundown of some of the basics:
Zen Cart Themes
Zen Cart is not known for being an aesthetically pleasing shopping cart solution in its admin or its storefront. This is what the maintenance mode on my demo storefront looks like. As you can see, Zen Cart's default design is far from stylish and not particularly modern: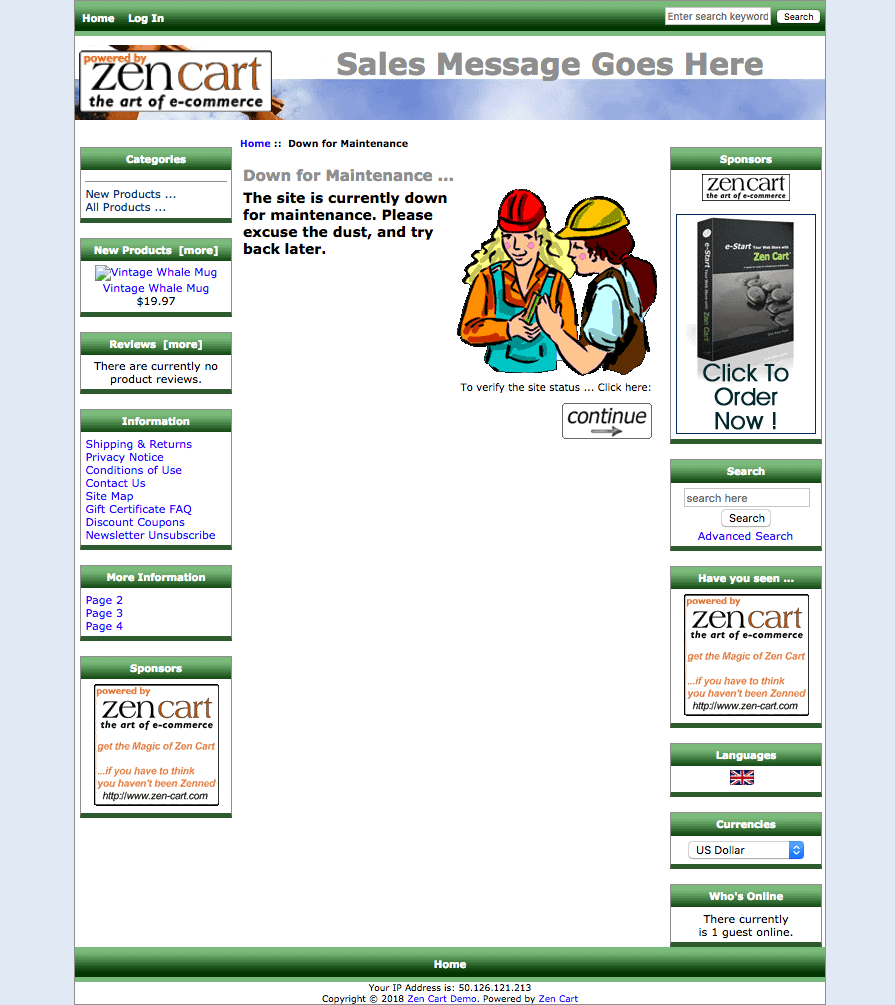 Fortunately, because Zen Cart is an open-source platform, you can customize that basic template. Or you can choose to download and implement one of the many template packages the Zen Cart community has made available for free.
Also, you can use template alterations or buttons and graphics downloads to change minor aspects of your design. Zen Cart includes a WYSIWYG (what you see is what you get) page editor that lets you easily update your site's content. Or, if customizing your website is beyond your grasp, there are lots of third-party developers and web designers out there who would love your business.
Types Of Payments Accepted With Zen Cart
Zen Cart accepts payments from around the world, thanks to numerous payment modules and add-ons you can connect to your store. This includes the following, among other options:
Google Checkout
Stripe.com
PayMeSecure
Braintree Payments
PayPal
Skrill
Zelle
Direct bank deposit
You can read more about these payment processors on Zen Cart's plugin market. If you're doing international business, take a look at the numerous international payment options available. Remember that if you're comfortable with code, you can create your own payment module, should you want to connect with a processor that's not already available.
Selling On Multiple Sales Channels With Zen Cart
You can add a single plugin, called OneAll Social Login for Zen Cart that will allow you to sell from your Zen Cart store on 20+ social media sites Facebook and other social media sites including Twitter, Facebook, and YouTube. You can also add integrations that allow you to connect your Zen Cart store with marketplaces like Walmart Marketplace, Amazon, and eBay.
You can also use Zen Cart to manage multiple storefronts from one admin.
Does Zen Cart Offer Buy Buttons?
Zen Cart allows sellers to display a "buy now" button on product pages that allows buyers to shorten the checkout process and make almost instant purchases.
Selling Internationally
Use Zen Cart's multilingual, multicurrency capabilities to sell across borders. Support for international shipping is included.
Zen Cart Marketing Features
Zen Cart allows sellers to use newsletters and product notifications such as back-in-stock announcements to boost sales. Several reports are built into Zen Cart, including customer order totals, low stock reports, product views and products purchased, and a basic sales report with graphs. You can add many additional reports via plugins.
Zen Cart Product Limits
Although there is no maximum number of products allowed on a Zen Cart store, the more products you want to display the more you'll need to optimize your server for speed.
Inventory Management With Zen Cart
Zen Cart includes robust inventory management tools. Here's a sampling of the things you can do:
Organize products by category and list them under multiple categories if desired.
Use multiple product images and set the larger images as popups.
List attributes (product options) and have them appear as drop-downs, checkboxes, or radio buttons.
Set different prices for attributes and use image/color swatches to show shoppers what all your different attributes look like.
Allow customers to enter custom text for monogrammed products, charging them per word or per letter.
Sell digital products.
Set up customer group pricing and change your prices based on who's browsing.
Choose products to appear on your home page.
Set quantity discounts.
Hide product prices for B2B selling.
Zen Cart Shipping Tools
Enter your shipping options or integrate with major carriers (such as USPS or UPS) for real-time shipping rates that give customers a good idea of shipping costs before checkout.
Zen Cart SEO Tools
You'll be able to list meta tags, keywords, and descriptions for your products.
Blogging
Zen Cart's EZ-Pages system lets users create content to display on their websites. You can also integrate Word Press.
Zen Cart Discounts & Coupons
You'll find a good array of discount/coupon options with Zen Cart. For example, you can list discounts or coupons by percentage or a fixed amount or list products under a new sale price, set discounts to apply to select categories or products, and choose to include or exclude product attributes in your discounts. You can also include or exclude discounts from a special. Gift certificates are supported.
Developer Tools
As open-source software, Zen Cart allows full access to all its code.
Is Zen Cart Easy To Use
To try out Zen Cart, you'll have to download it and install it on your server, which is, I'll admit, totally a pain. True confession? For me, setting up Zen Cart was an impossibility. I would need a lot of help setting up an online platform; that's why I like SaaS solutions so much. When I tried to download and install the software, nothing made sense.
So I was thrilled to get my hands on a hosted demo of Zen Cart. I quickly discovered that navigation in Zen Cart is not exactly intuitive. In the beginning, you'll have to spend a lot of time sifting through drop-down tabs. Just take a look at that drop-down! There are so many options on just one tab. For me, it was too many options, but your mileage may vary.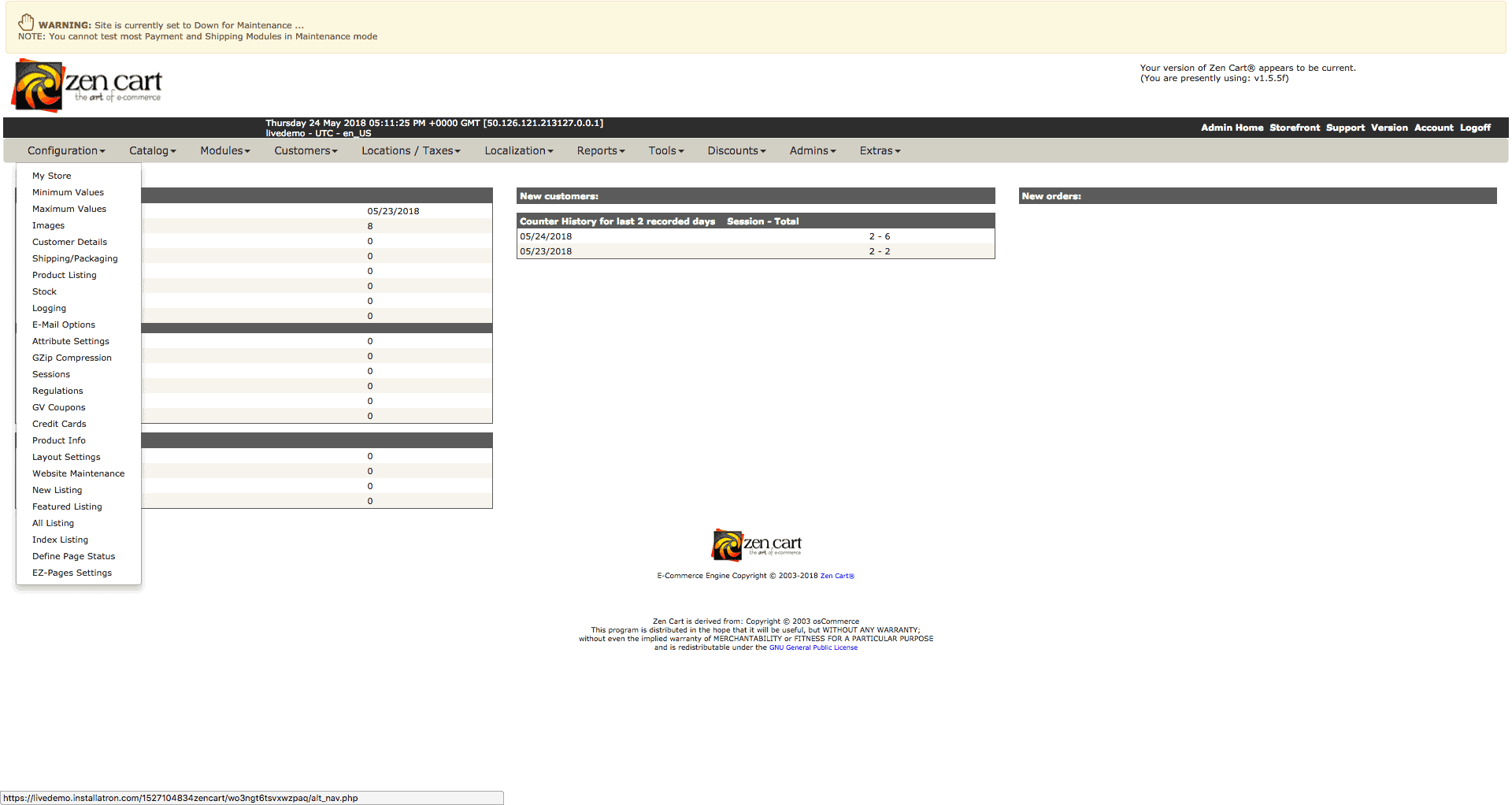 As I always do, I first went to add a product.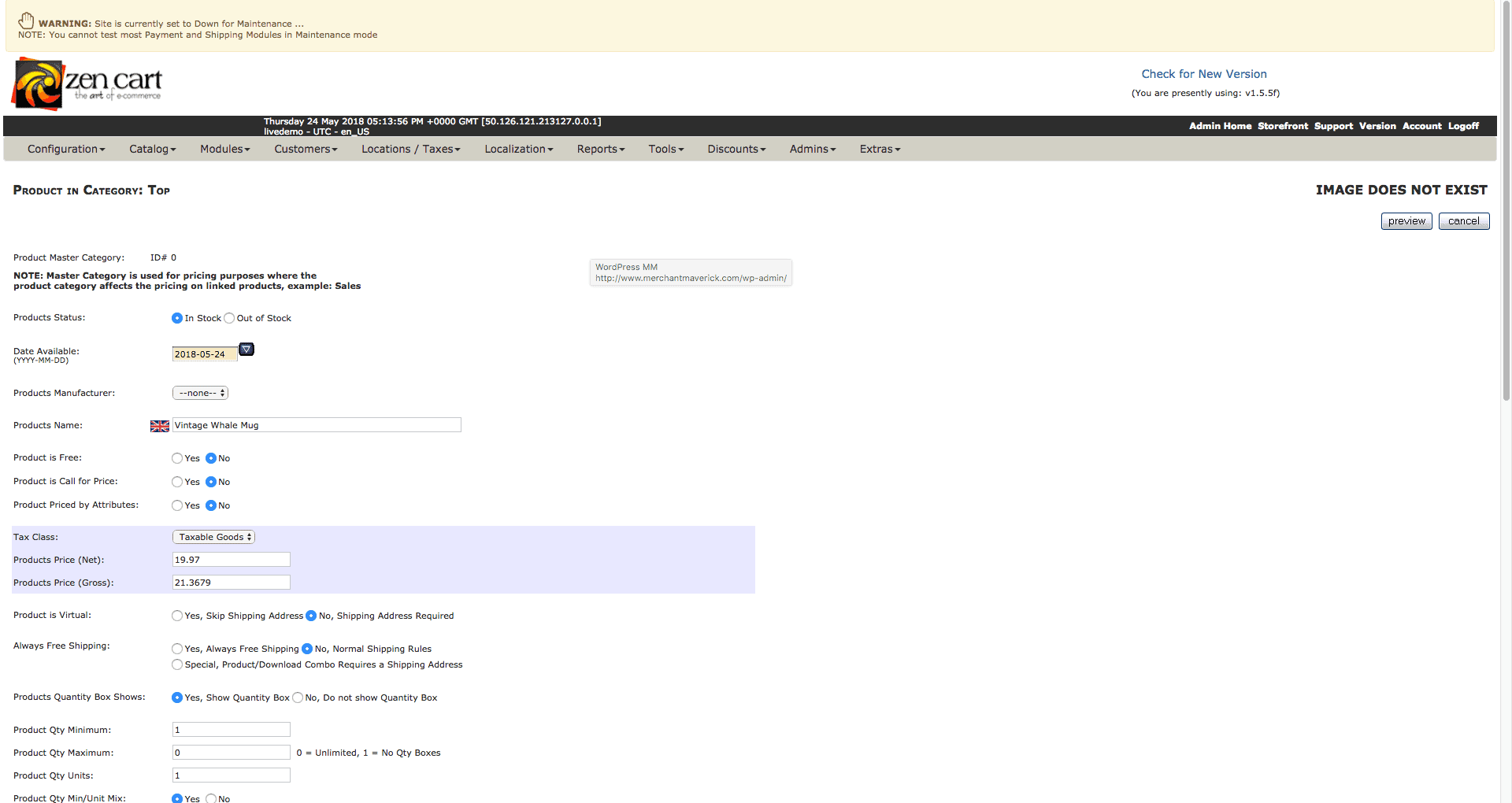 Entering my information was easy enough, though I did notice that a few features were missing (adding attributes, for example). I was also confused about how to save my new product. It turns out that you have to click "Preview," which will take you to this screen, where you must click "Insert" to save your product.

In short, Zen Cart is not the most intuitive shopping cart, and it can be downright frustrating at times. But after a bit of a learning curve, it should operate just fine. If you need a solution that's easier to use without the need for a lot of technical expertise, I would instead suggest you look for a hosted, cloud-based option.
Zen Cart Customer Service & Support
| Zen Cart Support | Availability |
| --- | --- |
| Phone Support | |
| Email Support | |
| Support Tickets | |
| Live Chat | |
| Dedicated Support Representative | |
| Knowledge Base or Help Center | |
| Videos & Tutorials | |
| Company Blog | |
| Social Media | |
Zen Cart is a free, open-source platform maintained by a community of developers. Personalized customer support is not available in any form: not by phone, not by email, and not by web ticket. However, you will find self-help-style resources you can use to resolve your questions and concerns.
Here's what it has available:
Community Forum: Zen Cart's forums are very active with advice and downloads.
Guides: Find answers to the most common questions on the Zen Cart tutorials and FAQ page.
Videos: YouTube has a good-sized list of third-party tutorial videos.
Zen Cart Wiki: Find step-by-step instructions for operations, such as installation, customization, upgrades, and security updates.
Social Media: Zen Cart frequently posts product updates on its Facebook page.
The only way you'll receive personal support is by hiring a third-party Zen Cart developer to handle technical concerns for you. Because Zen Cart does a good job of providing resources to its users, and because it's a completely free platform, you can't ask for much else. You'll receive the tools necessary to lay the foundation and build, at zero cost, but you'll need to know how or figure out how to use those tools. Knowledge sharing is the approach, and we think that's fair.
Zen Cart Integrations & Add-Ons
Zen Cart comes with all of the basics right out of the box. For advanced functionality, you'll need to take a look at the community's collection of extensions. These are broken down by category, including:
252 admin tools
79 buttons and graphics
68 language packs
137 marketing tools
367 other modules (miscellaneous plugins)
27 payment modules
23 pricing tools
4 privacy and conditions statements
9 product types
110 shipping modules
135 sideboxes
96 template alterations
199 template packages — responsive design and legacy
15 troubleshooting tools
43 geographic zones
Note: You should be wary as you go about installing these extensions. Zen Cart warns its users that add-ons can affect PCI compliance. Make sure that your site is secure with every add-on you install.
Zen Cart Reviews
You won't find a whole lot of Zen Cart reviews. That makes sense because Zen Cart is an open-source "product" that doesn't operate with the same type of user base expectations. I found a few consumer rating sites that have some information about Zen Cart:
G2: 4/5 stars with 42 reviews
Capterra: 4.5/5 stars with 13 reviews
Software Advice: 4.31 stars with 13 reviews
Let's look at some of the more common themes in both negative and positive Zen Cart reviews.
Negative Zen Cart Reviews & Complaints
The following list is a compilation of those reviews, mixed with my perception of the platform:
Learning Curve: It takes a while to get the hang of Zen Cart, and I'm not just talking about coding here. It may take you a bit just to learn to navigate the admin. Keep in mind that Zen Cart's users are overwhelmingly comfortable working with software and code, so when even they acknowledge the need for troubleshooting and say the software is not meant for beginners, you should take it seriously.
Multiple Plugins: Chances are good that you'll be running multiple extensions on your site at all times. It can be difficult to ensure that those plugins stay up-to-date and work well with each other.
Lacking SEO: While Zen Cart comes with a few SEO tools out of the box, they are far from extensive. However, you can add SEO tools, such as a sitemap XML and additional meta tags, when you download modules from Zen Cart's list of Marketing Tools.
Positive Zen Cart Reviews & Testimonials
There are lots of good things to be said about Zen Cart. Here are a few:
Free: It doesn't get much better than that. Zen Cart is and will always be free to download and use.
Customizable: Because Zen Cart is open-source, developers can change whatever aspects of the software they choose. You can hire developers to do that work for you, or you can take advantage of other developers' work by downloading available modules.
Community: The Zen Cart community has been around for more than a decade and is still going strong. You can benefit from an active forum and current modules.
International Options: Zen Cart has great multicurrency and multilingual features for selling internationally. You're just left with figuring out the complex shipping and taxes.
The thing to remember about Zen Cart is that it never has made a claim to be easy, but it does promise to provide the necessary tools you need alongside your own developer expertise. Users' Zen Cart reviews don't wave any red flags and everything is consistent with what Zen Cart claims, so it earns an excellent rating in this category.
Final Verdict Of Zen Cart For eCommerce
Zen Cart Review Summary
Choose If You Need

You have in-house tech support
You are comfortable working in a PHP environment
You want to build a free, fully customizable website
Zen Cart is a completely free platform that is 100% customizable, and users are surrounded by a great community of developers. It could be a decent choice for a business with access to an IT team or tech support. In most cases, this will mean that Zen Cart fits mid-sized to larger businesses. Of course, it is also a feasible option for the lone ranger with loads of web knowledge.
However, we think there are better options out there for the average small business.
Zen Cart's outdated user interface and themes give me pause, and I am discouraged by the number of modules I potentially would have to install to fill out my platform. Additionally, the lack of support and usability suggests that Zen Cart is not the best option for most merchants. Keep in mind that I am most definitely not Zen Cart's target audience; if you are, then Zen Cart may work out very well for you.
If you're comfortable handling your own tech needs, I would instead recommend that you take a look at Magento Open Source. It's a free, open-source, community-based platform that's a bit more current than Zen Cart. And if you're looking for a more complete eCommerce solution that doesn't involve you writing a single line of code, check out our in-depth comparison of some top eCommerce options for some direction. If you're in a hurry, we've narrowed it down to the top shopping carts for beginners.
On the other hand, if you've done your research and think that Zen Cart sounds like what you've been looking for, there's no harm in giving it a try. Download the platform for free and get started today!
Zen Cart FAQs
---
Featured Free eCommerce Plan 🔥
Square Online


---
Get a free website builder, online ordering, gift cards, in-store pick-up options, and dozens of other features for eCommerce and hybrid businesses. Free options available. Learn more from Square.
Featured Free eCommerce Plan 🔥
Square Online


---
Get a free website builder, online ordering, gift cards, in-store pick-up options, and dozens of other features for eCommerce and hybrid businesses. Free options available. Learn more from Square.
To learn more about how we score our reviews, see our
eCommerce Software Rating Criteria
.