Expert Analyst & Reviewer

UPDATED
Advertiser Disclosure: Our unbiased reviews and content are supported in part by
affiliate partnerships
, and we adhere to strict
guidelines
to preserve editorial integrity.
Zoho Sites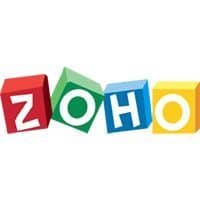 Pros
Excellent form builder
Excellent membership features
Integrates with Zoho's other products
Competitive pricing
Excellent templates
Cons
Limited features
No free plan
No eCommerce
Zoho Sites Overview
Zoho Sites is a website builder that offers decent websites and handy integrations with other products offered by the Zoho Corporation, a Pleasanton, California-based tech company known for SaaS packages (like Zoho Office Suite and Zoho CRM). The company, launched in 1996, was first known as AdventNet—a Web 1.0 name if ever there was one. The company rebranded as Zoho in 2009, and in 2012, it introduced Zoho Sites.
In the past, I've found website builders run by large corporations with fingers in various pies (the website builder released by German web hosting giant 1&1 comes to mind) to be problematic on a number of fronts. With companies like Wix and Squarespace, you know their full attention is on their website builder—it's their entire raison d'être. Larger tech outfits often treat their website building services with less care and attention than dedicated builder companies, as they have other ways to generate revenue. I was hoping Zoho Sites would prove to be an exception to the rule.
So, how does Zoho Sites measure up as a website builder? Let's dig into the details and find out!
Business Types Supported
Zoho Sites recently revamped both its website editor and its template offerings. These new templates all come across as quite elegant and modern. Zoho Sites's 43 templates are all mobile responsive and cater to the following fields and industries:
Restaurants
Art/Photography
Construction/Manual Labor
Fitness
Tourism
Interior Design
Logistics
Travel
Finance
Florists
Weddings
Architecture
Music
Salons
Portfolios
Hardware
Law
Tattoo Shops
Sports Clubs
Car Cleaning
Pet Shops
Real Estate
Beauty Spas
Education
Hospitals

I'll note that some of these templates are for single-page websites and are only for Pro subscribers.
Without any integrations that allow for an easy ordering system (or indeed any eCommerce at all), Zoho Sites isn't what I'd recommend for, say, a restaurant that offers take-out or an online store (Wix is much better in the former regard while Shopify excels at the latter), but for many common business types, Zoho Sites provides what you need.
Pricing
Zoho Sites has simplified its subscription offerings since I last checked in with them. Sadly, the free plan has been a casualty of this re-organization. Zoho Sites currently offers just two paid plans. You can sign up for a 15-day free trial, but beyond that, you'll have to pay to use Zoho Sites.
Here are the details of Zoho Sites' subscription packages:
Starter
$4/site/month (annual plan)
$7/site/month (monthly plan)
5 pages
500 MB storage
10 GB bandwidth/month
5 forms
10 MB max file size
5-photo gallery
Custom domain hosting
No ads
SSL
Code snippet
Zoho CRM forms
Sales IQ integration
Element animation
Premium elements
Favicon
Blog
Mobile optimized
Header & footer code
Automatic sitemap
Message bar
Pro
$15/site/month (annual plan)
$20/site/month (monthly plan)
Everything in the Starter plan, plus:
50 pages
100 GB storage
Unmetered bandwidth
50 forms
100 MB max file size
200-photo gallery
Page versions
3 contributors
5 menus
Single page site
Social share button
301 redirect
Audio player
Comment box
Scheduled blog posts
Auto-publish to social networks
Newsletter subscription
Member portal – 2 members
Access restriction
Password protection
Extra Fees
In addition, with a Pro subscription, you can purchase the following add-ons:
Portal add-on
$50 per year per 1000 members
$30 per year per additional 1000 members
Creates an access control list for your membership-restricted pages
Page add-on
$50/year for an additional 200 pages
Contributor add-on
$20/year per additional user
On the whole, Zoho Sites' pricing is quite competitive, though the Starter plan restricts you to a maximum of 5 pages on your site, which is unfortunate. Payment is accepted via credit card or PayPal.
Hardware & Software Requirements
Zoho Sites is 100% web-hosted. To use Zoho Sites, all you need is a modern web browser. Just make sure it's up-to-date.
Ease of Use
Zoho Sites recently came out with an improved editor. The old editor allowed for quite a high degree of precision and customization in terms of placing your elements, but it wasn't terribly easy to use. The new editor, being more block-based, is much more in-keeping with current trends in website builder design — so much so, in fact, that it's hard to distinguish it from other modern website builders in that respect. There's definitely been some convergent evolution in the website builder field. From an ease-of-use standpoint, that's not a bad thing.
Zoho's site editor is supremely intuitive. When you add something new to your site, you're given the choice of adding a section or an element to your page. A section is basically a prefab grouping of elements that you can edit/repopulate after you plop it onto your page, while the element option lets you put an individual element down. You're also given the option of adding individual apps and forms to your site. No coding knowledge is necessary to use the editor, though you do have the option of using a custom CSS editor via the Settings button.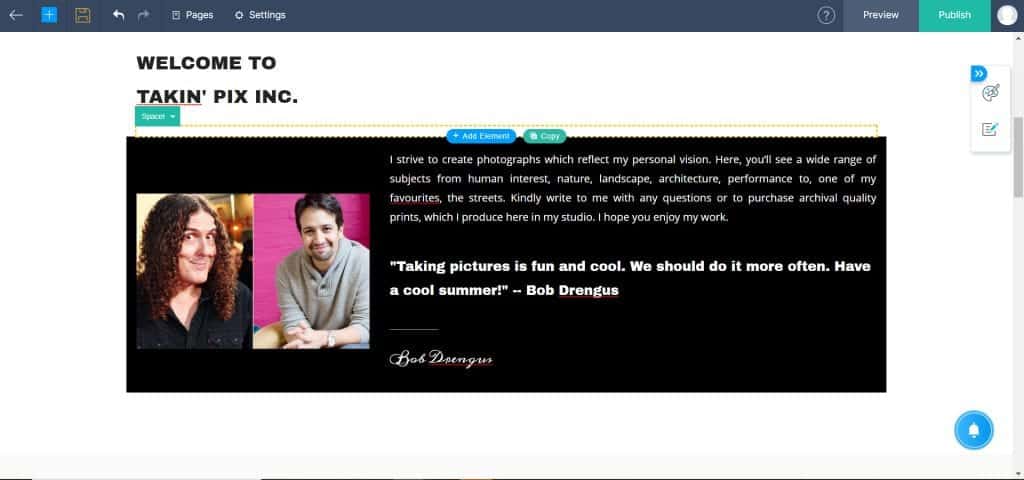 Along the top bar of the editor, you'll find many options and editing features common to most website builders, as you can see in the above image.
Features
Zoho Sites' feature haul is pretty decent, though there are a few missing pieces.
Dashboard: The dashboard is pretty basic — you see the sites you've created along with the option to create a new site (this isn't free!). You'll also see the available account users in the top right corner.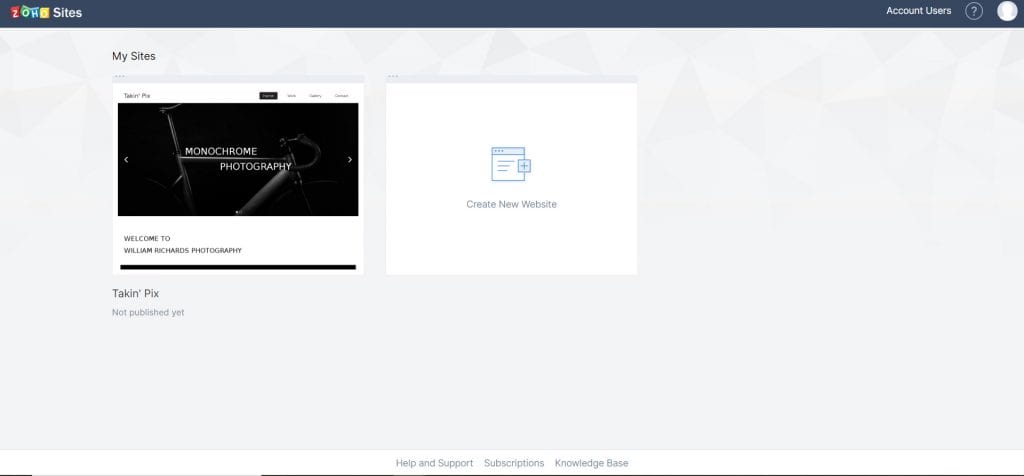 Form Builder: Zoho Sites serves up a form creator the likes of which I'm not sure I've yet seen in a website builder. There are several different pre-designed forms (Satisfaction Survey, Job Application, Membership, Appointment, Volunteer, Contact Us, and Party Invitation), each of which is completely customizable (you can create a form from scratch as well). Once you've added the form to your page, choosing to customize it will open an entirely new page filled with form customization options, so many that it almost feels like a separate piece of software! The options are so plentiful that most users will likely just scratch the surface of the possibilities presented here. But for the business that knows how to use it, the Zoho Sites form builder is an invaluable tool for interfacing with those flighty humans passing in the night who you'd like to transform into your customers. You can even integrate your forms with Zoho CRM if you have a Zoho CRM account. Zoho's cloud-based business software pedigree really shows through here.
Online Store: While Zoho Sites once integrated with PayPal to offer a simple online store, the service no longer offers eCommerce features. Zoho now offers online stores through a separate product, appropriately titled Zoho Commerce.
Blog: Zoho Sites provides a fairly decent blogging tool. Blog posts are put together the same way a page is constructed. Just drag and drop the elements you want into the editor and poof, there's your blog post. You'll also get plenty of options for blog management. You can choose whether to allow comments (moderated or not), add categories and tags, and/or import blog content from your WordPress or Blogger blog. Unfortunately, there's no option to schedule posts in advance or allow for multiple authors.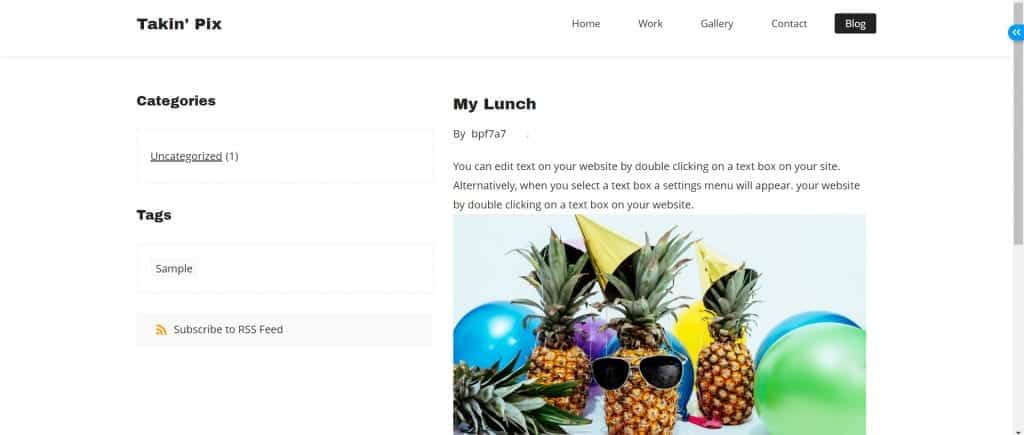 Marketing: In terms of email marketing, you can use the superb form builder to gather information from your site visitors to build an email list. For more advanced marketing functions, you can take advantage of the integration with Zoho MarketingHub, subscriptions for which start at $20/month.
SEO Tools: Zoho Sites connects with Google Analytics, Google Tag Manager, and Bing Webmaster to give you a nice range of SEO options.
Social Media: The Social Share feature gives you customizable social share icons that let your site visitors share your site content on various social media channels — Facebook, Twitter, LinkedIn, Reddit, etc.
Google Maps: As with most modern website builders, Zoho Sites features a customizable Google Maps integration.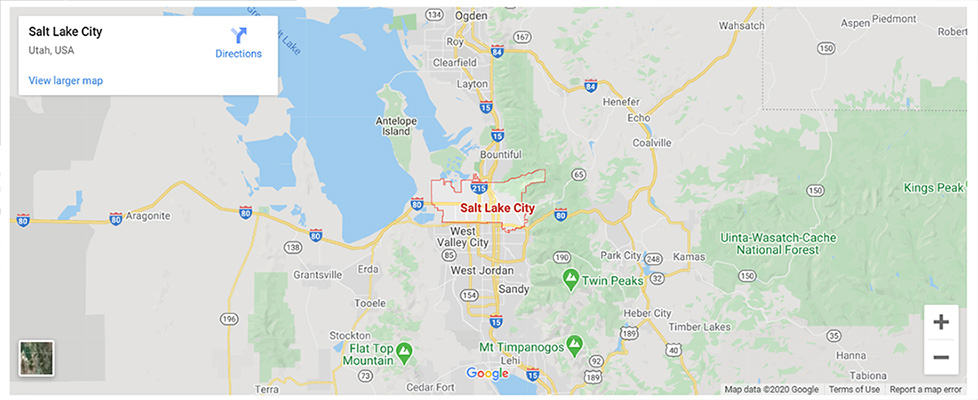 I should note that Zoho Sites previously sported a feature called Dynamic Content, which constituted content you could link to a Zoho Creator database. Whenever you updated the database, the changes would immediately display on your page. Sadly, this feature has been dropped in the new version of Zoho Sites. Combine this with the elimination of eCommerce and one can't help but feel that, feature-wise, the new Zoho Sites is a bit of a downgrade from the old version, even if the editor is a bit more modern. (According to Zoho, Dynamic Content will be released for the new Zoho Sites sometime in the near future.)
Web Design and Editing
Templates
The 43 templates on offer from Zoho Sites are fresh, contemporary, and — crucially — mobile responsive. There isn't a stinker amongst them.

Desktop Editor
As I said in the Ease Of Use section, editing your website is quite intuitive. You can add sections (essentially prearranged blocks of elements) to your site, or you can simply add individual elements as you go.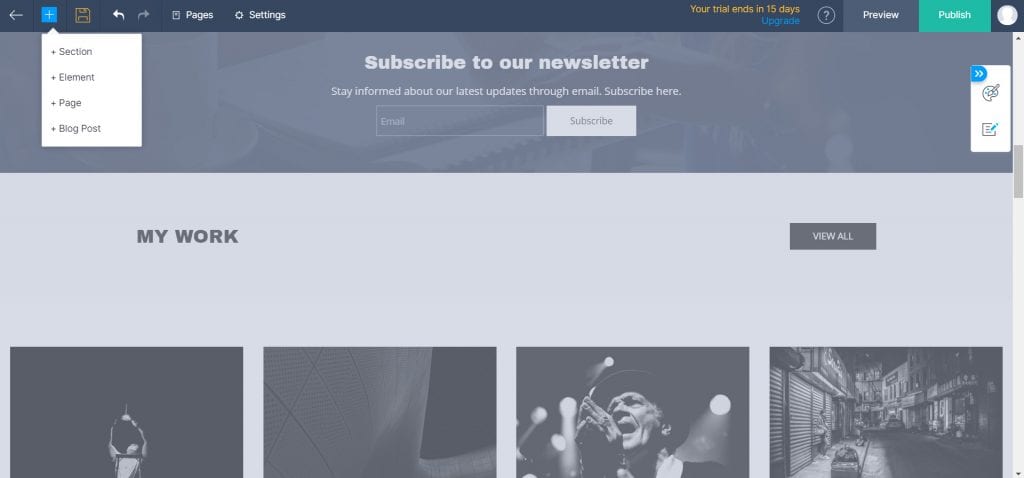 Mobile Responsiveness
All Zoho Sites templates are mobile responsive. The old version of Zoho Sites offered a mix of responsive and non-responsive templates. Well, no more. You won't have to worry about your site displaying poorly on mobile devices.
Integrations & Add-Ons
Zoho Sites doesn't offer a great deal of other third-party integrations. However, Zoho does offer handy integrations with a few other products in the Zoho-verse. If you have a Zoho Bookings account, you can embed a booking page in your site and allow visitors to book appointments with you. There's also a Zoho Forms integration — forms created in Zoho Forms (where you'll have even more flexibility to create forms than in Zoho Sites' native form builder) can be imported into your site.
Other Zoho integrations include Zoho SalesIQ for live chat, Zoho CRM for importing web forms, Zoho PageSense for tracking website metrics and analyzing visitor behavior, and Zoho MarketingHub for marketing automation software.
Security
Zoho Sites offers the following security features standard:
SSL security
Password-protected site download
GDPR compliance
Customer Service & Technical Support
For customer service, Zoho Sites has a set of tutorial videos, a knowledge base and FAQ, a user forum, and email support, which answered my query in a reasonable amount of time. Unfortunately, there's no phone support. All things considered, however, Zoho Sites offers a good customer support package. (Note that the tutorial videos refer to the old editor; Zoho says new videos will be coming soon.)
User Reviews
Negative Reviews & Complaints
Nearly all of the existing reviews of Zoho Sites refer to the old version of the service and thus are of limited relevance. At the same time, user review sites like Trustpilot tend to feature reviews of Zoho as a whole, not the website builder in particular. However, I've found some complaints that remain relevant.
No live customer support: Zoho Sites doesn't offer phone support or live chat.
No eCommerce: As Zoho has separated their Commerce product from Zoho Sites, there is no option for eCommerce.
Buggy Sites: Some customers report Zoho Sites as being buggy to the point of being unusable.
Positive Reviews and Testimonials
Zoho Sites has come in for praise as well.
Easy to use: The Zoho Sites editor has been praised for being user-friendly, especially for beginners.
Advanced forms: Zoho Sites is recognized for offering several methods for advanced form creation.
Integration with other Zoho products: The fact that you can integrate with other products in Zoho's software suite is a big plus.
Zoho (not specifically Zoho Sites, but the parent company) has been well-received by users, though its average score of 2.3 out of 5 by users on Trustpilot is down from where it was a few years ago.
Final Verdict
Though lacking in the pizzazz department, Zoho Sites is a solid website builder whose integrations with other Zoho SaaS products make it quite useful for businesses with significant data management needs. Without eCommerce and with only a few non-Zoho integrations, its appeal is narrower than that of the likes of Wix and Squarespace. For certain data-heavy industries, however, Zoho Sites offers a nice package.
If Zoho were to reintroduce some form of eCommerce to Zoho Sites, expand the number of available integrations, and/or offer some live customer support, I'd consider bumping up the score. But for now: Four stars!
---
The Merchant Maverick Seal of Approval 🏆
Zoho Sites


---
After hours of in-depth research and evaluation, we can confidently recommend this brand to our readers. Get started today and see Zoho Sites for yourself.
The Merchant Maverick Seal of Approval 🏆
Zoho Sites


---
After hours of in-depth research and evaluation, we can confidently recommend this brand to our readers. Get started today and see Zoho Sites for yourself.
To learn more about how we score our reviews, see our
Website Builders Rating Criteria
.