Salesforce VS Zoho CRM
A robust CRM suite that gives you access to analytics and enables communication with clients is a must-have. Our deep dive into Salesforce and Zoho determines which one is best.
Expert Analyst & Reviewer

UPDATED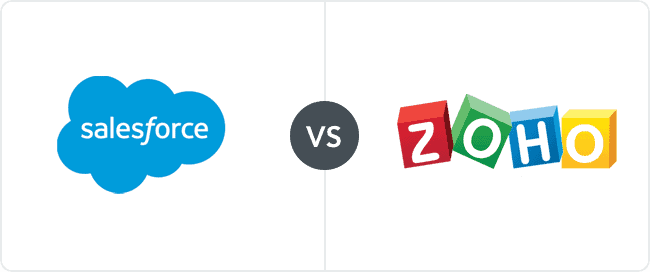 CRM is essential to your business, whether you're focused on new or existing customers. It doesn't matter whether you are just a one- or two-person startup or a rapidly growing sales team: A robust CRM suite that gives you access to analytics and enables communication with clients is a must-have. Today we're taking a look at two major CRM products: Salesforce and Zoho.
Salesforce is unquestionably one of the largest CRM suites out there. It's also an award-winning company, founded in 1999. One of Salesforce's goals is to eliminate the need for software entirely, offering a completely cloud-based solution. We've previously reviewed Salesforce's CRM (also known as Sales Cloud) and given it a 4.5-star rating out of 5.
Zoho CRM dates back to 1996 when it was known as AdventNet. Its first forays into the digital space were not CRM solutions, but enterprise-class network solutions. From there it moved into small business IT solutions and eventually the Zoho Office Suite, before launching its CRM solution. Like Salesforce, Zoho earned 4.5 stars in our previous review.
We like both of these solutions, though for different reasons, as you'll see. But which one is the better choice for you? Let's dig a bit deeper and find out.
Web-Based Or Locally-Installed
Winner: Tie
Here, you'll find both CRM suites are cloud-based with mobile apps available on both iPhone and Android. No surprises there, for sure.
Hardware and Software Requirements
Winner: Tie
While both CRM systems have mobile apps for Android and iOS, neither is a full substitute for a laptop with a real web browser. Thankfully, both of these systems are readily compatible with the latest versions of Internet Explorer, Safari, Firefox, and Chrome.
Also worth mentioning is that Salesforce has actually created several mobile apps over the years. Salesforce Classic is no longer supported, and neither is SF Dashboards. The most recent app is Salesforce1.
With both services, you need either Android 2.2 or iOS 5.0. Zoho claims that its CRM is accessible via a mobile browser, something I can't find any documentation for in Salesforce. But it makes much more sense to use the mobile apps, so we're going to call this a draw.
Specific Size Of Business
Winner: Zoho CRM
Salesforce is a great CRM solution. But as we said in our earlier review, it's also clearly designed with large teams exclusively made up of salespeople in mind. You can certainly adapt it for your needs, but you may find it's overkill.
Zoho, on the other hand, has a great assortment of service plans for all sizes of business (including a free option for three or fewer people, which we'll get into later). The service plans scale appropriately, so as your business, and your team, grows you'll find that you can add the features you need.
Features
Winner: Zoho CRM
Both of these are full-featured CRM suites, so anything you need, you're almost certain to get. We're focusing primarily on the most interesting and unique features of each of these.
Here are two of the most interesting Salesforce features I found (but check out the full breakdown in this PDF):
App Exchange: This is how you find APIs. All the integrations are vetted by Salesforce AND include user reviews, which is very handy.
Chatter: A quasi-social media feature that enables you to follow clients and major events in your feel. You can communicate with one person or with a group.
Interesting features in Zoho include the following (and check out the features comparison here):
Social Media Integration
Zoho's social media integration is available even with free plans and includes Facebook and Twitter. With the highest two plans, you also get additional social media features, such as the ability to capture leads.
Proximity Alerts For Mobile:
This nifty feature built into the mobile app for Zoho is a proximity alert. When you come within range of a client (you set the range yourself), the app can automatically alert you. That's handy if you enjoy stopping in for follow-up visits and strengthening relationships with customers.
Beyond that, let's take a look at some other features and at what service tier they become available:
Features
Zoho
Salesforce
Permissions
Yes – all paid plans
Yes – Professional
Campaigns
Yes – all paid plans
Yes – Professional
Custom Reports
Yes
Yes
Data Storage
Unlimited
1 GB per org
File Storage
512 MB per user
(1 GB for enterprise plans)
612 MB per user
(2 GB for enterprise plans)
Territory Management
Yes – Enterprise
Yes – Enterprise
Also worth noting is the number of custom apps you can use with Salesforce. With the standard plan, you're limited to just one. That jumps to five with the Professional plan, and 10 with the Enterprise plan.
Zoho CRM comes out ahead because it has some features available at its lowest paid tier that Salesforce doesn't enable until the mid-level tier. I also like the social media integration that's available even for free users, given that social media is one of the biggest tools cash-strapped startups and small businesses have.
Pricing
Winner: Zoho CRM
I've already alluded to the fact that Salesforce is largely designed for big teams, and it shows in the pricing structure. You can get a free 30-day trial without a credit card, but the smallest plan starts at $25 per user per month, and you're capped at five users. At $65 per user per month, you can have unlimited members and you'll get more features with each higher tier you choose. The highest service tier maxes out at $300 per user per month.
Zoho, on the other hand, has a free plan for up to three users. After that, plans start at $12 per user per month and go up to $50 per user per month. Your access to features increases at higher plan tiers, but with the basic plan, you get access to mass emailing and campaigns, neither of which is available until you opt for the $65/user/month plan with Salesforce.
I recommend checking out the full breakdown of Salesforce's pricing here as well as Zoho's pricing. I like Zoho's free option for entrepreneurs and the fact that Zoho's highest-tiered plan still costs less than the mid-level plan from Salesforce.
Ease Of Use
Winner: Zoho CRM
Bad news first: Neither Salesforce nor Zoho seems to care too much about proofreading. Zoho's how-tos aren't always the best written, and Salesforce's are riddled with typos. It's understandable, but not necessarily forgivable. (But I'm the sort of person who visibly cringes when I spot misused apostrophes and other misspellings in any sort of business copy.) Both CRM suites showed some technical glitches, as we documented in our earlier reviews of Zoho and Salesforce as well.
Now, for the good news: Salesforce gives you a great array of resources to ease you into using the service. You'll find walkthroughs and videos that should cover most of what you want to know. Zoho has a great splash page when you log in, which helps prevent that initial, overwhelming and all-consuming feeling of "I have no clue what I'm doing." You'll also find a series of walk-through videos to ease you into using Zoho.
Zoho CRM comes out on top because it's a little more friendly to integrated teams where not everyone involved may be a sales representative. You can certainly adapt Salesforce, but why bother when you've got another, more flexible solution readily available?
Integrations & Add-Ons
Winner: Salesforce
Both of these CRM suites have integrations with your standard business fare: email, social media, productivity, project management. I wouldn't worry too much about support with either.
Zoho has a lovely developer API for creating your own integrations, in addition to an extensive existing collection. Salesforce has that as well, plus it can connect you with people who can build something custom for you if you want through its App Exchange.
I'm handing this one to Salesforce because all other things being equal, you have access to user reviews for third-party integrations in the App Exchange.
Customer Service & Technical Support
Winner: Salesforce
With both of these CRM suites, the amount of technical support you get depends on the plan you choose.
Zoho's free plan limits you to an online support portal. However, you can mark the urgency of your case. For paid plans, you also get phone support, available 24 hours a day, Monday through Friday. In addition, Zoho provides several other help resources, including the video walk-throughs we've already mentioned. There is a knowledge base, blogs and forums, webinars, e-books, and more. With higher plans you get more comprehensive support.
With Salesforce's standard plan, your queries are handed to a case manager with a guaranteed response time of two days. You also get access to their online knowledge portal and all of its resources. With higher-tiered plans, you get guaranteed responses within 1-8 hours depending on the severity of the issue. You can also get instant online chat. For a full breakdown of support services by plan, check out this handy PDF.
I recommend checking out our earlier reviews of Salesforce and Zoho for a more detailed account of our experiences.
Security
Winner: Tie
It bears mentioning that in 2007, Salesforce was the victim of a phishing attack that led to many of its customers' information being stolen. Since then, though, Salesforce has upped its security and hasn't had any problems since.
Both CRM suites explain what measures they've taken to secure data, and even prevent interruption of service even in the event of natural disasters. In essence, here's what both services offer:
24/7 monitoring, 365 days a year.
Biometric authentication for employees
Locations engineered to survive fires, earthquakes, and other disasters
Power redundancies
SSL encryptions
With both companies making such efforts to ensure the safety of customers' data, I think you're in good hands either way.
Negative Reviews & Complaints
Winner: Zoho CRM
In general, the biggest issue with Salesforce and Zoho CRM suites are the mobile apps. The Salesforce1 app is rated 3 out of 5 stars across 36 ratings in iTunes, and 3.5 stars across 3,172 ratings in Google Play. Zoho CRM is rated 4 stars over 893 ratings in Google Play, but just 2 stars with 37 ratings in iTunes. There aren't many credible negative reviews of Zoho, and of the ones that do seem credible, we didn't encounter the same issues they did.
One consistently negative complaint about Salesforce is that it is incredibly inflexible. I've also found that some customers have had downtime issues with Salesforce. Downtime is an annoyance at best, and damaging to your business at worst. Salesforce does post information about its system status, but as far as I have found, doesn't offer any sort of uptime guarantee.
Zoho, on the other hand, does offer an up-time guarantee — 99.99 percent based on what I've found in my searches, excluding planned maintenance. Scheduled maintenance is announced well in advance and you can check the status of Zoho CRM here.
Positive Reviews & Testimonials
Winner: Zoho CRM
In general, we've found the positive reviews for Zoho to be enthusiastic and genuine, and helpful. One of Zoho's biggest selling points is the fact that it gives you all the features you would want at an affordable price point. Generally, the positive reviews for Salesforce are less helpful and more terse.
Both Salesforce and Zoho CRM have won numerous awards, particularly in the innovation category. However, Salesforce's awards are somewhat more recent.
Final Verdict
Winner: Zoho CRM
We gave these two apps both an impressive 4.5 stars in our initial reviews. However, Zoho very nearly earned a full five stars, except for a few niggling issues. Both of these are excellent CRM suites, there's no doubt. But I find it very difficult to recommend Salesforce over Zoho for two reasons: it's much more expensive, and it's less flexible. Zoho has everything you need for a CRM suite, and then some, so why pay exponentially more?
Do you have burning questions? Want to know more? Check out our other CRM software reviews or contact us!