Salesforce VS SugarCRM
UPDATED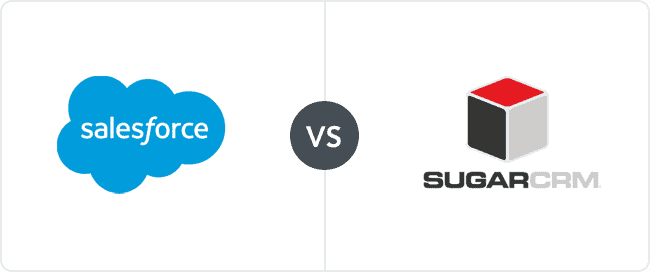 Sugar is at the top of the list for open-source CRM software. As such, they have been able to attract some of the best developers, and have set the bar high for innovation. They are prepared to support the scope of large and enterprise-sized businesses, and even some governmental departments.
Salesforce has been around since the early days of eCommerce, and have a solid position in the global marketplace. They are behind the scenes in many big name brands, and they have earned an impressive list of awards and accolades.
These are two heavy-hitters in the CRM arena, and both have earned high marks in our own Merchant Maverick reviews. To see how they match up in a side-by-side comparison, read our full review.
Features:
Winner: Salesforce
A true CRM can be used for more than just outside sales management, but that is the most common usage for larger businesses. Since a CRM can serve varying needs within different business models, their features can be difficult to compare. Both Sugar and Salesforce are geared for streamlining larger sales teams; they bring the customer, the sales rep, the managers, and the analytics under one umbrella.
It was a close game, but Salesforce came out on top in this comparison. They both excel in Contact Management (as you'd expect from a CRM,) And their Reporting and ability to integrate with other tools are all essential functions of a top-notch CRM. Salesforce inched ahead with slightly better Sales Rep Management, and internal File Management.
Keep in mind that some features may be native to one service, and available as a 3rd party add-on to the other. I based the scores on the user's ease of incorporating the feature into their workflow.
Here's a breakdown of the key feature differences between the products, on our 1-5 scale:
| | | |
| --- | --- | --- |
| Features | Sugar | Salesforce |
| Contact Management | 5 | 5 |
| Sales Management | 5 | 4.5 |
| Performance Management | 3 | 4.5 |
| Email Integration | 5 | 4 |
| File Management | 3.5 | 4.5 |
| Automations | 4 | 5 |
| Customization | 4.5 | 4.5 |
| Reporting | 5 | 5 |
| Social Media Integrations | 5 | 5 |
| API, Integrations, Add-Ons | 5 | 5 |
| Mobile App | 3.5 | 4 |
System Requirements:
Winner: Tie
Both CRMs are offered in SaaS form, so the only requirements are a solid internet connection, and up-to-date web browsers. 

Their mobile apps also have similar requirements. Both iOS and Android systems are supported for the last several years of OS updates. Virtually any Apple or Android smart phone or tablet still on the market should be compatible with the app.
Prices:
Winner: Salesforce…
… but just barely. Pricing is nearly identical for each service. The comparisons are not exactly on a 1:1 ratio, as each price level will likely have similar (but not exact) sets of features.
| | | |
| --- | --- | --- |
| Price | Sugar | Salesforce |
| Free Trial | 7 Days | 30 Days |
| Tier 1 | $30 /user/month, billed annually | $25 /user/month, billed annually |
| Tier 2 | $60 /user/month, billed annually | $65 /user/month, billed annually |
| Tier 3 | $150 /user/month, billed annually | $125 /user/month, billed annually |
| Tier 4 | N/A | $250 /user/month, billed annually |
| Tier 5 | N/A | $300 /user/month, billed annually |
Salesforce broadens their scope in the top pricing plan, as they incorporate another service they offer called their "Service Cloud." This is a set of tools in the Help Desk category, which does not apply in this CRM review.
Considering the relevant data, Salesforce still comes out on top, though not by much. Their prices are commensurate with the features included in each tier (with Salesforce squeaking out a marginal advantage,) but they do offer a much more generous trial period.
Contract Length and Early Termination Fee:
Winner: Sugar
Each service has a contract term of one year. However, a close examination of the Terms and Conditions for each service is where they differentiate. 

The SugarCRM ToS does not specify anything about early cancellation of a contract, nor any fees incurred for doing so. It also does mot mention anything about a refund based on the remainder of your service at the time of cancellation. This is not to say that there is not such provision, but its commission on the ToS seems to favor the user. 

The Salesforce ToS seems much more thorough on the subject, even if the legalese is not terribly accessible. From what I gather, Salesforce only permits early cancellation (and pro-rated refund) if they themselves have breached the terms of the contract, and failed to rectify the situation within 30 days.
Sales and Advertising Transparency:
Winner: Tie
For both services, it is easy to find detailed comparisons of their pricing plans, along with the exact features offered at each level. Any additional fees are marked in a footnote, and any 3rd party add-ons are also clearly marked with their associated fees.
Customer Service and Technical Support:
Winner: Salesforce
The Team at Sugar seemed surprisingly uninformed and all too eager to pass me along the chain, never really answering my simple question.
Salesforce was much better, but I still had a few grunts of disapproval. Their response time in regards to a technical inquiry was acceptable, and the replies were brief, informative, and professional. They do confess to offering better service with higher subscription plans, however, which I take exception to. I expect to get the same level of service no matter how large my company is, unless I am specifically paying more for a premium etch support package.
Here are the means of contact that Sugar CRM provides:
Phone: 1-877-842-7276
Knowledge Base and Web Ticket Portal
Global phone and email directory
The initial modes of communication for Salesforce are.
Phone: 1-800 NO SOFTWARE, or 1-800 667-6389
Knowledge Base and Documentation
Prospective Customer Support webpage
Negative Reviews and Complaints:
Winner: Tie
The majority of feedback for both services was in relation to the mobile apps they provide.
Sugar had several obsolete versions of their app still available for download. As a new user, I was unsure if they served unique purposes, or if they were just there my neglect. Most developers will overwrite their previous versions of software with aches and updates, but it seems that Sugar had a faltering step as they launched their mobile app. Several distinct apps now litter the App Store and Google Play Store, and they even have developmental overlap, but only one is still supported. And that one supported app had middling reviews, with users complaining about a variety of crashes, glitches, and bugs.
Salesforce has a virtually identical story. Three version of the app are available, only one is still supported, and it also has middling reviews (consistently rated 3 stars or less, out of 5.) Users report that each update is a significant step in the right direction, though the expected quality just isn't there.
Positive Reviews and Testimonials:
Winner: Salesforce
At this point in the review, I'm sure you're sensing a trend. Once again, I feel that Salesforce has narrowly edged out Sugar.
Sugar had absolutely glowing reviews, praising them for their powerful integrations with the ubiquitous Google Apps suite.
Salesforce had equally glowing reviews, but the comments spanned a much wider field. They praised Salesforce in a more general sense, with the thematic subtext of farther-reaching business potential.
Final Verdict:
Winner: Salesforce
Originally, we gave Sugar a 4-star review and Salesforce 4.5 stars when reviewed on their own merits. A side-by-side review has them marked at exactly the same place. 

Both services are top notch, so while Salesforce may have scored slightly better, both are excellent pieces of software. I can comfortably presume that Sugar will be a better fit for many business models, even if Salesforce is a better product overall. Business needs are subjective, because no two businesses are identical.