Selz VS Wazala
Founder

UPDATED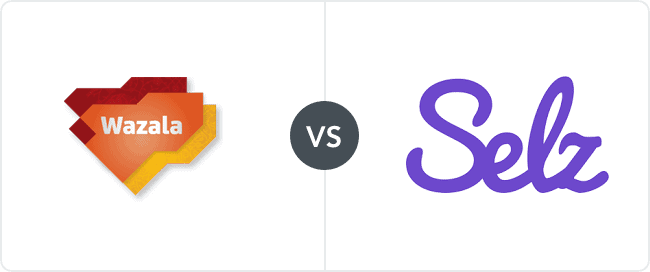 As of June 30, 2022, Selz will be closing operations, and customers will no longer be able to access the Selz site. Take a look at our list of shopping cart software reviews to learn about other options that might work for your business.
If you plan to sell a few items online or offer digital downloads through your website or Facebook page, feature-flooded shopping carts may be more than you need. If you don't want to take the time to set up a completely new online store you have options: Selz and Wazala allow you to sell physical and digital products on websites, blogs, or social media pages by embedding simple "buy now" buttons.
Australian-based startup Selz launched in 2013. You'll want to know off the bat that in addition to its shopping cart functionality, Selz acts as a payment processor. Instead of integrating with a third-party option like PayPal, Selz charges a transaction fee for each completed order, then pays out earnings to merchants each week.
Los Angeles-based Wazala began supporting the sale of digital and physical goods in 2010, and like Selz the very simple shopping cart lets anyone post items online, regardless of programming skill level. Wazala allows you to create a separate store page in your website or opt for an overlay widget that hovers above your site's darkened screen.
Selz and Wazala both claim to be easy to use and full of (just enough) helpful features. Each platform lets you sell goods on your own blog, website, or Facebook business page, or create a simple store.
But how do they compare? Read on to see which shopping cart has the edge.
If you don't have time to read a full article, take a look at our top rated eCommerce solutions for a few quick recommendations. Every option we present here offers excellent customer support, superb web templates, and easy-to-use software, all for a reasonable price.
Web-Hosted or Licensed:
Both Selz and Wazala are fully web-hosted, cloud-based solutions.
Hardware and Software Requirements:
Since Selz and Wazala are web-hosted, you'll only need a browser (Chrome, Safari, Firefox) with secure Internet access to create and operate your store. Keep in mind that it's always a good idea to use the most recent software and keep current on updates.
Pricing:
Winner: Tie
Selz and Wazala approach pricing very differently, and therefore the winner of the pricing category depends on your preference. Instead of paying a monthly shopping cart bill and giving a percentage of sales to a third-party payment processor, Selz serves as a payment processor and cart that takes a cut only when you make a sale. Selz's commission-based rate is 5% + $0.25 per transaction. That means if you complete a $100 sale Selz will keep $5.25. See our complete Selz review for more details about how Selz pricing works and compares to processors like PayPal.
Like most other web-hosted shopping carts, Wazala assumes you'll integrate your cart with a third-party payment processor. You'll pay Wazala a monthly hosting fee after deciding on the Small, Medium or Large plan, priced from $16 to $64 per month. Click here to view details about Wazala's fees.
Ease of Use:
Winner: Selz
While Selz and Wazala are each easy to learn and operate and require zero programming skills, I've never test driven a shopping cart that's more simple to navigate than Selz: It's as far from a technical open source cart as you're going to get, and is less complicated (and less powerful) than web-based carts like Shopify. As mentioned above, since Selz is a much simpler program than full-out shopping carts that come with a ton of features, it's a best fit for small vendors looking for an easy way to sell items via social pages or on an existing website.
Selz walks you through the set-up process, which basically involves tweaking settings and colors, adding images and a store description, and loading products. When you create a new product page there are options for setting items at a fixed price or fluid price that is determined by the buyer.
It's also very simple to build a store with Wazala, with an easy to use product editor in an admin that's carved into six sections: builder, manager, promoter, orders, customers, and dashboard. I like a lot about Wazala's admin, although I found it slightly less elegant and intuitive than the backend Selz has rolled out. I didn't find Wazala's reporting tools to be especially helpful and think it makes more sense to just offer users Google Analytics or nothing, but that's just my opinion.
Product Features:
Winner: Wazala
Out of the box, Wazala gives you the ability to offer discount codes, track inventory, and access a social media promotion tool. Multiple languages are supported and stores that are live on a website, blog, and Facebook business page are maintained from a single admin that's updated in real time.
You'll be able to sell digital or physical items by creating a unique page on your website or integrating a pop-over widget that hovers over your website after a buyer clicks on a shopping cart icon. You can also sell on a Facebook business page or simply make a standalone Wazala store with its own URL.
Wazala's auto-generated SEO leaves room for improvement (you can add product keywords but that's about all.) Selz also populates SEO fields, but the cart deemphasizes optimization. That's because it's marketed to musicians, artists, and writers who already (theoretically) have a loyal social media following. Fans, in turn, will further promote products.
Wazala generates low inventory alerts and its shipping tools allow items to be calculated by number, order, or weight. Selz, on the other hand, requires that you determine a fixed flat rate for packages shipping internationally or domestically. Wazala may not support real-time shipping or other advanced extras, but it wins hands-down in the shipping department.
Like Wazala, Selz allows you to integrate in-page "buy now" buttons or widgets that can be embedded in websites and social media pages. A WordPress widget is also offered that makes it easy for WP bloggers to integrate the cart. I like several of Selz's features: It just launched discount codes and allows you to offer lessons and consulting sessions. In addition, Selz supports free downloads and its "pay what you want" option will be attractive to fledgling artists. Plus, digital products can include video or audio previews.
But overall, in my opinion Wazala offers a broader range of out of the box features that are more appealing to a general group of merchants, not just creatives. Read more details about features for Wazala here and Selz here.
Confused or overwhelmed by your options? If you need help sifting through shopping cart software we're here to help. Check out Merchant Maverick's consulting services.
Web Design:
Winner: Wazala
Most shopping carts offer a variety of themes to help define the look and feel of your store. But while Selz and Wazala can support simple, stand-alone shops, the carts are best at integrating into your website, blog, or social media page. What you get out of the box with Selz can't be modified beyond switching up colors and images.
While Wazala is a far cry from carts that let you dip into code to make serious customizations, you will find more design flexibility. In addition to colors and images, you can choose from various column structures, a shortlist of fonts, and a few wallpaper backgrounds. Wazala allows you to upload a wallpaper image directly from your Flickr account, as well.
Integrations and Add-Ons:
Winner: Selz
Since Selz and Wazala are new and still emerging, neither cart supports a very broad range of extras, although more add-ons are possible down the road. And since many users simply integrate stores on Facebook businesses pages or websites there isn't as much of a need for a wide suite of additional third-party features. At last check, Selz integrates with Google Analytics and a few newsletter marketing services including MailChimp and Campaign Monitor. Wazala only offers a Google Analytics integration.
Payment Processing:
Winner: Tie
Selz and Wazala both take completely different angles when it comes to payment processing. As mentioned in "pricing" above, Selz operates as a payment processor that takes a cut of the sale (5% + $0.25 per transaction) after an order is completed.
When you sign up for a typical merchant account you'll first go through an application process. But with Selz you won't have to apply for a merchant account or sign up with an additional third-party processor to start selling. You'll be paid out via PayPal on Fridays for orders sold during the previous week unless you live in Australia, where the cart is based. In that instance funds can be transferred directly into a bank account. Keep in mind that orders placed at the beginning of the week may take as long as two weeks to process and appear in your account.
Selz only allows customers to purchase items using Visa or Mastercard, which is a real weak spot since a lot of buyers would prefer more options, especially American Express and PayPal.
Wazala also has pluses and minuses in the payment processing department. It's structured like many shopping carts to integrate with third-party gateways, but the number of processors it supports is limited to PayMill, Stripe, Authorize.net, and PayPal. On the plus side, Wazala supports multiple currencies and payments via credit card, wire transfer, or COD.
If you need help navigating the world of payment processors, check out our Merchant Account Comparison page or contact us for a consultation.
Customer Service and Technical Support:
Winner: Selz
You won't find a lot of documentation for Selz or Wazala, but overall Selz offers more ways to reach out, including a phone number to speak with staff (although you'll be calling Sydney long distance,) chat, and a help center. My email queries were responded to quickly and clearly. You'll also be able to contact members of the Selz team via Facebook and Twitter.
Wazala offers no live chat or phone support (see this sparse contact page with no listed office hours) and pretty much leaves you to navigate articles in the help desk for answers to questions. You can reach out to Wazala via Facebook and Twitter.
Negative Reviews and Complaints:
Winner: Selz
Since Selz and Wazala are both new shopping carts there aren't many positive or negative reviews floating around the web just yet. But after hours of research and testing I was able to gather a list of underwhelming aspects of both carts. Neither comes with real-time shipping or one-page checkout. Both offer limited customer service and limited SEO.
While Selz only offers a handful of integrations, Wazala just supports Google Analytics. But Wazala's lack of customer support (beyond a few articles) is weaker than Selz. I also don't like that you have to submit credit card info to begin Wazala's 15-Day trial.
If you want to search for user complaints about Selz or Wazala, be sure to Google Selz/Wazala reviews, Selz/Wazala complaints, Selz/Wazala comments, Selz/Wazala scam, Selz/Wazala testimonials, etc.
Positive Reviews and Testimonials:
Winner: Wazala
Wazala and Selz are both fast to set up and easy to use, although I was especially impressed by how quickly I was able to get started in the Selz admin and had no need to access documentation. I also like some of Selz's features, including the ability to offer discount codes, upload YouTube or Vimeo videos to products, enable a "pay what you wish" button, and offer lessons or business consulting services.
I found Wazala to be simple, quick, and seamless to integrate into more than one online presence at a time, including blogs, websites, and social media pages. Overall, in my opinion, Wazala is more feature-rich, with a setting that lets buyers share products (without the need to authorize an app on Facebook) and offer coupon codes on all but the Small plan. Those extras give Wazala the narrow win.
Final Verdict:
Winner: Wazala
Selz is a solid option for bands, writers, and small businesses that have created a strong social media presence that can be converted to paying customers. It couldn't be any easier to use and only takes a cut when an item is sold. There are no monthly plans and no need to sign up with a payment processor. If that model appeals to you and its negatives (including few integrations, the lack of ability to customize a theme, weak SEO) aren't deal breakers then I would recommend Selz.
Wazala is a contender for individuals or businesses working in a broad range of specialties, be it e-books, t-shirts, or bike parts. You'll pay a monthly fee and sign up with a payment processor as a Wazala customer. Compared to Selz, you'll be better able to predict monthly expenses since your plan's price is constant. And your transactions will be processed by an established third-party processor such as PayPal. Overall, Wazala is more feature rich, offering multi-currency support, better customer service options, and a handful of marketing extensions.
Ready to check out both carts and see if either clicks? Register with Selz and try Wazala for 15 days to learn if either is a good fit for your business.