How To Open A Merchant Account In 7 Steps
Need a trustworthy merchant account for credit card processing? In this article, we'll show you what to look for and how to set up a merchant account for credit card payments that is the right fit for your business.
Expert Analyst & Reviewer

UPDATED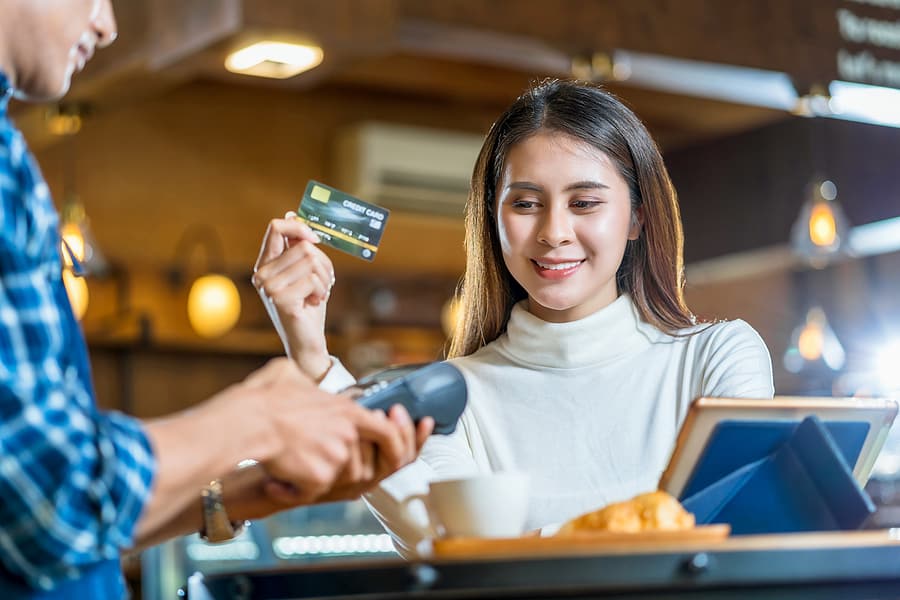 These days, business owners no longer have the option to go without ways to process credit and debit card transactions. Even if you happen to run a physical, brick-and-mortar business, customers more often than not will choose to pay with a card rather than cash.
So, what's a business owner like yourself to do? Simple: you apply for and open a merchant account!
This article will dive into the process of setting up a merchant account, how to know if your business is ready to apply for and open a merchant account, and the paperwork and costs associated with opening one.
Why Do You Need A Merchant Account?
Businesses like yours need merchant account providers, whether that provider is a bank or a company that specializes in merchant services, to let them accept credit card payments. Business owners who can process card payments can boost their sales and gain more customers, but they can't accept those payments on their own. Merchant accounts from a merchant services provider are necessary to accept payments that customers make with their credit cards.
Learn More About Business Merchant Accounts & Payment Processing
As a small business owner, you deserve a merchant account from a provider that offers reasonable costs and contract terms as well as good customer service. Although the definition of a merchant account is pretty straightforward, there's a lot of information that you need to process before you can settle on the best merchant account provider for your business.
If you want to dig a bit deeper into the world of merchant accounts and its commonly used terms, we have some resources to get you caught up to speed:
How Hard Is It To Get A Merchant Account?
Getting a merchant account is easier these days than ever before. Businesses don't usually have trouble satisfying the requirements to obtain a merchant account. Although some businesses in high-risk industries may have trouble finding a merchant account provider, most businesses won't struggle at all if they need a merchant account.
Requirements For A Merchant Account
Before you can apply for and gain access to a merchant account, you'll want to know about the requirements to obtain one. Each merchant account provider tends to have different requirements that merchants need to follow, but these requirements all have one thing in common: they exist to help you prove the legitimacy and legality of the business you run.
Generally speaking, the requirements for a merchant account that you'll need to adhere to are as follows:
Business Bank Account: You need a business bank account that's separate from your personal account to prove the legitimacy of your business. Pretty much every merchant account provider will require that you maintain a business account, so pick a bank that suits your needs and make sure your account always has enough funds in it.
Bank Statements: Merchant account providers will also ask for financial statements that demonstrate consistent financial competence. You should prepare to furnish bank statements that go at least two or more years back. It's not a bad idea to include processing statements in your merchant account application as well, since these showcase the volume of customer transactions you process on a month-to-month and year-to-year basis.
Employer Identification Number: Your employer identification number (EIN) is similar to your social security number, in that you need it to file taxes as a business owner. If you don't have an EIN, you'll need to apply for one as soon as possible through the IRS so that you can use it on your tax and legal forms.
Business Address: You need a physical address for your business so that you can receive mailed forms. A physical address is especially important for business owners running a brick-and-mortar operation since it indicates to merchant account providers where your place of business is physically located.
PCI Compliance: PCI compliance refers to the standards that the Payment Card Industry maintains for the sake of keeping sensitive consumer data secure. Businesses like yours need to abide by PCI compliance standards whenever they process customer information — some merchant account providers provide tools to help with the process, while others will simply charge you a fee if you don't remember to fill out your annual paperwork.
Articles Of Incorporation: Articles of incorporation provide proof to the government that you've incorporated your business. These articles are physical proof from your local jurisdiction that your business is allowed to legally operate as an LLC, sole proprietorship, partnership, corporation, or cooperative.
How Much Does Setting Up A Merchant Account Cost?
Some merchant account providers charge businesses a one-time merchant account setup or application fee to create a merchant account. In addition to this setup/application fee, make sure to ask your merchant account provider about additional fees included in their contract. Credit card processing fees can be complex, and many processors try to oversimplify the numbers to make their rates seem attractive. A thorough breakdown of fees is always preferable, even if some of the costs may be very small or incidental. A ball-park guess of the charges you may expect to see include:
PCI compliance security fees (typically up to $100 per year)
Monthly account fees (flat fee of approx. $20/month)
Batch fees ($0.20 per batch)
Software fees (varies)
Add-on reporting fees (varies)
Payment gateway or related online eCommerce fees ($0.05 to $0.10 per transaction)
Fee for not reaching minimum transactions for the month ($25)
How To Open A Merchant Account In 7 Simple Steps
There are plenty of things you need to consider before you set up a merchant account that's best for your business. If you're ready to get a merchant account but aren't sure where to start, then you're in the right place: below are seven simple steps to follow to open an account with a reputable provider.
1. Prepare Your Business
You'll need to have your ducks in a row, so to speak, before you can consider yourself ready to apply for a merchant account. Prepare your business by ensuring that you have a working website that is publicly accessible, an official physical address for your business to which mailed forms can be sent, as well as an EIN that you can use on your business's financial, tax-related, and legal forms.
2. Determine Your Payment Processing Needs
The whole point of applying for a merchant account is to become able to accept cashless payments. Do you plan on just accepting debit and credit card payments in person, or are you a largely eCommerce-based business that needs to accept cryptocurrency payments and/or ACH payments? Your processing needs will largely depend on whether you maintain an online, in-person, or omni-channel business, so it's important to understand your payment processing needs long before you apply for a merchant account.
3. Research & Choose A Merchant Account Provider
When narrowing down your options for a merchant account provider, don't just choose the first provider who sends their sales reps to your storefront or shoots you a nice introduction email. It's important that you thoroughly research different providers so that you can choose the one that best suits you based on your industry type, payment processing preferences, and financial history. Our free eBook, The Beginner's Guide To Credit Card Processing, can help walk you through the basics of the finding a good merchant account provider.
4. Submit Your Merchant Account Application
It wasn't that long ago that the merchant account application process required you to physically submit pieces of information, such as your credit score, financial statements, and business license, to name a few. Thankfully, most merchant account application processes can be completed digitally in just a few minutes. Typically, you'll simply need to visit a provider's website, select the kind of payment processing services your business requires from that provider, and submit the supporting documents that a provider requires.
Information To Provide With Your Application
The volume of payments you process on a monthly/yearly basis
Your industry type
The types of customer payments you process
The services and/or products you sell
General business information (EIN, articles of incorporation, business license)
5. Provide Supporting Documents
Your merchant account application will more than likely also ask for more specific documentation. This information is essential to merchant account providers as well as their supporting banks since it demonstrates your financial competence over a certain period. It also provides proof that your business has the green light to operate in its local jurisdiction and is considered a legal business in the eyes of state-level authorities, as well as, the federal government. If, for whatever reason, a provider comes back with a request for additional information not requested during the application process, do your best to furnish the new information they're requesting and immediately notify them in the event you don't possess whatever documentation they're asking for.
Supporting documentation required by most providers may include:
Income statements
Balance sheets
Cash flow statements
Records of previously processed card transactions
Business plans
Marketing materials
Voided checks
6. Review Your Merchant Account Terms & Sign Agreement
You must read and understand your merchant agreement and its sections that disclose fees.
Need assistance navigating your merchant agreement? Read our article How To Read, Understand, & Successfully Negotiate A Merchant Agreement For Your Small Business. Many merchants unwittingly get locked into auto-renewing contracts that include hefty fees for equipment leases. If you feel pressured or rushed to sign on the dotted line, we suggest pulling back and taking your time. Do you see something you don't like? Negotiate! After you've hopefully negotiated away any cancellation fees, should there be any, make sure your new terms are included in your contract before you sign (and don't forget to keep a copy of your contract for yourself).
Additionally, make sure that your account provider offers transparent fees and flexible terms as well as a variety of card readers and hardware options, depending on your payment processing needs.
7. Set Up Your Merchant Account Software & Hardware
The best merchant account providers provide self-service tools and strong onboarding support to help you take your first sale as soon as possible. Since your merchant account is likely cloud-based, you probably won't have to download anything, although you may need to check compatibility options with software that lets you set up things like inventory management and customer databases as well as compatibility with any devices you intend to use before you can set up and use your equipment. Keep in mind that most solutions are built with ease of use in mind nowadays and have a built-in onboarding process for setting up credit card terminals, payment gateways, and other hardware. If you are setting up a shopping cart/payment gateway solution, you'll likely use a provider's in-house, proprietary solution or a plugin to make taking your first sale easy.
3 Tips For Finding A Great Merchant Account Provider
Selecting a merchant account provider that's best for you and your business isn't exactly a straightforward process. Keep the below tips in mind to find a great merchant account provider that you can rely on for the long-term:
Hardware & Software That Meets Your Business Needs: No matter what kind of business you run, you'll need equipment to process your sales. Even a purely eCommerce venture is still going to need some hardware – even if it's just your laptop. Your provider should ideally offer you hardware that includes wired credit card terminals (which are great at supporting newer features such as contactless payments that use near-field communications such as Apple Pay, Samsung Pay, and Android Pay) as well as wireless terminals and POS systems. In terms of software, you'll more than likely want to make use of virtual terminals to process card transactions via your computer as well as payment gateways that let customers make their payments with a bank or merchant account provider that can process their transaction.
Reasonable & Transparent Fees: Merchant accounts don't come cheap. In addition to the processing rates you'll have to pay on each transaction, your merchant account provider will also charge you a variety of one-time, monthly, and annual fees so that you can hold on to your account without losing it. As you evaluate your options for providers, you'll want to look for reasonable and transparent account setup/application fees, monthly/annual fees, monthly minimum fees, PCI compliance fees, statement fees, early termination fees, and chargeback fees.
Understandable Processing Rates: The processing rate refers to the percentage of a transaction that you must pay to your account provider in exchange for processing transactions. These rates can be confusing, especially since processors only keep a portion of what they charge you for themselves. You need to pay fees (otherwise known as the interchange) to a credit card association (i.e., Visa, Mastercard, etc.) as well as to the bank that issued the card used during a transaction — the remaining amount goes to the processor. Make sure that the merchant account provider you choose maintains understandable processing rates by using fair and transparent pricing models such as interchange-plus pricing models, tiered pricing models, and flat-rate pricing models.
How To Keep Your Merchant Account In Good Standing
We'd be remiss if we didn't offer you a few ways to keep your merchant account in good standing once you get approved. It's important to follow the steps below to demonstrate transparency to your account provider as you continue to work with them:
Give Your Descriptor A Test Run: Your descriptor is what appears on the card statements of your customers who process transactions with you. Your descriptor should make it easy for customers to verify charges and should match the receipt your customers receive for the products and services they purchase from you. Testing your descriptor is an easy way to keep your chargebacks to a minimum, so run a few dummy transactions when you first open your merchant account with your own card to make sure it's the same as what your customers are seeing.
Keep An Eye On Chargebacks: Speaking of chargebacks, the higher your chargeback ratio is, the bigger the hit your merchant account takes. If you're worried that you're at risk of accruing chargebacks (typically because of your business and/or industry type), consider signing up with a chargeback monitoring service that can monitor your merchant account ID and flag chargeback attempts. You want to keep your chargeback ratio as low as possible to remain in good standing with your merchant account provider.
Inform Your Provider Of Changes To Your Products And Services: Your merchant account provider will require that you use your merchant account ID only for approved products whose price points align with the prices you list on your website. If you decide to change, add, or remove any products or services that you offer for sale, you should immediately notify your merchant account provider to avoid being placed on the Terminated Merchant File (TMF).
Monitor Your Bank Balance: Generally speaking, you should aim to keep your bank balance amount at 10% of your provider's monthly approved volume. Doing so makes it easier for you to account for any chargebacks or fees that you accrue during the lifetime of your account. It's also recommended that you keep an eye on the daily deposits that go into your account so that you can flag any issues with your deposits that you notice — this is much easier to do with new deposits as opposed to ones that occurred some time ago.
Take The Next Steps To Set Up A Merchant Account
We wish we could tell you there was a shortcut to an instant one-size-fits-all answer for your business when it comes to merchant accounts, but that simply isn't possible. That's because every business model needs specific solutions, and some account providers are better at providing those solutions than others.
So, start with what you need, but keep in mind where you're going, too. When your business grows, you'll want a merchant account provider that offers the tools to support you along the way. Plus, once you understand the basics of fees and rates, you can say goodbye to frustration and feel confident if you need to negotiate better contractual terms or go elsewhere if you feel like you're going to be overpaying.
With the resources we've included in this post, we think you'll be more than ready to find the right merchant account provider for your business. Want to learn more about payment processing as you begin evaluating your options for account providers?
Check out our list of the 11 Cheapest Credit Card Processing Companies That Will Save Your Business Money.