Shopify Plus VS BigCommerce Enterprise
Contributor

UPDATED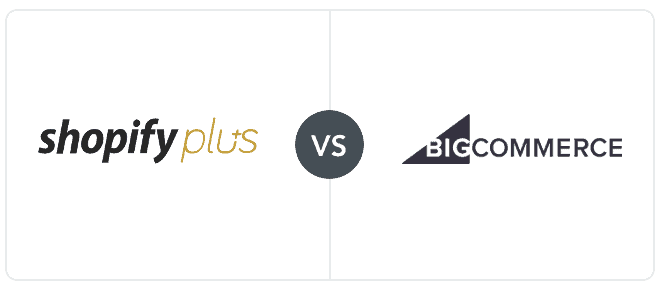 Shopify and BigCommerce are two powerful contenders in the eCommerce market, offering platforms with robust features, mobile responsive designs, and reliable customer support. They also happen to be two of the shopping carts that we recommend most often here at Merchant Maverick.
So, when we found out that both companies now offer enterprise solutions for high volume businesses, we decided to take an in-depth look at the two premium plans: Shopify Plus and BigCommerce Enterprise.
Shopify hosts over 500,000 stores that have generated $46 billion in sales, and Shopify Plus (see our review) serves some of Shopify's most prestigious users. Current clients include Bombas, Death Wish Coffee, and Leesa. These companies benefit from Shopify Plus's unlimited bandwidth, reliable uptime, and priority customer service, including a dedicated Merchant Sales Manager.
Though BigCommerce Enterprise (BC Enterprise) (see our review) has only been around for one year, they also already have several commercial clients on board, like Toyota and Gibson. With features like filtered search and one-page checkout, BC Enterprise boasts the ability to convert your browsers into buyers.
Shopify Plus and BC Enterprise have a lot to offer businesses that make over $1 million in revenue a year. While these two shopping carts have many excellent features in common, we have found specific advantages and disadvantages to each platform.
Keep reading to see how Shopify Plus and BC Enterprise compare in terms of web design, customer support, and integrations.
Web-Hosted Or Licensed
Both Shopify Plus and BC Enterprise are SaaS (pronounced "sass"), which stands for Software as a Service. As such, they are fully-hosted cloud-based software.
Hardware & Software Requirements
Because both software are cloud-based, the only requirements for operating either are a computer, a good internet connection, and an updated web browser.
Pricing
Winner: Tie
Pricing is tricky for enterprise shopping carts because costs vary from merchant to merchant. While sales representatives have been very careful to not give me any sort of definitive pricing range, I have discovered that Shopify Plus's pricing begins at $2,000/month and BC Enterprise's around $1,000/month.
But please, call both companies for yourself. The sales reps will ask about the size and needs of your business, and then they'll take you through what pricing will be for your store.
Ease Of Use
Winner: Tie
The dashboards for Shopify Plus and BC Enterprise are identical to those used by the basic Shopify and BigCommerce plans respectively.
That said, both software programs are remarkably easy to use in comparison to the rest of the market.
Shopify's dashboard is one of the simplest I've seen.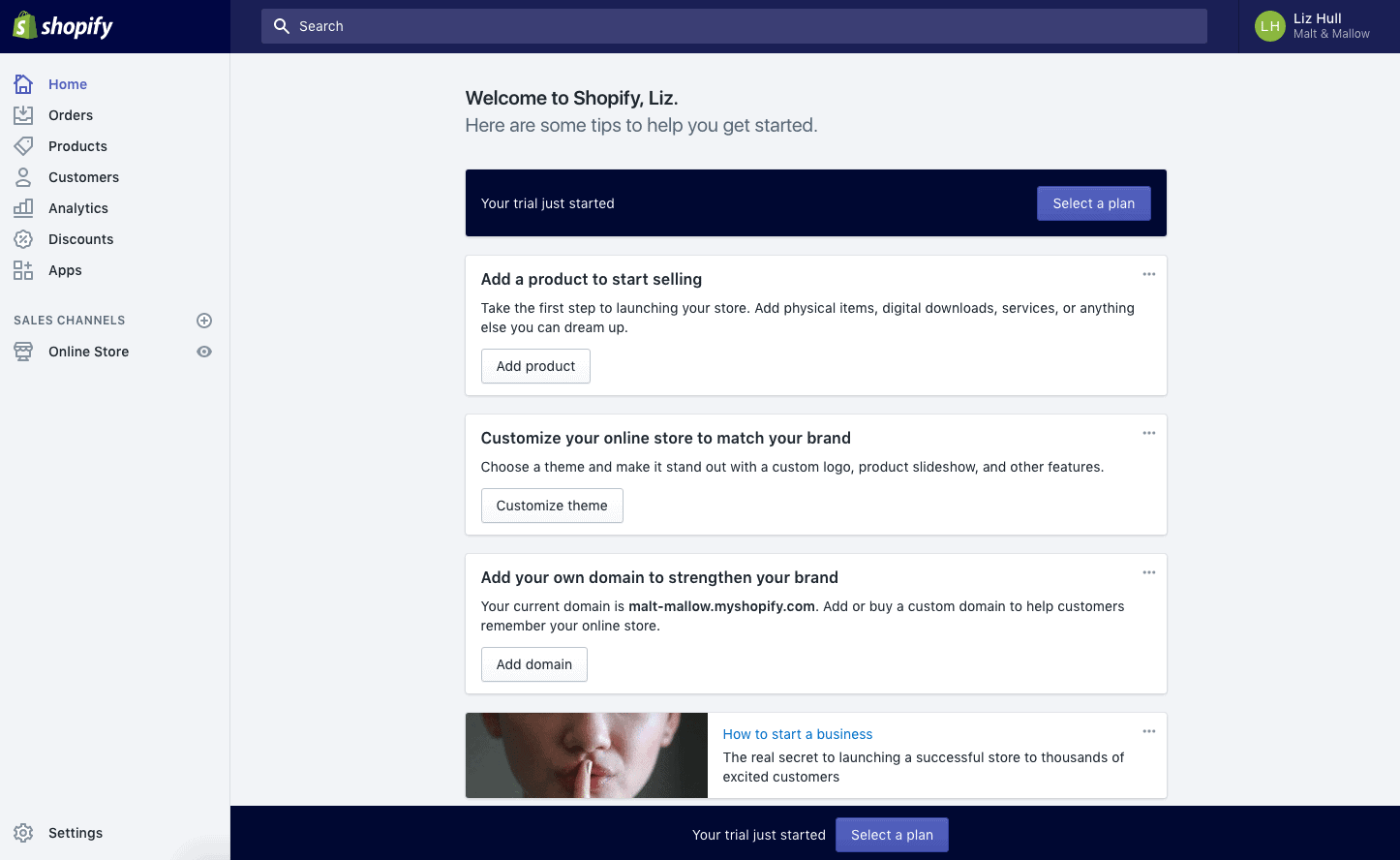 It's easy to find everything you're looking for in the sidebar to the left. Adding products, checking reports, and editing themes is a breeze.
One thing you might note: Shopify uses its own coding language, Liquid. While I can imagine that learning a new language is frustrating for some developers, I haven't seen any complaints about it online.
As much as I love Shopify's dashboard, I cannot dub it "better" than that of BigCommerce because BigCommerce is equally easy to use. Take a look at the main page of BigCommerce's Admin.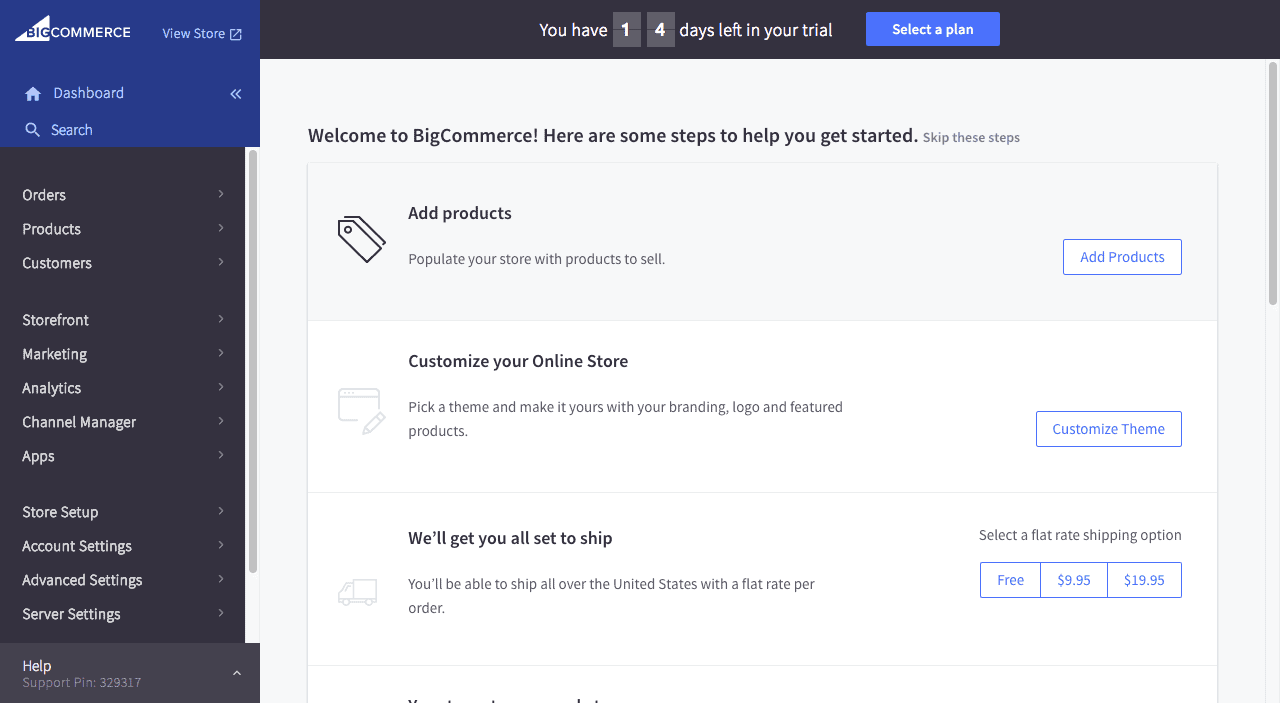 BigCommerce comes with loads of features out of the box, and using them is fairly simple. If you can work WordPress, or heck, even Facebook, you can use most of BigCommerce's Admin.
In the past, BigCommerce has been criticized for some aspects of its theme editor (you had to edit the source code in order to change theme colors). However, BigCommerce has since added the Stencil theme editor, which simplifies a lot of that process. With Stencil, it's easy to change the colors of your banners, backgrounds, and text. A WYSIWYG (what you see is what you get) editor enables merchants to update content from the admin, though larger changes still require adjustment at the source code level (HTML/CSS).
Overall, ease of use is pretty much equal for these two competitors. Fortunately, both carts offer free trials, no credit cards or commitments required. I recommend trying them out; you have nothing to lose, and you may find that you prefer one over the other.
Why not sign up for both Shopify's 14-Day Trial and BigCommerce's 15-Day Trial?
Features
Winner: BigCommerce Enterprise
Shopify Plus and BC Enterprise both offer a truly impressive range of features. They advertise 99.9% uptime, unlimited bandwidth, and scalability: all three of which will keep your high volume, high traffic store from crashing at the most important times. Both platforms include multichannel selling capabilities and account managers to guide you through setting up your online store.
The two carts offer very similar features, but here are a couple of differences.
Shopify Plus advertises a smooth and quick transition from your current platform to theirs. One of the ways they go about this is through their Traffic Control App, which is meant to transfer your previous customers to your new platform without a drop in SEO. BC Enterprise does not seem to have a similar function.
As I've already mentioned, BC Enterprise is all about conversion. Filtered (or "faceted") search helps your customers find products they're looking for in their preferred color, size, price range, etc. And customers who find products quickly buy products quickly. BC Enterprise has also partnered with Shipper HQ, which means your customers will be able to see automatically generated shipping quotes for their purchases.
Shopify Plus and BC Enterprise are very closely matched when it comes to features. The deciding factor is the availability of one-page checkout. Quick and easy checkout for your customers is really a must have for every store, and while BC Enterprise comes with one-page checkout, Shopify Plus does not.
Though customers have been clamoring for one-page checkout for over three years, Shopify Plus is still shockingly behind. The only way to get one-page checkout with Shopify Plus is through an app called CartHook.
In short, though both shopping carts have comparable functionality, BC Enterprise leads in the Features category because it offers one-page checkout.
Web Design
Winner: Shopify Plus (But Just Barely)
Shopify Plus and BC Enterprise both offer mobile responsive web designs, though Shopify Plus has been doing so for longer.
Shopify Plus offers 10 free themes that are attractive albeit a little basic. If you're looking for something a little more interesting, they have a whole slew of premium designs available for purchase; they're usually priced between $140-$180. In total, Shopify Plus has 61 themes available, and all of them are responsive.
Shopify also includes a Sections editor which allows you to use drag-and-drop functionality to rearrange large blocks of content.
Here's one of Shopify's themes: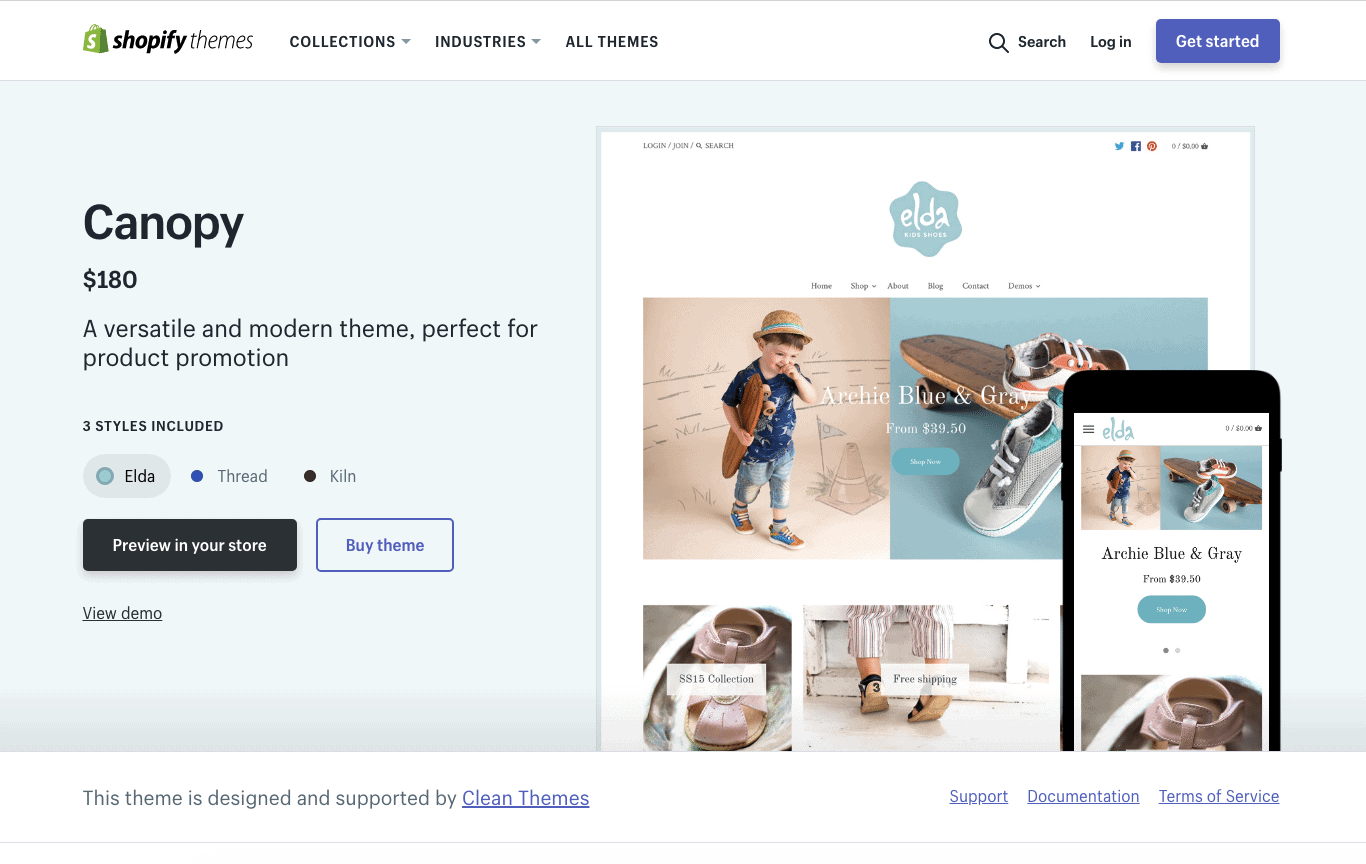 BC Enterprise is not far behind. BigCommerce offers 105 responsive themes, seven of which are free. And all of these themes come with a selection of "styles," resulting in over 400 options.
Here are a couple of those options: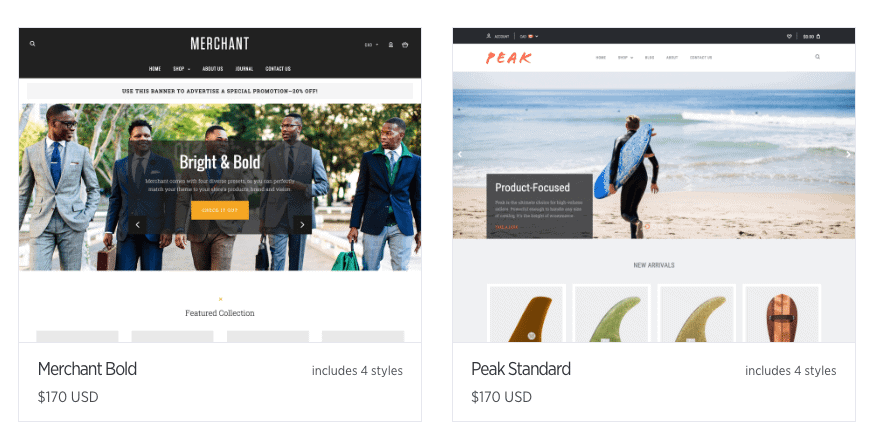 These themes are equally attractive, and using the visual theme editor, it's fairly simple to make small adjustments. You can make small changes to the look and feel of your site without touching the code. So, while Shopify Plus is still ahead with its drag-and-drop editor, BC Enterprise is quickly catching up.
Integrations & Add-Ons
Winner: Tie
Although Shopify Plus does not come weighted down with lots of features out of the box, an overwhelming amount of add-ons is available in the Shopify Apps Store. There are over 1,500 apps and integrations that can be used for marketing, accounting, shipping, reporting, etc. If you can't find what you need among all of those apps, it's easy for developers to build a new app or a new connection using Shopify Plus's REST API.
It's similarly easy to integrate with BC Enterprise's software. BigCommerce uses open-source documentation, and with BC Enterprise, your developers can use unlimited API calls. So, they'll have not trouble syncing and integrating multiple apps. With over 400 apps, BC Enterprise doesn't have quite as many add-ons available, but there are still plenty! Also, BC Enterprise comes with Alvara (tax automation) and Shipper HQ (shipping estimation) built-in.
If we were judging merit based solely on the number of add-ons available, Shopify would win handily. However, I find it silly to award the category based on numbers alone.
I'm going to go out on a limb here and say that 400+ apps is probably enough to fulfill most companies' needs and that it might be equally helpful to have Alvara and Shipper HQ built-in.
For that reason, I'm declaring a tie here.
Payment Processing
Winner: Tie
Both Shopify Plus and BC Enterprise function well with leading third-party payment processors like PayPal, Authorize.Net, and Sage Payment Solutions.
Shopify Plus connects with over 100 payment gateways and BC Enterprise with over 60.
Both carts have partnerships that may reduce your transaction rates. BigCommerce has an arrangement with PayPal (powered by Braintree) that lowers merchants' credit card transaction fees if they choose to use PayPal.
Transactions fees get lower with each step up in BigCommerce's plans. See the image below.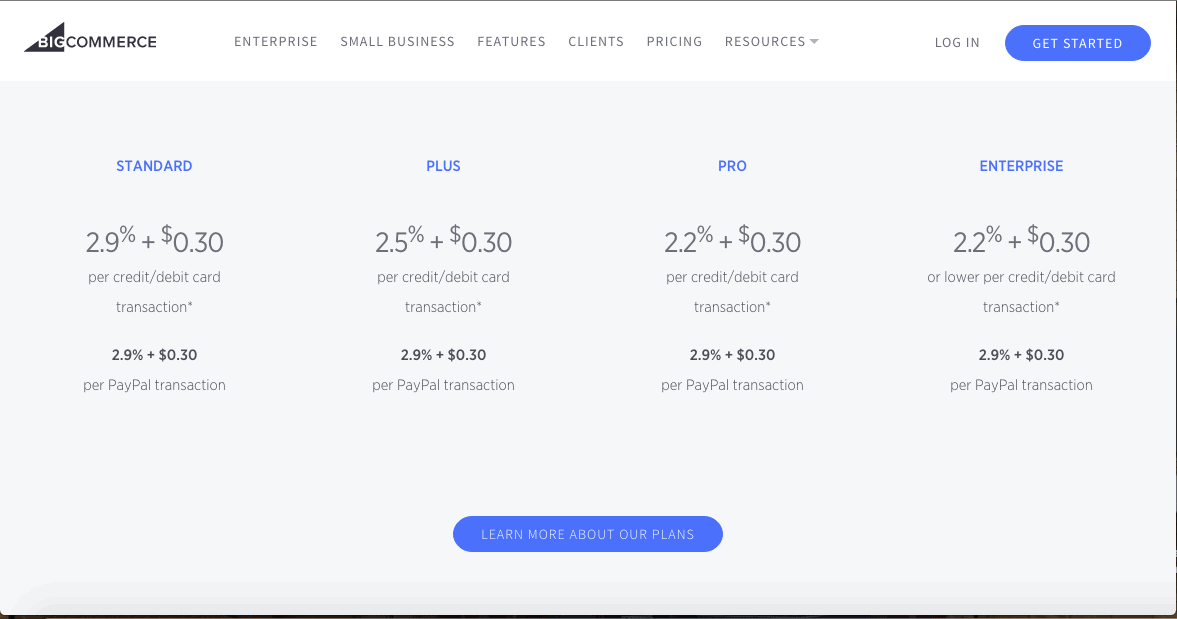 Shopify has its own payment gateway, Shopify Payments, which also offers lowers transaction fees for Shopify clients.
Here's what Shopify Payments's transaction rates look like for Shopify's non-Enterprise clients.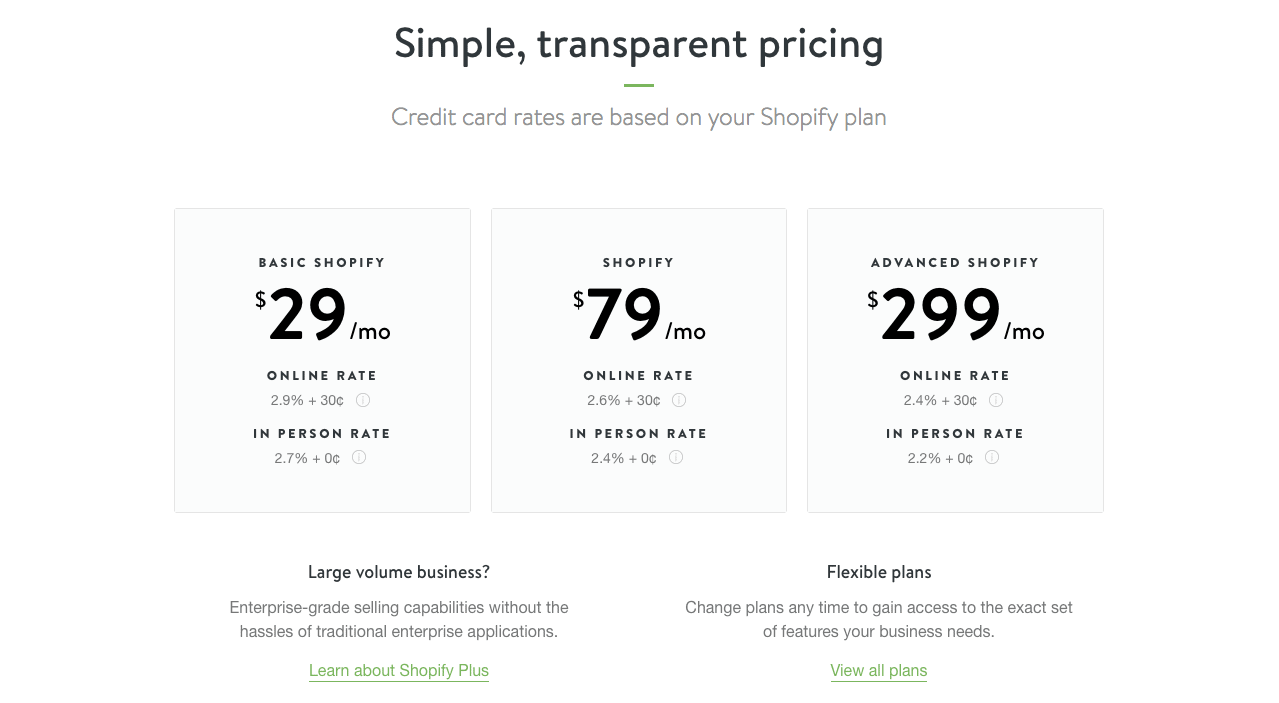 Although Shopify does not list processing fees for Shopify Plus, you can see that Shopify Payments' online rates for Advanced clients are lower than those for the BC Enterprise's clients. I can only assume that Shopify Plus's rates would be even lower.
It's a tie.
Customer Service & Technical Support
Winner: Shopify Plus
One of the best aspects of Enterprise solutions is the priority customer service that they provide.
Shopify Plus clients are assured fast responses to their questions via an exclusive priority-routed phone number. Along with the basic customer service that all Shopify clients receive (community forums, knowledgebase, 24/7 live support), Shopify Plus clients are designated a Merchant Success Manager. This individual knows the ins and outs of your company, advocates on your behalf for new features, and helps you optimize your site.
BC Enterprise also offers priority routed support, which will help you reach a support rep faster. Like Shopify Plus, BC Enterprise has a community board and 24/7 live chat available. BigCommerce University features videos to help answer frequently asked questions.
BC Enterprise also offers a Strategic Account Manager, but are only available at extra expense.
Because Shopify Plus automatically dedicates an Merchant Success Manager to each merchant without additional charges, they have an edge in this category.
Negative Reviews & Complaints
Winner: Shopify Plus
It's not easy to find complaints directed toward Enterprise solutions. They're practically non-existent. My theory is that problems are resolved at a higher lever through account managers and priority customer support.
That said, I always find it a good idea to research the larger company behind each Enterprise solution. Here are the complaints that I found directed toward Shopify and BigCommerce in general.
Shopify customers often complain about certain features' limitations. Discounts, for example, are limited to one condition. There are also limits on the number of variants (or attributes) that can be listed on a product. Customers are also displeased that B2B selling is only available through an application.
Customers are also increasingly frustrated with Shopify's customer service. It seems that Shopify is having trouble keeping up with the needs of their rapidly expanding user base. Customers often have to wait on hold for over a half hour to speak with a representative.
Most of Shopify customers' complaints can be solved via one of Shopify's 1500+ applications, but all those additional costs can add up.
Complaints directed toward BigCommerce focus on customer service. They cite dropped phone calls, forgotten support tickets, and miscommunications. Some clients complain that BigCommerce does not provide support if you customize your site via changes in HTML or CSS.
Customers' biggest complaint deals with BigCommerce's pricing change in the beginning of last year, which resulted in many clients having to switch to a higher plan. This pricing change did not affect Enterprise clients, though it may have bumped some clients into the Enterprise plan. Read more about BigCommerce's pricing in our BigCommerce review.
I've given this category to Shopify because, in general, Shopify's customer complaints are easier to resolve. In order to expand functionality, users can add on another application.
Positive Reviews & Testimonials
Winner: Tie
It is just as difficult to find positive customer reviews as it is to find negative ones. Although there is an abundance of testimonials on Shopify Plus and BigCommerce Enterprise's websites, actual un-filtered customer feedback is nowhere to be seen.
So, here's what those customer testimonials tend to focus on:
Shopify Plus merchants love the smooth and speedy transition from their previous services. While I've seen one review to the contrary, most did not experience a drop in their SEO. Clients also appreciate the scalability that Shopify Plus provides as well as its API capabilities.
BC Enterprise clients also rave about the platform's scalability. They love the new mobile responsive designs, and they brag about the increases in their conversion rates, claiming up to a 200% improvement.
Both platforms have a lot to love. It's really too close to call a victor on this one.
Final Verdict
Winner: Shopify Plus
By claiming two more categories than BC Enterprise, Shopify Plus comes out on top in this neck-and-neck competition. With the benefits of easy web design, thousands of apps, and numerous mobile responsive templates, Shopify Plus deserves the win.
It's good to remember, though, that BC Enterprise is not far behind. While Shopify Plus took more categories, it did so by a very small margin. BC Enterprise is still an excellent option for a commercial business who's looking for lots of features straight out of the box.
Ultimately, both shopping carts can easily fit the needs of your business; it all depends on what you're looking for. To investigate even further into each option, check out our full reviews of Shopify Plus and BigCommerce Enterprise.
More than that, I recommend trying out the products for yourself. Sign up for a free trial, call a sales representative about pricing, and see which Enterprise solution is right for you.