Shopify Plus VS Magento Enterprise Cloud
Contributor

UPDATED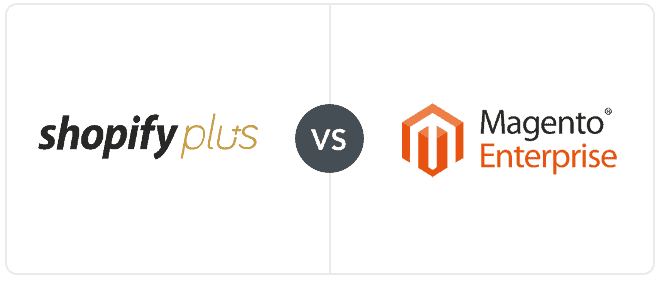 Maybe you're looking for a new platform for your online store. Maybe your old service was fine for a while, but no longer fits the needs of your company. Or maybe you're just sick of spending more time fixing your site than managing your business.
Whatever the case, Shopify Plus (see our review) and Magento Enterprise Cloud Edition (see our review) are two excellent Enterprise options for your online store.
Shopify Plus is the Enterprise edition of Shopify, one of the biggest names among online shopping carts. Shopify employs over 1,200 people and hosts over 275,000 stores. Some of Shopify Plus's clients most well-known clients include General Electric, Red Bull, and Budweiser. Shopify Plus has also served the Wikipedia store.
Magento Enterprise Cloud Edition (Magento ECE) is Magento's brand new cloud-based Enterprise edition, launched in April of this year. Magento serves more Internet Retailer Top 1000 merchants than any other eCommerce platform and deals in $50B in merchant volume annually. Magento's top clients include Zumies, Rosetta Stone, and Nike.
Both Shopify Plus and Magento ECE offer the reliability and scalability that you're surely looking for; however, they each take a very different approach to Enterprise software. While Shopify Plus dominates in usability, Magento ECE champions versatility.
Keep reading to get a better picture of which Enterprise platform fits your business best.
Web-Hosted or Licensed:
Shopify Plus and Magento ECE are both fully-hosted, cloud-based software. Shopify Plus is SaaS (Software as a Service), and Magento ECE is PaaS (Platform as a Service).
If you're wondering what the difference is between SaaS and PaaS, wonder no longer. They are basically identical, except PaaS is a slightly lower level of support; it's a platform to develop your site and deploy it. If you'd like to read more about SaaS and PaaS, try this article.
Hardware and Software Requirements:
Both software require only a computer, an internet connection, and an up-to-date browser.
Pricing:
Pricing is negotiable with Enterprise services. It depends entirely upon your sales volume and the level of support that you require. For this reason, it's impossible to predict what pricing will look like for your company, but know that it won't be cheap.
The lower possible price for Shopify Plus is $2000/month. Magento Enterprise Edition's lowest price range is $22,000-$32,000 per year, and you can expect even higher prices for Magento ECE as it is fully-hosted.
I recommend contacting both companies to see what pricing will look like for you.
Ease of Use:
Winner: Shopify Plus
Shopify Plus uses the same admin as Shopify's basic plans. Luckily, Shopify's admin is one of the most user-friendly on the market. Just take a look at the dashboard.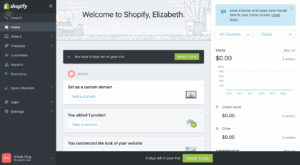 With Shopify, it's easy to navigate between functions, add new products, and edit tax and shipping settings. The theme editor makes it easy to make basic changes to the front end of your store.
Due to its simplicity, Shopify's dashboard does have some limitations, mostly in setting discounts and variations (more on that in Negative Reviews and Complaints). Shopify also uses its own coding language, called Liquid. While I haven't seen any developers complaining about Liquid, I can imagine the language change is frustrating for some.
Because Magento ECE is so new, there was no demo product available for me to try. Instead, I joined in on a webinar that showed off Magento 2.0, Magento ECE's operating system.
Magento 2.0's dashboard definitely has more features than Shopify's, making it harder to navigate. There are just SO MANY options available.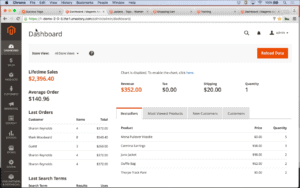 From the admin, you can make, add, and organize product attributes, create exclusive discounts, and plan for future promotions. You can also use a WYSIWYG (what you see is what you get) editor to update the content featured on your landing pages.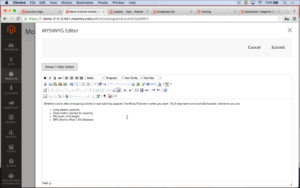 Developers have said that Magento 2.0's front-end isn't the easiest to figure out. There's a definite learning curve. Once you do have it figured out, however, you can customize everything to suit your needs.
While I love Magento ECE's functionality, I'm awarding this category to Shopify Plus for its clean dashboard and simple options.
Features:
Winner: Magento ECE
Shopify Plus and Magento ECE both offer the basic features that most expect from an Enterprise level solution: scalability, unlimited bandwidth, unlimited storage, unlimited selling ability, 0% transaction fees, and a 99.9% server uptime.
Here are some things they don't offer.
Surprisingly, Shopify Plus does not yet have a one-page checkout function. One-page checkout is an absolute necessity for most stores to maintain their conversion rates; it really hurts that it's not an option with Shopify Plus. Recently, a third-party developer released an app to solve this issue. It's called CartHook, and it's priced at $300/month.
Magento ECE, on the other hand, does offer one-page checkout but lacks the ability to incorporate a blog.
The real kicker here is not what Shopify Plus is missing (though the one-page checkout is a pretty big deal), but what Magento ECE offers. Magento ECE comes with more features out of the box than I have seen in any other Enterprise software. There are SO MANY. Just SO MANY. Coupon features seem endless, as do functions related to customer segmentation and the creation of product attributes. Click here for Magento ECE's full features list.
Magento wins hands down in this category.
Web Design:
Winner: Tie
Here's the thing: Shopify Plus and Magento ECE have very different philosophies when it comes to web design, making it impossible to determine whose design is better. The reality is that one may be better for one company while the other may be better for a different company. Here's what they offer.
Shopify Plus is perfect for the business looking for a quick site. Shopify Plus has 100+ beautiful pre-made responsive themes available. 26 of these are free and the rest cost between $140-$180. If you want a site that looks great, and you want it now, Shopify Plus is the way to go.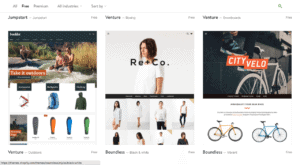 On the other hand Magento ECE is perfect for those who are looking to make their site fit their brand. Magento ECE comes with only two themes fresh out of the box: a demonstration theme and the Blank theme, which is intended for customization. (There are also a few third-party themes available in Magento's marketplace, but I find them pretty bland and worse, messy.)
With Magento ECE, you're going to need to hire developers to customize your site for you, but ultimately, your site will do everything you want it to do. Customization should also be fairly easy for developers as Magento ECE is open source and allows coding in every language.
Integrations and Add-Ons:
Winner: Shopify Plus
It's difficult to beat Shopify Plus in terms of integrations. With over 1,000 apps available in the Shopify Apps store and a REST API, you're hard pressed to find something Shopify doesn't offer.
Although Magento's marketplace is also extensive, integrations for Magento ECE are somewhat limited. Because Magento ECE uses the recently developed Magento 2.0 system, there are fewer apps available that connect. However, there are still a decent amount of apps and integrations that you can take a look at here.
Payment Processing:
Winner: Shopify Plus
Shopify Plus integrates with over 70 payment gateways, including their very own Shopify Payments.
With Shopify Payments, Shopify clients get reduced transaction rates, both online and in person. Take a look at how transaction rates reduce with each step up in Shopify's plans.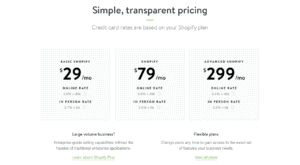 While Magento ECE advertises a partnership with PayPal, they don't have any discounts available. Magento ECE's other integrated payment gateways can be found in their marketplace. Make sure that your preferred payment gateway is compatible with Magento 2.0.
Customer Service and Technical Support:
Winner: Shopify Plus
Shopify Plus provides all of your basic customer support services and more. Shopify Plus clients have access to 24/7 live support via email, Live Chat, and phone, as well as eCommerce Forums and a Help Center. Also, each merchant is assigned a Merchant Success Manager, who can provide personalized support.
Magento ECE also has a Community Forum and Documentation available on their site. They offer 24/7 phone support, though the amount of time it takes to resolve your issue varies depending upon your pre-arranged support level. Within Magento Enterprise, there are two tiers: Gold and Platinum. (The tier you fall into is determined during your pricing agreement.) No matter what, if your concern is issued Mon-Fri, you'll receive a response within 24 hrs. If your concern is pressing (like your site is down or customers can't check out), you'll receive a response within two or four hours for Platinum and Gold clients respectively.
Magento ECE clients are also eligible for assistance from Magento's Account Management Team at an extra cost.
Because Shopify Plus comes with a Merchant Success Manager, and because their phone support system doesn't seem to have extra conditions, they come out on top in this category.
Negative Reviews and Complaints:
Winner: Tie
While it's easy to find complaints for Shopify and Magento's basic plans, there aren't many customer reviews out there that actually talk about Enterprise level products.
For this reason, I've pulled a few common complaints that are addressed to the company in general but also apply to Enterprise in specific.
Shopify is often criticized for its limited functions. Customers are frustrated at their inability to list more than one condition on a discount. They are also frustrated by limited variants (or attributes) on products and limited B2B selling capabilities. Most of these issues can be resolved through apps.
Magento, on the other hand, receives the opposite feedback. Customers often complain that Magento's products come with too many features. Comments, from merchants and developers alike, frequently use the term "steep learning curve." Furthermore, commenters are frustrated by the limited documentation to help them up that learning curve. They say the 1,300 pages of documentation just aren't enough.
Honestly, these customer complaints remind me of my fellow Washingtonians' grumblings about the weather. When it's raining, they beg for sun; when it's sunny, they whine that it's too hot.
Because these complaints are so polar opposite, I cannot declare a winner.
Positive Reviews and Testimonials:
Winner: Tie
As I've already mentioned, it's near impossible to find any sort of customer reviews about Enterprise products, good or bad. There are, however, many positive testimonials available on Shopify Plus and Magento ECE's websites.
Customers love that they were able to transition from their previous service to Shopify Plus quickly and easily, without losing customers. They also love that Shopify Plus's API enables them to customize the backend to meet their needs. Mostly, they love Shopify Plus's scalability. Bring in all the traffic you want; your site won't go dark.
Positive reviews for Magento ECE tend to focus on customization. Everything about your site can be customized with Magento ECE: backend and storefront. This is made possible through Magento's open source documentation, which, by the way, customers also love. They further talk about Magento 2.0's caching system. With cache management, pages load faster, which keeps customers from leaving your site.
Final Verdict:
Winner: Shopify Plus
I'm naming Shopify Plus as the winner of this review solely because it won in the most categories. This does not mean Magento ECE is a bad platform. Not by any means. On the contrary, Magento ECE is hugely customizable and effective. It just takes a different, more complex approach to Enterprise eCommerce.
Shopify Plus seeks to simplify everything. Themes are ready made, integrations are already established, and support is just one phone call away.
Magento ECE, on the other hand, emphasizes customizability. You have the ability to build your site from the ground up. Your store is guaranteed to have a look that fits your brand and all of the functions you could ever need and want.
Your decision between Shopify Plus and Magento ECE depends entirely upon the specific needs and capabilities of your business. I advise contacting both companies to see what they can do for you.
Get Started with Magento Enterprise Cloud Edition