Shopify Plus VS Mozu
Contributor

UPDATED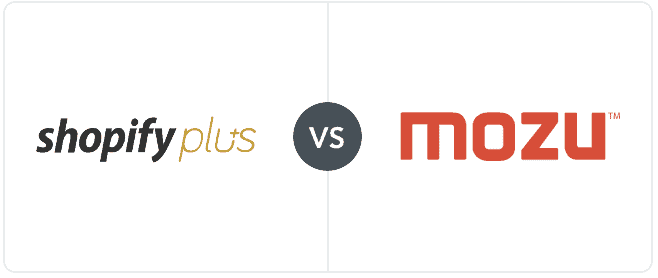 If you're looking into Enterprise eCommerce software, you've no doubt come across Shopify Plus (see our review). And, if you've dug a little deeper, you may have found Volusion's version of Enterprise software, Mozu. Both systems offer the scalability, reliability, and customer support you need, so how do you decide between the two of them? I'm hoping I can help.
First, a little background information.
Shopify Plus is run and owned, not surprisingly, by Shopify. With over ten years of experience, Shopify is one of the best shopping carts available to merchants. Over 275,000 stores use Shopify for their online platfoms, and last year the company dealt in $17B in sales. Shopify's big name clients include General Electric, Red Bull, and Budweiser.
Launched in September 2013, Mozu is Volusion's solution for commercial merchants. Volusion matches Shopify in sales, handling $17B in sales last year. Mozu hosts sites for Bluefly, Jelly Belly, and Sigma.
Both are solid options for a business that wants to keep expanding. Read on as we compare the two platforms' web design, features, and integrations. If you're looking for something even more in-depth, try our full reviews of Shopify Plus and Mozu.
Web-Hosted or Licensed:
Shopify Plus and Mozu are both SaaS (Software as a System). They are fully-hosted cloud-based software systems.
Hardware and Software Requirements:
None! Zero! Nada! All you need is a computer, an internet connection, and a up-to-date browser.
Pricing:
Pricing for Enterprise solutions varies between merchants, depending upon the size of your company and the level of customer support that you need.
While I can't tell you what pricing will look like for your business, I do know that both products are pretty expensive. Shopify Plus's lowest possible rate is $2000/month, and though there is no information available on Mozu's site to suggest a price range, I imagine pricing is comparable.
You'll need to contact both companies to find out what pricing will look like for your company.
Ease of Use:
Winner: Shopify Plus
I must admit that Shopify Plus wins this category by default. Normally, in order to evaluate ease of use, I request a demo, try it out, and see how it works. While I've been able to try out Shopify's backend extensively, I have not received the Mozu demo that I requested over a week ago. So, I don't have as much to go on with Mozu.
Shopify Plus uses the same dashboard as Shopify's basic plans, which is great because it's one of our favorite dashboards.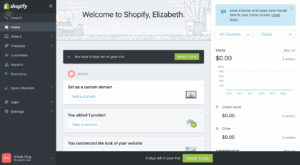 All of your most common functions are quickly accessible, and the layout is logical and easy to navigate.
A WYSIWYG editor (what you see is what you get; pronounced wiz-ee-wig by the pros) allows you, the merchant, to make changes to storefront content via the admin.
There's a theme editor available that lets you view real-time changes to your theme before you publish them. As far as usability goes, Shopify is a dream.
Though I wasn't able to give Mozu a test run, I did watch this thirty-minute video that demonstrates some of Mozu's functions.
There are two parts to Mozu: the admin (for your use) and the DEV center (for your developers' use).
From the admin you can set discounts, add products (up to 20 million), and change and rearrange storefront content with widgets.
In order to best use your Mozu platform, you're going to need developers who can re-write source code to customize the site to your exact specifications. Though it's possible to get around coding most of the time with Shopify Plus, it's impossible to avoid with Mozu.
I recommend testing out both products before committing to either. You may find that you prefer one over the other.
Shopify Plus offers a 14 day free trial, which you can find here. Mozu also has a demo available. Hopefully, you have better luck getting your hands on it than I did.
Features:
Winner: Mozu
In every case, Enterprise solutions provide the scalability, uptime, storage, and selling capacity that large companies need. Neither Shopify Plus nor Mozu are an exception to this rule. You can be sure that your site will stretch to handle sudden increases in traffic.
Here are a few features that go beyond the basics.
Shopify Plus has a Traffic Control App available that helps transfer customers from your old site to your new one, without a drop in SEO. With Shopify Plus you can also sell across multiple channels (including social networks) and manage all of those channels from one admin. Further, Shopify Plus can incorporate a blog to give your customers a well-rounded brand experience.
One thing Shopify Plus is still lacking is one-page checkout, but like everything else Shopify-related, this can be solved with an app. It's called CartHook and it costs $300/month.
Mozu wins this competition, not because Shopify Plus really lacks in its offerings (with the exception of one-page checkout), but because Mozu excels.
Mozu boasts faster load times than most platforms, which keeps customers on your page. With faceted (filtered) search, customers find what they need faster and, subsequently, buy faster. In Mozu's admin, you can list unlimited attributes for each product to further refine your search functions and create super-specific promotions. While Mozu does not have a blog function, it does have one-page checkout. Check out Mozu's full list of features on our separate review.
Web Design:
Winner: Tie
Shopify Plus and Mozu take totally different approaches to web design. Shopify Plus offers a wide variety of pre-made easy-to-use themes, and Mozu gives developers the tools they need to create their own.
We've been talking about Shopify's themes for a long time. They are professional and attractive, and now all of them (over 100) are fully mobile responsive. There are 26 free themes available, and the rest can be purchased at $140-$180.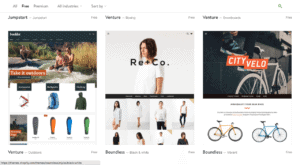 You can edit Shopify Plus's themes either through the Theme Editor found in the dashboard or by editing the HTML/CSS source code.
Mozu does not offer any ready-made themes or WYSIWYG editors. Instead, it champions complete customizability. Your developers can build on Mozu's blank Core Theme using the Hypr theming engine, which simplifies the development process. Mozu is open source, so your developers have access to the same code and REST API that was used to build Mozu.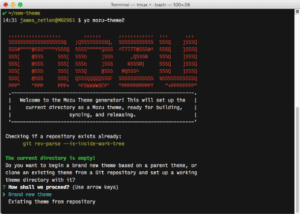 The result is a fully mobile responsive online shopping experience. And while your site will be harder to get up and running, it will ultimately look and feel exactly the way you want it to.
Integrations and Add-Ons:
Winner: Tie
Shopify's App Store is unbeatable in terms of numbers. With over 1000 add-ons available, you're sure to find the integrations you need. (Keep in mind that you'll need a few more add-ons with Shopify Plus than you would with Mozu because of Shopify's more limited features). If you can't find your preferred integration, it's easy for your developers to build connections with Shopify's REST API. Additionally, the Shopify Plus team will help source custom connections to your ERP, CRM, and accounting systems.
With 85 add-ons at last count, Mozu's pre-made integrations are limited in comparison. However, due to Mozu's wide range of features, you'll need far fewer add-ons. And, because of Mozu's open source documentation, the integrations that you do need will be easy to connect.
For this reason, I'm calling a tie.
Payment Processing:
Winner: Shopify Plus
Shopify Plus connects with over 70 payment gateways. Additionally, Shopify now offers its own in-house payment option: Shopify Payments.
There are a few benefits to Shopify Payments. Fox example, it's easy to set up and manage your account. More importantly, you may be able to pay lower credit card rates with Shopify Payments than with other payment gateways. With each step up in Shopify plans, credit card rates go down. Check out the rates listed on this chart.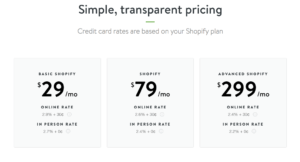 Although there are no rates listed for Shopify Plus, it's likely that they're even lower.
Mozu, on the other hand, only has ten payment gateways already integrated. Note that these gateways include some of the most commonly used options (Authorize.Net, PayPal Checkout, PayPal Payflow Pro, Amazon Payments), and that with Mozu's open source documentation, it's easy for your developers to build connections to your favorite payment gateway.
I'm giving this section to Shopify Plus, mainly because of the reduced credit card rates available with Shopify Payments.
Customer Service and Technical Support:
Winner: Tie
Shopify Plus and Mozu offer very similar customer support services.
Shopify Plus advertises 24/7 priority support. There are also eCommerce Forums available and an online Help Center, which addresses frequently asked questions. The best part of Shopify Plus's service is that each merchant has a designated Merchant Success Manager. They are your direct line to Shopify's support, and they are familiar with your store's needs and technical issues. And, of course, there are always Shopify Experts available for hire to help you with web design, product photography, etc.
Mozu also offers priority phone support 24/7/365. Developers can find solutions to their technical concerns in the documentation available in Mozu's DEV center. In the Help Center you can search for answers to frequently asked questions or submit a support ticket. Professional services are likewise available and can either be included in your contract with Mozu or hired at additional cost. Like Shopify Plus, Mozu provides each client with an Account Manager, who helps make running your store a smooth operation.
Shopify Plus and Mozu match each other in this category like for like. It's a tie.
Negative Reviews and Complaints:
Winner: Shopify Plus
With most Enterprise options, it's near impossible to find any customer reviews online, positive or negative. In these cases, I typically take a look at the founding company's track record. Most of the time, customer complaints directed at the larger company apply also to Enterprise solutions. That said, here are some of the customer complaints I've found most frequently.
Shopify customers dislike its limited functionality. Because the admin is so easy to use, Shopify often neglects to add certain options that larger companies need. For example, discounts can only be created with one condition (a discount on X product of X percent). Many companies would like to create more complicated discounts (Say, a discount on X products of X percent if the total price is over X dollars). Shopify also limits the number of variants that can be applied to a product. Futhermore, Shopify's B2B selling options are only available with an app.
Volusion's customers do not complain about the product as much as the service. This past Memorial Day (2016), several Volusion sites experienced three hours of downtime, resulting in thousands of lost sales. Volusion customers also complain about tricky cancellation fees (you have to remember to cancel all of your services individually) and miscommunications with customer service.
Because Shopify's complaints can largely be solved with an app, I'm awarding the category to Shopify Plus.
Positive Reviews and Testimonials:
Winner: Tie
As I've already mentioned, reviews are hard to find. However, positive testimonials are listed in abundance on both Shopify Plus and Mozu's sites. Those testimonials tend to focus on a few things.
Shopify Plus clients love that they are able to transition smoothly from their old platform to Shopify, without a drop in SEO. Users are also stoked about Shopify's scalability, and developers are excited about the ability to use Shopify's REST API to customize the store's backend.
Mozu customers appreciate the platform's speed: pages load fast and developers can make updates quickly. They love Mozu's mobile responsive design and Mozu's master catalog which syncs products from multiple sales channels. They also like that customer segmentation allows merchant to advertise differently to different customers.
Final Verdict:
Winner: Shopify Plus
With wins in two more categories than Mozu, Shopify Plus is our clear victor. Its clean dashboard, reliable customer service, and extensive applications are hard to beat.
That doesn't mean, however, that Mozu isn't right for you. If you'd prefer a platform that allows you to customize every aspect of your store, Mozu is perhaps a better fit.
If you're still unsure, I recommend speaking to representatives from both companies. Ask about pricing, request a demo, and see what they can do for you.