Big Cartel VS Shopify: Which Is Better For Your eCommerce Business?
Expert Analyst & Reviewer

UPDATED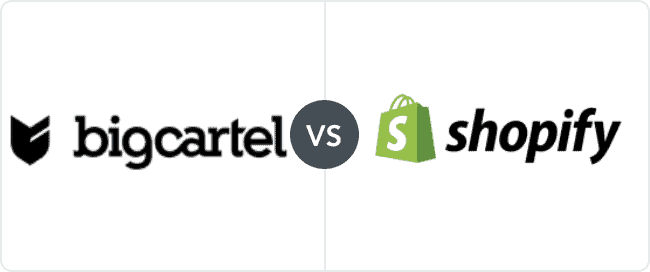 Big Cartel
Shopify
Features
Fair
Excellent
Pricing
$0-$29.99/month
$9-$299/month
Ease Of Use
Excellent
Excellent
Customer Support
Good
Good
Reviews & Complaints
Good
Good
Integrations
Fair
Excellent
Best For
Startups, independent artists and creators with limited catalogs
eCommerce merchants with big sales goals and deep catalogs
Visit Site
Read Review
Start Trial
Read Review
Don't have time to read an entire article? Take a look at our top-rated eCommerce solutions for a few quick recommendations. Every option we present here offers excellent customer support, superb web templates, and easy-to-use software, all for a reasonable price.
Otherwise, read on for a complete breakdown of Shopify and Big Cartel.
They each have big fan bases. And they both offer easy-to-use eCommerce platforms. But are you more likely to find a home for your online store on Big Cartel — or is Shopify the right place to pursue your eCommerce goals?
Let's take a close look at what each fully hosted eCommerce platform has to offer, including price, the available features you can use to customize your store, and what users have to say. We've tried out each platform so you can gain from our experience and pick the one that will work best for you.
Big Cartel VS Shopify
In a comparison of Big Cartel VS Shopify, making the right choice comes down to the details and what, exactly, you want for your online store. The truth is, they're both solid platforms with a lot to offer users.
They're both Saas (Software as a Solution) platforms that have a lot of overlap between them. Both are easy to use and cloud-based. However, there are some differences, and that's where you should focus.
Big Cartel Overview
Founded in 2005 and aimed at what the company calls "makers," Big Cartel has grown to serve over one million users and has facilitated more than $2.5 billion in total sales. A musician, co-founder Matt Wigham originally wanted a way to sell his band merchandise. He eventually collaborated with Eric Turner to make it easier for any musician to sell online.
Today, Big Cartel continues to focus on creative users, serving musicians, illustrators, writers, bakers, and filmmakers, although the platform is open to users of any stripe. The platform is particularly attractive to users without a reliable cash flow, due to its low-cost and free plans. Free themes are available and easy to use, though users with the know-how (and who subscribe to a paid plan) can dive into the code and create their own.
Because Big Cartel does not charge listing fees or transaction fees (although, as usual, your payment processer will) it's often considered a natural next step for creative users who have grown dissatisfied with Etsy costs and restrictions. Although a free site on Big Cartel comes with some restrictions, such as limits on the number of products listed and images per product, the reasonably priced plans ease some of those limitations. All plans allow you to create and manage an online store, fill orders, monitor statistics, and run promotions from any device in your office or anywhere you go. That means you can take your online store with you whenever you perform or present your products.
Pros
Free plan available
Mobile-friendly
Very easy to use
Free templates
Cons
Few templates
Limited customization
Limited features
Limits on product listings
Shopify Overview
Host to more than a million web stores and helping connect 218 million customers with products each year, Shopify has facilitated over $100 billion in sales. Founded in 2006 by Canadians Tobias Lütke, Daniel Weinand, and Scott Lake, Shopify had its start as an online store for snowboarding equipment.
Shopify is perhaps known for its extreme ease of use, though its extensive features and integrations list aren't far behind. It also a very scalable and affordable platform, meaning it's appropriate for eCommerce businesses that start with limited resources but hope for unlimited growth. By the way, no matter what Shopify plan you choose, you'll be able to add unlimited products right away.
eCommerce vendors of all sizes find a home on Shopify, and you'll see a range of pricing options to meet your budget. With thousands of available integrations, it's easy to customize a Shopify website to deliver precisely the functions you want your store to have, on the front end as well as the back. And a Shopify store is sure to look good, given that you have a choice of more than 70 of the best mobile-friendly templates in the business. Those themes are easy to use and edit with a handy WYSIWYG (what you see is what you get) editor as well as HTML/CSS editors.
Pros
Free trial period
Smooth learning curve
Very easy to use
Excellent features
Intuitive editor
Cons
Transaction fees
No one-page checkout
Add-on/integrations add up
Features
Features
Big Cartel
Shopify
Inventory Management
✓
✓
MultiChannel Selling
✓
✓
SEO Tools
✓
✓
In-house Fulfillment
✓
App Store
✓
✓
Guest Checkout
✓
Automatic Shipping and Tax
✓
✓
Abandoned Cart Recovery
✓
Discounts
✓
✓
Analytics
✓
✓
Unlimited products
✓
Marketing Tools
✓
✓
Blog
✓
Visit Site
Read Review
Start Trial
Read Review
Though both platforms offer enough easy-to-use features to quickly build and launch an effective online store, in a head-to-head comparison there's no question that Shopify holds an edge in the features category. However, because Big Cartel is more than adequate, you may find that your needs don't require the rich feature set Shopify offers. For example, Shopify offers hundreds of themes, compared to only 18 to choose from on Big Cartel. You may revel in the additional choices Shopify offers. On the other hand, there's nothing wrong with Big Cartel's offerings in this area, and when you're doing the unfamiliar work of setting up an online store, you may be glad to see fewer choices.
What you'll look for in a features list depends entirely on your expectations and needs. Here are some of the few of the biggest differences you'll find in a Big Cartel VS Shopify comparison:
Unlimited Products
While all Shopify plans allow you to list unlimited products, Big Cartel isn't quite as generous. Choose the Gold plan, at a total monthly cost of $0, and you'll be limited to a total of five products, with only one image per product. At $29.99, the top-tier Titanium plan allows up to 500 products, with up to five images per product.
In-House Fulfillment
Only Shopify offers the option of using an in-house fulfillment service, with its Shopify Fulfillment Network service. When you set up your store on Big Cartel, you'll be fulfilling customer orders on your own.
Payment Processing
With a Big Cartel account, you can accept orders through your online store or in-person using an iOS app. Online customers can pay with Stripe, Venmo, Square Point of Sale, or PayPal. That's the full range of payment processing choices. Compare that to Shopify, where you can enable more than 100 payment third-party payment gateways or use the in-house processor, Shopify Payments.
One other difference: While Shopify charges transaction fees on most plans, which accrue in addition to the fees charged by your gateway processor, Big Cartel does not charge any additional fees.
Pricing
Big Cartel pricing is straightforward, with plans ranging from free to $29.99 per month. The free Gold plan allows users to set up a fully functional store, with a limit of five products and one photo per product. You won't need a credit card to get started, and you don't need to look for a free trial — test drive Big Cartel by using the Gold plan to set up a store.
Big Cartel charges users monthly; there is no discount for paying a year or more in advance.
With Shopify, you can test the service by accessing a free 14-day trial, with no credit card required. Shopify plans range from $9 per month for the limited-functionality Lite plan all the way up to a $299 per month Advanced plan. Each step up delivers more advanced features.
Shopify pricing assumes annual payment, so if you plan to pay month-to-month, expect to pay slightly more. And you likely will pay transaction fees to Shopify, ranging from 0.5% to 2%, depending on the plan you choose. Those fees are in addition to the standard fees charged by your payment processor. Users who select and qualify for Shopify Payments can avoid Shopify fees.
Ease Of Use
Both platforms are known for being easy to use, and it's not an exaggeration to say that even a novice user could set up a functional eCommerce website within a few hours, although it would be easy (and beneficial) to spend longer than that.
Sign up to create a Big Cartel site, and you'll be guided through the steps needed to get your shop up and running, from adding products, choosing a theme, setting up checkout, and more.
When you sign up for your free trial of Shopify, you'll be taken to your store admin, where you can start setting up your store on your own, if you'd like, or be guided through the steps you'll need to take.
Both platforms offer robust help centers and setup wizards, and the setup process is intuitive, whether you're working on a Big Cartel website or a Shopify store.
Customer Service & Support
Big Cartel offers help through a help center, tutorials, guides, and a FAQ section. You can access their 13-person email support team during business hours (8 a.m. to 6 p.m. EST, seven days a week), with responses generally coming within 24-48 hours, unless it's over a weekend or holiday when the time can expand to up to 72 hours. No support is available via phone.
By comparison, Shopify offers a plethora of support options, including live chat, email, a support center, videos, podcasts, guides, and a discussion forum. You can also access their eCommerce University support resources online. Telephone support is available, too.
Reviews & Complaints
Few things in life are perfect, so naturally, both Shopify and Big Cartel users have some complaints. Because each platform has its fans, let's start with the positives for each.
Big Cartel reviews cite the low cost and like how easy the software is to use, even for non-technical people. While the word "free" makes frequent appearances in user reviews, a number of reviews include complaints about Big Cartel's limitations, including the difficulty making customizations and the caps on product listings.
Shopify reviewers praise the software for being easy to use, appreciate the beautiful themes they can choose from, and like the bountiful integrations available. Some users complain about the fee structure and the necessity of downloading apps, which can be expensive, to truly customize your site.
Integrations
If you're looking for a wide range of integrations and add-ons, there's no question that Shopify is more likely to meet your needs. Shopify's app store has more than 4,200 possibilities for you to research and possibly download to customize your store. From inventory management to shipping, from marketing to social media, you're very likely to find what you need. Be careful though, because all those possibilities can add up to one big budget buster, with many apps for sale and many others charging monthly fees, in addition to many free apps available.
Big Cartel offers far fewer add-ons and integrations, but that isn't necessarily a negative for the platform's main audience of artists, musicians, and other creative types seeking simple storefronts. You'll find the basics are covered, with apps for marketing and promotion, shipping, fulfillment, and store management, though you might not find your favorites. And one of the apps you will find on the Big Cartel app store is Zapier, which will allow you to connect your shop to more than 500 integrations covering everything from email marketing to customer management and more.
The Key Differences Between Big Cartel & Shopify
While both are worthy platforms, and you might find a happy eCommerce home on either, Big Cartel and Shopify differ in important ways. Here are three of the most important:
Pricing. While it's true that Big Cartel can seem like a bare-bones, stripped-down option, it's critical to remember that the price reflects that. Big Cartel pricing's top plan, Titanium, tops out at $29.99. That's the starting point for Shopify costs. And don't forget about Big Cartel fees — there aren't any. Shopify fees will claim a percentage of every sale you make from your online store.
Scalability. In exchange for higher monthly costs plus transaction fees, what do you gain with a Shopify store, compared to Big Cartel? The most important benefit may be a store that can grow with you, with the option to expand your product listing and sales as far as you can take them. With Big Cartel, no matter what plan you choose, you will be limited to a maximum of 500 products, no matter what plan you choose.
Customization. It's worth repeating that Big Cartel offers would-be website builders everything they need to get a functional, stylish store up and running quickly. What Big Cartel can't offer is endless add-ons and integrations you can use to build a store that meets every one of your needs, now and as you grow. Shopify, though, can and does do that. You can add on the functions you need and want, so your Shopify store looks and works just the way you want it to. Of course, customization comes with a price tag, but if it's worth it to you then Shopify holds the clear advantage.
Which Is Best For My Business Needs?
In case we haven't said it clearly enough yet, both Big Cartel and Shopify are excellent choices for building your eCommerce venture. In a head-to-head matchup featuring Big Cartel VS Shopify, don't expect a knock-out blow. Still, each site has its advantages, and when you understand their differences you'll be able to see the right choice for your online store.
Choose Big Cartel If …
Big Cartel is best for:
Users who have been selling on a site like Etsy and are ready to strike out on their own (saving money along the way).
Artists and creators who want to build a simple yet functional store to augment live appearance and in-person events.
Vendors who don't have a steady income stream and want to avoid getting locked into monthly fees.
Those who have a small catalog to promote in an online store and don't have plans to grow beyond 500 products.
Big Cartel


---
Choose Shopify If …
Shopify is best for:
Sellers who have some money to invest in building a web store that can grow with them.
Vendors with plans to grow the business who don't want to bump into product listing limits.
eCommerce ventures where online stores will be the primary method of selling.
Those who value aesthetics, and feel it's important that their store look different from competitors' online stores.
Anyone who anticipates needing a higher level of support, including telephone options.
Shopify


---
Comparing Big Cartel VS Shopify: The Final Verdict
It's rare to find a free product that delivers so nicely, but that's what you'll find with Big Cartel. If you're looking to build a website without a big cash investment, you will find Big Cartel an excellent choice.
At the same time, it's pretty clear that Shopify offers more. More themes, more apps, more features, more avenues for customer support, more ways to accept payments from your online customers. If you want a complex store that you can grow with, that "more" is a very good thing, though others may find they don't need that many choices or want to pay to access them.
Fortunately, in the Big Cartel VS Shopify matchup, you don't have to pick blindly. You can try out Shopify eCommerce with a free two-week, risk-free trial. Or start to build your own Big Cartel website, for free, by choosing the no-risk Gold plan. Once you get a feel for each, you'll probably see which of these two very good website builders is right for your eCommerce business.