Magento VS Shopify: Which eCommerce Software Is Better?
Expert Analyst & Reviewer

UPDATED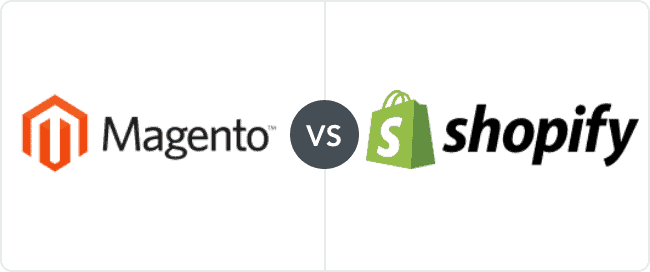 Magento
Shopify
Features
Excellent
Excellent
Pricing
Free open-source download
$9 – $299/month
Ease Of Use
Fair
Excellent
Customer Support
Poor
Excellent
Reviews & Complaints
Excellent
Excellent
Integrations
Excellent
Excellent
Best For
High-volume merchants with a background in or access to sowmeone with tech expereience
Small to enterprise-size businesses looking for a full-featured, scalable eCommerce software
Start Trial
Read Review
Visit Site
Read Review
Shopify and Magento are both shopping cart platforms that allow you to create and operate an online store. But when it comes to Shopify VS Magento, which is the right choice for your eCommerce site?
If that's the decision you're facing, you've come to the right place. We put the two platforms up against each other and compare them, head to head, so you can understand the benefits and shortcomings of each. Read on for a deep dive into Shopify VS Magento.
Shopify
A powerhouse in the eCommerce industry, Shopify has earned a reputation for sophisticated themes, accessible customer service, and general ease of use. Since its founding in Canada in 2004, Shopify has grown to host more than one million customers worldwide and helped users serve more than 218 million of their own customers in the past year.
Shopify is a SaaS (Software as a Service) solution serving online merchants of all sizes, from startups to enterprise ventures. Entirely cloud-based, it is supplemented by hundreds of apps and add-ons that integrate with Shopify's already ample built-in features to deliver everything you'll need to manage and grow your business, including marketing, accounting, shipping, and serving your customers.
Shopify is certainly one of the biggest platforms out there, adding start-ups and merchants new to eCommerce every day while also helping big players like Red Bull and Tesla. But is Shopify one of the best? Or have its many competitors started to close the gap?
Pros
Easy to use
In-house fulfillment
Multichannel sales
Free themes
Cons
Transaction fees
No single-page checkout
Expensive apps
Magento
One of Shopify's top competitors is Magento, a well-established open-source shopping cart platform that powers notable companies like Ford Motor Company and Timberland. Founded in 2007 and sold to eBay in 2011, Magento was bought by Adobe in 2018, the Magento client umbrella now covers more than 250,000 eCommerce stores worldwide.
Magento is an open-source solution that merchants can download for free. Developers can access all the code used to build the platform, meaning Magento users can create a truly customized and agile sales site. Important functions like hosting and security are up to the user, however. Before you choose Magento, you'll want to make sure you have up-to-date information on Magento's technical requirements.
There are two forms of Magento software: Magento Open Source, formerly known as Magento Community Edition or Magento CE. This version is free to download, install, and use. Enterprise-level businesses with developers at the ready may be interested in Magento Commerce, formerly called the Magento Enterprise Edition. Because Magento Commerce is for high-end users and comes with a starting cost of $1,988 per month, we'll be focusing on Magento Open Source for this comparison.
Pros
Free
Supports expansion
Many extensions
Totally customizable
Cons
Steep learning curve
No support
Design experience needed
Don't have time to read an entire article? Take a look at our top rated eCommerce solutions for a few quick recommendations. Every option we present here offers excellent customer support, superb web templates, and easy-to-use software, all for a reasonable price.
Otherwise, read on for the lowdown on Shopify VS Magento features.
Features
It's important to understand the biggest difference between Shopify and Magento. Shopify is a SaaS (software as a service) solution, which means that all of the technical aspects are managed by Shopify. They handle the hosting and security, and the merchant is just responsible for designing and maintaining the online store. That's what you get for your monthly fee.
Magento, on the other hand, is an open-source solution. Merchants are able to download the software for free, and developers can access all the code used to build the platform. Hosting and security, however, are entirely up to the merchant. In addition, Magento does not offer technical support, although you can find answers in the help center and from partner firms that specialize in supporting Magento users.
So how does Magento stack up against Shopify's available features? The truth is that Magento excels in terms of power, options, and customizability. Magento comes with many advanced features already built into the platform, and you can add on more functionality through extensions and integrations. Since Magento is open-source, these extensions are built by independent developers, and the pool of resources is continually growing.
Here's a comparison chart Magento offers to show what the built-in features are for the two levels it offers:
Clearly, Magento Commerce offers a whole lot more than the free service does, but remember the price tag attached: plans start at $1,988 per month. The good news is that the free version offers a lot more than that chart makes it seem. Magento does come with some built-in features that Shopify doesn't include — one-page checkout and full URL control among the most popular.
You'll likely still find more than enough features with Shopify, including plenty of solid SEO tools and a free customizable mobile app. But if cost is a concern, keep in mind that some features which come standard with Magento will cost extra when you use Shopify. Because when you set up a Magento website, you add the code, you can add in any features you consider essential.
Here are some of the top Shopify features you might consider:
Abandoned Cart Recovery: Send notification emails to customers who leave items in their carts.
Customer Segmentation: Group customers by location and demographics.
Discounts: Create discounts and coupons.
Automatic Upgrades: Shopify automatically applies updates to your site without any effort on your part.
Pricing
As an open source software, Magento is priced very differently from Shopify. In fact, Magento does not charge for using its product. However, that does not mean Magento is totally free to use. Keep reading for a quick breakdown of price starting with Shopify.
Shopify is priced on a monthly subscription model. There are no contracts to sign, but if you purchase the software for more than a year at a time, you can benefit from a discount. Shopify gives you four pricing tiers to choose from (along with an option for enterprise-level businesses), and each step up in price gives you access to more features and customer support. Here's a short summary of Shopify's pricing model:
Shopify Lite Plan (No Online Store Included): $9/month
Basic Shopify Plan: $29/month
Shopify Plan: $79/month
Advanced Shopify Plan: $299/month
In addition to these monthly charges, each Shopify plan includes transaction fees charged to you (in addition to those charged by your gateway payment processor). Those fees range from 2% of each sale, at the lowest level plan, to 0.5% at the top level.
Magento, on the other hand, has one pricing tier: $0.
However, that does not mean you won't have any expenses associated with Magento. Because Magento is open-source, merchants are responsible for finding and funding their own hosting and security. Magento is a rather heavy software, which requires more expensive hosting. What's more, users who do not have much technical experience will likely need to hire a developer at some point, which can be rather expensive.
All said, Magento and Shopify are clearly priced in very different ways, which makes it difficult to choose a winner. In this case, we're going to give the victory to Magento, since you don't have to pay anything to download the software. That price tag will rise, however, if you end up hiring a developer to put your store together.
Ease Of Use
Winner: Shopify
Evaluating the ease of use for licensed software like Magento really requires two separate metrics: onboarding and daily use. This is particularly the case when comparing it to an SaaS subscription, like Shopify.
When it comes to onboarding, Magento is a headache. The majority of users will need to hire an intermediary to get them off the ground. These design companies offer varying levels of assistance, from "just the tech stuff" to a more comprehensive full-service suite.
However you choose to get Magento up and running, things become much smoother in the daily use phase. Its admin is well-organized and responsive.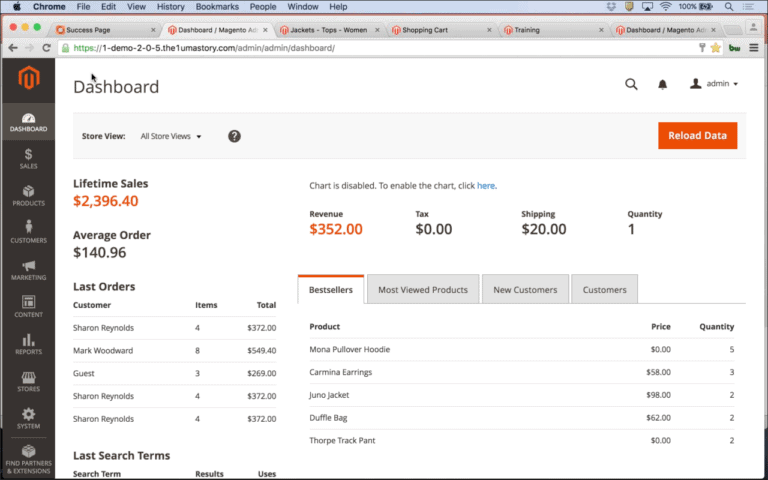 If a user is tenacious enough, just about anything can be accomplished from the admin with just a little poking around, without relying on your developer (and associated fees) for common tasks. Here's the page you'd use to add a product: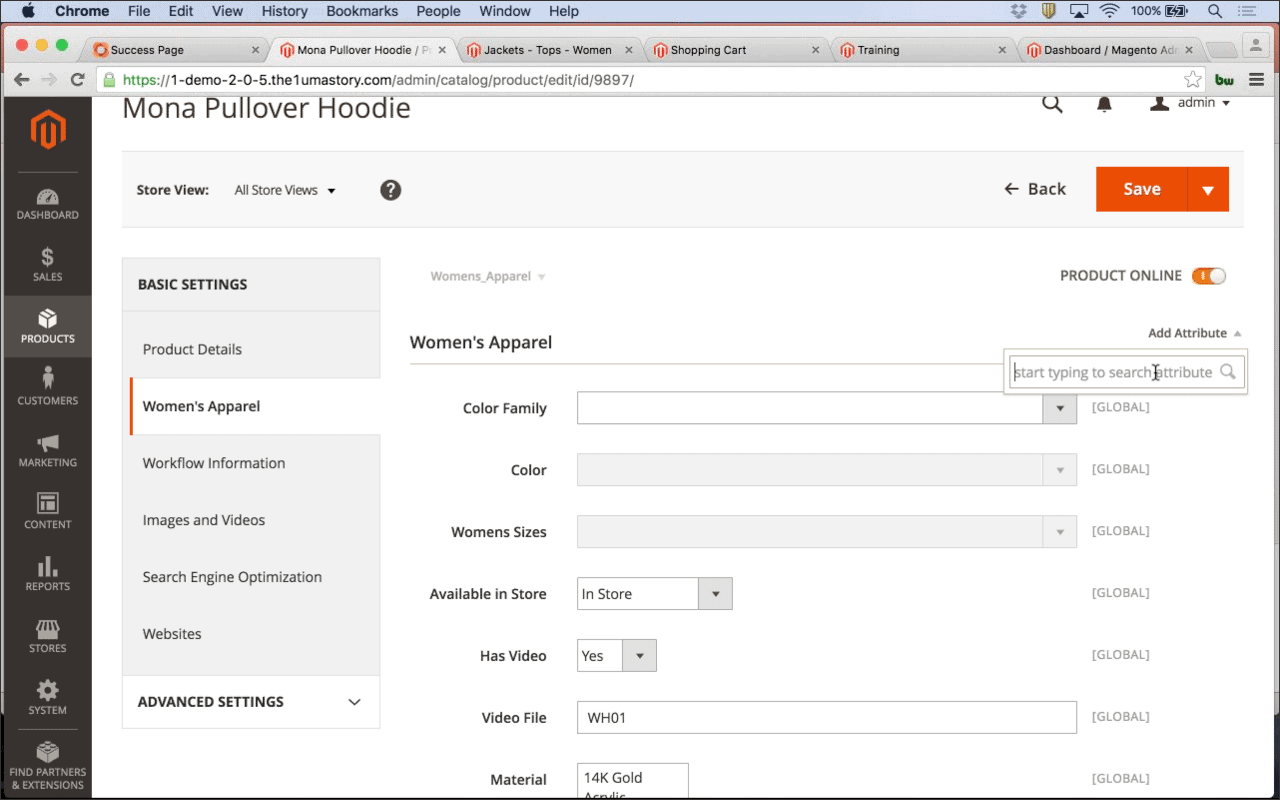 Having said that, it is common for Magento users to keep their developer on speed dial for any significant changes, while they themselves just monitor analytics and order fulfillment.
Shopify, on the other hand, was designed with the customer and merchant in mind. You can test Shopify out for yourself by signing up for a free 14-day trial, with no credit card required. After signing up, you'll have access to a dashboard and a quick Getting Started guide, which guides you through the processes of adding products, adjusting settings, choosing a theme, and more. Adding a product is simple. List product attributes and categories as you add your products.
It's similarly easy to add discounts and coupon codes and apply them to specific products and categories. In short, Shopify is the clear winner when it comes to general ease of use.
Reviews & Complaints
We have collected a good deal of user feedback for both Shopify and Magento. Many Magento users report a steep learning curve, which is not surprising. Open source software can be difficult for non-technical users to learn and master. When you use Magento, you should not expect any support, onboarding assistance, or automatic software updates. Essentially, you're on your own.
On the flip side, users like the fact that Magento allows you to make deep customizations (if you have the expertise or don't mind paying someone who does). They also love the Magento community; it's easy to find someone who can answer your questions or help you through a rough spot. In addition, merchants love Magento's broad feature set and overall scalability.
Shopify merchants complain about transaction fees (again, these can be waived with Shopify Payments, although Shopify Payments comes with its own complaints). Other merchants complain that Shopify lacks advanced features, and they dislike how add-ons rack up monthly bills.
Shopify users like the cart's unlimited bandwidth, accessible round the clock customer care, hearty collection of add-ons, and overall ease of use. And it's hard to find much to complain about when it comes to Shopify's beautiful and free templates, which most users find easy to tweak, even without coding expertise or even experience.
You won't find any easy editors in your Magento backend. If you have no experience with HTML or CSS, you'll likely have to find a professional to help customize your design. While this is a pain for less technologically skilled vendors, it's really an advantage for other users. Shopify places some restrictions on customizability, but there are no such restrictions with Magento. You can make your site look and function however you'd like.
Both carts offer a seemingly limitless supply of themes and customization options, but we give Shopify the win here. Because the majority of our readers are looking for easy design tools, for these sellers at least, Shopify fits the bill.
Integrations
The Shopify App Store is flooded with free and fee-based add-ons — 2,701 of them, at last count. So you'll have little trouble finding the extensions you want for marketing, SEO, accounting, shipping, and more.
Compared to Magento, Shopify arrives lighter out of the box. That means you may be forced to pay for certain extras that are included as standard features with Magento, like the ability to set up one-page checkout. Magento also has an app store that features integrations and extensions developed by the Magento community. They're a bit more difficult to sift through, but with all the features already included with the platform, you probably won't need too many apps.
The Key Differences Between Magento & Shopify
Sometimes, in comparing two platforms, the differences between them are fairly subjective, or one platform is richer in one area whereas the other excels in another area. Rarely are the differences so clear cut as between Shopify and Magento. Each is a valuable tool for eCommerce, though they approach that goal quite differently.
Pricing
Shopify offers tiered levels of service, with escalating access to features and a price tag to match. Magento offers two tiers: free, for the open source, and pricing starting at $1,988 per month for its customized plan.
Support
Shopify is a fully supported service; that's partly what your monthly fees go toward. Magento is open-source software, where you get the product for free and are on your own to figure out how to use it. You can find consultants, designers, and developers eager to help you maximize your use of either platform.
Ease Of Use
While Shopify takes pains to ease users into eCommerce, Magento offers a sophisticated product that's easy to use — if you have the know-how to use it or don't mind paying someone who does. Online vendors need to weigh the competing priorities: Do you place more value on having something you can set up yourself and have up and running quickly, or do you want a truly customize sales site that will take time to create? There's no right answer for everyone, but you likely know by this point what your own answer will be.
Hosting & Security
Another way Shopify makes eCommerce easy for users is through site hosting and security. You won't have to register a domain name when you set up an online store using Shopify. You'll be assigned a URL automatically. You'll also receive layers of security for your store that can make customers feel safe shopping there. When you use Magento, you will be responsible for finding a site host yourself, and you will need to pay for an SSL certificate on your own.
Which Is Best For My Business Needs?
So which is right for you? Do you lean toward the out-of-the-box SaaS solution Shopify offers, or do you prefer the 100% customizable, flexible, and expandable platform Magento can deliver?
Choose Magento If …
With a quarter of a million users, Magento clearly hits the right notes for many types of vendors. You'll probably find it's the best option under these circumstances.
You are a large or fast-growing company. There's no end to how you can add on to and adapt a Magento site. Because it's open-source, you can add endless customizations to create a store that's able to grow with you.
You have coding experience. Once you have created a Magento site, there's a less steep learning curve involved as you operate your store and manage sales. If you have passing familiarity with web development and feel comfortable working with HTML, CSS, and Javascript, you should be able to create a Magento store.
You want a truly unique online store, and you have the budget to pay for it. If you're willing and able to work with a developer, Magento is a great alternative to Shopify and other platforms that offer limited numbers of themes and customizations. If you have a developer on staff — or on speed dial — Magento should stay on your shortlist for eCommerce platforms.
Choose Shopify If …
Setting up an online store requires you to lay out your priorities for the project, balancing your capabilities and competing needs. Shopify is a great option for setting up your store under the following conditions.
You're just getting started with eCommerce. When you're building your customer base and learning to manage inventory online, you don't have time to learn to code. You want a turnkey solution that you can use to get your store up and running in a matter of hours or a few days, not weeks or months. In that case, Shopify is a great choice.
You are comfortable paying a monthly fee in exchange for professional support. Shopify offers different levels of service, and you can choose the one that fits your budget and your needs. In exchange, you get ready-made templates and add-ons that you can use to put together a store in no time. You will need to familiarize yourself with the admin, sure, and learn some new processes like adding products. But the learning curve is a short one, and you'll be up and selling in no time.
Final Verdict
For the right user, Magento has the capacity to be a really fantastic shopping cart. Magento offers strong features and customizability at a very low price. Once you get over the learning curve and enormous implementation headache, Magento smooths out impressively. The features and scaling potential of Magento makes it a top pick for plenty of mid-sized and large businesses around the globe. If you have room in the budget for a kick-butt web designer, Magento will open up nicely. And if you have web experience under your belt, Magento may be the right choice for you.
However, I cannot comfortably recommend Magento to the average reader. Magento is considerably more difficult to set up and maintain. Many users may find themselves quickly overwhelmed by the process.
So if you're looking for a totally user-friendly cart with solid design, Shopify is the right fit. Shopify covers all the bases, from tech to aesthetics, so you have the freedom to run your business and not your website.
If you're ready to know more, take Shopify and Magento for a trial run to see which cart is the better fit for your business.