ShopKeep VS Lightspeed
Expert Analyst & Reviewer

UPDATED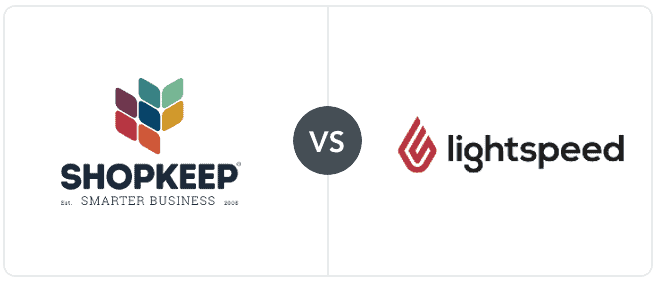 I like to think iPad point of sale systems provide a kind of happy medium between mobile POS and traditional POS systems. In many cases, they offer all of the functionality of the older, more expensive point of sale systems, along with cool web-based features and mobility when you need it. ShopKeep (see our review) and Lightspeed (see our review) are two such iPad POS's that work well for small to medium businesses like quick-serve, bars, restaurants, and retail stores. But which one is better?
In this article, I'll take you on an in-depth look at ShopKeep vs Lightspeed to determine which is the better iPad POS for small business based on the qualities that matter the most to merchants like you.
Note: Lightspeed has two distinct cloud-based POS systems, Lightspeed Retail and Lightspeed Restaurant, as well as an eCommerce product and a desktop product (Onsite). In this breakdown, we'll focus on the two cloud POS products, Retail and Restaurant, and how they compare to ShopKeep. When I refer to "Lightspeed" in general, I'm talking about both Lightspeed Retail and Lightspeed Restaurant.
Web-Hosted or Licensed:
ShopKeep and Lightspeed are both web-hosted, but will still function if you lose your Internet connection. So even though they are cloud-based, you could also call them "hybrid" POS systems. This type of POS runs locally from an iPad app, and syncs data back to the cloud when you're online. You can take credit card payments when the Internet is down, but will have to wait until you're online again to actually process the payments—this goes for both ShopKeep and Lightspeed.
ShopKeep and Lightspeed are both SaaS (software as a service) and charge merchants on a monthly basis, so there is no contract or fee if you change your mind after a month or a year. (Lightspeed does offer the option of annual billing at a slightly lower price point.)
Hardware and Software Requirements:
ShopKeep and Lightspeed both run on newer-gen iPads (iPad Air 2, iPad Mini 2 and 3, iPad 4, etc.) running iOS 8.
Lightspeed Restaurant will also run on an iPhone or iPod Touch, whereas you have the option to run Lightspeed Retail on any computer (via a web browser).
You can purchase peripheral equipment kits that include items such as an iPad enclosure/stand, cash drawer, hand scanner, and receipt printer through ShopKeep or Lightspeed, or you can source this equipment elsewhere.
Specific Size and Type of Business:
ShopKeep is aimed squarely at small- to medium-sized businesses. ShopKeep has multi-location support and you can have as many registers as you want, but the system can only handle up to 10,000 SKUs (and 270 item buttons on the register; the rest you'll have to scan or look up manually).
Like ShopKeep, Lightspeed is also best suited for small to medium businesses, single- or multi-location, with fewer than 8 registers. Lightspeed has the capability to support unlimited registers, but this option is not widely advertised.
As for the type of businesses served by each POS, ShopKeep is especially geared toward restaurants and quick service, though many retail businesses also use it. Lightspeed Restaurant is suitable for just about any food-related business ranging from quick service to fine dining; meanwhile Lightspeed Retail works with any type of brick-and-mortar retail business.
Pricing:
Winner: Tie
This one is a little complicated given the different pricing structures between the three systems. ShopKeep charges a flat per-register rate while Lightspeed Retail and Restaurant have tiered pricing.
Basically, when all the math is done, if you're only looking for one register, ShopKeep and Lightspeed Restaurant (billed annually) are the same price. After that, LS Restaurant gets increasingly cheaper than ShopKeep per register. On the other hand, ShopKeep lands right between LS Retail's two prices (for monthly billing and annual billing), making the two systems pretty comparable as far as the per-register pricing goes. The bottom line is that Lightspeed Restaurant is cheaper for food service operations, but ShopKeep and Lightspeed Retail are pretty even when it comes to retail establishments.
ShopKeep:
$59/terminal/month (flat price; doesn't matter how many terminals you have)
Lightspeed Restaurant:
Small:

$69/mo ($59/mo if billed annually) — 1 register

Medium:

$119/mo ($102/mo if billed annually) — 3 registers

Large:

$239/mo ($205/mo if billed annually) — 7 registers

(Request a quote for more than 7 registers)
Lightspeed Retail:
Small:

$89/mo ($76/mo if billed annually) — 1 register

Medium:

$149/mo ($128/mo if billed annually) — 2 registers

Large:

$259/mo ($222/mo if billed annually) — 4 registers
Add ons:
$51/mo for each additional register
$9/mo for each employee
$59/mo ($51/mo is billed annually) to add a web store
$25/mo ($21/mo if billed annually) for "Advanced Reporting"
Ease of Use:
Winner: Tie
ShopKeep's customizable register interface is intuitive and even fun to work with. You can easily access all register functions and some back-end functions on the iPad app, and access managerial functions such as reports and inventory receiving on the back-end with any web browser. ShopKeep also has an iPhone app ("ShopKeep Pocket"), which doesn't process sales but will show you some important real-time stats for your store.
Likewise, the Lightspeed POS interface is easy to set up, customize for your business, and start using. The interface is visually simple, almost spartan, despite the wealth of functions it is capable of. You can train employees on basic functions in less than a day, though more complex back-end stuff will take a little longer to master (the same goes for ShopKeep).
Product Features:
Winner: Lightspeed
Both Lightspeed and ShopKeep offer some impressive features for "mobile" POS's, from gift card acceptance to inventory management. However, when you move to the back-end of these POS's, you'll find out that Lightspeed offers more reporting and business management features, as well as more refined inventory management and API access. Check it out:
Features of both ShopKeep and Lightspeed:
Chip card acceptance (EMV-compliance)

Customer management

Gift cards

Loyalty program integration

Tableside ordering

Employee time tracking

Mobile payments (Apple Pay)

Multi-tender options

Basic inventory and raw ingredient management

Features Lightspeed has that ShopKeep doesn't:
API access

Advanced inventory management — can add modifiers and unit of measure to raw ingredients

Advanced reporting — for employees, customers, sales

eCommerce integration — for additional monthly charge

Table layout (LS Restaurant)

Purchase order management (LS Retail)
One area of functionality where ShopKeep is better than Lightspeed is the fact that ShopKeep features email marketing and QuickBooks integration and LightSpeed Restaurant does not. Which brings us to the next area of comparison…
Integrations:
Winner: Tie
Lightspeed integrates with more services than ShopKeep overall; however, Lightspeed Restaurant lacks some important integrations that ShopKeep has—namely, QuickBooks and MailChimp.
ShopKeep integrates with QuickBooks, MailChimp, and AppCard (loyalty program app).
Lightspeed offers a few other integrations, such as Bike Exchange and Bike Rental Manager for bicycle businesses, Mobikon for online restaurant ordering, and Shogo for online accounting integration. However, LS Restaurant notably lacks integration with small business favorite QuickBooks, or any email marketing programs—some businesses might consider these important oversights. LS Retail, on the other hand, supports QuickBooks integration and MailSync for email marketing integration.
Both POS's integrate with a number of payment processors, such as Mercury Payment Systems and Moneris Solutions, and ShopKeep also offers its own highly rated ShopKeep Payments. Both POS's accept ApplePay; neither accepts PayPal.
See the complete lists of ShopKeep integrations and Lightspeed integrations.
Customer Service and Technical Support:
Winner: ShopKeep
ShopKeep and Lightspeed each offer phone support, live chat support, and email support, as well as various online educational resources. However, ShopKeep is renowned for its responsive, high-quality customer support—in fact, it's our favorite thing about ShopKeep—while Lightspeed customers generally say that LS support could use some improvement.
It's not that Lightspeed has "bad" customer/technical support, but customers frequently say they have to wait a little longer than they'd like to receive answers to pressing technical questions. Lengthy wait times can turn what could have been a small problem into a big one when you miss out on peak selling hours waiting for your POS to be fixed.
For what it's worth, web-based POS's can be kind of glitchy, and other cloud POS's like Square and Revel Systems have had a lot of customer support complaints and lived to tell the tale. In fact, we recently rated Lightspeed's customer support as being superior to Revel's. But compared to just about any web-based POS system—including Lightspeed—ShopKeep's support is hard to beat.
Reviews and Complaints:
Winner: ShopKeep
Customer reviews for ShopKeep and Lightspeed are more positive than not, but complaints about Lightspeed Retail have dragged down Lightspeed's overall user scores to some degree.
ShopKeep and Lightspeed Restaurant have similarly high user ratings on the iTunes store and sites that aggregate user ratings, like Software Advice. Though Lightspeed Restaurant is a newer product, and therefore not as many people are using it yet, the ones who are really seem to like it!
The more expensive Lightspeed Retail, while offering more features, integrations, etc., has much lower ratings on these user review sites. One of the reasons for this could be that Retail recently had some server and API-related issues, resulting in widespread system outages. These problems have been resolved, and more positive reviews have come in recent months, but it will take a little time to repair the damage those outages dealt to Lightspeed's online reputation. Also, as mentioned, Lightspeed's sometimes slow support has resulted in some bad reviews as well.
It's also worth mentioning that ShopKeep is a BBB-accredited business with an A+ rating; LightSpeed POS Inc. does not seem to be listed with the BBB.
Final Verdict:
Winner: Tie
While Lightspeed offers some advanced features ShopKeep doesn't, ShopKeep still packs some impressive functions for one of the lowest prices in the industry. At the same time, ShopKeep has more responsive technical support and fewer customer complaints overall.
Since they both have their positives and negatives, it's not really possible to pick a distinct "winner" when comparing these two POS's. ShopKeep and Lightspeed are both great iPad POS systems for small businesses, and your best choice will depend on your business' specific needs. With the customization options that speciality boutiques need and the table management feature for full service restaurants, Lightspeed has a pretty unique appeal. On the other hand, ShopKeep seems to be doing very well with its one-point-of-sale-fits-all approach.
Before signing up with ShopKeep or Lightspeed, I encourage you to try out both systems so you can see for yourself how these POS's compare. ShopKeep and Lightspeed use much of the same equipment, so if you try out ShopKeep or Lightspeed and don't like it, you'll probably be able to use most or all of your equipment with the other POS (or with another iPad POS system altogether).
As always, feel free to weigh in with your opinion of ShopKeep vs Lightspeed.