ShopKeep VS Revel
Expert Analyst & Reviewer

UPDATED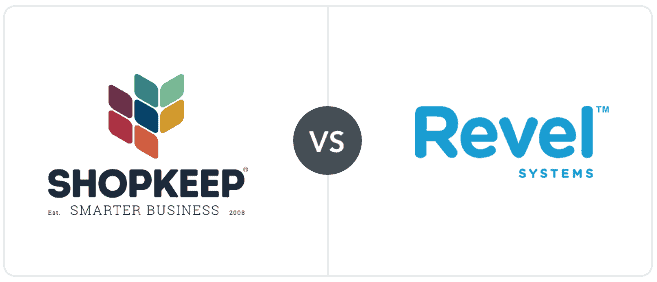 ShopKeep (see our review) and Revel Systems (see our review) are some very recognizable names in iPad point-of-sale (POS) systems. In the past several years, numerous merchants have switched out their traditional POS in favor of one of these cutting-edge, web-based POS's. However, even though they're both iPad POS's, ShopKeep and Revel are actually quite different from one another. If you're looking into switching to an iPad point of sale and want to compare Shopkeep vs Revel, I've done most of the homework for you. Why, you're welcome!
If you're pressed for time and trust our judgment here at Merchant Maverick, then I suggest you take a look at our top rated point of sale providers. They all offer very fair and competitive rates and don't charge any bogus fees. If you prefer to discover this stuff yourself, then read on to learn the pros and cons of each point-of-sale service, and which one I think is the better iPad POS.
Web-Hosted or Licensed:
ShopKeep and Revel are both web-hosted, but will still function if you're offline. So, even though they are cloud-based, you could also call them "hybrid" POS systems. This type of POS runs locally from an iPad app, and syncs data back to the cloud when you have an internet connection. You can take credit card payments when the internet is down, but will have to wait until you're online again to actually process the payments (this goes for both ShopKeep and Revel).
Revel and ShopKeep are both SaaS (software as a service) systems and charge merchants on a monthly basis, so there is no contract or fee if you change your mind a few months in.
Hardware and Software Requirements:
Revel and ShopKeep both run on newer-gen iPads (iPad Air 2, iPad Mini 2 and 3, iPad 4, etc.) running iOS 8. You can purchase peripheral equipment kits that include items such as an iPad enclosure/stand, cash drawer, hand scanner, and receipt printer through Revel or ShopKeep. Or, buy these items from an outside vendor.
Revel distinguishes itself from ShopKeep in the hardware department by offering a wired ethernet connection (Revel Ethernet Connect™) that plugs right into your iPad. This option provides a faster and more secure connection than WiFi, and can also act as a failover connection if your WiFi goes down.
For a basic setup, the hardware costs of each system are comparable (about $1,000 for one register).
Specific Size and Type of Business:
Here is where we see the two businesses start to diverge significantly. In a few words, Revel is for large businesses, and ShopKeep is for small businesses. If you're somewhere in the middle, you can probably get away with using either system, depending on your specific feature needs.
Revel, on one hand, is a very powerful POS suitable for mid-sized and large businesses. Retail, food, and hospitality/service businesses use Revel, including some major quick-service franchises, like Dairy Queen and Little Caesar's, as well as Fortune 500 electronics retailer Belkin.
ShopKeep is also suitable for restaurants, quick-serve, and retail businesses, and like Revel, it will work for multi-location stores. However, ShopKeep is more aimed at small- to medium-sized businesses. ShopKeep can only handle up to 10,000 SKUs (and 270 item buttons on the register; the rest you'll have to scan or look up manually), whereas Revel supports up to 500,000 SKUs. ShopKeep is a lot more powerful than a very basic mobile POS like Square (see our Shopkeep vs Square comparison for more on that), but if you have a large inventory you will need a more robust POS, such as Revel.
Pricing:
Winner: ShopKeep
With its lower cost of entry, ShopKeep is more affordable than Revel for small businesses. As you can see below, ShopKeep is significantly cheaper for 1-2 registers, though to add on additional registers after that it costs $50/month/register for either system (well, $49 for ShopKeep). With that said, businesses large enough to use more than a handful or registers might not be using ShopKeep anyway.
Revel
1st terminal: $119 per month

2nd terminal: $79 per month

Each additional terminal: $50 per month
Note: Revel's pricing is flexible and can be tailored to your specific situation. The price list above is a rough approximation of how much you might be paying for each terminal.
ShopKeep
$49/terminal/month (flat price; doesn't matter how many terminals you have).
Ease of Use:
Winner: ShopKeep
ShopKeep is terrifically easy to use. The front-end register interface is intuitive and user-friendly, even enjoyable to work with. The system is also easy to set up and customize for your business's particular POS needs. While register functions are all on the iPad app, you can access managerial functions such as reports and inventory receiving on the back-end using any web browser. ShopKeep also has an iPhone app ("ShopKeep Pocket"), which doesn't process sales but will show you some important real-time stats for your store.
Revel's front-end is also relatively easy to use, but because the back-end offers more advanced features, it has a steeper learning curve than ShopKeep's back-end. Revel also takes longer to set up initially. But once you get the hang of Revel, it's not much harder to use than ShopKeep, so ShopKeep wins this one by just a small margin.
Product Features:
Winner: Revel
Both Revel Systems and ShopKeep offer some impressively advanced register features for a "mobile" point-of-sale, allowing you to accept just about any kind of payment from cash and gift cards, to chip cards to Apple Pay. These iPad registers also makes it easy for cashiers to do things like void transactions and issue returns, and for waitstaff to take table side orders and send them directly to the kitchen.
However, when you move to the back-end of these POS's, you'll find out that Revel offers more advanced reporting and business management features, including more robust inventory management. Revel also offers functions like appointment scheduling and table layouts for restaurant management. Check it out:
Features both ShopKeep and Revel have:
Chip card acceptance (

EMV-compliance

)

Customer management

Gift cards

Loyalty program

Tableside ordering

Employee time tracking

Mobile payments

(Apple Pay)

Email receipts

Split checks

Onscreen tipping

Easy returns, refunds

Multiple tax rates (recently added to ShopKeep)

Email marketing and accounting software integration

Basic inventory and raw ingredient management
Some features Revel has that ShopKeep doesn't:
Appointment scheduling

Table layout

Digital menu boards

Kitchen display system

Self-service kiosks

Ethernet connection

Online ordering

Delivery management

Employee scheduling and payroll
Please note that some of Revel's advanced features are not included in the basic price — the digital menu board, kitchen display system, and kiosk POS are all considered add-ons that carry an additional monthly charge. See the complete lists of Revel features and ShopKeep features for a closer look at the features offered by each POS.
Integrations:
Winner: Revel
As with the feature sets, you'll see that ShopKeep offers some important integrations, but not as many as Revel.
For example: ShopKeep integrates with QuickBooks, MailChimp, and Apple Pay. But in addition to those options, Revel also integrates with Xero (a QuickBooks accounting software alternative), and PayPal and Bitcoin as additional mobile payment options. Also unlike ShopKeep, Revel also integrates with eCommerce services Shopify and Magento, as well as some online ordering apps.
Both POS's integrate with a number of payment processors, such as Mercury Payment Systems and Moneris Solutions, and ShopKeep also offers its own highly rated ShopKeep Payments.
See the complete lists of ShopKeep integrations and Revel integrations.
Customer Service and Technical Support:
Winner: ShopKeep
ShopKeep and Revel each offer multiple channels for customer service and tech support, from phone and email support to live chat and online educational resources. But ShopKeep is renowned for its high-quality support, whereas Revel has (at least historically) fielded a lot of complaints about its support.
Revel has recently made significant support upgrades, as noted in our Revel Systems review, and now boasts a customer satisfaction rate of over 93%. However, while we can say that Revel has "good" customer support, ShopKeep's support is virtually unbeatable in the cloud POS world.
Reviews and Complaints:
Winner: ShopKeep
Customer reviews for these POS's are by-and-large positive. ShopKeep is a BBB-accredited business with an A+ rating, and so is Revel. Both apps have an average rating of about 4 stars in the iTunes store (See ShopKeep on iTunes; Revel POS Quick-Service and Restaurant and Revel POS Retail on iTunes. But looking at customer ratings across the web, you'll see that users give ShopKeep a higher average "star" rating when compared to Revel.
Like I mentioned in the previous section, users rave about ShopKeep's customer support, and Revel has had some issues with this area in the past. System bugs occasionally irk users of both systems, but with a more complex, expensive system like Revel, system glitches and less-than-stellar technical support can be especially irritating. However, as more users experience Revel's recent support improvements, we may see Revel's user reviews start to look more like ShopKeep's.
Final Verdict:
Winner: It's a Draw
While many food and retail businesses are comparing iPad POS's like ShopKeep and Revel, the truth is that these POS systems were built to serve different needs. ShopKeep is better for small businesses, and most larger businesses will need a more advanced system like Revel.
ShopKeep has a marginally better user experience and a lower cost. However, if you need advanced inventory tracking (for example, the ability to track inventory by modifiers), or eCommerce support, or self-service kiosks, only Revel can meet these needs. On the whole, we really like both systems, and find neither to be woefully lacking in any key area.
So, to put it in the most basic of terms, for some businesses ShopKeep is better, and for others Revel is better. To evaluate ShopKeep vs Revel yourself, schedule a Revel live demo. Or, let us help you decide which cloud POS would be best for your business. (That's kind of our thing.)