ShopKeep VS Square
Updated on:
Posted by: Melissa Johnson
Advertiser Disclosure: Our unbiased reviews and content are supported in part by
affiliate partnerships
, and we adhere to strict
guidelines
to preserve editorial integrity.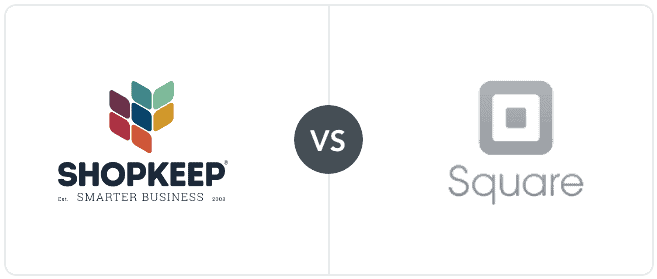 | ShopKeep | VS | Square |
| --- | --- | --- |
| Tie | Features | Tie |
| | Fees & Rates | ✓ |
| Tie | Contract Length & Cancellation | Tie |
| Tie | Hardware & Software Requirements | Tie |
| | Integrations & Add-Ons | ✓ |
| ✓ | Customer Service & Technical Support  | |
| ✓ | User Reviews | |
| Tie | Final Verdict | Tie |
| | | |
| | | |
If you're in the market for a mobile POS, you're going to eventually come to a short list of names — the ones with the best product, the best service, and the best pricing. And odds are pretty good you're going to have both ShopKeep and Square on the list. With some cursory digging, you'll start to see some similarities between the two. Both offer a free POS as well as monthly subscription options, both target a fairly wide range of industries, both have payment processing built-in. But at the same time, there are some important, fundamental distinctions between the two.
For starters, Square (read our review) is a very large company, with more than 2 million merchants using its services. It's also a LOT more than just an iPad POS or an mPOS system — it's a whole platform of business services all rolled into one. ShopKeep's primary focus is its iPad POS, with a few integrations and a few add-on features to sweeten the deal for merchants. I don't want to say the 20,000 businesses on the ShopKeep platform is chump change, but…well, numbers are numbers.
If I'm honest, though, I think the difference in size translates to some very obvious differences in philosophies. ShopKeep (read our review) is a smaller company that caters to small and mid-size businesses. It does this by offering customized software packages and credit card processing, as well as round-the-clock customer support. ShopKeep is a very hands-on, personal company.
Square, on the other hand, is very much a "take it or leave it" company. Its pricing is fixed and inflexible unless you meet specific criteria). If you're looking for add-ons, Square is very modular. However, if you're only interested in a few very specific things, Square will still throw the whole enchilada (so to speak) at you. Square offers extensive resources for its merchants but the personal attention and 24/7 support you get with ShopKeep simply aren't present here.
However, that doesn't necessarily makes Square a worse choice than ShopKeep. Both have very solid, well-designed products. In the end, it always comes down to what your individual needs are. Square could absolutely be the right choice for you. And so could ShopKeep. Read on to take a closer look at how these two companies stack up in the ShopKeep vs. Square debate.
Overview of Square's Most Popular Services
| Reader | eCommerce | Retail | Food Service |
| --- | --- | --- | --- |
| | | | |
| Free App & Reader | Square eCommerce | Square for Retail | Square for Restaurants |
| Get Started | Get Started | Get Started | Get Started |
| Free, general-purpose POS software and reader for iOS and Android | Easy integration with popular platforms plus API for customization | Specialized software for more complex retail stores | Specialized software for full-service restaurants |
| $0/month | $0/month | $60/month | $60/month |
| Always Free | Always Free | Free Trial | Free Trial |
Features
Winner: Tie 
It's a little bit difficult to compare platforms that are fundamentally different. ShopKeep is a point of sale app with marketing and inventory tools built in, while Square is a complete business platform. So instead we're going to focus on the elements that both have in common: back-office features (the dashboard),  the POS app itself, and the reporting functions. If you want a more detailed look at each of these products we recommend you check out our in-depth ShopKeep and Square reviews for more information.
Back Office 
ShopKeep's web dashboard controls all of the POS app's back-office functions, including inventory, labor management and reporting. It also controls the layout of the register buttons. Coming from a space where I work primarily with mPOS apps such as Square, this was a bit odd to me that ShopKeep wouldn't auto-populate buttons. But it does put you in control of the customization and layout of your register. Bird's Eye View will give you a quick glance at your business and performance, while Analytics offers a deeper look at the data. However, most of ShopKeep's sales reporting tools aren't available with the free plan.
ShopKeep's inventory features far outclass Square's. Here's what you can expect:
Item tracking
Item matrix for variants
Modifier/add-on groups
Item costs
Raw goods tracking
Variable pricing (at register)
Items by quantity (per ounce, per pound, per yard, etc.)
Set reorder triggers and recommended quantities
Inventory and raw goods value reports
Track items by supplier (including supplier ID)
Customer database with option to note tax exemption
However, there are a few notable shortcomings, as well:
Item matrix doesn't support all features
No bundling supported
Reorder report not available on free plan
Supplier listing does not include contact details
ShopKeep's employee management allows you to set PIN numbers and control access to features on the register and in the back office. ShopKeep's permissions aren't as advanced as Square's but they do address a mix of needs. The app also works as a timeclock, allowing you to pull shift reports in the dashboard.
ShopKeep also offers a loyalty program. It's not included with the free subscription, but you can ask about it when you request your custom pricing quote. The loyalty program is actually powered by AppCard, and it appears to be quite flexible as well as data rich. For marketing, ShopKeep integrates with MailChimp (we'll talk about that in the Integrations & Add-Ons section).
Square's Dashboard, like ShopKeep, is the centralized control for everything Square related. It's the only platform where you have access to or can control all of Square's many features, including your inventory, customer database, virtual terminal and card vault, invoicing, and more. The only restrictions placed on features and reports are those available in the upgraded POS systems — Retail, Restaurants, and Appointments — or add-ons (loyalty, marketing, employee management). You'll have to pay for those subscriptions to access those features, but it's not a tiered structure based on your subscription plan, like ShopKeep.
Square's inventory tools are more basic than many paid POS apps, but you do get quite a bit compared to most other free options:
Customer database, including purchase history
Track inventory numbers
Support for variants and modifiers
Variable price points
Bulk import/export of inventory via CSV
All of that said, you might notice a few features missing from Square:
No supplier listings
No bundling
No raw goods
No sales by increments, weight, or other units
No support for item costs
No profitability reporting or cost of goods sold
No dead item report/last sold date
However, it's worth noting that Square for Retail, one of the company's premium iPad POS systems, does support item costs, COGS reporting, and a supplier database, as well as purchase order management (not available in ShopKeep). Read our full review of Square for Retail for a closer look at the advanced features.
In addition, Square offers employee management as a per-employee-per-month add-on. (It's included with Square for Retail at no additional charge for unlimited employees.) With this feature enabled you can assign your employees their own unique pins and set permissions based on role. This feature is actually very customizable, so merchants with very specialized needs could find that Square has a major advantage.
Square's loyalty program is an add-on that is highly customizable and allows you to set your own perks, including how you name them. Pricing is based on usage, and the whole program syncs with the rest of Square's products. It also integrates with Square's marketing, another monthly add-on.
POS App 
ShopKeep's POS app is well designed and intuitive. I'm far more familiar with entry-level mobile POS systems than I am with their full-featured iPad cousins, but ShopKeep felt easy to me. The only surprise, as I said above, was that buttons for merchandise don't auto-populate when you create an item in your inventory. Instead, ShopKeep requires you to set up all of your buttons yourself. It's not difficult, but you may want to put some thought into how to lay out the buttons before you start the process.
ShopKeep does have an offline mode that will allow you to keep operating even if there's an internet outage. However, you won't be able to process credit cards unless you have a manual machine to enter them into the system later.
In addition, ShopKeep offers the following features:
Cash drawer management
Discounts by $ and % (and by item or transaction)
Tips by $ and %
Tips on printed receipts
Gift receipts
Barcode printing
Open check (with Serverless Sync)
If you're on the free ShopKeep plan, Serverless Sync won't apply to you, but anyone who has multiple devices on the ShopKeep plan will appreciate that you can save checks and access them on any other device that's running ShopKeep, with no additional hardware or local servers required.
Square Point of Sale really blurs the line between free mPOS apps and paid iPad POS systems. While it is free, it offers many more advanced features beyond what similar sorts of businesses offer. However, it still lacks some features that iPad POS systems such as ShopKeep offer. Using an iPad gives you access to the greatest number of features but not every feature. A few are smartphone-only, or Android-only.
The app is quite intuitive as far as layout and design, and I think very few people will have trouble understanding how to navigate Square Point of Sale and its features. You can expect the standard fare as far as register functions go, including the (relatively new) ability to customize your tender types and how they appear in your checkout screen. In addition, tablet users can also set up a custom item grid to lay out products.
One of Square's most powerful features is its offline mode. In case you find yourself with an internet outage or completely without cell signal, you can still process transactions through Square — even credit card transactions. So long as you reconnect to the internet and open the app within 72 hours, Square will automatically process those transactions. However, the caveat is you are responsible for and will eat the cost of any transactions that are declined.
Beyond this, Square offers the following:
Cash drawer management
Discounts by $ and %
Tips by $ and %
Tips on printed receipts
Gift receipts
Suspend ticket (does it sync across multiple devices)
In addition, your Square account comes with access to invoicing (from the dashboard and in-app), a virtual terminal, and the ability to store cards on file so that you can process transactions without needing to physically present the card. Some merchants may be unhappy that Square doesn't support barcode printing. However, the app does support scanners and Square is happy to disclose that many of its merchants have had good luck using the Dymo 450 label printer for barcode generation. (To note: Square for Retail does include support for barcode printing directly from the Square dashboard.
Reporting 
Both Square and ShopKeep offer a quick summary of activity in their respective dashboards. With Square you can also view select basic reports within the app. ShopKeep is far more limited in that regard. But in both cases, the dashboard is where you'll find most of the relevant information. You can also download ShopKeep Pocket, an iOS app with detailed analytics. Square's equivalent is called Square Dashboard and is an iPhone exclusive (no Android or iPad support here). Both allow you to check your sales reports on the go without needing to access the POS app directly.
Square's reporting is one of the more advanced toolsets available for free. You can track sales by item, category, and employee, as well as modifiers. The reporting tools also allow you to sort data by discounts, taxes, payment types, fees, and more. The customer insights tools include new vs returning customer reports, as well as data on customer spending and number of visitors. And of course you can run reports on employee shifts and cash drawers.
However, as mentioned, a few notable items are missing: Square doesn't offer cost of goods sold (COGS) reports or profitability reports. There's also no way of tracking raw goods. COGS and profitability reports are only available in Square for Retail, along with a couple of other exclusive reports. The Retail app also includes multi-location inventory management, purchase order management and the ability to receive inventory directly from within the app.
ShopKeep locks you out of many reports on the free plan, which is disappointing but not surprising. A deciding factor some merchants may be the access to free reports using Square. ShopKeep's advanced analytics include many of the same reports as Square, plus others that Square doesn't. For example, the marketing dashboard gives you customer data including your most frequent visitors as well as interactions with links in emailed receipts. And as I discussed earlier, you can check the value of your inventory at a glance as well as generate a reorder report based on what stock items are running low. ShopKeep even offers specific restaurant reporting tools with data relevant to full-service businesses.
You won't get purchase order management even with a paid subscription, but you do get easy tools for updating your inventory and moving it between locations. If you want a more comprehensive look at your inventory, you can export your stock list to a spreadsheet, which even includes when an item was last sold. A dead inventory report like the one offered in Shopventory would be much easier, but this still a relatively easy and cost-effective means of identifying slow-moving products, especially if you know how to work conditional formatting in a spreadsheet.
To put everything in context, ShopKeep's inventory management tools and reporting are superior to Square's, but register functions are about the same. If you're comparing free plan to free plan, Square beats out ShopKeep in the reporting category because of how restricted ShopKeep's free reporting tools are. However, merchants with paid subscriptions to ShopKeep can unlock many more tools than Square offers. Square for Retail comes closest to matching ShopKeep, but even then it lags somewhat behind. The deciding factor will really be what features merchants absolutely need versus which ones they are willing to compromise on.
Fees & Rates
Winner: Square
ShopKeep has begun to offer a free subscription plan. The free plan includes 1 active register, 1 location, and 1 employee, plus limited reporting. However, you do get full inventory management and integrated ShopKeep payment processing. Alternatively, you can use your own merchant account.
If you do want (or need to) upgrade to the paid version of ShopKeep, you'll have to get a custom pricing quote. If you nose around the website, you'll find the baseline number of "$2.50 per day" mentioned a few times, but your price will vary based on your needs. ShopKeep is good about customizing rates tailored to individual needs and plenty of chatter from happy merchants suggest they find the pricing to be fair and reasonable.
If you do opt for ShopKeep Payments, you'll also get a custom payment quote. I can say that ShopKeep offers interchange-plus, which is a clear, transparent, and fair payment structure. If you opt to bring another payment processor to ShopKeep, you'll have to pay a gateway fee, but no transactional fees on top of your payment processing.
Square Point of Sale, on the other hand, is always free. There are no limits on the number of locations or devices you can have, but if you want employees to have their own access codes so you can track shifts and manage cash drawers, you'll need to add employee management to your subscription. That will cost $5 per employee per month.
Payment processing with Square will cost 2.75% per transaction, and you are locked into using Square's services. Keyed and card on file transactions process at 3.5% + $0.15; online and invoiced transactions at 2.9% + $0.30.
You can add other services onto Square's free POS app: Loyalty ($25+/month), Marketing ($15+/month), Payroll ($5/employee/month), and gift cards (starting at $0.80 per card).
Also take note that Square's premium iPad apps, Square for Restaurants and Square for Retail, have their own pricing. Square Appointments is free for an individual, with transactions costing 2.75%. But if you need Appointments for your staff, the cost goes up. Here's what you can expect to pay:
Square for Retail:  $60/terminal/location, additional terminals $20/month; 2.5% + $0.10 per transaction
Square for Restaurants: $60/terminal/location, additional terminals $40/month; 2.6% + $0.10 per transaction
Square Appointments: 2-5 employees $50/month, 5-10 employees $90/month; 2.5% + $0.10 per transaction
Square has an advantage in that there's no cap on transaction volume to be eligible for the free POS app. And you have integrated payment processing with stated rates. But at the same time, Square is a third-party processor, which means merchants face a certain amount of risk in terms of account stability (see the User Reviews section below for more information about this.)
ShopKeep's free POS subscription is more limited overall, but it does offer more inventory tools. While payment processing rates aren't disclosed, ShopKeep's overall commitment to fairness and pricing suggest that its partnership with ProPay is rooted in the same ideals. We've reviewed ProPay separately, so you can read that review for more context.
And if you do decide to upgrade to one of ShopKeep's paid subscription plans, you'll get flexible pricing based on your needs. If you choose to use any (or all) of the add-ons for Square, ShopKeep could easily be as competitive in terms of pricing. Plus, you'll get an interchange-plus plan for card processing through ShopKeep Payments, and ShopKeep promises to match or beat other quotes. In addition, ShopKeep payments issues traditional merchant accounts, which does translate to a greater amount of account stability.
Hardware Pricing
Square certainly wins in the "affordable hardware" category. Square still offers merchants a free magstripe reader, but you should absolutely upgrade to an EMV-capable card reader to protect your business in the event of a fraudulent transaction. Square's EMV readers start at $29 for a basic EMV/magstripe combo reader that connects via headphone jack; the contactless+chip reader (which supports EMV as well as NFC-based payments such as Apple Pay) goes for $49. Any hardware orders $49 or more are also eligible for financing.
ShopKeep's card readers appear to be much more expensive, with a Bluetooth-enabled, EMV/NFC card reader going for $329 on the ShopKeep site. That's a hefty price tag if you want a wireless reader. A Lightning-connected magstripe reader will still set you back $99. And pricing isn't disclosed for any of the Clover devices. But these prices only apply to merchants who process with ShopKeep Payments.
Merchants on the free plan who go through ProPay can get a free credit card reader. (Details aren't given, but based on information on ProPay's website indicates it's just a magstripe reader, not a chip card reader.)
And keep in mind, none of this includes any hardware bundles, tablet stands, cash drawers, receipt printers, or barcode scanners. Bundles will get you the best deal with both Square and ShopKeep, though prices will vary depending on which particular hardware bundle you choose.
In this case, I struggle to say one company clearly has better pricing than the other, because you need to consider several factors: the payment processing, the subscription costs, and the hardware. What do you absolutely need and what can you live without? Given Square's pricing for employee management and its premium POS systems, I can easily see situations where you could pay as much with Square as you would with ShopKeep and get a very similar set of features. However, Square does have a slight edge in that the pricing is predictable and up-front, with no volume limits on its free plan.
Contract Length & Cancellation
Winner: Tie
Here's the good news: Both ShopKeep and Square require no long-term contracts. You can cancel any time.
Square Point of Sale is entirely pay-as-you-go, except for any add-ons, which are billed monthly. ShopKeep bills you in advance for the month. You can choose to pay for a multiple months in advance, but take note: According to the terms of service, if you cancel your subscription before the end of that contract, you aren't eligible for any refunds. This is a pretty standard practice with SaaS providers, but make sure you're certain before you commit to anything long term.
Hardware & Software Requirements
Winner: Tie
ShopKeep is an iPad app. The register functions are all centralized on the iPad, but any sort of management feature, from creating inventory to even customizing the layout of the register buttons, is managed in the back office dashboard. It's a web interface, which you could conceivably operate from the iPad, but the interface has been optimized primarily for desktop and laptop computers.
As far as operating specs, the ShopKeep app requires an iPad running iOS 9.3 or higher. That's it. ShopKeep offers a selection of hardware for you to choose from, but you needn't worry about what will be compatible based on your device.
It's also worth a mention that you can use ShopKeep with a handful of Clover devices: the Clover Station, the Clover Mini, and the Clover Flex. Opting for one of these Clover devices doesn't lock you into using First Data's software or its payment processing in any way, shape, or form. You can purchase the hardware from ShopKeep and operate the ShopKeep app on the device.  Technically the Clover devices operate on Android, and the Mini and Flex are both portable devices. So if you're looking for a setup with a little bit more mobility this could be exactly what you need.
In addition the POS app subscription, ShopKeep's mobile reporting app, ShopKeep Pocket, is available on iOS. It's not an iPad exclusive, so you can take it on the go with you and monitor your business even if you're not on site.
Square is a fairly open system that operates on both iOS and Android. You can manage many of the backend features of Square from within the app, but the web dashboard can handle anything the app does not support. Unlike ShopKeep, support for features varies by device type, with some capabilities only available on tablets, or iOS devices, or Android devices.  The baseline requirements for the Square app are as follows:
iPad, iPhone, and iPod Touch: iOS 9.0 or later (iOs 9.3.5 required for some hardware)
Android phones and tablets: Android OS 5.0 or higher, access to Google Play store and location services
Square has a very helpful compatibility checker on its website if you want to see whether a specific device is supported.
Square's own dashboard analytics app, called Square Dashboard (I don't think Square believes in creative names at this point). It's an iPhone exclusive, but there may be plans for an Android version in the future.
As far as hardware compatibility you shouldn't have too much trouble with either Square or ShopKeep, so long as you stick to their lists of recommended equipment. And of course buying direct from the company is a good way to ensure compatibility.
As far as software compatibility, ShopKeep has the advantage of every feature being guaranteed to work on the iPad, which might be more appealing to some merchants. With Square, no single platform supports every feature. You'll need to make sure the features you need are supported on your intended device, instead. However, Square allows you to handle quite a bit of management from within the app itself rather than requiring you to access the dashboard on the computer. In many mobile situations, the former is much more of an asset.
Integrations & Add-Ons
Winner: Square
Square has a fairly extensive list of supported integrations that span industry-specific categories such as restaurant management and healthcare to broader needs such as accounting, employee management, and ecommerce. That list is growing pretty consistently as Square adds partnerships on a regular basis. However, there are a couple of notable gaps in integrations: marketing and loyalty. Square has its own software solutions in these categories and makes sense that it would steer merchants toward them.
Square also offers its own free online store in addition to its various eCommerce integrations. While the online store builder is quite basic, it's easy to operate and allows you to launch an online store almost as soon as you've populated your inventory.
ShopKeep, on the other hand, has opted to keep the number of integrations to a minimum — you get all of three choices: BigCommerce, MailChimp, and QuickBooks. On the one hand, this simplifies your choices and it increases the likelihood that the integrations will work seamlessly. On the other, it could be a deal-breaker if you prefer other services to these. (Also, I'd also like to point out that MailChimp offers a free plan for businesses with under 2,000 subscribers, so this could be a really great no-cost starter option for marketing.)
Customer Service & Technical Support
Winner: ShopKeep
ShopKeep offers 24/7 customer support. And while that's not uncommon, the company's attitude toward customer support is. ShopKeep really is dedicated to providing high-quality, round-the-clock support. There's no service tiers based on your subscription package; you won't pay more to get "premium" support with phone access.
In addition to ShopKeep's fairly comprehensive self-service knowledgebase, you can get live chat, phone support, and email support at all hours of the day and night. You will need to give your location code, which is easily accessible in your ShopKeep POS app and the back office portal.
While I have seen the odd singular complaint about quality of customer service, the overall chatter about ShopKeep's customer service is extremely positive. Comments usually mention how the team is always available, the short amount of time it takes to reach someone, and the fact that their questions are always answered, among other praises.
Compared to ShopKeep's 24/7 support, Square is more limited. Merchants have access to phone and email support, though neither is round-the-clock. Square's officially stated hours for phone support are Monday through Friday, 6 a.m until 6 p.m. CST. Email queries generally require up to a day to respond to.
To be able to call into Square, you must first obtain a customer code, which you can do through the Square website. You'll have to log into your account to go through the menu. I suppose there's some sort of expediency factor here, but it is a bit of a sore point for some merchants.
If you opt for a more DIY approach, Square offers a very thorough knowledge base, as well as an extremely active forum called the Seller Community. It's made up of existing Square merchants, customer support staff, product managers and others. If you have questions about how a feature works or what something costs, the community could be a really great place to start with your query.
Square has a fair number of complaints about its customer service. However, having read them, most of the complaints about customer service pertain mostly to the customer service after an account hold or termination. (See User Reviews below for a more detailed explanation of what happens with account terminations.) It's frustrating, but Square locks terminated merchants out of phone support (email support available only) and won't give any details about what triggered the event, generally speaking.
However, with the exception of those complaints, a lot of the remaining chatter about Square is pretty good. Email support is generally helpful and the addition of phone support is welcome, even if the code system is tedious for some people. The Seller Community is honestly the most populated and busy community for a POS-related product that I've ever seen, and it's full of helpful responses. Plus, Square remains the gold standard for self-help knowledge bases.
I don't think Square offers bad customer service. But it's pretty clear that ShopKeep offers much better support with constant availability, which could be the deciding factor for some people.
User Reviews
Winner: ShopKeep
ShopKeep has a few complaints against them — about pricing, about cancellation issues, and about customer service. However, I can say with confidence that they are few and far between. The overwhelming majority of user reviews from ShopKeep merchants are very positive. These users applaud ShopKeep for its excellent customer support, its ease of use, and its fair pricing.
Square has a much more mixed back of reviews. There are plenty of happy business owners using Square. They like how simple Square is, they like the pricing and they like the feature set. Many of them say the customer support is great and they appreciate that help is always available.
I've mentioned the elephant in the room already, but now it's time to talk about it in depth: Square is a third-party payment processor. That means all merchants using its service face an inherent risk of potential account holds or even terminations. If Square's system flags an unusual behavior — a very large order, a suspicious transaction, or even a massive spike in volume, Square will investigate and possibly hold your funds or shut your account down. Holds and terminations make up the bulk of complaints about Square.
Some merchants will read this and think that any small amount of risk isn't worth it — In those cases I suggest you take a look at ShopKeep. If you go through ShopKeep Payments, you will get a traditional merchant account and all the stability that entails.
However, looking at just the number of complaints is misleading because you have to consider how many merchants Square serves — which is upwards of 2 million at last count. The percentage of account holds and terminations is actually very small compared to Square's overall user base. So yes, there is a chance you could face a hold or termination, but it is a small one. You can learn more about how to protect your business in our article on how to avoid merchant account holds, freezes, and terminations.
Final Verdict
Winner: Tie
I felt reasonably confident after my first draft that ShopKeep would be the clear winner here. But then I went back, made my edits, added in more information and re-evaluated the facts. In the end, I feel almost the same about the two services as when I started this article: they both have their merits and it's going to come down to some very particular criteria for merchants to decide which one works best for them.
Square offers astronomical value as a POS system and as an entire business ecosystem. If you're looking for a platform to seamlessly manage multiple sales channels and accept payments in many different ways, Square is one of the best solutions out there. And there's a long list of supported integrations to further extend Square's capabilities. But in the end, it's still a free piece of software and so it lacks some of what make paid software subscriptions so valuable. Its payment processing is transparent and predictable, but there's a certain amount of risk inherent to choosing a third-party processor, and that may not be to everyone's tastes, even if the risk is a small one.
ShopKeep's free plan is limited in comparison to its subscription plans as well as Square's free plan. The lack of advanced reporting is what hurts the value proposition the most, as well as the volume cap. However, the paid subscription plans for ShopKeep offer many features that rival or exceed Square's. And there's no question that ShopKeep offers not just better customer service than Square, but some of the best you're going to get in this entire industry, including 24/7 phone, email, and live chat support. Plus, if you do opt to go with ShopKeep payments, you'll get a traditional merchant account with interchange-plus pricing and a rate-match guaranteed from ShopKeep.
Have you used ShopKeep or Square? What was your deciding factor? We're always happy to hear from merchants so please leave us a comment with your thoughts!
If you're still not sure what the best option for you is, we recommend checking out our iPad POS reviews. If mobility is your priority, our mobile processing comparison chart is a really good place to start, too.
As always, thanks for being here!