Shopping Carts With The Best Templates
Contributor

UPDATED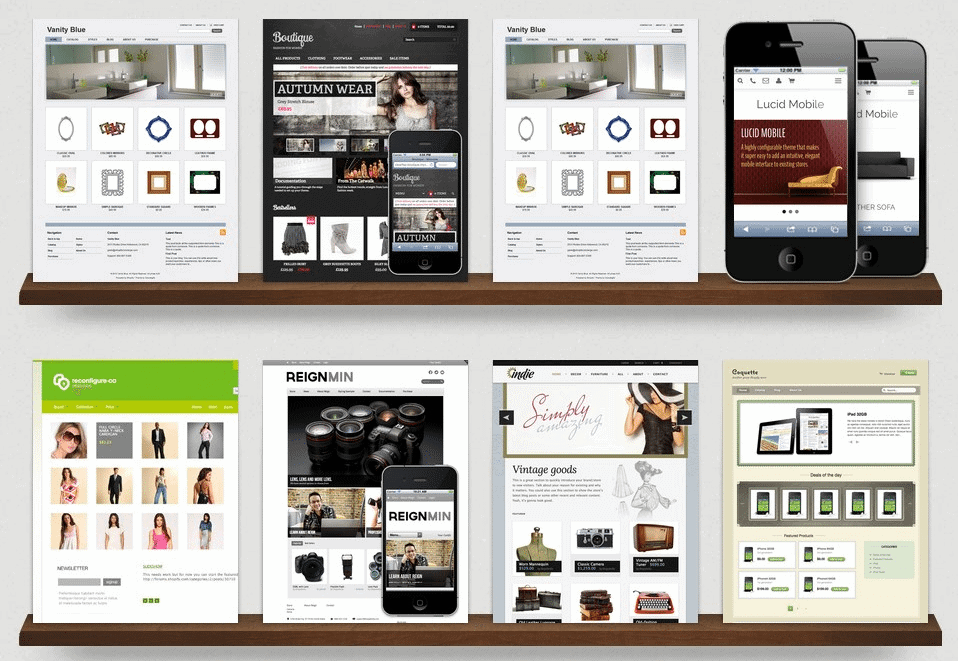 No matter what your parents told you, looks matter, especially when it comes to eCommerce sites.
An attractive storefront is critical to an online shop's success. A clean design can impact your bottom line by making it easier for customers to find the products they're looking for, just as a modern, well-built front page can assuage visitors' doubts about your site's credibility. And these days, with over 50% of all online traffic coming from mobile devices, it's imperative that your web store's design is fully mobile responsive.
Fortunately, you aren't on your own in the endeavor to develop a good-looking site. Not too long ago, web development required a solid understanding of HTML and CSS. However, now that online store builders have so many functional, pre-made themes available, it doesn't take a degree in computer science to create a great website.
With WYSIWYG (what you see is what you get) and drag-and-drop visual editors, it's easier than ever to design your storefront. You just need to ensure that you pick the right eCommerce platform.
Wondering what's the best platform for you? Take a look at this comparison of our favorite eCommerce solutions for a few quick recommendations. Otherwise, keep reading to learn our favorite eCommerce platforms for web design. Each option we present below provides attractive store templates as well as easy-to-use editors for beginners. Take a look!
Shopify
Shopify (see our review) is one of the eCommerce industry's most popular SaaS solutions. Shopify sports ease of use, a comprehensive feature set, and thousands of applications–all for a reasonable monthly rate.
And Shopify offers some of our favorite design templates.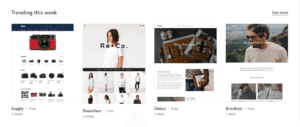 You can find Shopify's 50+ mobile responsive templates here. A handful of options are free, and the rest are priced between $120-$180.
Shopify also provides a variety of design editing tools you can use to customize your site. If you want to dive into the code, there is an HTML/CSS editor available.
There's also a WYSIWYG (What You See Is What You Get) editor that lets you update the content on your pages from your admin. It looks a lot like a Word Document embedded into the admin. If you can use a word processor, you have the skill set needed to make changes to your site.
In addition, you can take advantage of Shopify's theme editor, which is available on every theme. With this editor, you can make changes to your store's background and colors, header, footer, fonts, etc. You'll see all your changes update in your preview. Here's what that theme editor looks like:
Late last year, Shopify unveiled their new Sections. Sections is Shopify's first drag-and-drop theme editor. It lets you change nearly every aspect of your storefront. You can insert and remove widgets and rearranged those widgets on your site. Sections is currently only available with select themes. Here's what the Sections editor looks like: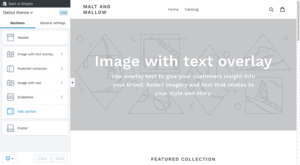 In terms of easy web design, Shopify is one of the best options out there. And elegant web design is only one of Shopify's good qualities. Click here to read our full 4.5-star review of Shopify.
BigCommerce
BigCommerce (see our review) is Shopify's closest rival. Like Shopify, BigCommerce trades on ease of use and beautiful templates. BigCommerce primarily differs from Shopify in terms of features and pricing (take a look at our full BigCommerce review for a breakdown of the pricing structure).
BigCommerce currently only offers their Stencil themes to new users. There are around 20 of those themes available. Each theme features roughly four different variations, resulting in 80+ different available "styles."
Stencil themes are easier to edit than BigCommerce's previous legacy themes were. Using the theme editor, you can change minor aspects like colors, fonts, and images.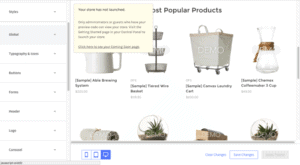 To make larger changes, you'll still have to dive into the source code. There are also HTML/CSS editors available in the backend.
Modern themes aren't all BigCommerce has to offer. Read our full review for more information.
Zoey Commerce
Zoey Commerce (see our review) is one of our favorite eCommerce platforms, in part due to its impressive web design and no-code-required theme editor.
Zoey is a web-based platform that was built on the back of Magento (see our review). As such, this shopping cart is both feature-rich and easy to use. Unfortunately, Zoey is priced significantly higher than most other SaaS solutions. Smaller merchants will likely find Zoey out of their price range.
Because Zoey is a relatively young eCommerce solution, their available themes are fairly current. Here are a few examples: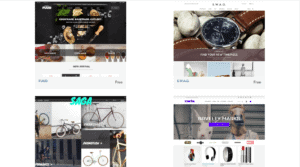 All of Zoey's themes are modern, mobile responsive, and free.
By far, the best part of Zoey's web design is the accompanying drag-and-drop editing tool. Here's a screen shot of what that editor looks like: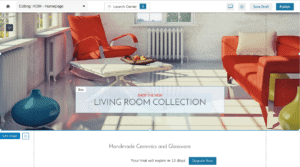 This drag-and-drop editor is the best I've seen. You can use it to change nearly every aspect of your storefront. You can rearrange each element of your storefront, and change your text, colors, and backgrounds, all from the same editor.
You can test out Zoey's editor for yourself by signing up for a free 14-day trial. Or, to find out more about Zoey's features and customer support, you can read our full review.
Big Cartel
Big Cartel (see our review) falls on the opposite end of the spectrum from Zoey. Big Cartel is designed for the type of customer that Zoey can't serve: the small business person, the beginner entrepreneur, the artist.
Merchants on Big Cartel can only sell up to 300 products, and Big Cartel is a bit limited in features. It certainly isn't the best platform for high-volume sellers, but for beginners, it should fit just right.
Big Cartel only offers a handful of themes, but all of these themes are attractive, especially when you consider Big Cartel's low price point.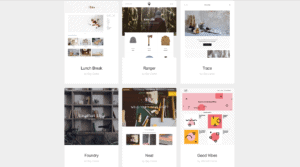 And those themes are also easy to edit. There's a theme editor available, so you can see all of your changes update as you make them. Big Cartel also comes with WYSIWYG editors and HTML/CSS editors in the backend.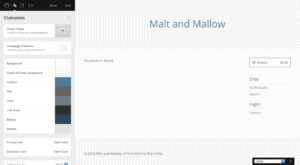 Big Cartel's themes are easy to use and even fun to edit. However, like the rest of the platform, they are best geared toward eCommerce amateurs. To read more about Big Cartel, take a look at our full review.
Go Check it Out!
If any of these shopping cart solutions have piqued your interest, head on over to our shopping cart review section, where we'll cover more information about features, pricing, and customer service. Then, sign up for a free trial or two, and try out the theme editors for yourself. I think you'll be happy with what you find.