The Smart Merchant's Guide To Reducing Merchant Credit Card Processing Fees – Ebook Review
Founder

UPDATED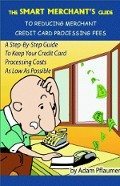 Back in January I interviewed Adam Pflaumer from EP Consulting. Adam is a consultant that helps merchants lower their credit card processing fees, in most cases, without having to switch to a new provider. In that interview Adam also talked about an ebook that he's been working on.
That ebook has been released, so if you've been waiting for it, then you can pick it up here. Use the promo code merchantmaverick to get it for $79 instead of $97.
I'm very confident in Adam's knowledge so I've been looking forward to helping him garner attention for his new book. You all know that I don't like to promote anything or anyone that I don't believe in, so rest assured that I personally endorse Adam's work.
If you've spent any time researching this industry you've learned that good information is hard to come by, and even harder to find in one location. I'm sure that'll change in the future, but for now there are people like Adam picking up the slack.
I figured I'd give the book a brief review on my site for those of you that don't know what it's all about.
Quick Summary
Besides being a mouthful, The Smart Merchant's Guide To Reducing Merchant Credit Card Processing Fees is basically a do-it-yourself manual for achieving exactly what the title says. Adam has laid out a step-by-step process that you can use to help you start saving on your monthly credit card processing bill.
It's a practical guide, not a bunch of theory. I read it myself and picked up on a few things that I had no idea about. Concepts that I've used to help my own visitors ever since…no joke!
The book is for anyone that thinks they're paying too much with their current processor. For anyone that wants to learn enough about this industry so as to level the playing field. Anyone that wants to learn about interchange management, learn about the best pricing models, learn about downgrades, learn about junk fees, learn about pitfalls to avoid, learn, learn, learn. Your business and your wallet will thank you for it.
I don't see how anyone wouldn't be able to recoup the cost of the book itself, and more, so long as they actually apply the knowledge. Obviously, the larger merchant will save more than the smaller one, but these days, every little bit helps.
Note: The book also includes a flash companion video which walks you through the process. Some people seem to learn better via video, so that's a plus for all you visual learners.
Btw, don't forget to write off the cost of the ebook as a business expense come tax time. 😉
Get the ebook here.