Spark Pay VS Intuit GoPayment
Expert Analyst & Reviewer

UPDATED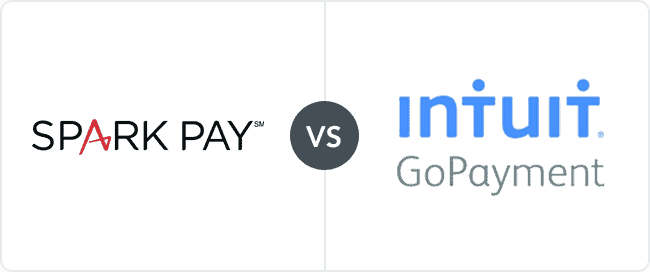 Spark Pay (see our review) and Intuit GoPayment (see our review) are two often overlooked mobile payment processors. In fact, one might call them the red-headed stepchildren of parent companies Capital One (Spark Pay) and Quickbooks (Intuit GoPayment). While both have their issues, and neither can compete with a five-star mobile payment processor like Square or a full-fledged online payment processor like CDG Commerce, both processors actually have some good things going for them.
Both Spark Pay and Intuit GoPayment offer attractive mobile payment processing rates, including very decent rates for medium-volume merchants (processing more than $2,000-$3,000/month). GoPayment also offers the benefit of seamless Quickbooks integration, if that's important to you.
Based on customer reviews as well as our previously published reviews of Spark Pay and Intuit GoPayment, I've put together this article comparing both mobile services so you can figure out which, if either, of these services might work for your business. If you want to talk about your own experiences with either of these services, let's all meet up in the comments section at the end of the article. See ya there!
Contract Length and Early Termination Fee:
Winner: Spark Pay
Spark Pay is entirely pay-as-you-go, with no contract and no early termination fee.
Intuit GoPayment offers a pay-as-you-go, no-contract option, but if you subscribe to their higher-volume plan, you must formally request, via mail or fax (!?), to end your contract or you will continue to be charged $19.95/month (more on this ridiculousness later). They also reserve the right to charge you a $500 termination fee for "merchant misconduct."
Features:
Winner: Intuit GoPayment
Spark Pay and Intuit GoPayment both have good features, but Intuit GoPayment offers the advantages of your own merchant account and virtual terminal, as well as Quickbooks integration. Here's what you get with each service:
Spark Pay features
Mobile credit and debit processing

Up to four free mobile credit card readers

Aggregate merchant account (shared with other users)

Mobile app features:

Online reporting/analytics with

StitchLabs

integration

Inventory reporting

Cash drawer connectivity

Receipt printer connectivity

Customizable electronic receipts

Barcode scanning with StitchLabs integration

QR-code-based offers, distributed through Facebook, Twitter, or email
Intuit GoPayment features
Mobile credit and debit processing

Mobile card reader (one free swiper)

Your own dedicated merchant account (provided via Intuit's merchant account services, Intuit QuickBooks Payments) — This contributes to account stability (theoretically)

Virtual terminal — This allows you to process payments from any Internet-connected computer, which is a nice feature

Higher processing limits than Spark Pay

Mobile app features:

Camera scanning— Allows you to use your smartphone camera to capture card information

Add up to 50 users on the same account

Customizable SMS or email receipts

Quickbooks integration, including ability to record cash and checks for seamless bookkeeping
Fees and Rates:
Winner: Spark Pay
Intuit GoPayment may appear to be the less expensive processor on first glance, but if you look at the fine details, you'll realize that you will probably save money using Spark Pay vs. GoPayment.
Here is the fee breakdown for Spark Pay's two pricing plans:
Go Plan
No monthly fee

2.7% Card Present

3.7% Card Not Present

2.95% Card Present American Express

3.7% Card Not Present American Express
Pro Plan
$9.95 Monthly Fee

1.95% Card Present

2.95% Card Not Present

2.95% Card Present American Express

2.95% Card Not Present American Express
You'll save with Spark Pay's Pro plan if you process more than $1,326 per month:
$1,326 * 0.0075 = $9.95 = the "Break Even" amount
And here's the breakdown for GoPayment's two plans:
"Standard Rates" plan
No monthly fee

2.40% + $0.25 per swiped transaction

3.40% + $0.25 per keyed transaction

Additional $0.15 transaction fee for non-qualified transactions

$0.20 Batch fee
"Reduced Rates" plan
$19.95 monthly fee

1.75% + $0.25 per swiped transaction

3.15% + $0.25 per keyed transaction

Additional $0.15 transaction fee for non-qualified transactions

$0.20 Batch fee
In order to have your savings equal $19.95 (i.e., the break-even point), you would need to process about $3,070 per month ($3,070 * 0.0065 = $19.955), or well above $3,500 to include non-qualified transactions.
The key difference between Spark Pay's and Intuit's pricing is that Spark Pay does not charge extra for non-qualified transactions. So-called "non-qualified" transactions include when people pay using rewards cards — and a large portion or even majority of buyers pay with rewards cards. The result is you end up paying a lot more in fees with Intuit than you probably expect to, especially with swiped transactions.
In addition to rewards cards, Intuit's non-qualified rate also applies to business cards and international cards, among others.
Account Stability:
Winner: Tie
Account freezes and fund holds are common with third-party payment processors in general. As a result, account problems have been reported with both Spark Pay and Intuit GoPayment.
Intuit provides merchants with their own merchant account (instead of aggregate merchant accounts like Spark Pay), and this, theoretically, should improve account stability and erroneous fraud flags. Unfortunately, account freezes and withheld funds for suspicion of fraud are commonly reported with Intuit as well.
It's important to keep in mind that just because you have a $10,000 monthly limit, it doesn't necessarily mean you can process a single $3,000 transaction without your account getting flagged (this exact situation has been reported by a user of Intuit GoPayment).
Here are some tips on how to avoid merchant account holds, freezes, and terminations.
Hardware and Software Issues:
Winner: Tie
Both Spark Pay and Intuit GoPayment support a wide range of mobile devices. Essentially, all you need to process payments with either of these services is a smartphone/tablet and a data or WiFi connection. That said, pretty significant device compatibility problems and hardware issues have been reported with both services.
With Spark Pay, the common complaint on the Google Play app store is payments not going through because of issues with GPS location services (Spark Pay requires, for some reason, location services to be enabled when processing payments). In some cases, users report they're unable to process transactions unless they're connected to WiFi.
On the Intuit side, many users complain that they cannot get the card swiper to work with their device.
Find information on the devices supported by Spark Pay here and the devices supported by Intuit GoPayment here.

Reviews:
In this area it's a little hard to determine the winner, or more like, the biggest loser.
As mentioned, both Spark Pay and Intuit have complaints about functionality issues with the hardware/software, as well as about the account freezes and fund holds that are common with most third party payment processors. With GoPayment, the account issues are especially disappointing, since having an individual merchant account should normally prevent such issues, and since Intuit's less-than-responsive customer service reportedly makes it difficult to resolve said problems.
Particularly troublesome, however, are complaints from Intuit GoPayment about lack of transparency in regard to pricing and fees. Many customers report that they had difficulty canceling their account and as a result continued to be charged monthly fees.
Here are the biggest complaints and compliments for each service:
Spark Pay reviews
The good:
StitchLabs integration (especially bar code scanner)

Fair, predictable rates, especially for higher volumes

Advanced QR-code offers with a high level of customization

Quality customer service
The bad:
Software problems/device incompatibility

Fees being rounded up

App's requirement to track your location using GPS

Sudden account terminations/funds withheld, including 120-day rolling reserve of 50% of transactions
Intuit GoPayment reviews
The good:
Higher processing limits than other mobile providers, even with pay-as-you-go

Seamless QuickBooks integration

Up to 50 users can use a single account
The bad:
Confusing and undisclosed rates, particularly regarding non-qualified transactions

Difficulty canceling account

Having account upgraded (to the difficult-to-cancel, $19.95/month plan) without request

Pressure from Intuit salespeople to upgrade account

Bad customer service
For more details on user reviews of these services, check out our full reviews of Spark Pay and Intuit GoPayment. You can also check out their reviews in the Google Play Store (Spark Pay/Intuit GoPayment) and in the iTunes App store (Spark Pay/Intuit GoPayment).
In regard to BBB reviews, neither service has their own separate listing, but you can find some reviews of these services under the listings of their parent companies (Capital One and Intuit).
Sales and Advertising Transparency:
Winner: Spark Pay
This one's easy: Spark Pay's rates are more upfront. They don't charge you extra for swiping "non-qualified" credit cards they don't charge you for services you don't use (or in the case of Intuit GoPayment, services you thought you canceled like six months ago). I also like Spark Pay's straightforward, to-the-point website.
In the interest of improving their transparency and overall reputation, Intuit GoPayment should be clearer about their fee structure and also make it easier to cancel your account so you don't keep getting charged for something you don't want — or maybe weren't even aware you signed up for.
Customer Service and Technical Support:
Winner: Spark Pay
Users of Spark Pay receive responsive customer support, provided over the phone during business hours. Combined with prompt email support with a turnaround of one day or less, and even Twitter support, Spark Pay offers a far better overall support experience than Intuit GoPayment, or even when compared to leading mobile payment provider Square (though that's not saying a whole lot).
With Intuit GoPayment, the support experience could be described as lackluster, at best. They do offer phone support and live chat support via their website, but users report unacceptably long hold times and that when they do finally receive a response, it is often less than helpful. With mobile payment processing, accessible customer support is crucial given the higher amount of SNAFUs that occur with mobile payments compared to traditional processing. So, Intuit's failure here is kind of a big deal.
Intuit's GoPayment website, at least, provides a good amount of information, but it's kind of confusing all the same. One wrong turn and you're not on the GoPayment website anymore but on the Quickbooks website. Actually, it took me a little while to even find the dedicated GoPayment website in the first place.
Final Verdict:
Winner: Spark Pay
Spark Pay and Intuit GoPayment are both imperfect mobile payment processors. And neither is outright terrible. However, I genuinely think most users will have a better experience with Spark Pay than with Intuit GoPayment. Spark Pay is more affordable because it doesn't charge an extra fee for non-qualified transactions (i.e., most transactions). They also have great customer service, which is no small thing in the paranoid, glitch-prone world of mobile payment services.
Both services have issues with device compatibility as well as withheld funds and account freezes (as are inherent with any third-party processor), but GoPayment's issues of poor customer support and sneaky fees are, in my opinion, pretty serious flaws. The fact that they routinely continue to charge people for services they do not want is, in a word, shady.
GoPayment does have some nice features, such as a virtual terminal and dedicated merchant account for each customer – but as mentioned, GoPayment customers puzzlingly experience many of the same account problems that typically come with aggregate merchant accounts. GoPayment integrates well with Quickbooks, but so do some other mobile processors like Square. If Quickbooks processing is important to you, check out Square or CDG Commerce.
If you're looking to avoid account freezes, holds, terminations, etc., and have experienced them in the past, you should probably avoid third-party payment processors altogether and look at a "high-risk" merchant account provider like Durango or Payline Data. Even if you are not high-risk, Payline Data only charged about $5 per month for their standard service, which is often worth it for the added peace of mind.