Spark Pay VS Shopify
UPDATED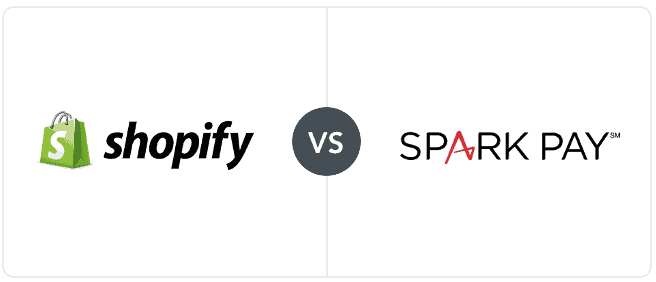 Shopify (see our review) is a widely popular cloud-based shopping cart that is used by more than 175,000 small and large e-tailers in the U.S. and abroad. Its elegant simplicity, gorgeous themes, and accessible customer service earned Shopify a near perfect ranking on Merchant Maverick. Examples of stores currently using Shopify include include Tattly and Good As Gold.
But Shopify has plenty of solid competition. Other web-hosted carts are being used to create killer stores, and one at the top of the heap is Spark Pay (formerly AmeriCommerce, a solid eCommerce cart which Capital One acquired to better meet the needs of their small business customers.) While Spark Pay is lesser known than Shopify, it has produced many beautifully designed stores, appeared on the 2012 Inc. 5000 list, and snagged a CODiE Award in 2010. Notable stores using Spark Pay include Kellogg's Store and USA Hockey League.
Spark Pay and Shopify offer full sets of features and integrate with various payment processors and add-ons. Plus, each cart has a track record of consistently improving the UX of their admin backends. But how do these competitors stack up in terms of pricing, user feedback, and design? We take a look at the ins and outs of both shopping carts in the following comparison.
Don't have time to read an entire article? Take a look at our top rated eCommerce solutions for a few quick recommendations. Every option we present here offers excellent customer support, superb web templates, and easy-to-use software, all for a reasonable price. Otherwise, read on for the full scoop on Spark Pay and Shopify.
Web-Hosted or Licensed:
Spark Pay and Shopify are both web-based, cloud-hosted shopping cart solutions.
Hardware and Software Requirements:
Spark Pay and Shopify are fully web-hosted. Nothing other than a secure internet connection and updated web browser (Chrome, Firefox, Safari) are required to access the cloud-based software. While all operating systems and browsers are supported, installing the latest technology is always a good idea.
Pricing:
Winner: Shopify
Spark Pay and Shopify both offer free 14-day trials that don't require a credit card to access. Neither charges set-up or cancellation fees or asks you to sign a contract. Both can be cancelled at any time.
Details about plan pricing are in my complete Spark Pay and Shopify reviews, but I'll address the highlights of each cart here.
Spark Pay charges $24.95/month for its starter Steel plan and Shopify charges $29/month for its comparable Basic plan. (Shopify also offers a $9/month Lite plan, which offers Facebook integration and an embeddable Buy Now button, but does not offer an online store of its own.) From there, plans diverge a bit more. Spark Pay has 5 plans, ranging from $24.95 to $299/mo. Shopify has 3 primary plans, coming in at $29, $79, and $179/mo. Custom-tailored Enterprise sized plans are offered by each, with variable pricing.
In this category, Shopify is the clear winner. Its $29 plan may be a few dollars more than the competing plan from Spark Pay, but every other plan is significantly less, all while providing much more overall convenience. This includes unlimited products, unlimited bandwidth, and unlimited online storage at every subscription level. These are 3 of the Big 4 points of comparison for every shopping cart, the fourth of which is Transaction Fees. This is the only point of similarity between the two carts, as neither charges transaction fees.
Ease of Use:
Winner: Shopify
Spark Pay's admin comes with more functionality than most merchants will need, but not so many extras that your store will be bogged down. To get started, you'll use a wizard to add details about your shop, choose a template, set tax and shipping rates, and use a theme editor to adjust your store's fonts, colors, and (if desired) basic page structure. Soon you'll be ready to add your first product. The most recent version of the admin features a standardized UI pattern that's optimized for mobile devices.
It didn't take long for me to get my bearings in the Shopify admin, with four steps to complete before you can start selling, posted front and center on the dashboard: adding products, customizing themes, setting up a domain, and entering tax and shipping info.
In my opinion, after using both tools I found Shopify's live theme editor to be more intuitive and accessible than Spark Pay's theme editor. Plus, with Shopify adding categories, products, and customer info is a cinch. Your nav menu can be rearranged via drag and drop as well. Overall, I like that Shopify comes out of the box with what's important and lets you choose the functionality that is most helpful via its app store.
Though we give the win to Shopify in this category, I was not at all displeased with the Ease of Use with Spark Pay.
Features:
Winner: Spark Pay
Both Shopify and Spark Pay offer a wide range of out of the box features: see our Shopify review and Spark Pay review for the full lowdown. Spark Pay is exceptional in that it includes all features on all plans regardless of its price. So instead of sifting through lists to make sure your plan includes a newsletter or Google Analytics integration, for example, Spark Pay customers garner access to the cart's total suite of features, which simplifies the sign-up process. Another main Spark Pay distinction is its multi-storefront feature that lets you maintain more than one shop at a time from a single admin (additional stores are $39 each to add on.) Plus, Spark Pay offers one-page checkout, gift certificates, and multi-language support out of the box, while Shopify does not.
Note that gift cards are offered on Shopify's Pro and Unlimited plans, and you can opt for plug-ins for most any feature that doesn't come straight away with Shopify via its app store, although doing so may cost extra.
Shopify introduces new features on a regular basis. And I like that Shopify offers a mobile app so you can maintain your store from anywhere via tablet or smartphone. (Spark Pay offers 31 Mobile Responsive themes to ensure your store displays correctly from any device, but hasn't introduced a downloadable app to better manage your store on the go.)
Web Design:
Winner: Shopify
I like that Spark Pay's skins can be customized via its Live Design Theme Editor that enables you to edit widgets and drag and drop layout elements. If you're a coder you'll be able to gain full access to each template's CSS and HTML (Shopify lets you edit raw files via the "Template Editor" in the admin as well.)
Shopify has its own version of a live theme editor. You can follow along with changes in a preview window before they're published and alter other design elements in real time without needing to refresh the pop-up window.
While many of Spark Pay's themes are eye-pleasing and fresher than what's offered by competing carts, there are fewer of them than what's offered by Shopify.
Templates are one of Shopify's strongest selling points, with beautifully designed free and premium options. It's tough to really screw up Shopify's themes while making customizations, but since there are so many good options to choose from, the chances are good that you won't need to execute heavy changes to get selling in the first place. If you're launching a new business and don't have much experience building online stores, you most likely want something that's easy to tweak that also looks great. In my opinion Shopify and Spark Pay have what it takes, but Shopify ends up with a narrow lead in this category.
Integrations and Add-Ons:
Winner: Shopify
Spark Pay offers some helpful add-ons to compliment its feature set, with a few free and many premium options including Quickbooks, LivePerson, and Amazon Ads. But the sheer number of extras offered in Shopify's app store blows Spark Pay out of the water. You'll find hundreds of marketing, reporting, shipping, social media, and inventory integrations, including tools for beefing up product options and loyalty programs. Shopify also maintains a well-reviewed iPhone app. But beware: as mentioned above the cost of plug-ins can add up fast.
Payment Processing:
Winner: Shopify
Spark Pay is compatible with dozens of domestic gateways, including Authorize.net and Chase Paymentech and more than 50 processors including PayPal. Shopify integrates with more than 70 gateways. Like Shopify, Spark Pay offers a merchant account. But don't worry- I won't mention that I distrust "Persolvent" purely on the basis of its ridiculous name for a Merchant Services provider. You're welcome.
Overall, I'm more impressed with the new Shopify Payments. The processor approves sales instantly, displays payments in real-time, and includes chargeback recovery for US-based merchants. Signing up cancels out the transaction fees Shopify tacks on to its less expensive plans. Read more about Shopify Payments here.
Customer Service and Technical Support:
Winner: Shopify
While my experiences with Spark Pay customer support have been mostly positive, I wish there was a way to connect with the tech team after 6pm. You can submit emergency tickets if trouble does come up during the weekend or overnight and browse a forum, watch older video tutorials, and search for answers in a Knowledge Center.
Shopify's customer support team is one of the best in the biz. You'll find an assortment of ways to get info, including a Knowledge Base, discussion forum, wiki, and Ecommerce University (which is essentially just a few blogs on eCommerce topics.) Plus, customers based in North America, the UK, Australia, and New Zealand can call a designated regional phone number.
Every business will claim to offer top-notch support. But the proof is in the user community. Granted, users who have had unfortunate experiences are far more likely to leave feedback than users who had positive experiences, but we can still look at the volume, severity, and common themes among the reviews for an idea of the likely problem areas. The next two sections will cover some of these details.
Negative Reviews and Complaints:
Winner: Spark Pay
A thorough online search of user interactions and comments about both Spark Pay and Shopify turned up a broad range of complaints about both carts.
Spark Pay merchants are unhappy about its poor resolution rate for technical issues, but the recent acquisition by Capital One may (or may not) have an effect on this. The lack of 24/7 phone support is also a sore point among these reviewers. Other users want the ability to integrate with additional international payment processors, and still more grumble about all the extra fees for bandwidth overages, etc.
Many Shopify merchants loathe the transaction fees Shopify adds to its least expensive plans (as mentioned above, the 1% to 2% fee is waived if you sign up for Shopify Payments) and don't like that add-ons can quickly make an affordable monthly bill more expensive. Others don't like that customers are redirected to the Shopify domain (checkout.shopify.com) in order to complete purchases since it could (theoretically) lead to abandoned carts. You also won't find one-page checkout with Shopify (it's a feature Spark Pay has offered since its inception) or discount codes in the Starter and Basic plan. Spark Pay includes all features on all plans, which makes the sign-up process more straightforward and convenient.
Positive Reviews and Testimonials:
Winner: Shopify
Merchants have plenty of good things to report about both Spark Pay and Shopify. Spark Pay customers cite the cart's dependability with little downtime, regular software updates, and customizable themes. Others like its out of the box reporting and robust product management tools and find its multiple storefront feature helpful and easy to use.
But overall Shopify users reported a bigger range of positives, centering around stellar customer support experiences and general ease of use. Others love Shopify's themes, its mobile app, auto backups, and healthy uptime record, not to mention its unlimited bandwidth.
While both carts excel with positive user feedback, Shopify's depth and breadth of positives simply outweighs Spark Pay.
Final Verdict:
Winner: Shopify
Shopify and Spark Pay both got their start back in 2005 and earned almost perfect star ratings in our reviews, placing higher than any competing cart.
In my opinion, Spark Pay offers a powerful suite of features that is a great fit for established companies that don't necessarily need a simplified interface, but enjoy an intuitive admin nonetheless. I've found Spark Pay to be a well-built cart backed by a whip smart team of engineers. Plus, over the years it's been taking steps to become a little more hip and welcoming to newbies. And its multi-storefront feature is a real draw for merchants who run several online shops but want to man the ship from a single backend.
Shopify is easy to use, and it keeps improving upon that success. It markets itself to first-time merchants and offers a $9 starter plan for folks who just want to test the waters. Even though I'd like to see a plumped up feature list that includes one-click checkout and multi-language support (and transaction fees dropped for good) Shopify's 24/7 support, wide range of integrations, mobile app, and gorgeous themes give it the edge over its competition.
Ready to see for yourself? Try a free demo of Spark Pay and take Shopify for a trial run for 14 days and see which shopping cart is the right fit for your online store.