Kansas City Caramels: Sculpting An Empire From Sugar
Teri Castrop hasn't let the pandemic stop her from making, packaging, and selling delicious treats to the people of Kansas City.
Expert Analyst & Reviewer

UPDATED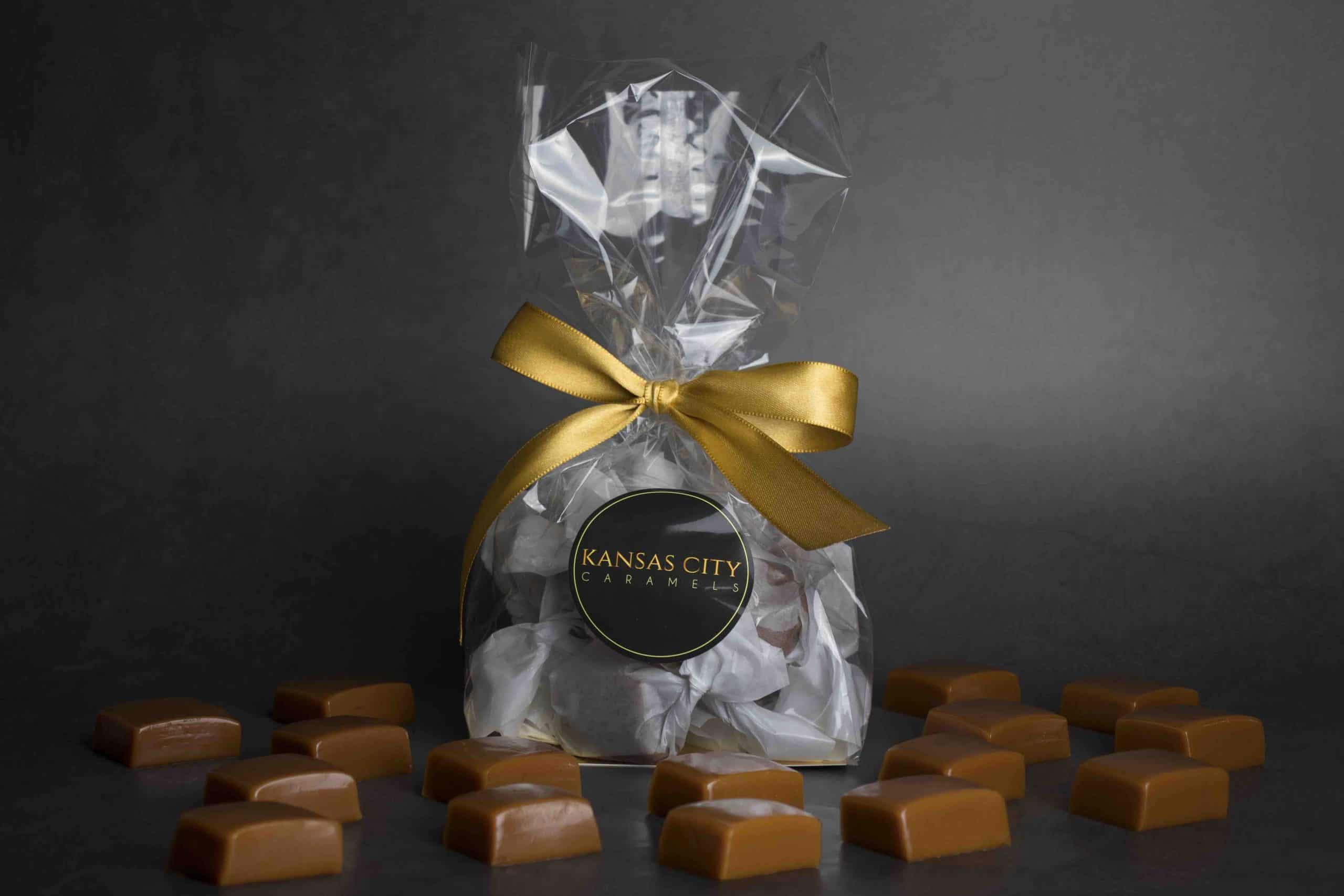 Launching a new business during a global pandemic isn't ideal, but that's exactly what Teri Castrop, Kansas City's own "Caramel Lady" has done. As the founder of Kansas City Caramels, she's had to navigate all the challenges that come with starting a small business — while juggling the unexpected shortages, supply chain disruptions, and general chaos that COVID-19 has created. And in some ways, the very circumstances of the pandemic are what have allowed Teri and Kansas City Caramels to grow and thrive.
What started as a way to bring in some extra income has become a small but busy empire: Kansas City Caramels are now sold at two local farmers markets, nine local retail shops, and two hotels through the metro area. In addition to the help she gets from her husband and sister, who have manned sales booths and done whatever else is necessary, Teri also has three "very part-time" helpers to make her gourmet caramels.
The Beginnings Of Kansas City Caramels
Teri Castrop is a self-professed foodie, especially when it comes to sweets. "I always say the caramels are good because I am so picky about the sweets I eat," she says."I go to every bakery I can find in the city and surrounding areas. I LOVE pastries, and especially good buttercream frosting! And macarons — oh how I love a good macaron. One of the biggest disappointments to me is when a beloved bakery sells something they have frozen. Can anyone else out there taste freezer? Haha! Maybe it's just me." (Writer's note: No, Teri, it's not just you!)
One of the biggest disappointments to me is when a beloved bakery sells something they have frozen.
While she is a skilled home cook, she doesn't have a professional culinary background — she got her degree in sculpture from the Kansas City Art Institute, taught art in school for a while, and eventually settled into life as a stay-at-home mom and sculptor. However, as her children went off to college, she started looking for a way to bring in some extra income.
As she started looking at options, Teri ultimately came to the realization that starting her own business would be the most rewarding. So she settled on something she loved: cooking and baking. Kansas City is already home to some well-established chocolatiers and patisseries, including Christopher Elbow Chocolates and Andre's. But as she explored her options, she realized there was definitely an untapped market in caramels.
Teri started with what she describes as "the standard 70s church cookbook recipe" for caramels. However, she found that the caramels didn't have the kind of longevity that would be required for a saleable product and were prone to crystalizing. The problem was the sugar used in standard recipes. So she set out to research caramel recipes and drew inspiration from her love of gourmet sweets. She looked to caramel recipes from Brittany, an area known for its gourmet sea salt (called fleur du sel) and salted butter caramel. In addition to having the flavor profile she loved, she found that many of these recipes called for golden syrup — a sugar syrup that's common in the UK and parts of Europe, but unheard of in the United States (unless you're a fan of The Great British Baking Show, at least).
After tracking down a supplier of golden syrup on Amazon, Teri set out to perfect her recipe for what she calls "Proper Caramels": traditional soft, chewy caramels using just 6 ingredients: sugar, cream, butter, vanilla, golden syrup, and salt.
But that was just the start. Hardly content with perfecting the "proper" caramels, Teri loves experimenting with different flavors, just like any other foodie. In addition to the proper caramels and chocolate-dipped varieties, Kansas City's caramels include fruity raspberry caramels, dark chocolate caramels, star anise caramels, chai tea cashew caramels, and more. She also rotates in some seasonal flavors — lemon for the summer, apple cider for the fall — and has two of her own caramel sauces: apple pie and cherry pie flavors.
Finding A Local Community In Kansas City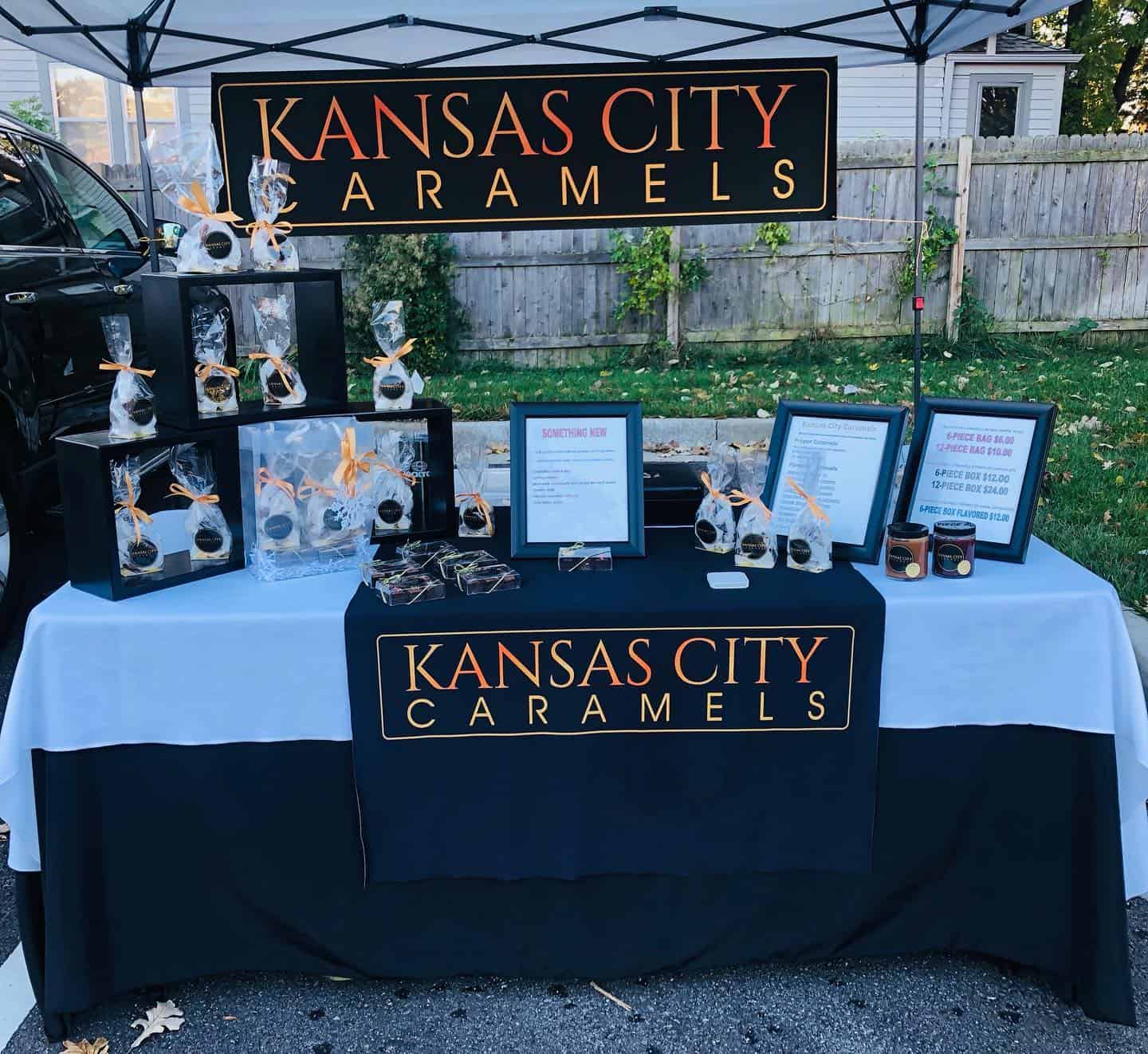 After developing and perfecting her recipes, the next step was to find somewhere to sell Kansas City Caramels. She chose to start with the Overland Park Farmers Market, one of the largest and oldest farmers markets in the state of Kansas, and one of the largest outside of City Market, located in the historic heart of downtown Kansas City, Missouri.
When she approached the farmers market organizer, Kristina Stanley, she came away with the information she needed to become a vendor, as well as a secondary helpful piece of advice: "She told me, 'you need to work on your packaging," Teri said. And it was true. "The packaging was pretty bad. It was just a white cardboard box bought at Hobby Lobby which you construct yourself." At the time she hadn't thought about the amount of labor required to individually package hundreds, let alone thousands, of caramels — Kansas City Caramels didn't even have a logo yet!
So Teri turned to the Internet for research once again, drawing inspiration from how others packaged their caramels and candies. She found a freelance artist to make a logo. And eventually, with a bit more experimentation, the current iteration of Kansas City Caramels' packaging was born: wax paper-wrapped caramels in clear cellophane bags, or chocolate-dipped caramels in brown paper and clear plastic boxes. In both cases, they're wrapped with beautiful gold ribbon, which was the final touch on the package design. "I wanted the product to feel like a special gift," Teri says.
I wanted the product to feel like a special gift.
In the Overland Park Farmers Market, Teri has found a very supportive community. "Everyone is just so excited to be there," she said. New and experienced vendors form friendships and support each other along the way. Those merchants also frequently collaborate. For example, when the French catering company Velouté wanted to sell caramel apples at their stand, the owners opted to get their caramel from Teri, rather than sourcing a store-bought or mass-manufactured option. The local coffee truck, The Wild Way Coffee, uses her Apple Pie Caramel Sauce as an ingredient for one of their seasonal drinks.
That kind of community is also how Teri acquired one of the ingredients for her caramel: vanilla, made by Sava Trading Co., which specializes in ethically sourced vanilla products. Sava uses its business relationships to empower farmers in Madagascar, treating them as partners in the business. That story inspired Teri, and while the switch to Sava's vanilla was more expensive, she's proud to support another local business and use an ethically sourced ingredient.
Starting a business by selling at a farmers market isn't easy. There are some challenges — for example, while the state of Kansas will grant Teri a permit to sell caramels made in her home, Overland Park's guidelines are more stringent, so she rents out the kitchen in the basement in a local church to produce her goods. The different requirements for communities that border on one another can be tough to navigate. But compared to some of the alternatives — having your own storefront, or even wholesaling to other stores — Teri thinks that a farmers market is a great incubator for new businesses. The required startup capital is much less than buying or leasing property, and the profit margins are larger than wholesaling to a local grocery store, for example.
Starting out as a candy maker at a farmers market vendor stall also resulted in an unexpected blessing: When the COVID-19 pandemic hit, her business was largely unaffected. It was a combination of having the right product in the right place.
First, farmers markets surged in popularity during the pandemic, both because they were safe outdoor venues and because the logistical chaos and shortages that affected grocery stores had very little impact on vendors who make or harvest their own goods locally and sell directly to customers.
Second, demand for caramels didn't drop off as the pandemic swept across the nation. "You know, Hilliard says that chocolate is a recession-proof industry. We're also finding out that chocolate and candy are also pandemic-proof," Teri commented. The numbers do back up her anecdotal evidence, too: Industry research by IRI found that while sales of certain types of candies — particularly gum and breath mints — did drop during the pandemic, sales of caramels and many other candies actually increased in 2020 compared to 2019.
We're finding out that chocolate and candy are also pandemic-proof.
As her business took off, Teri looked for additional opportunities. She approached Made in KC, a boutique retailer that exclusively sells products produced by artists, designers, and makers based in the Kansas City metro area, and worked with the owner to get her caramels into their multiple storefronts. A neighbor who worked at a local eatery and gourmet shop, The Market at Meadowbrook, approached Teri about collaborating. Since then, the partnerships have come about through a combination of her own legwork, connections in the community, or through businesses approaching her on social media.
Despite the unexpected boons, starting a business during the COVID-19 pandemic has still presented some significant obstacles for Teri. They're the same sort of obstacles nearly every other business has encountered — supply chain issues being the biggest.
First is the golden syrup. Amazon is not the most reliable source for anything, and certainly not for a specialty good that comes from outside the US. Despite contacting manufacturers directly, Teri still hasn't found someone who will export golden syrup, or even directly ship to the US. If she wants to increase her sales and the number of caramels she produces, she will have to learn how to make her own golden syrup and produce it in-house.
Second is a recent nationwide shortage of cream. In preparing for the Christmas sales season, she found that her regular supplier was out of cream, and would not have it back in stock until 2022. So she had to send out her assistants to raid local grocery stores for supplies. (Unfortunately, learning to make her own cream isn't really an option.)
Being proactive has been an essential part of other business operations, though. Rather than risk running out of packaging supplies before Christmas, she has already ordered what she needs based on the maximum number of caramels she could make for the upcoming season. That took some careful calculation to figure out, with the help of her sister. But even with that preparation, some items are still back-ordered — such as her signature golden ribbon.
The growth of her business and the partnerships with retail locations has also meant that Teri has just about reached the limits of what she can produce between her kitchen and the church basement kitchen. If she wants to continue to grow, she'll need to invest in her own commercial kitchen — an expensive prospect that will require either an investor or a small business loan. While she isn't certain yet which route she will go, or exactly what such a kitchen will cost, she has been able to access a great resource — an SBA-partnered Small Business Development Center located on the local community college campus. Through the Small Business Development Center she has been able to explore different financing options as well as other SBA resources.
Apart from the investment of a commercial kitchen, there are other specialized pieces of equipment that are on her radar. Dipping caramels in chocolate by hand is a time-consuming and finicky process. An enrober would cut down on the time and effort as well as allow for more production, but would cost around $35,000.
A machine to twist-wrap her caramels instead of doing it by hand is an even more expensive prospect — nearly $100,000. Further complicating the issue is the fact that the twist-wrap machines are not made in the US anymore — the only available models are refurbished or come from overseas. So finding someone who can help maintain such a machine and source any required parts is another major concern.
Despite all of the daunting challenges ahead, Teri isn't fazed. It's all part of owning a business — and in some ways reminds her of her roots as a sculptor. When you're making a sculpture, Teri says, "it's about problem-solving. Dealing with one obstacle after another." She applies the same mentality to Kansas City Caramels and says she enjoys the metaphorical chase.
It's about problem-solving. Dealing with one obstacle after another.
The Future Of Kansas City Caramels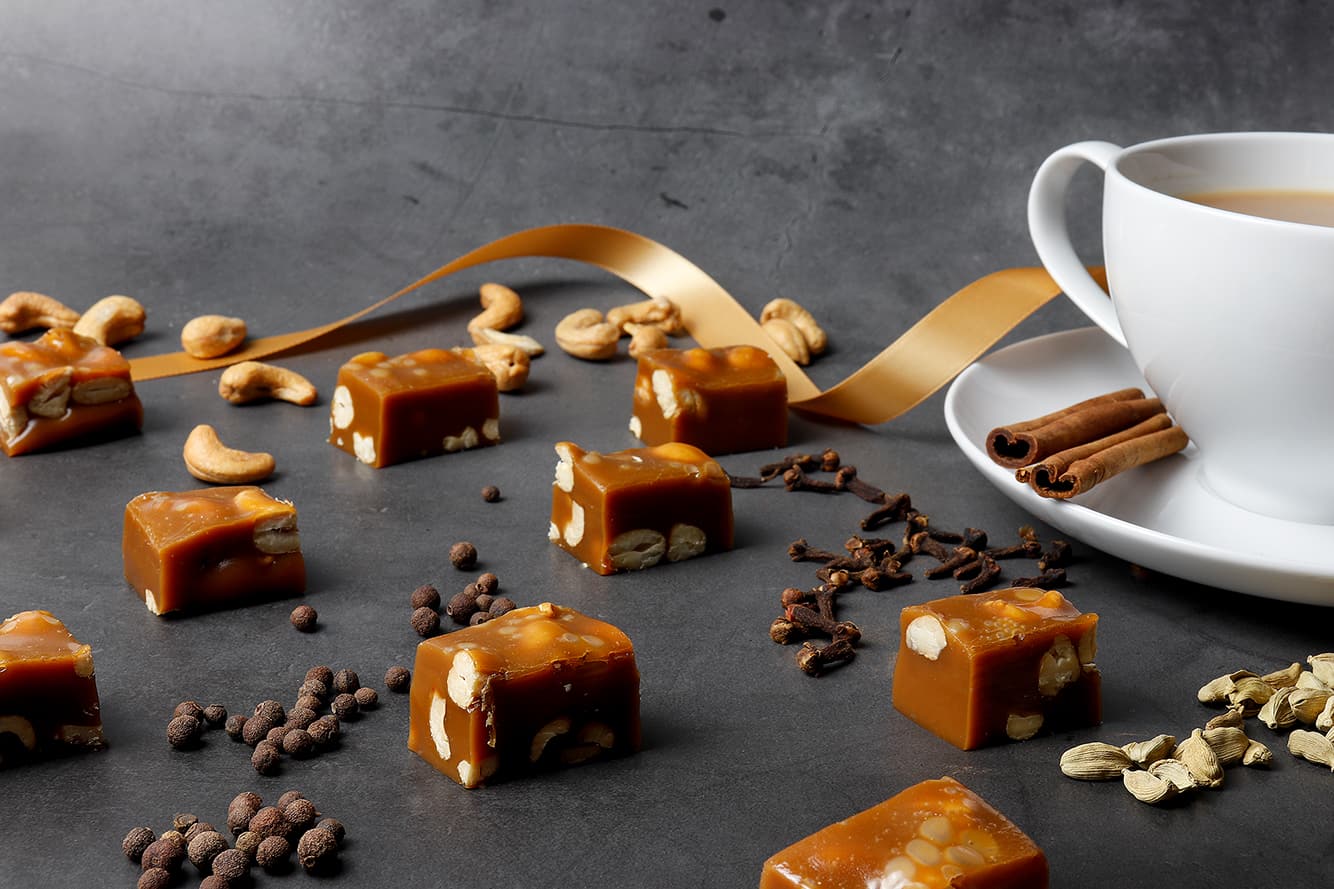 Despite the constraints on her business at the moment, Teri Castrop is optimistic about the future of Kansas City Caramels. She has the next steps plotted out and is methodically working toward them. Once she has a commercial kitchen of her own, she has many opportunities to pursue. But she knows that some things must absolutely stay the same, despite the growth.
One of them is her packaging. In addition to being able to "taste freezer" in baked goods, Teri can also taste the packaging in sweets. "With the caramels, I want to always stay with the wax paper twists. I feel like the cello wrappers can transfer a flavor to the caramels a bit." Maintaining the artisanal taste and quality is always going to supersede any plans of caramel-flavored world domination.
One of the ways she wants to expand Kansas City Caramels is through corporate gifting and wedding favors. She's already worked with several brides to create custom favors for their wedding guests. Many of them have been fans of Teri's candies who want to share their favorite sweet with their loved ones, and she's enjoyed the collaboration. For corporate gifting, she's drawn inspiration from a company called Fairy Tale Brownies — an online shop that she used previously to send thank you gifts to clients while (briefly) working as a real estate agent.
Kansas City Caramels' online shop is stocked with Teri's standard array of candies, a variety of gift bags, and gift cards. While many of her online orders are still from local buyers, she has sent packages to other parts of the country, as far as Florida, New York, and Michigan. Knowing that so many people are enjoying her creations is one of her favorite parts of the job.
"Do you want to know what has been one of the greatest things about this adventure?" Teri asks. "It has been the opportunity to give. My friends and family have been so incredibly kind and generous to me and mine over the years. To be able to hand someone something sweet is so much fun! Not a tough gig."