Think Outside The Square: Analyzing The Cost Effectiveness Of Square's Mobile Processing Solution
Founder

UPDATED
Credit card processing is traditionally thought of as an at-the-counter transaction, where a merchant takes hold of a person's credit card and swipes it at the register. The problem with this setup is that mobile merchants (those who rarely hang out near a register) don't have an easy way to accept anything but cash.
Enter Square.
With Square, merchants can simply plug a device into their iPhones, iPads, or Android based smartphone's to use for swiping. This appropriately-named, four-cornered accessory converts the credit card's information into usable data on the phone or tablet, giving users instant access to the money they need.
The question now is whether or not using Square is cost effective in comparison to other options. Can you save money by using Square, or are you better off with another merchant account entirely? We've run the numbers to figure that out.
Square Fees and Rates
Square is perhaps the most simplistic payment processor on the market to understand, in terms of rates and fees. Merchants pay 2.75% per transaction, with no monthly or annual fees. There are no setup expenses whatsoever – not even the cost of the "dongle" itself. Square gives all that away with the hopes of enticing people to use their device.
In order to save money, some users may choose a flat monthly fee option, which is $275. This is beneficial for those with large-volume transactions, but it does not help people with less than $10,000 a month in credit card swipes. Once a merchant reaches $250,000 in annual transactions, he or she must go back to paying 2.75% per transaction. Nevertheless, this option could result in lower costs as a whole.
There is no contract associated with Square, so there are no cancellation fees to worry about. If a merchant decides that he or she no longer needs Square for mobile processing, he or she may opt to stop using the device. This simple, hassle-free setup is what leads people to use this processor in the first place, even if they don't fully analyze the costs.
Note that there is a 3.5% + $.15 transaction fee for card-not-present (CNP) transactions. If your business typically operates without the physical swipe of a customer's card, your rates could be significantly higher.
Comparing Square to a Merchant Account
Initially, the fees for Square will seem much lower than those of a merchant account. At the very least, they are easier to calculate and understand. With this in mind, the cost benefits of Square do not last long. Once a user reaches a certain volume of transactions, Square no longer becomes the cheap solution because it is purely based on percentages. Flat fees per transaction make matters more affordable.
We've illustrated the fee comparison for Square and merchant accounts below. In this chart, we used a special Square calculator to compare the costs of a Square account versus a merchant account. To simplify matters, we assumed an average transaction value of $50.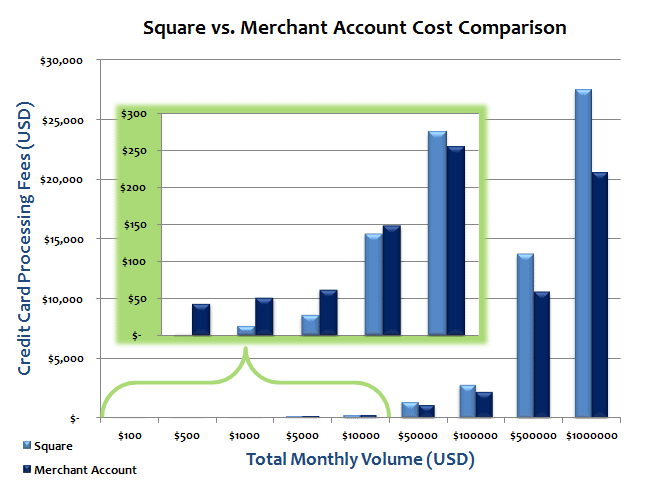 As you can see, Square is the frontrunner for businesses with less than $5,000 in credit card transactions a month. Once a user hits $10,000 though, merchant accounts become more affordable. Of course, a change in the average transaction size will reveal slightly different numbers, but eventually, every business hits a breaking point. You have to determine what yours is.
Let's break down the monthly costs at the $1 million mark, just to put matters into perspective: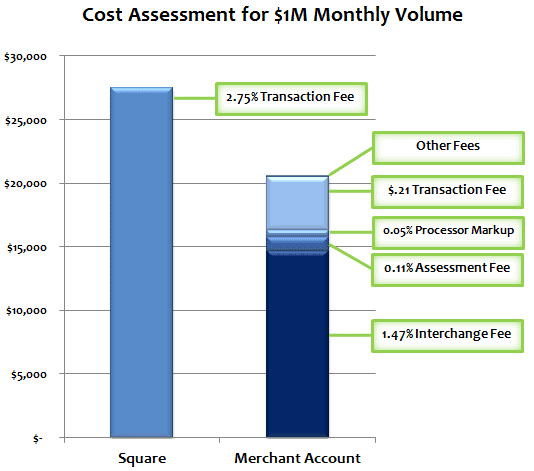 As you can see, the flat transaction fees in the merchant account diagram help to significantly reduce the money paid out per month. Even with an Interchange fee, an assessment fee, a processor markup, a transaction fee, and other monthly charges, merchant accounts still offer more for the money than Square, at least at a dollar to dollar comparison. There's a little more to the picture though…
The Value of Convenience
As much as we would love to purely look at the numbers, we have to think about convenience as well. If you do most of your business on the go, you may not have the opportunity to use traditional credit card processors. Food trucks, taxi cabs, traveling salesmen, and the like all need a way to accept Visa and Mastercard without having to lug a terminal around. That's where Square has the advantage, despite the potentially higher costs.
Conclusion
Before signing up for Square, thoroughly assess whether Square is cost effective for your business. Consider your average transaction value, monthly sales volume, mobility needs, and more, and you should be able to determine how cost effective Square's service really is. Know that there are other options out there, and don't be afraid to take one of them on. As long as your customers are cared for, the name of the processor shouldn't matter.
Think outside the Square.