Did Square Kill Flint Mobile? What Flint's Processing Shutdown Means For The Future Of Mobile Payments
Expert Analyst & Reviewer

UPDATED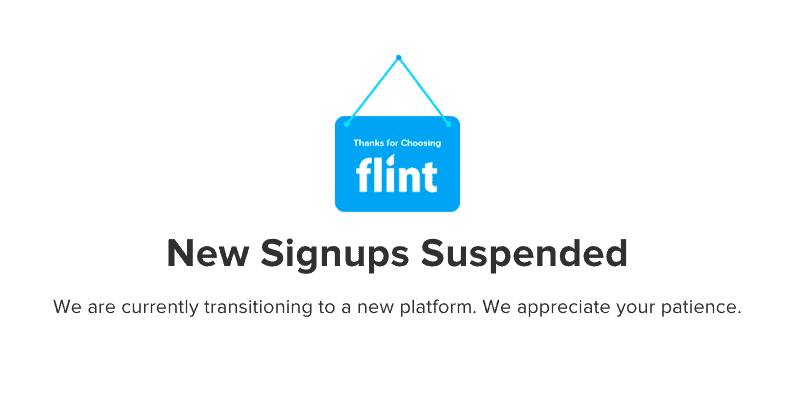 If you're looking for a Flint replacement for low-volume or mobile processing, see our comparison article.
After the recent, shocking news about the discontinuation of Flint Mobile's (see our review) payment processing service, many mobile-based and low-volume merchants are reeling, wondering how to transition and what this means for the future of mobile payment processing. The implications of this disaster are far-reaching, and merchants will now have to more carefully weigh merchant account providers against mobile-only processors in their pursuits of low-cost, high-value payment processing options.
What Happened to Flint Mobile?
On February 5th, with no prior warning, Flint abruptly suspended all new signups and closed all card processing for current accounts. Users who tried to process cards were met with a message saying, "You have exceeded your processing limits."
While Flint's website remained largely unchanged, those of us who clicked on the sign up button were met with a page that stated:
New Signups Suspended: We are currently transitioning to a new platform. We appreciate your patience.
Users who contacted customer service for more information were told:
Thank you for your inquiry and we apologize for any inconvenience this causes. Currently, we do not have an exact date for the roll out of our new platform.  We will contact you immediately when it is available.
No matter how hard I (and others) hounded customer service, no further information was given until a full ten days later (many lifetimes in the eyes of a business needing to accept payments), when Flint finally deigned to communicate with existing customers.
An email sent out on February 15th stated that Flint was "winding down" operations, and that the payments service would be discontinued on February 18th – a rather meaningless statement, considering all users I spoke to had been without service since the 5th anyway.
Flint went on to say that they would be transitioning payments to Stripe (see our review) beginning on February 16th. Lastly, they informed current users that on February 27th, Flint services would go offline for good. It's not clear at this point whether they will actually continue to support the Flint app with Stripe integration beyond that date, and Flint has not answered any of my inquiries into the matter.
Why Flint is Shutting Down
Long story short, Flint has likely closed shop because it's not making enough money. The company had been spending investor dollars to fund daily operations; at this juncture, the money has dried up and they simply can't afford to keep going at competitive rates. The margins in payment processing are razor-thin, and the only way to survive is to scale up quickly, in a big way. We've seen many other exceptional services shut down for this very reason – Balanced Payments is a great example. Like Flint, they provided a significant and valuable service, but simply couldn't compete with the likes of Stripe and Braintree in the marketplace payments industry.
It's clear to me that the folks at Flint hoped up until the very end that they could keep the doors open, and that's why there was practically no notice when the shutdown came. Obviously, the merchants affected would have been better off if the transition had been planned and announced months ago, but unfortunately that's not how it played out. Now Flint users are left with a bad taste in their mouths and must scramble to find new solutions before their businesses suffer even more.
The Difference Between Square and Flint
Square has a very strong platform. In terms of features, software quality, and size of user-base, no one can compete with Square. They have led the way for mobile processing since the beginning, and continue to innovate with high-tech, EMV-compliant hardware and incredibly feature-rich software – all while keeping prices low. Square is able to offer almost unheard-of prices because investment money keeps pouring in, and an absolutely massive pool of merchants use the popular processing service.
So given all these positive qualities, what's not to love? Well, if you check out my review of Square or my in-depth look into its shortcomings, you'll see that all of the great features offered come at a steep cost to users. Minimal customer service, hasty account setup, and overall account instability often lead to long-term holds on funds as well as sudden account terminations. On top of that, Square's 2.75% flat processing rate might be simple, but it hugely overcharges merchants for debit transactions and large transactions.
Enter Flint (see our review). Flint came onto the scene and solved all of the problems Square created. Flint was more selective with its account approval, and straightforward about processing limits. It was all-around more conservative both in terms of risk and cost, and managed to compete with the behemoth Square without issuing any hardware at all, instead opting for a system that used the merchant's smartphone camera to scan credit card numbers. Flint's app was nowhere near as powerful as Square's, but it was easy to use and feature-rich enough to accommodate a wide range of businesses in need of a simple mobile solution. And the icing on the cake? Flint offered a debit rate of only 1.95%, a practice previously unheard-of in the mobile processing industry.
Unfortunately, because Flint processed all transactions as card-not-present – even when the card was actually present – to avoid the need for hardware, the cost that Flint incurred for running transactions was higher than it needed to be (card-present transaction qualify for lower interchange rates). They also missed out on the added security of EMV chip and NFC transactions, while existing in a sort of EMV liability gray zone since card-not-present transactions are not subject to the liability shift that occurred earlier in 2016. These factors may have also impacted Flint's ability to compete in the cutthroat mobile processing market.
When push came to shove, it simply wasn't possible for Flint – as a relatively small company – to take on the huge mobile processors in a long-term way. Big companies like Square have their own financial woes, but at least the investment dollars continue to pour in to bolster them, or their parent companies are able to help out. While I – and many others – thought Flint would be able to carve out enough of a space to survive, in the end there just wasn't room and the company wasn't able to adapt.
What Flint's Failure Means for the Future of Mobile Processing
To my mind, the closure of Flint means that merchants now need to make a choice. Flint straddled the line between merchant services providers and Square-esque mobile processors. With Flint gone – and similar services vanishing or vanished – merchants must now approach their two options head-on and decide which makes sense for their businesses. The choices are:
Go with one of the gargantuan mobile processing companies, like Square, Intuit's GoPayment, Capital One's Spark Pay, or PayPal's PayPal Here. For those who need a free basic POS, no monthly fee, free hardware, no other fees, and generally the lowest cost all-in-one option possible, this will make a ton of sense. For a mobile-based business processing a couple hundred dollars per week, it's a no-brainer. But for a higher-volume business – especially those that aren't actually mobile anyway – remember that you often get what you pay for. Rock-bottom cost and high-value don't tend to coincide, and you need to be aware of the drawbacks.
Go with a merchant account provider, like Payline Data, Helcim, or Payment Depot. Merchant accounts will always be more versatile and reliable than third-party processing accounts like Square. Merchants tend to overestimate the cost of a merchant account, usually because they have been grossly overcharged in the past. The truth is that merchant account monthly fees usually range from $0 to $20, and in the vast majority of cases the money you'll save by reducing your processing fees will more than pay for this monthly fee. These accounts have few – if any – other fees, and have no early termination fees. Your commitment level is exactly the same for a month-to-month merchant account as it is for an account like Square, and the customer service is almost always many times better.
Merchant accounts often include a free virtual terminal for keying in card payments, and a free basic mobile app for accepting payments on the go. You'll likely have to buy the card reader – but this is becoming commonplace among the mobile-only processors as well. If you need POS software, you can choose from a huge number of options (including free software) instead of being locked in to a proprietary solution. And most importantly, you get peace of mind knowing that your account is stable and withheld funds are unlikely.
What Should You Do?
Your next move depends on your business's unique situation and needs. What I can tell you is this: I constantly see merchants reaching for a mobile processor like Square or PayPal Here out of a sense of perceived convenience and savings, when in reality they would have fewer headaches and more money in the bank if they chose a merchant account provider instead.
Gone are the days when opening a merchant account meant a three-year commitment enforced by a $500 early termination fee, of expensive equipment leases totaling in thousands of dollars per machine, and of confusing contract negotiations. The new breed of merchant account provider – and the only type we ever recommend at Merchant Maverick – offers month-to-month agreements, low-cost hardware, and transparent cost-plus pricing disclosed publicly and in full on their website. These companies have adapted to a Square world, and they are competing brilliantly.
Flint's downfall is a cautionary tale, and one that should make you stop and give pause. Mobile processing has certain inherent elements of risk, and can be a cruel mistress. Something like Square might make sense for your business, and maybe it will be a good fit, but I'd strongly encourage you to run the numbers and carefully weigh the benefits and detriments of a mobile-only processor versus a merchant account in the context of your particular business situation. The answer might surprise you.