Square VS Flint
Expert Analyst & Reviewer

UPDATED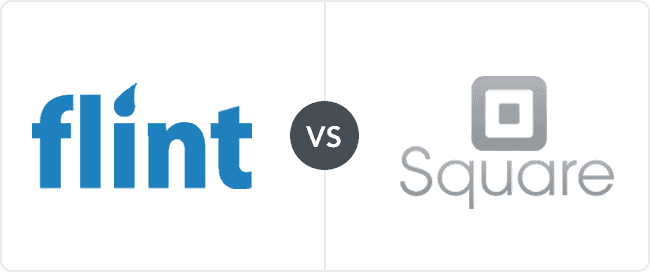 While some mobile processing apps focus solely on card-present transactions (like Spark Pay (see our review) and PayAnywhere (see our review)), others, like Flint and Square, also offer online selling tools to supplement in-person payment options. If you do any kind of e-commerce, Flint (see our review) and Square (see our review) are both solid payment processing services, presenting an all-in-one payment processing solution.
Even though you'll pay somewhat steeper transaction fees than with a traditional payment processor, with mobile-based processors like Flint and Square, you don't have to pay any monthly fees and you don't need to go through the process or expense of opening a traditional merchant account. This makes them good payment processing alternatives for lower-volume merchants. Plus, you get all the nifty online and mobile features (PayPal is another such all-in-one online payment processor; check out my PayPal vs. Stripe comparison if you're so inclined).
Personally, I love the simplicity of any kind of "all-in-one" solution and I'm willing to pay a little more to not have multiple accounts with different, sometimes overlapping, services. I also consider no monthly fees to be a major plus, considering the unpredictable income that comes with my being self-employed. All that said, these two processors are definitely not created equal. While they're comparable in a lot of areas, after researching both Flint and Square, I've found some pretty stark differences between the two services.
In this article I'll provide a side-by-side comparison of Flint and Square in terms of online selling features, overall cost, reliability, and other factors. Feel free to chime in with your opinion, yell at me, etc., in the comments.
Contract Length and Early Termination Fee:
Winner: Tie
Here's the deal with both Flint and Square:
No contract

No early termination fee (since there's no contract to terminate, duh)

No monthly fee
It's as simple as that! Just pay as you go. I like this arrangement better than PayPal's, which makes you pay a monthly fee to get all the bells and whistles.
Features:
Winner: Square
I like both Square and Flint's features, but Square has more of 'em; in fact, they probably have the best feature set of any pay-as-you-go mobile payment processor.
Before I list all the features, I should explain that Square and Flint process in-person payments differently: With Square, you use a mobile terminal (iPad, Android device, etc.) paired with a free card reader. You can also process payments without a reader using the app, but the fee is higher.
Flint is unique in that it doesn't use any kind of reader or swiper — instead, the app uses your phone's camera to scan card numbers. Of course, you can also key the numbers in if you need to.
OK, moving on, here's a sampling of Square's best features:
Advanced inventory management features – This is where Square really shines. One great feature is how Square syncs online and in-store sales in inventory management counts.
Receipt printing capabilities – This feature is notably absent from Flint's service.
Electronic invoices – In-app or online
Hosted storefront – Great design includes options for shipping or pickup. Good for quick service/takeout cafes and restaurants as well as e-commerce.
Embeddable item links – This allows you to add the item to your website, outside of Square.
Promo codes – Nice feature for an online store.
Customer feedback management – A valuable feature called Square Feedback allows you to manage your reputation and deal with customer complaints before they post a nasty Yelp review.
Advanced reporting – See

this page

for a complete list of reports offered. (There's a lot!)
Now, here are some of the features you get with Flint:
Your own Merchant ID number (MID) – This helps contribute to account stability, and you don't get one with Square (I'll delve further into this later on).
Electronic invoices – In-app or online. Can attach coupons/promotions to invoice.
Payment buttons – Customizable, easy to embed in website, attractive integration (similar to Square's embedded item links, but executed differently).
Hosted payment pages – Good for sharing on social media and for businesses without a website.
The features Flint does offer are solid, but taking everything into account, Square is the definite winner here, offering a more advanced set of features. The question, I guess, is whether you truly need all the features Square offers. Read more about Square's features in Tom DeSimone's Square review.
Fees and Rates:
Winner: Tie
Flint and Square are both great about offering no hidden fees or monthly fees. So it all comes down to the transaction fees. Flint offers significantly lower transaction fees for debit payments, but slightly higher fees for credit payments, whereas Square offers the benefit of accepting Amex and Discover cards, as well as international payments.
Square has no monthly fees. Its transaction fee breakdown is as follows:
Swiped transactions: 2.75%

Online/invoice transactions: 2.75%

Keyed-in transactions: 3.15% + $0.15

Accepts all major credit cards

Accepts international cards via keyed-in transactions

No processing limits — but large transactions or high monthly sales volume may trigger account suspension
Flint also has no monthly fees and just the following transaction fees:
Debit transactions: 1.95%

Credit transactions: 2.95%
Flint only accepts Visa and Mastercard and does not accept international payments.
Flint also has the following standard processing limits:
Max per scanned transaction: $1000.00

Max per typed transaction: $250.00

Max per week: $3000.00

Max per invoice: $250.00

Total invoice limit: $1000.00
Upfront processing limits are often a good thing because you know what amount will trigger an account freeze. You can also ask for an increase to these limits if you provide Flint with more information about your business.
For many merchants, Flint will end up being the cheaper service because of its excellent 1.95% debit fee (about half of all card transactions are from debit cards). However, higher-volume merchants may prefer the greater payment flexibility offered by Square. So, it's a tie for me.
Account stability:
Winner: Flint
Here's where Square runs into some major issues. As I mentioned previously, you do not get your own merchant ID with Square, which makes your account less stable. Many Square customers complain about unfair account freezes, funding holds, and even account terminations. As Tom DeSimone explains in his Square review:
Square's aggressive fraud prevention tactics have put many small businesses in a position where they can't access their income because their transactions have raised a general red flag for any number of reasons.
Even worse, Square doesn't even disclose to customers its reasoning behind account freezes, other than notifying the customer that they have either "(a) violated the terms of this Agreement, any other agreement you have with Square, or Square's policies, (b) pose an unacceptable credit or fraud risk to us, or (c) provide any false, incomplete, inaccurate, or misleading information or otherwise engage in fraudulent or illegal conduct."
Flint customers, on the other hand, rarely complain about account stability issues such as funding holds or sudden account terminations. I consider not having to worry about your funds being withheld a significant advantage of Flint over Square.
Hardware and Software Requirements:
Winner: Tie
The Square mobile app and free Square Reader work with all newer iOS and Android devices/operating systems. However, you need to use an iPad to access the receipt printer, cash drawer, and barcode scanner. The $99 Square Stand must also be used with an iPad.
Flint is also compatible with all newer iPhones and Android phones. You can also run the app on an iPad. No other hardware is necessary; simply download the Flint app from the Apple App Store or Google Play and you're good to go.
Security:
Winner: Tie
Some users might be worried about the security of Flint's reader-free scanner, but I personally feel confident about using their PCI-compliant technology. Here's what Flint has to say on the topic of security:
Flint has integrated with industry leading financial services and infrastructure companies to provide a reliable, secure and scalable platform. Sensitive data is protected according to PCI DSS and other industry guidelines and all connections are encrypted for maximum security. The Flint app securely scans just the main card number. No card data or images are stored on the phone. Standard card verification info and a touch screen signature are required to complete transactions.
Flint also offers a "Mask Card Scan" feature that allows you to block out the middle numbers of the card on your screen for an added sense of security.
Square also has robust security features, which you can read more about here — but some might argue that its exhaustive fraud security features come at the risk of a less stable account.
Sales and Advertising Transparency:
Winner: Flint
Both Square and Flint offer crystal-clear pricing transparency, with no sales gimmicks or hidden fees. This is laudable, and somewhat uncommon in the payment processing world.
However, I believe Square's lack of disclosure about its frequent account holds — which seems to be the main issue customers complain about — can be considered a transparency problem. Disclosure about the risks inherent with third-party processors as well as some clear processing limits would probably do a world of good in this area. I think Square should also disclose to customers the specific reason behind any holds they put on their account.
Customer Service and Technical Support:
Winner: Flint
Square is widely known for its poor customer support. Its support channels, provided via email and over the phone, have reportedly improved in recent years, but there are still numerous customer complaints about inconsistent support.
For example, Square support claims it will answer email inquiries within 24 hours, but many merchants claim it takes closer to 2-3 days to get a response. When the one of the main problems people are calling and emailing about is account freezes that affect their ability to do business, unresponsive support becomes especially frustrating.
On the other end of the spectrum, you'll find very few complaints about Flint's customer support. Flint has an excellent overall support profile, offering high-quality phone and email support during business hours (7am-5pm Pacific, Monday-Friday).
Final Verdict:
Winner: Flint
It was not easy declaring a winner in this race, but ultimately I have to choose Flint. Flint's superior account stability, better-quality customer support, and unbeatable debit transaction fees make it a less risky and more affordable choice.
Simply put, Square has a greater number of features than Flint, but the accounts are less stable and can be more expensive. I can't in good conscience recommend Square over Flint knowing that small businesses may have their accounts frozen and funds withheld without even receiving so much as an explanation.
For low-risk businesses that would really benefit from Square's added features such as receipt printing and American Express acceptance, Square is definitely worth considering. Those needing more advanced features may also want to check out our invoicing software reviews and shopping cart reviews.