Teamwork Projects VS Smartsheet
Editor in Chief

UPDATED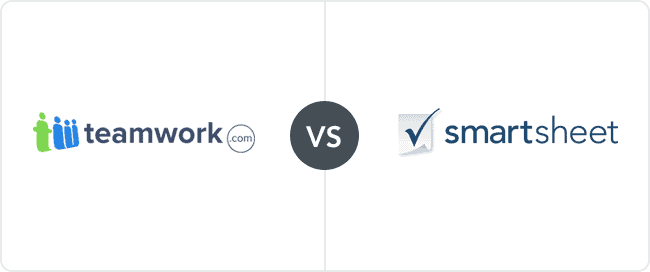 Based out of Ireland, Teamwork.com is the "proud [creator] of a suite of productivity software," including Teamwork Projects (see our review), Teamwork Desk, and Teamwork Chat. Spurred on by a client request, company founders Peter Coppinger and Daniel Mackey (then of Digital Crew) began to envision an intuitive project management system – one that could function at a high level and yet be simple to use and maintain. The new software's first incarnation, Teamwork Project Manager, was inspired by Basecamp (see our review), Apple software, and a few other online applications. It was released to the public in October of 2007, and was so successful that Coppinger and Mackey soon left Digital Crew to focus exclusively on Teamwork. Thanks to user feedback and trial-and-error, this product has evolved quite a bit over the last eight years, and now includes real-time messaging (via Teamwork Chat) and a slick support ticket tool (Teamwork Desk) that supplement the original project management software.
Some of Teamwork.com's high-profile users include Pepsi, eBay, Microsoft Studios, PayPal, and Forbes Travel Guide, but it is used in a number of different industries. Teamwork bills itself as the everyman project management software, accessible to anyone, anywhere. In fact, Coppinger and Mackey claim that they want Teamwork software to be "so easy-to-use, our own computer-shy mothers could use it."
Because Teamwork strives for user-friendliness, it has at times been forced to sacrifice functionality on the alter of accessibility. However, its competitor Smartsheet has the opposite problem.
Smartsheet, a unique project management software, is best described as a beefed-up version of Excel. Based on a spreadsheet model (highly unorthodox in the project management software community), Smartsheet is more than just out-of-the-box. Like Frankenstein's monster, it comes with a mishmash of seemingly incongruous features. Interactive spreadsheets are spliced with basic project management functions, web forms and templates, and even crowdsourcing capabilities. Smartsheet is not for beginners, and requires a healthy working knowledge of how to create and manipulate spreadsheet formulas. For a full look at pricing, features, and more, check out our full Smartsheet review.
Despite its intimidating learning curve, Smartsheet is the software of choice for millions of users worldwide. Its wide range of features and unusual focus on spreadsheets have attracted a diverse customer base, including educational facilities, non-profits, and Fortune 500 corporations.
Teamwork and Smartsheet are focused on very different aspects of the work environment. Externally, Teamwork's platform is all about communication and collaboration, while Smartsheet concentrates on reporting, number crunching, and hard data. To determine which software is the better choice for your business, though, we're going to need to take a close look at each program, comparing price, customer service, features, and other important considerations.
Web-Hosted or Licensed:
Both Teamwork Projects and Smartsheet are entirely web-based.
Hardware and Software Requirements:
Because they are based in the cloud, Teamwork Projects and Smartsheet require users to have access to the internet and an up-to-date web browser.
Pricing:
Winner: Teamwork Projects

Teamwork Projects has seven different subscription options, starting with a completely free plan and ratcheting up to $12/month, $24/month, $49/month, $149/month, or $249/month depending on the number of active projects and storage capacity you require. All plans come with unlimited users, which is nice. Additionally, there an enterprise plan available for large groups, priced on a case-by-case basis. Teamwork Chat (the instant messaging add-on) doesn't cost anything, but if you're adding Teamwork Desk to your subscription, only the first 150 tickets are free; after that each ticket costs $0.05.
You can sign up for a 30-day free trial of any of the plans, no credit card required. Should you decide to subscribe, you will be given the option to pay for your plan by credit card or PayPal (annual subscriptions can be invoiced as well). One of the best things about Teamwork Project's pricing structure is that you can upgrade or downgrade your monthly subscription at any point in time, and there are never any unexpected cancellation fees. If you want to downgrade a yearly subscription, however, you have to wait until it has expired. Discounts are offered to non-profits and educational organizations on a case-by-case basis. If you think you might qualify for a reduced price, you can contact the company directly by emailing [email protected].
Smartsheet is priced on a per/user system, and price is based on the number of 'creators' on each account (creators are admin-level users who can control the interface, generate new spreadsheets, etc). The Basic Plan is least expensive, at $14/month for one creator. The Team Plan costs $39/month and is designed for use by a minimum of three creators. Enterprise Plans are priced on a case-to-case basis, depending on the number of creators your require and the amount of custom features that you add. The per/user pricing is a real bummer, but fortunately all plans come with unlimited collaborators, account users who can interact with spreadsheets but do not have the power to create new ones.
If you're from a non-profit, school, or government agency, you can receive preferred rates by subscribing to an annual plan ($139/year for the Basic Plan and $399/year for the Team Plan). And any business or individual can qualify for a 17% discount off regular plan prices by signing up for an annual subscription. Plans may be upgraded or downgraded at any point in time, even if you've committed to an annual subscription. Like Teamwork, Smartsheet offers a free trial of the software and does not require you to input credit card information.
The two are pretty comparable in terms of price. Both are middle-of-the road; not the cheapest thing available but by no means the most expensive. However, in my opinion Teamwork Projects wins this category. It isn't necessarily cheaper than Smartsheet in every situation, but dollar amount isn't everything. I like that Teamwork has a free plan and that it offers a larger variety of plans with more flexible options.
Ease of Use:
Winner: Teamwork Projects

As a company, Teamwork.com has always valued simplicity. In fact, the company's original motto was "Project Management Made Easy." In keeping with that motto, Teamwork Projects excels in user-friendliness, and has a clean, intuitive interface that is usually easy to navigate. Almost everything is straightforward, self-explanatory, and labelled clearly. In addition to the great UI, this software offers several time and labor-saving features that take some of the drudgery out of everyday work, including a slick desktop timer app, iOS and Android mobile apps, and a comprehensive dashboard which provides an overview of all of your projects and a real-time activity stream. The dashboard is probably Teamwork Projects most user-friendly component. It shows all activity from recently active projects, advises you of daily or upcoming due-dates (anything approaching in the next 14 days), and reminds you about overdue tasks.
Smartsheet, on the other hand, comes with a serious learning curve. It's hard to use, especially at first, and it's also difficult to even learn how to use it, unless you're already adept at manipulating spreadsheets. Smartsheet is not your basic task management system, and has never claimed to be. It is, first and foremost, a complex spreadsheet program – a super-spreadsheet, if you will. If you're confused by Excel, you're not going to do well with Smartsheet. Tricky as it is to master, Excel is only Smartsheet's mild-mannered counterpart.
In the long run, after it is completely set up and your team is used to the interface, Smartsheet does have several efficient features that will help you focus less of your energy on computer busywork. It provides excellent, highly-rated mobile apps for iOS and Android, drag-and-drop functionality, quick file attachment, and automated notifications, plus a clever autofill function that searches for patterns within sheets. Every time you insert a new row and add data, Smartsheet references formulas in the surrounding rows and automatically fills in new information, even applying special formatting if necessary. As you can imagine, this feature is a time saver and one less thing you have to think about.
There is no debate about which software wins in ease of use. Teamwork is designed to be picked up quickly. It has an intentionally simple UI so that people will actually use it. Smartsheet may have many wonderful qualities, but user-friendliness isn't one of them.
Product Features:
Winner: Teamwork Projects

For as simple as it is, Teamwork Projects comes with an impressive number of features. It is much more than a simple task manager, though creating and assigning tasks is a breeze. As I mentioned before, each user has an exportable activity stream that shows recent activity on tasks and projects as well as upcoming milestones and new messages or comments. Teamwork also offers detailed calendars, email integration, custom permission settings, and a customizable UI so you can create a work environment that best suits your working style. There are multiple file management features (and file versioning), and most Teamwork Projects plans are integrated with popular file sharing programs, like Box, Dropbox, and Google Drive. Each project has a Gantt charts (adjusted via drag-and-drop) that runs automatic calculations of task progress and can handle start-to-end or end-to-end task dependencies.
One of Teamwork's most practical feature is Lockdown, which allows you to keep tasks private to individual users regardless of the company they belong to. For payroll and invoicing purposes, users can track their hours, either manually or via a timer. Notebook pages can be used to write almost anything, from press releases to website content. The notebook also lets you scribble down random thoughts and ideas during a project, so that everything is in one place. Lastly, Teamwork has recently added a Risk Register which you can use to determine the most critical risk factors in each of your projects.
Other than its unique spreadsheet-focused design, Smartsheet is most well-known for offering dozens of pre-made templates and web forms that work for everything from marketing to event planning to budgeting. Projects and tasks are managed via spreadsheets, of course, which you can customize with new cells or rows, personalized formulas, and conditional formatting. If you want, you can even link multiple cells together and roll up information from several sheets. Files and documents can be attached to individual tasks, just like in a standard project management program.
Smartsheet excels when it comes to data analysis, and offers thorough reporting features. Visually-oriented people, who may not do their best work when staring at an infinite sea of rows and columns, can generate custom workload views, and display each sheet as a calendar or a Gantt chart. Smartsheet also provides decent resource management tools that help you to track the workload of each employee.
Teamwork Projects and Smartsheet are both feature-rich, so it's difficult to declare an absolute victor in the Features category. However, by providing a slightly wider range of project management tools, Teamwork just manages to edge out the competition. Smartsheet's features are incredibly powerful in themselves, but there are limits to what spreadsheets can do.
Integrations and Add-Ons:
Winner: Smartsheet

Teamwork has invested in a good assortment of 3rd-party applications, and can be integrated with:
Box
Xero
FreshBooks
Zendesk
Calendar Sync
Time Doctor
TimeCamp
InVision
Taco
TrackDuck
NiftyQuoter
iDoneThis
SupportBee
Blinksale
Quick Books
Harvest
Dropbox
Google Drive
OneDrive
In addition, you can use Zapier to integrate your Teamwork account with many other apps, including GitHub, YouTube, Evernote, Salesforce, and a whole lot more. You can use Teamwork's REST API to develop your own add-ons, apps and other integrations. For more information on this and the other compatible programs mentioned, check out the official TeamworkPM integrations FAQ.
Smartsheet also comes with many integrations, including:
Google (Google Apps, Google Drive, Google Chrome, etc.)
Box
Salesforce
DocuSign
Evernote
Harvest
Mailchimp
Marketo
AppsGuru
Jira
Zapier
123ContactForm
Centrify
ClicData
Bitium
Klipfolio
Easy Insight
Okta
OneLogin
Meldium
PingOne
Tools4Ever
Tableau
There are others integrations available as well and more being added all the time, so for a complete list, click here. Like Teamwork, Smartsheet offers an open API so that users can design their own integrations.
Customer Service and Technical Support:
Winner: Tie

Both companies provide great customer service and a variety of educational tools. Teamwork.com gives you full access to a searchable knowledgebase along with FAQs, tips on getting started, and best practices for using Teamwork Projects. On the same page you can find a link to a support request form. If you'd rather not use the form provided, you can simply email the support team at [email protected], or use the live chat feature on the website. Teamwork claims that most requests are answered within nine minutes during normal business hours, and that has been true in my experience. Teamwork also conducts customer happiness reports after every customer interaction, and currently boasts a 96% satisfaction rate. The company maintains an active social media presence on Facebook and Twitter. The Teamwork.com Facebook account is a great place to pick up tips, ask for advice, and stay apprised of updates and additions to the software. The Teamwork Twitter feed, as well, allows you to pose questions directly to company reps, bounce ideas around, and keep up with new additions and bug fixes.
Just like Teamwork.com, Smartsheet provides a variety of customer support options, including email support, live webinars, video tutorials, in-app tips, and instructional articles. The webinars are a fantastic way to get to know the software, and the video tutorials can be helpful as well, but be aware that they are fairly dry. Subscribers to the Enterprise plan also receive dedicated technical account managers – an awesome bonus, and worth the extra money, in my opinion. Smartsheet offers a Facebook page for quick access to press releases, blog articles, and software updates, and some people even use this page to ask simple questions and/or check on the status of bugs or temporary software issues. Smartsheet's Twitter feed has a similar focus, though it is more heavily concentrated on providing status updates.
Negative Reviews and Complaints:
Winner: Teamwork Projects

Not everyone is impressed with Teamwork Projects' UI. It may be easy to learn, but many users find task management to be a tedious process, requiring far too many clicks and steps. Others are disappointed with the software's level of functionality; it is a mid-range project management solution, after all, so there are some things it doesn't do well. Teamwork doesn't have a sophisticated scheduling mechanism, and its reporting features are run-of-the-mill. It is also said to be painfully slow at times.
Smartsheet's main problem, other than the inherently limited nature of spreadsheets, is over-complexity. For some users, Smartsheet is just too much to handle. It has great potential for analyzing data and tracking information, but to release this potential you have to know exactly what you're doing. Smartsheet requires a good understanding of spreadsheet formulas, at least in the beginning stages of setting up an account. Additionally, it falls short when it comes to inter-office communication. As I mentioned above, spreadsheets can't do everything. Each sheet is a separate entity. It's possible to track user activity sheet by sheet, but there is no real place for managers to see a comprehensive, up-to-date activity stream. Smartsheet is great for data analysis, but it is not so great at basic, everyday project management, which requires a certain level of transparency and communication.
Positive Reviews and Testimonials:
Winner: Tie

In general, people are impressed with Teamwork Projects. According to one happy customer, the software is "powerful enough to be valuable, yet intuitive enough that it is actually used." Therein lies the real charm and appeal of Teamwork. Users are pleased with the reasonable pricing structure, the flexibility of the features and the interface, and overall ease of use. Many people have commented that they use Teamwork because it is the only program of its kind that allows them to assign tasks to more than one person.
Smartsheet is a little too complicated to have universal appeal, but it hasn't attracted millions of users for nothing. There is a lot to love about Smartsheet. It comes with a fantastic variety of 3rd-party apps and integrations, and people rave about the company's iOS mobile app, which functions like a dream. Smartsheet can be versatile if you're intelligent about setting up your account, and it is capable of speaking to many needs within a company (thus its appeal to diverse industries). Users are thrilled about the software's reporting capabilities, and happy to have a program that is similar to Excel, but more practical for office-wide use.
Final Verdict:
Winner: Teamwork Projects

Overall – to me, at least – Teamwork is the obvious winner. I have nothing against Smartsheet, but Teamwork Projects is a more well-rounded product with better practical application for most businesses. Smartsheet may be an reporting excellent tool (and it is fantastic at generating web forms), but it is not a viable project manager. I recommend Smartsheet wholeheartedly for data analysis and other things of that nature, but I would never use it to manage tasks or people.
Teamwork Projects has its flaws, of course, but in general I'm extremely impressed with its balance of function and accessibility. When you combine flexible features and a user-friendly interface with great customer service and lots of integrations, you come out with a real winner; Teamwork.com has a lot to be proud of.
If you're interested in exploring other Teamwork and Smartsheet competitors, you might want to check out our project management software reviews section.