The Best Buy Buttons
UPDATED
When a merchant is selling any sort of product, they want to make sure the process of purchasing that product is as simple as possible. After all, you don't want frustrated customers to give up on you because checking out that T-shirt they wanted is just taking way too long! One way to improve this process is through the use of Buy Buttons, which make purchasing products incredibly easy across all sorts of different platforms.
Buy Buttons allow customers to purchase your products within an external site or app without having to redirect through the main storefront. Plus, it's an easy way for you as a merchant to reach a wider range of audiences across different blogs and social media sites. For more in-depth information, check out our introductory post on the concept – and once you've reached the point of "Ahh, yes, that is something I would like, but what are my options?" then start reading because we're about to delve into the best Buy Buttons out there!
Shopify
As far as choices for Buy Buttons go, Shopify (see our review) is by far the most comprehensive. Not only does it offer an easy-to-install HTML button and Facebook connection, it also partners with both Twitter and Pinterest to include Buy Buttons on those platforms as well. If you are ambitious when it comes to social media and want it all, Shopify currently offers the most options for Buy Buttons and provides clear instructions for setting them up.
In addition to offering pretty much every Buy Button on the market — HTML, Facebook, Pinterest, and Twitter — Shopify also makes it easy to navigate these opportunities by providing Sales Channels in your admin control center. This way you can manage your embeddable shopping carts across different platforms, from your online store to your HTML buttons, Facebook Page and/or Twitter Buy Buttons, and Pinterest Buyable Pins. You can access the data from each of these Buy Buttons all in one place.
This makes it extraordinarily easy to monitor how your products are selling and compare the data. Are you having more success on Pinterest than on Twitter? Is Facebook popping with activity? The Sales Channels will show you that information, and you can decide how to utilize it in the way that best benefits your business! To get a sense of how cleanly Shopify presents these platforms, just take a look at the web page explaining the possible channels: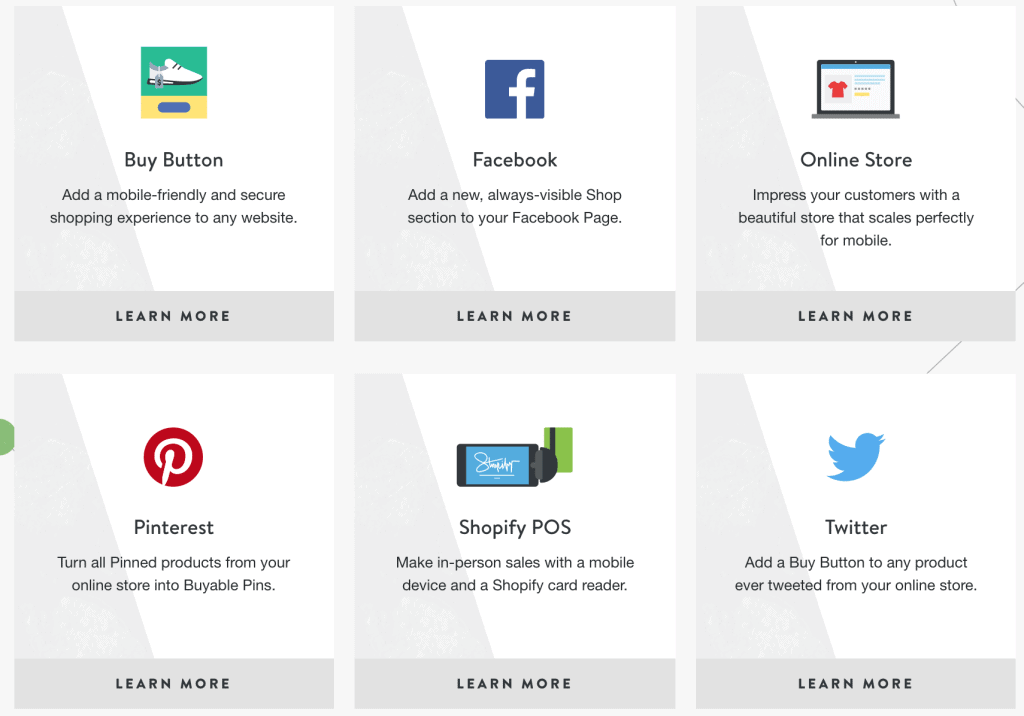 "But wait!" you may cry. "Just because Shopify has options, presents those options in a pretty way, and explains how to set up those options clearly doesn't necessarily mean that they're truly the best Buy Buttons!" You are wise, reader, but never fear — Shopify's quality is excellent! Let's get into some of the details.
First up, the Shopify Buy Button. Shopify keeps pretty good company when it comes to HTML buttons; it's not the only option out there, after all. But it also sets itself apart thanks to its ease of use and affordability. If a Buy Button is all you need, Shopify's $9/mo Lite Plan gives you the HTML button as well as Facebook Store access.
Shopify lists out eight different platforms on which you can embed your shopping cart: WordPress, Drupal, Joomla, Tumblr, Wix, Squarespace, Weebly, and Blogger. The installation process is incredibly easy; you choose the product or products you'd like to feature, and Shopify will generate an HTML code for you to add to the site of your choice. Voila! You're now able to sell on whatever site or blog you want. All sales and info are directed over to your Sales Channel so you can sort through your results more easily.
Shopify's Facebook cart is another attention grabber thanks to its inclusion in the Lite Plan. It's accessible to merchants because of its affordability, and accessible to customers because of Facebook's popularity and the ease inherent in checking out within the page or app. Plus, Shopify is working on making all of their stores and apps mobile responsive, so even more customers will be able to easily purchase your products.
Another plus with Facebook is that it lets you target specific audiences based on location, age, interests, etc. You can have special promotions that are specific to Facebook, making use of its algorithms and structure. And you can watch the results of those promotions roll in to your Facebook Sales Channel, where you can analyze how different promotions on different platforms are doing and what it means for you going forward.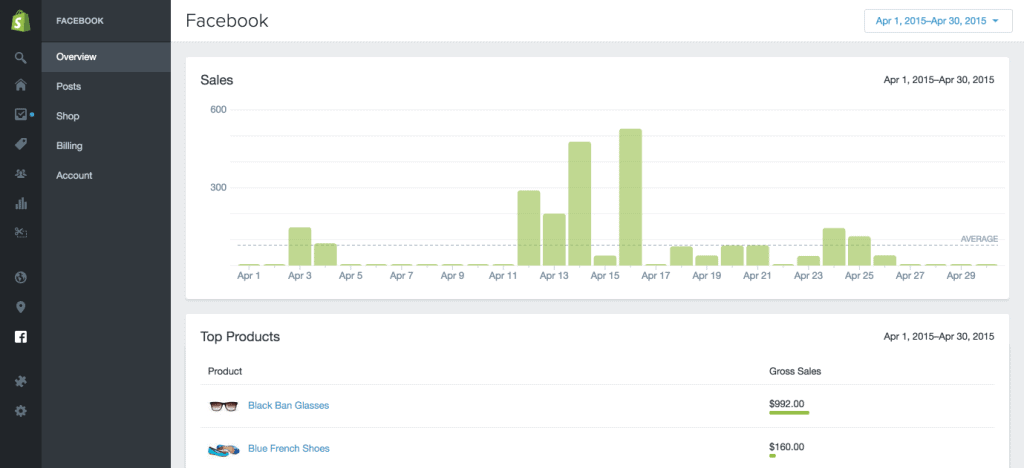 Pinterest is a pretty elite world in terms of number of merchants who have access to Buyable Pins, but thankfully Shopify is among its partners! Since Shopify's Pinterest partnership is still pretty recent, you have to apply to sell there. It might take some time before it comes through, but it will more than likely be worth the wait.
Shopify emphasizes Pinterest's ability to grow your brand by using your products and Pinterest boards to tell a story. In addition to reaching a wider audience, Shopify says, you can influence that audience through the story you are telling through words and pictures on Pinterest. It's definitely a visual medium, and Shopify has some great ideas for taking advantage of that.
Each of your products can automatically become a Buyable Pin once you give the okay. Then you're off to the Pinterest market where customers can browse and buy from within the app. On your Pinterest Sales Channel, you can see who has pinned or repinned your product (which basically means who has saved it for future reference) as well as who has actually purchased it.
Finally, Shopify has recently partnered with Twitter. It's the only shopping cart platform other than BigCommerce to do so, which is a big deal! Unlike BigCommerce, though, Shopify's Twitter option is already available; no trial sign-ups are necessary. This definitely rockets Shopify up the list of Buy Button providers. If you are ready and raring to go with Twitter, Shopify's got you covered.
Once you set up Twitter with your Shopify store, Buy Now buttons will automatically be added to products that you tweet out — very little effort is involved on your part! As with Facebook, Twitter allows for special promotions and flash sales specifically to your Twitter followers. In addition to tracking number of sales in your Twitter Sales Channel, you can also see which products are most popular and keep track of Twitter activity (hashtags, @mentions, etc.) about your brand.
All in all, Shopify works well for a range of businesses. The availability of Shopify's Lite Plan featuring the HTML button and Facebook cart means that if you're a smaller vendor and don't need a full online store, you'll have options! However, you will not be able to take advantage of those awesome Twitter and Pinterest partnerships.
If you're a larger vendor with a larger, more complete store and the financial ability to pay more, it's not too pricey to level up and include Pinterest and Twitter as part of your Buy Button fun. Basically, Shopify is a fantastic resource. Regardless of your business type, you should be able to find something that works for your needs and position.
BigCommerce
BigCommerce's status as a popular and effective purveyor of Buy Buttons is cemented by the fact that it is one of only two shopping carts (Shopify, as just mentioned, is the other) that partners with both Pinterest and Twitter. Additionally, it's a great platform apart from its Buy Button availability — check out our review for more details.
BigCommerce (see our review) offers Buy Buttons on Twitter, Pinterest, and Facebook, although all three are currently still in trial mode. Despite that hopefully brief hangup, the features themselves certainly look to be worth the wait.
Twitter is the especially big sell here; it partners with the fewest shopping carts, so that partnership has a bigger effect. In fact, Shopify is the only other cart with this partnership (Stripe is also included, but that falls into a different category of services.) To make the process as simple as possible, selected products will automatically include a Buy Now button when tweeted — BigCommerce gives more details here. Additionally, Twitter campaigns are available on BigCommerce in order to target a specific audience.
Over in Pinterest land, BigCommerce makes it clear that, yes, Buyable Pins really do allow customers to purchase your products without ever having to leave the Pinterest app. It's simple on the merchant's end too; selected products will automatically become Buyable Pins. Since Buyable Pins are a fairly new concept in eCommerce, BigCommerce's partnership with Pinterest gives it a pretty strong boost.
Pinterest also offers mobile-optimized checkout through BigCommerce to make it even easier for customers to pay. BigCommerce even has its own Pinterest account, which provides great browsing material for any potential merchants who want to get a sense of the cart.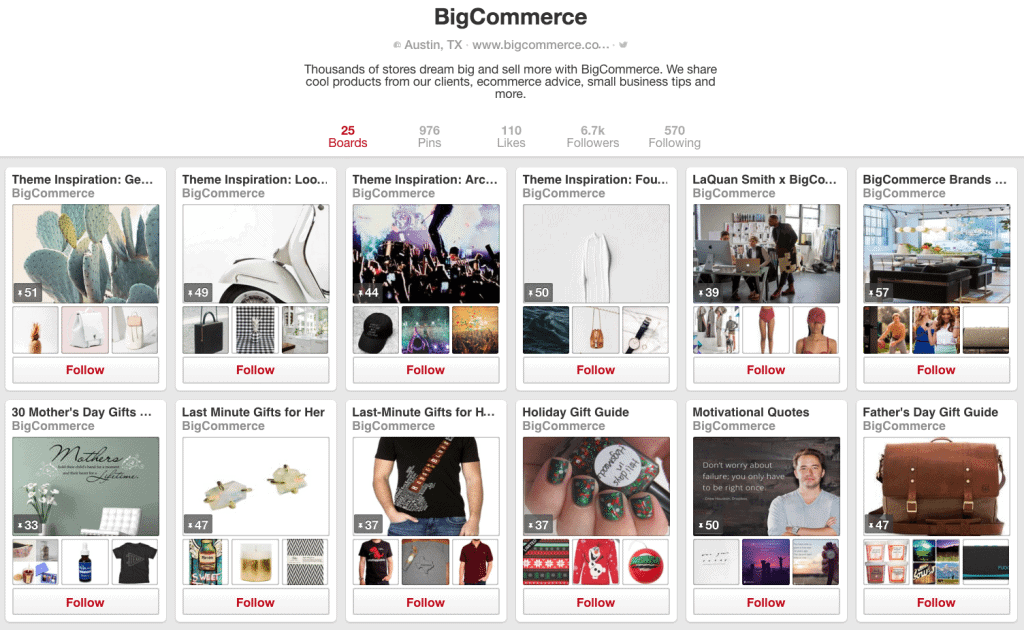 On the Facebook side of things, BigCommerce emphasizes a few key abilities. The traditional Buy Button feature of being able to sell products directly on a Facebook Page is one crucial aspect that BigCommerce highlights, along with the ability for customers to click through from a Facebook product to your site. But never fear, clicking through is not automatic! Customers can still purchase products within the page or app.
Additionally, users can push selected products from the BigCommerce control panel straight over to Facebook, which adds a level of ease to the entire process. In a more extensive explanation, BigCommerce stresses the ability of a Facebook store to integrate sales with marketing — plus it makes it easier than ever to interact with customers!
As with many other shopping cart platforms, BigCommerce sends the orders, sales, and customer information from each individual platform — Pinterest, Twitter, and Facebook — to the same place so that merchants can process them all together. In order to maintain all of this information, BigCommerce uses ChannelAdvisor, which includes other marketplaces beyond the Buy Buttons. Definitely keep an eye on this as you are considering which shopping cart offers the best Buy Buttons and accompanying services for your needs.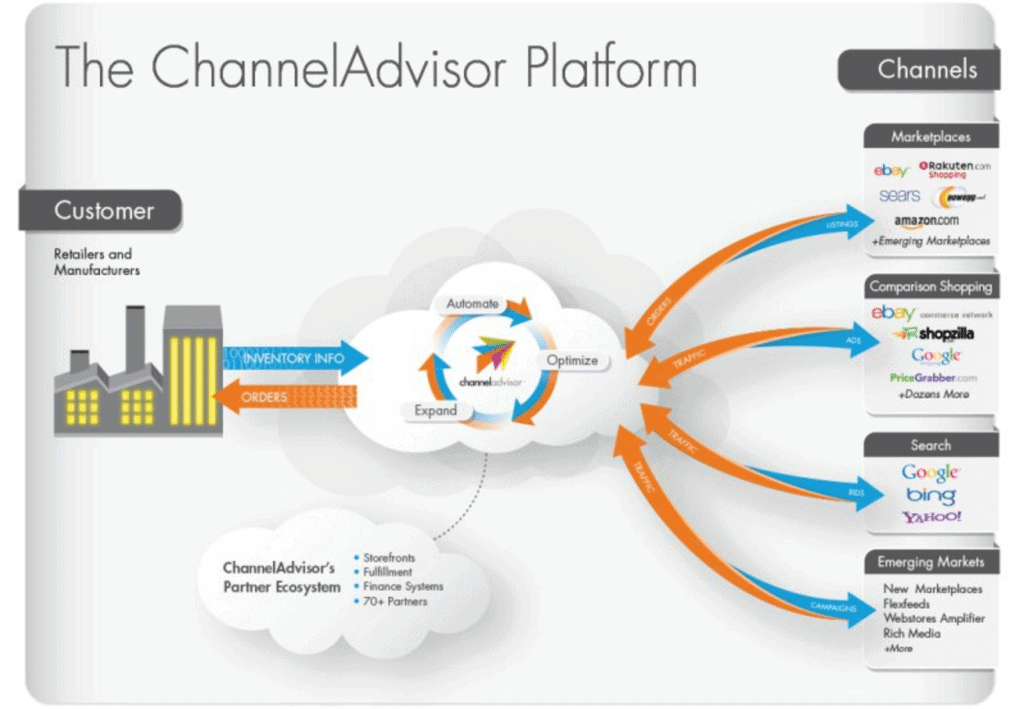 Thanks to a recent site makeover, BigCommerce has made it easier than ever to navigate its different options. You'll find plenty of setup help and instructions, although sometimes it takes a bit of searching to find them. As an example, here's their support page for Facebook Shop.
Overall, BigCommerce is an excellent choice for vendors who seek a solidly established shopping cart that is taking action on the relatively new field of social media. Since the Buy Buttons are still testing, it may not be the best choice if you want a cart that provides them immediately, but if you have a little bit of time and patience, BigCommerce will likely come through for you!
Ecwid
Ecwid (see our review) is unique in that it is set up to function as a widget that can be installed across a variety of different platforms. Got a website and want to tack on a store? Ecwid's got your back. Feel like showcasing a few products on your blog? Ecwid's here for you. Really just care about your Facebook Page? No problem, you've got Ecwid's full support.
As you can see in our in-depth review, Ecwid is basically an expanded HTML Buy Button. It takes some coding knowledge to set up, but once you figure out how to install it on whatever site or blog you're trying to add your store to, you'll be set!
Best of all, Ecwid has a free plan that is perfect if all you really want is the equivalent of a Buy Button for your site and/or Facebook page — as long as you only have up to 10 products. If you have more than that, the rest of the plans are still on the cheap side compared to many other shopping carts, so never fear!
Although Ecwid works as a Buy Button on whatever site you have, it is limited to Facebook on the social media front; that said, Facebook is still an excellent option that many other carts don't yet offer.
Ecwid provides a Facebook Store eCommerce app that allows you to customize your Facebook Store and upload pictures and descriptions for your product inventory. If you've got stores going on a couple different platforms, Ecwid's control panel lets you monitor all of them from one place.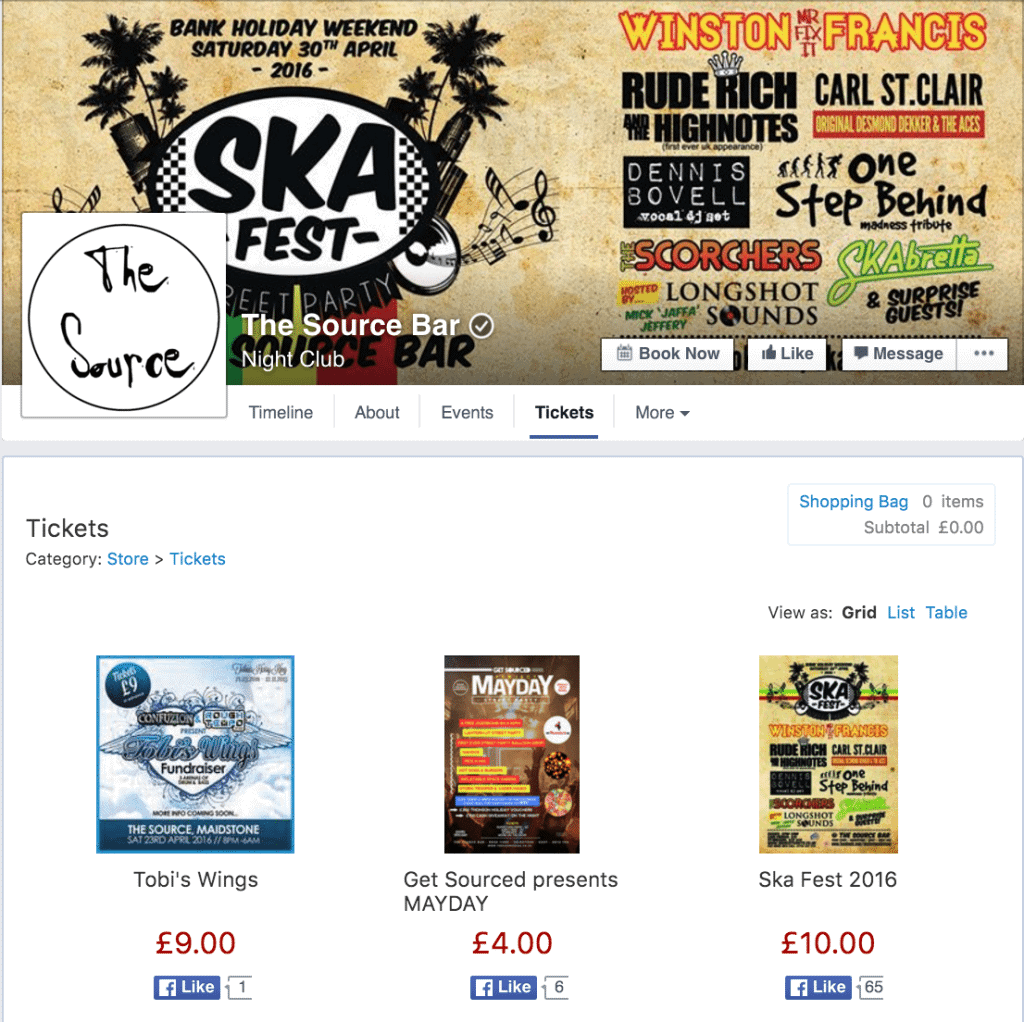 Additional huge points go to Ecwid because every aspect of the widget is mobile responsive. This means that no matter what platform you're using for your store, it will look great on a smartphone or tablet. Other carts are improving in this field, but Ecwid definitely has the best Buy Buttons as far as mobile technology goes. More and more customers are using their mobile devices to browse and, when possible, to buy. Mobile Buy Buttons allow potential customers to purchase immediately without having to prolong their attention span long enough to make it all the way over to a computer. This will really boost sales.
In the end, Ecwid is one of the best Buy Buttons for smaller start-ups or folks that don't have a ton of money but do have a few products they'd like to sell on their site and/or Facebook page. And don't let lack of coding knowledge deter you if Ecwid seems like a good fit; go ahead and begin investigating their set-up instructions.
Magento
Magento (see our review) differs from the other carts in this article because rather than being a cloud-based platform, it consists of free, downloadable software. It also requires a high level of coding skill. As a result, the process of setting up Buy Buttons on Magento is going to be different and more time-intensive than the equivalent processes on BigCommerce, Shopify, or Ecwid.
That said, if you have the time and resources to dedicate to Magento, you'll find that it provides some excellent extensions that allow you to incorporate Buyable Pins and Facebook Store into your store. It's on this list of best Buy Buttons for a reason, so let's dive in!
The biggest plus for Magento is its partnership with Pinterest. Magento's Buyable Pins are available through an extension that you add to your online store. More details are given on the Creatuity website, the company's partner in eCommerce development.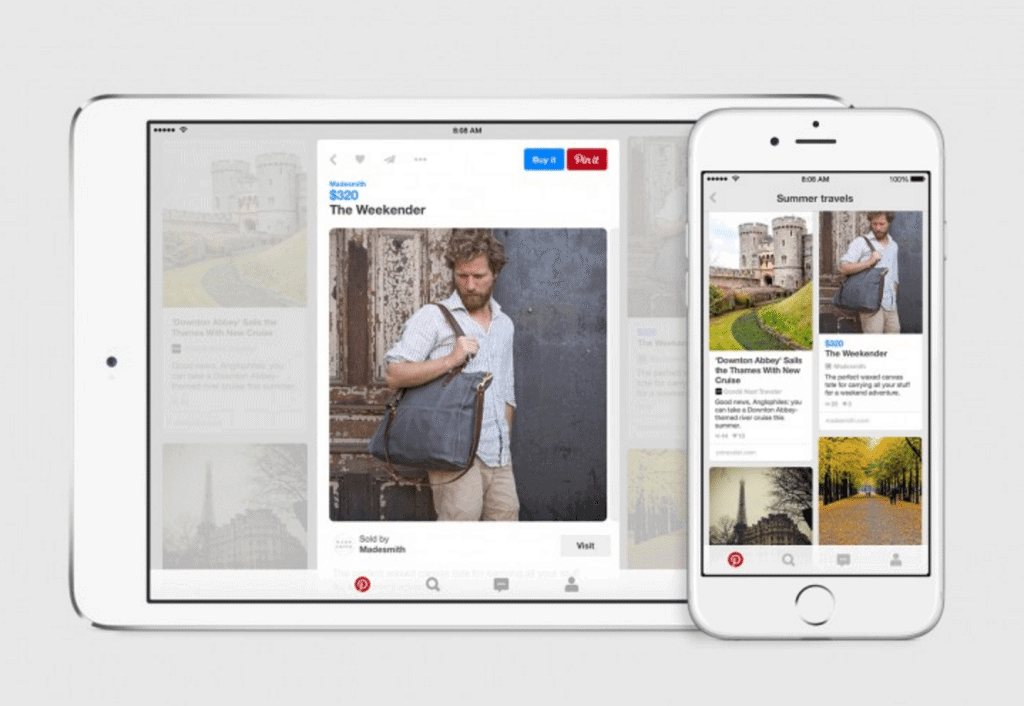 Since Magento itself is free to download, extensions like Pinterest are where the charges start adding up. Depending on whether you have Magento Community Edition or Magento Enterprise Edition, the Pinterest extension will cost either $499 or $599, respectively. On the bright side, Magento makes it clear that Pinterest won't take any cut of your sales with pesky transaction fees! (Presumably, since this information comes from Pinterest's end, it applies to the any other platforms partnering with Pinterest as well.)
Installation of the Pinterest extension requires more effort. Prepare either to set aside some time to follow the installation instructions or to hire someone from Creatuity or elsewhere to do it for you. Before installing, make sure you check through the eligibility requirements. There are quite a few of them, and they can get complex in terms of understanding regarding coding, etc.
Magento also has extensions available to help integrate stores with Facebook, although there seem to be a few options (as opposed to one definitively recommended Buy Button). The options here use PayPal for payments, and Magento's website shows some complaints about the payment processor, so be wary! The most popular Facebook Store App extension costs $199, but seems more reliable than the free option.
Magento offers what it calls a Buy Now extension for $149, but this does not function in the same way as the HTML Buy Buttons we've discussed. Magento's Buy Now function allows merchants to speed up the checkout process, but only from existing product pages and shopping cart sections. This is more limiting than other HTML Buy Buttons because it doesn't permit vendors to display their store on other pages of their site or blog. Should you stumble across this and want to give it a shot, keep this in mind!
Also, if you go with Magento, be prepared to do your research! Not every extension is compatible with every version of Magento. Check what you have so you don't end up paying for something you can't use. Magento really does offer some of the best Buy Buttons out there, but it'll take a lot of awareness on your part to make the most use of them.
At the end of the game, Magento and its Buy Button extensions are best for well-established, medium-sized businesses. This is not something you should invest in just because you heard that it was partnering with Pinterest and you really want to bust out your product boards. The Pinterest partnership is a definite plus, but your business should be established, and you should already be using Magento for the plethora of other excellent reasons out there (all available for analysis in our review).
Conclusion
Each shopping cart on this list offers some of the best Buy Buttons around. Each cart is also unique in its approach and intended audience. This means there is an option available for pretty much anyone in any situation. From widgets to downloadable software to cloud-based services, the best Buy Buttons can be found all over the internet.
There is no doubt that other shopping carts will continue to develop partnerships with different social media platforms. Your choices will surely increase in the future. But until then, I'd probably have to recommend Shopify as the current frontrunner out of all the shopping carts offering Buy Buttons examined here. Shopify has the most extensive list of features and partnerships, its Sales Channels make the use of these features easy to navigate, and it provides clear instructions for newbies. Whether you're brand new with very few products or a seasoned vendor with a huge store, Shopify has an option for you.
That said, every cart listed here has something to offer. It's just a matter of finding which one matches your needs. Hopefully this has provided you with some helpful tips and guidelines in that search. For more information about Buy Buttons, check out our related article. Please do chime in if you have any personal experience with how any of these Buy Buttons worked for your store!