The Best EMV Compliant POS Systems
UPDATED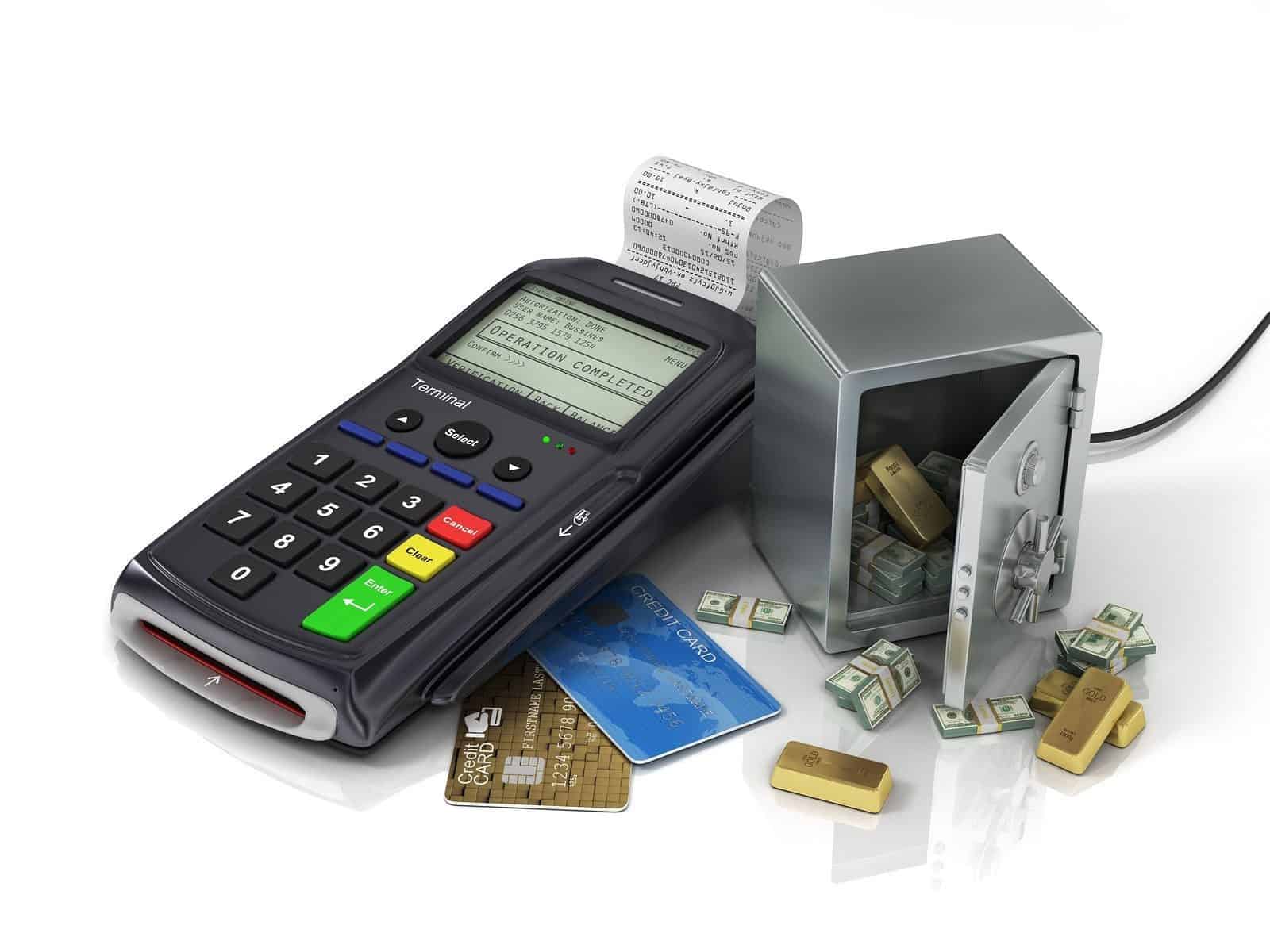 If you've been keeping up on the recent EMV liability shift, this is probably the four hundredth and seventy-second article you've read about it. But it's still October and we've still got information to share, especially if you're thinking that now may be the perfect time to upgrade your POS system. Not all systems are EMV-compatible yet, and that could start costing you in the near future. No, it's not time to panic and you don't absolutely have to be EMV-compliant right this second, but these chip cards aren't going away. In fact, they are already scheduled to grow increasingly advanced over the next couple years. You're going to need a POS system on the leading edge of this shift if you hope to keep your business running smoothly. Which leads me to the point of this, the four-hundredth and seventy-second article you'll read about the EMV liability shift: to go over the best EMV compliant POS systems on the market.
For your convenience and titillation, what follows is a break down of five POS solutions that offer great functionality for a variety of differently sized businesses and industry types. The standards by which each system was chosen include EMV compatibility, overall system functionality, affordability, and offline capabilities (the ability to accept credit and debit transactions without a Wi-Fi connection).
ShopKeep
ShopKeep (see our review) is our number one pick for retail and food service POS systems, and I really wish it was designed to accommodate service industry businesses as well, because not only is ShopKeep a great system with excellent customer service and a finely-tuned suit of features, but it is also making a surprising offer. Named the ShopKeep EMV Liability Promise, CEO and President Norm Merritt guarantees that as long as you have ordered an EMV device from ShopKeep, the company will cover any EMV-related chargebacks until their software is EMV-enabled. Basically, though ShopKeep is selling chip card readers, their POS system is not yet EMV-compatible. Instead of making you pay for this, however, they have agreed to take on EMV-related chargebacks until they have their system in order, because it's not your fault that they aren't quite compatible yet. This is something I've never seen done in the POS industry before and speaks to the lengths to which ShopKeep is willing to go for its customers.
Of course, even without the impressive customer service, ShopKeep is more than capable of standing on its own with features like:
An intuitive and user friendly interface
A simple pricing structure ($49/month/register)
Easy set-up
Affordable hardware
Multiple payment processing options
A full suit of back-office functions
Raw ingredient tracking
Offline functionality
Integrations with MailChimp and QuickBooks
Designed for small to medium-sized businesses, ShopKeep offers a powerful cloud-based iPad POS solution at a price that won't carve too much of chunk out of your budget. Along with various hardware bundles found on their online store, they offer two EMV devices:
Ingenico iPP320, $299 – a wired, Apple Pay-enabled chip and swipe card reader
Ingenico iCMP, $249 – a wireless chip and swipe card reader that is also Apple Pay-enabled
Not to mention, ShopKeep is currently offering $500 in free hardware for those who sign up soon, but the deal is only good while supplies last. I would encourage you to check out the complete ShopKeep review for a more in-depth look. This robust, ease to use system has enjoyed great success in recent years and has continually proved itself on the leading edge of POS solutions, but if you're not quite convinced, we've got a couple more options for you.
Clover Mini
Clover Mini (see our review) is another food service favorite, but is also well equipped for basically any business in the service industry. Clover offers a unique take on POS solutions by essentially designing the device to complement your credit card processor. Though developed by First Data, Clover Mini is sold alongside a merchant account by a variety of banks, business suppliers, and merchant services providers. This allows merchants to shop around for the best rates and—since each provider can sell the device at a different price—negotiate the best deals on the actual product.
The system itself is just as flexible as the credit card processing options it offers. With a modular platform designed for customizability, Clover Mini can be designed to suit nearly any quick serve restaurant, dine-in restaurant, or service businesses. Some capabilities either included with one of the service plans or available on the Clover app store include:
The ability to sell fuel in-store or at the pump
A pre-ordering application
SMS and social media marketing capabilities
The ability to create a customer layout of your store
An order kiosk
The ability to pre-authorize cards for a certain amount on bar tabs
Appointment and reservation schedulers
An age verification feature
Integration with Constant Contact, MailChimp, QuickBooks, Xero, Magento, and Shopify
Phone order manager
Offline functionality
The list above only includes some of the basics without even mentioning the full inventory, employee, reporting, and customer management functions offered in this powerful little device. Though the interface is already easy to learn and use, set-up is even easier since Clover Mini comes with a built-in scanner, receipt printer, magstripe card swipe, chip card reader, and contactless NFC payment reader. With a compact, 7-inch screen, Clover is ideal for even the smallest storefronts, though it is built to handle mid-sized businesses as well. You can read the full review if you'd like some more information, but it's difficult to go wrong with a system you can so closely tailor to your business's unique needs.
Revel Systems


Revel (see our review) is another POS solution with enough features and add-ons to suit different kinds of businesses. Unlike Clover Mini and ShopKeep though, Revel can be customized to serve almost any business size in basically any industry; it is a favorite for managing liquor stores and wineries, in particular. Revel is multi-locational, can manage up to 500,000 SKUs, and hosts some great features like:
Offline capability
Matrix inventory management
Extensive and intelligent reporting
Loyalty and CRM programs
Appointment scheduling
DTT security integration
Custom menu building
Cinema distribution compliance
Shipping compliance and delivery management software
Bar tab management
Employee scheduling and management programs
PayPal, Shopify, Magento, QuickBooks, Xero, and social media integrations
Catering management
Of course, there are many more available functions, and Revel lets you decide which features your business needs with industry-specific feature packages and extra add-ons. Because Revel is so feature rich, its starting costs are a little higher than ShopKeep and Clover Mini at $119 a month for the first terminal's software license, 24/7 live support, unlimited data storage, unlimited software updates, and an integration with QuickBooks. After that, the price only goes down though, with the second terminal coming to $70 per month and $40 for each additional terminal. In any case, Revel's pricing is still comparable with many POS systems, even those with fewer features, less functionality, and less usability.
Revel integrates with a couple of payment processers including Mercury Payment Systems, LevelUP, and First Data (though there are more). As for your EMV options, Revel Systems currently offers two devices:
Ingenico iPP350, $300 – EMV and PCI PTS certified, also accepts NFC payments
Verifone VX805, $180 – chip and magstripe card reader, also accepts NFC payments
As a bonus, Revel offers additional hardware integration, meaning that if you're not in love with either of the certified EMV options, they can work with you to add any standard card reader to your system. Overall, Revel has the options, customizability, and features you need to keep virtually any business running smoothly. Check out the complete break down if you'd like, but if you're looking for something a little more specialized and industry-specific, we've still got a couple POS solutions that are worth exploring.
ERPLY

ERPLY (see our review) is a system that I personally reviewed a couple months ago and took a particular shine to because of its specialization in retail ERP functions—hence the name ERPLY. ERP is an acronym for enterprise resources planning, and is an all-encompassing term used to describe the process of managing all the different elements of a business, from the front-end point of sale to back-office functions. Basically, ERPLY's goal is to provide small to mid-sized businesses with the tools to manage every aspect of their businesses without having to invest in costly third-party ERP software. I'd argue they go above and beyond this goal though, since the number of features and integrations they offer makes the system appealing to large businesses alongside the smaller ones.
Some of the features that make ERPLY stand apart from other POS systems include:
An easy shipping management module
Automated reordering and tracking of purchase orders
Advanced employee and customer management
Easy sales promotions and coupon features
Customizable sales reports
Customizable dashboard feature
QuickBooks, PrestaShop, Magento, and Shopify integrations
Offline functionality
A warehouse web app used to manage and ship products, receive inventory, and configure shipping/receive rules from anywhere
ERPLY also offers its own accounting and eCommerce platforms, which is nice if you're looking to side-step integration issues that can sometimes come with third-party providers. The choice is up to you.
Another choice that's up to you is your credit card processor. ERPLY has partnered with a pretty long list of them:
Apple Pay is also coming soon, but if you don't see your preferred processor on the list, contact ERPLY and they may be able to add the integration for you. ERPLY has also taken a proactive approach to EMV compliance with three devices to choose from and a fourth scheduled to become available early 2016.
Verifone MX915, $480 – NFC and EMV-enabled video display reader
Verifone MX925, $570 – another NFC and EMV-enabled video display reader
Verifone VX520, $175 – a smaller, more rugged EMV and NFC reader
Verifone VX805, $270 – scheduled to be available Q1 2016
You standard countertop EMV reader is going to be about $200 to $400, putting the two Verifone MX models above the average price you'd normally pay for a chip card reader. Since these devices both have video displays, though, they are a great place to put targeted advertisements and promotional information. Ultimately, you'll have to decide if that kind of feature would be worth the extra $100 or $200. In any case, if you're a business owner in the retail industry, I'd recommend taking ERPLY's free trial for a spin or at least exploring a little further with the full review.
Quetzal

Quetzal (see our review), designed for small to mid-sized shoe and apparel retailers, is one of my favorite POS systems because they have some of the friendliest staff I've ever worked with. Customer service is always an important aspect of any POS solution, because even the best software is going to have the occasional glitch and there are bound to be questions during the first couple weeks of operation (if not longer). A good technical support team ensures that you get the most out of your investment and Quetzal (along with ShopKeep) takes the prize in that category. Although, I shouldn't be surprised considering Quetzal is a Canadian company.
That's not to say that you're going to have to use Quetzal's support all that often, because the interface carries the Apple aesthetic and general ease of use. The back-office and front-end functions are all intuitively designed to minimize user error and streamline the set up and checkout processes. You can manage up to 10 locations with Quetzal, which is a pretty reasonable cap for most mid-sized businesses. If you get larger than that, you're going to need to move into a POS system designed to handle large inventories and more locations. However, even if you're hitting the upper limit with 10 locations and 2,000,000 SKUs, Quetzal will still be able to handle your operational needs. Some highlighted features include:
Simple, user friendly checkout functions
Decently priced hardware (especially since the built-in iPad camera can function as a scanner)
Extensive reporting functions and options
Easy to use size and color inventory matrix
Customer account management (includes Tag Cloud feature that makes for easy upselling)
Offline operation functionality
9 fully integrated language options
Integration with Apple's Numbers
Like the other POS systems, Quetzal offers several credit card processing options. Quetzal integrates with payment partners National Discount Merchant Services, Mercury, Velocity, Moneris, CardSmith, and SumUp. These payment gateways provide access to acquirers like Bank of America, Chase Paymentech, First Data, Global Payments, Heartland Payment Systems, TSYS, and Vantiv. The EMV options Quetzal offers include:
Ingenico iPP320, $299 – a wired, NFC-enabled chip and swipe card reader
SumUp Pin+ – SumUP isn't available in the US yet (it's mostly the UK—where in EMV standards have been in place for a while), but it will be soon and Quetzal has plans to utilize their EMV capabilities
With reasonable hardware costs and competitive licensing fees (as low as $890 per location for a one-year license), Quetzal is a robust POS solution that won't blow a major hole in your budget. It won't even blow a medium-sized hole, but you'll have virtually everything you need to cultivate a successful business. If you're interested, I'd encourage you to take a gander at the full review.
Final Thoughts
I know, I know. I just threw a ton of information at you, but hang in there. I've got a little bit more for you.
As a general tip for anyone investing in a new EMV device—or really any credit card reader—don't ever lease it. If you can't shell out the $200 to $400 for each new terminal, put the purchase on a business credit card. The interest rates are much better and the purchase is tax deductible. Check out this article if you're considering a rent-to-own agreement for your chip and pin readers.
Another factor to consider is whether or not the reader you're purchasing is also able to accept near field communication (NFC) or contactless payments. Though these are not quite as prevalent as traditional card transactions yet, they are certainly increasing in popularity, and it's probably wiser to have that option now instead of having to replace your hardware again in a couple years.
Finally, all this talk of EMV liability and chip card readers ultimately brings us back to your merchant services provider. If you've noticed bad rates, hefty fees, or just poor service, now might be the perfect time to consider changing processors. I'd research how much you should be paying for credit card processing and explore some of the options out there. If you're finding yourself a little overwhelmed in that area, though, feel free to contact us. We've got the resources to help you out.