Is It Time To Switch To An iPad POS?
Expert Analyst & Reviewer

UPDATED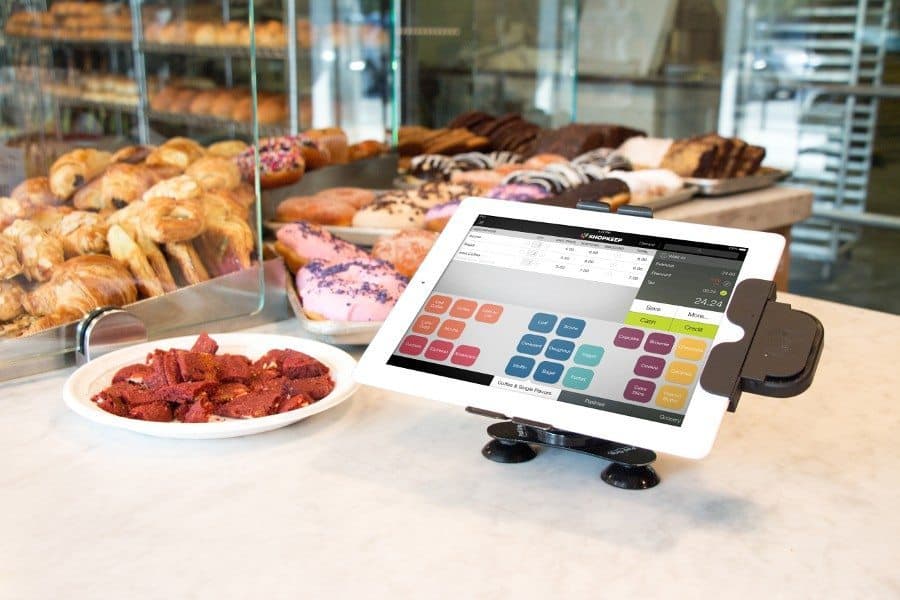 Remember your initial confusion the first time you made a purchase at a store or restaurant and were handed an iPad to complete your transaction? It probably wasn't as long ago as you think. In just a few short years, retailers (particularly SMBs) have been switching to iPad-based point of sale systems in droves. But that doesn't necessarily mean an iPad POS is right for you.There are plenty of pros and cons to this particular solution. This article will walk you through them briefly.
Benefits Of Using An iPad POS System
The only thing constant is change. Usually, technology changes are the result of positive progress. There are many reasons to believe that's the case when it comes to iPad POS systems. iPads are:
Portable
This is perhaps the biggest selling point for an iPad solution. Businesses are always trying to find ways for their employees to better interact with customers. In a restaurant setting, servers can walk from table to table, plugging orders into the system without needing to rely on scratchy handwriting or memory. In a retail setting, an employee can run through inventory with a customer anywhere in the store, pull up descriptions of an item, or check on that customer's loyalty rewards and purchase history. Vendors who don't require that level of intimate customer service can still anchor an iPad at checkout like a traditional POS and swivel the screen when a customer needs to sign, enter a tip, or approve information.
User-Friendly
The debate between Apple products and PCs has raged for decades now and there probably isn't a definite "right" answer. But one thing that's difficult for even the most fervent Apple hater to deny is the company's commitment to user-friendliness. iPad touchscreens are remarkably intuitive and visually appealing to both employees and customers. Any new employee who's remotely familiar with an iPhone or any Apple product should be able to pick up an iPad POS system quickly, cutting down on timely training and potential early mistakes. There is a very small learning curve for using an iPad POS system as it functions like any other app on the iPad
Versatile
The POS industry is becoming more robust by the minute and iPad-based systems no longer feel like stripped-down versions of more standard POS systems. Depending on the iPad POS system you use, you can do everything from maintaining customer records to syncing your brick and mortar store with your online store, graphing monthly sales, and maintaining inventory for multiple store locations. Many systems also offer an ever-expanding array of integrations to help you customize your iPad to fit your specific needs.
Better For The Environment
It may seem like a minor thing, but concerns about the environment are becoming larger each year. Your retail store or restaurant can do its part by going paperless with an iPad POS. Manage inventory, email receipts, and punch time clocks using the system instead of paper and pens.
Cloud-Based
Given the fact that I'm currently writing this in a coffee shop (and listening to top-100 hits from the early 2000s), it's obvious, at least to me, that the traditional workplace is shifting. For better or worse, business owners have — and often need — access to information around the clock from a variety of locations. Because iPad POS systems use the cloud to backup data, you can access reports, time cards, inventory lists, or the day's receipts from anywhere with an internet connection. The other bonus of a cloud-based system is that you don't have to worry about the upkeep of an on-site hard drive. It's one less thing to call in an IT expert about.
Attractive
Appearances and first impressions still matter a lot in the retail industry. iPad POS's are small and take up a minimal amount of counter space. They can also give off a trendy vibe for many businesses. iPad POS systems provide a sleek, modern design that complements a sleek, modern business model. Also, thanks to how ubiquitous Apple products are, emergency replacements for cracked screens and technical support are easy to find.
Downsides To Using An iPad POS
Nothing's perfect. In the interest of full disclosure, here are some of the potential cons of using an iPad POS:
Durability
With great portability comes great… umm… potential to damage your hardware? That statement could probably be catchier but the sentiment rings true. If you're moving around with your POS system, chances are good you're going to damage your device on a somewhat consistent basis. As anyone who has dropped an iPhone or iPad from a distance of higher than 6 inches off the ground knows, Apple screens have a less-than-stellar track record.
Potential Security Breaches
Ask Target and Home Depot about the dangers of security breaches. Think that doesn't happen in the cloud? Think again. Because iPad POS systems rely on the internet, they are vulnerable to hackers who like to steal credit card numbers and other personal information. "But the data is encrypted," you may argue. In some cases, yes, but hackers use their genius for evil rather than good, and encryption isn't foolproof.
Cost
It always comes back to money, doesn't it? iPad POS systems are no exception. Apple products, whether hardware or software, have never been the most cost-effective on the market. If you're on a tight budget, you may be able to get what you need out of a POS system without turning to an iPad. Do a cost comparison just to be sure.
Final Thoughts
Now that you understand some of the pros and cons of iPad POS systems, you can make an informed decision. If you determine that iPad technology is for you, the next step is to decide which app you'll use. Never fear! We have plenty of iPad POS reviews for you to peruse. View our iPad POS comparison page if you're interested in stacking up some of the top competitors.
And be sure to check out this excellent infographic compiled by ShopKeep, one of the leaders in iPad POS technology. The iPad Point Of Sale Playbook contains useful statistics and other information to help you decide when, where, and if to employ iPad technology in your store or restaurant.