Top 3 Best Website Builders For Entrepreneurs & Start-Ups
Expert Analyst & Reviewer

UPDATED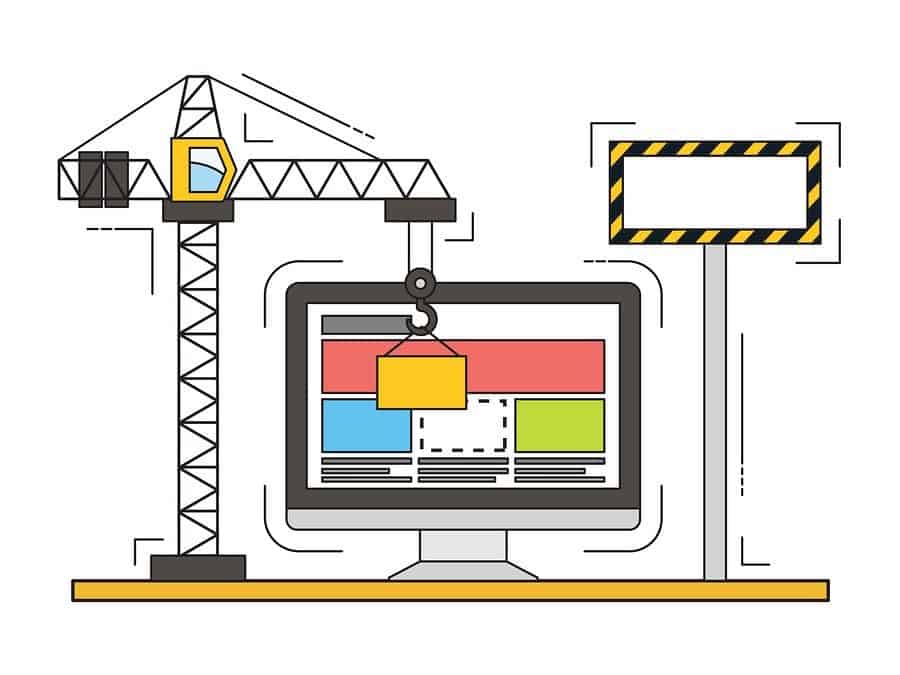 "Question the heroic approach"
– Brian Eno, Oblique Strategies
We humans have a cognitive bias as regards our centrality to the universe. Maybe personal exceptionalism is an adaptive trait, serving to inoculate us against the omnipresent realities of doom and failure. Maybe it's a byproduct of a consumer culture relentlessly incentivized to assure us of our own uniqueness. Either way, the entrepreneur of today may have a certain constitutional resistance to using a website builder to get their business online. Only a completely personalized and customized site could possibly accommodate dreams as expansive as yours! <cue Steve Jobs-esque chin rub>
However, if you're just starting out and you lacked the entrepreneurial acumen to have chosen wealthy parents, hiring a professional web designer to create your singular snowflake is going to blow your budget. Maybe you have a cool friend with asymmetrical hair willing to commit your digital vision to cyberspace on the cheap. Given the potential pitfalls, however, placing your company's online future in the hands of an amateur is a fool's bet, no matter how clever your friend seems on Twitter. (Allow me to invent assumptions about your friend)
Enter the world of website builders. They allow you to get your business online with a minimum of sturm und drang. And while your site may not be a precious jewel that sets the world alight with inventive righteousness, it will allow you to devote all the more time and resources to the core functions of your business. Of the myriad options out there, Squarespace, Wix and Weebly have risen to the top in easily facilitating an attractive online presence for your emerging business.

Squarespace (see our review) is one of the most highly-rated website builders out there and is an excellent solution for the start-up company. Established in 2004, Squarespace powers 1.8 million websites, which is much fewer than competitors Wix and Weebly, though this is largely due to Squarespace's lack of a free plan. Companies making use of Squarespace include Wired Magazine and Cisco – if you use Squarespace to power your business's online presence, you'll be in esteemed company. One of the few website builders establishing itself in the public consciousness, Squarespace is evidently doing well enough to afford a Super Bowl ad starring Key and Peele.
Mobile-optimized websites
Unlimited bandwidth and storage
Integrated eCommerce
Free custom domain with annual purchase
Alas, unlike many other website builders, Squarespace offers no free plan, though you can try it for free for 14 days. Typically, the free plans offered by website builders are quite spartan and lack eCommerce and other important features, so you'll likely want a paid plan for your business anyways, regardless of which site builder you choose.
Featuring several dozen templates to choose from, Squarespace doesn't have the biggest selection of templates in the industry, but those it does offer really stand out in terms of quality and freshness. They are also fully customizable and adaptable to the needs of your business. They are particularly well-suited to those in the creative industries – restaurants, photographers and musicians will find an embarrassment of riches here.
Squarespace includes a robust eCommerce system, letting users track/manage their inventories, track payment activities, and create coupons and promo codes. It's integrated with Stripe, meaning potential customers will need to have a Stripe account to make purchases. That is, unless you add widgets that link to other payment processors, which Squarespace allows. Keep in mind that Squarespace charges a 2-3% transaction fee on top of Stripe's transaction fees. Squarespace's own transaction fees are waived in their separate, and pricier, eCommerce plans.
Unlike competitors such as Wix and Weebly, Squarespace doesn't provide a 3rd-party App Store, which is unfortunate. Squarespace's in-house functionality is pretty thorough, however, so you probably won't be missing it. Another bonus Squarespace offers is its mobile iOS apps for interacting with your Squarespace site. Manage your blog, check your site metrics and share your photo galleries, all on the go. (Squarespace recently added a few Android apps as well)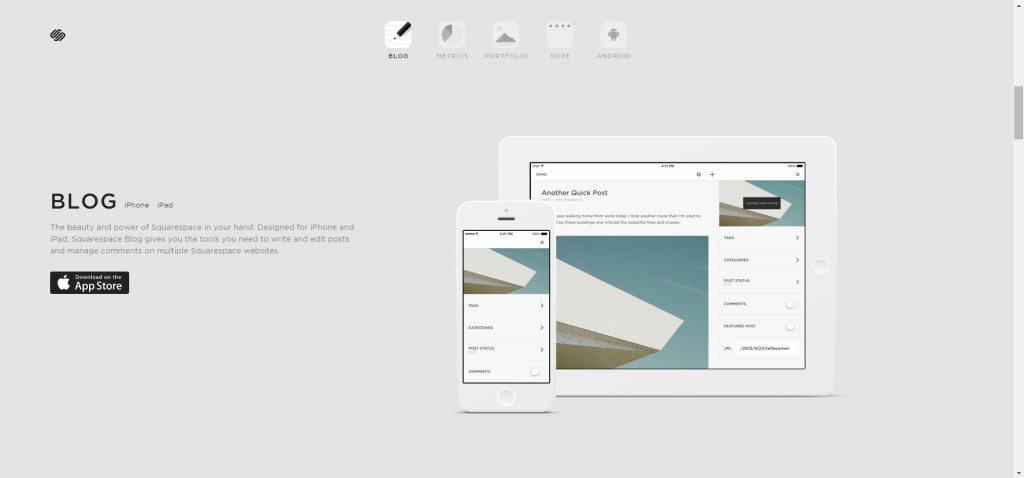 For customer support, Squarespace offers 24/7 email support, a knowledge base, community forums and live chat (available weekdays, 3am to 8pm EST), but no phone support. A number of people report difficulty getting through to customer support – and in fact, we experienced this problem as well. Squarespace has a lot going for it, but its customer service could use a bit of work.
Get more in-depth information about Squarespace in our Squarespace review.

Weebly (see our review) is a popular and well-regarded website builder with many features designed to appeal to the entrepreneur. The company was founded in 2006, currently hosts over 30 million websites, and is available in 15 languages – something ideal for the company with an eye towards the international market. Furthermore, TechCruch reports that "two-thirds of the company's customers identify as entrepreneurs" so there you go!
Custom HD video and audio players
Site membership (offered in the Pro and Business plans)
Integrated eCommerce
Unlimited pages, even with free accounts
Weebly offers a free plan with no time limit, so it's great if you're just getting started and aren't ready to deal with eCommerce or other advanced features yet. As your business matures, you'll likely want to spring for one of the paid plans.
Weebly offers 24 mobile-responsive templates, categorized by style and not by industry, though all are customizable to your particular field. They're nice enough, though not up to the standard of Squarespace's templates, and its number of offerings – 24 – is one of the fewest in the field.
One nice feature offered by Weebly is the ability to add community forums to your site, should you want to provide a place where your customers can discuss their experiences. You could even combine this with Weebly's membership features to create a private user forum.
Weebly's eCommerce system is strong, if somewhat less impressive than that of Squarespace or Wix. For payment processing, Weebly offers four options: Stripe, Square, PayPal and Authorize. Each charges a transaction fee, as does Weebly itself in its Starter and Pro plans. Weebly's transaction fees are waived in its top-tier Business plan. And if you want to sell digital goods, have inventory management, and offer coupon codes, the Business plan is required for that as well.
For 3rd-party integrations, Weebly offers extensive options via the recently-added Weebly App Center, bringing Weebly up to speed with Wix and others. It's a great addition and can help to fill any functionality holes in Weebly's first-party solutions.
Weebly offers live chat support, email support (through the Support Ticket system), a knowledge base, and, contra Squarespace, phone support, though only for Pro and Business plan subscribers. We found Weebly's customer service to be quick and helpful.
Read more about Weebly in our Weebly review.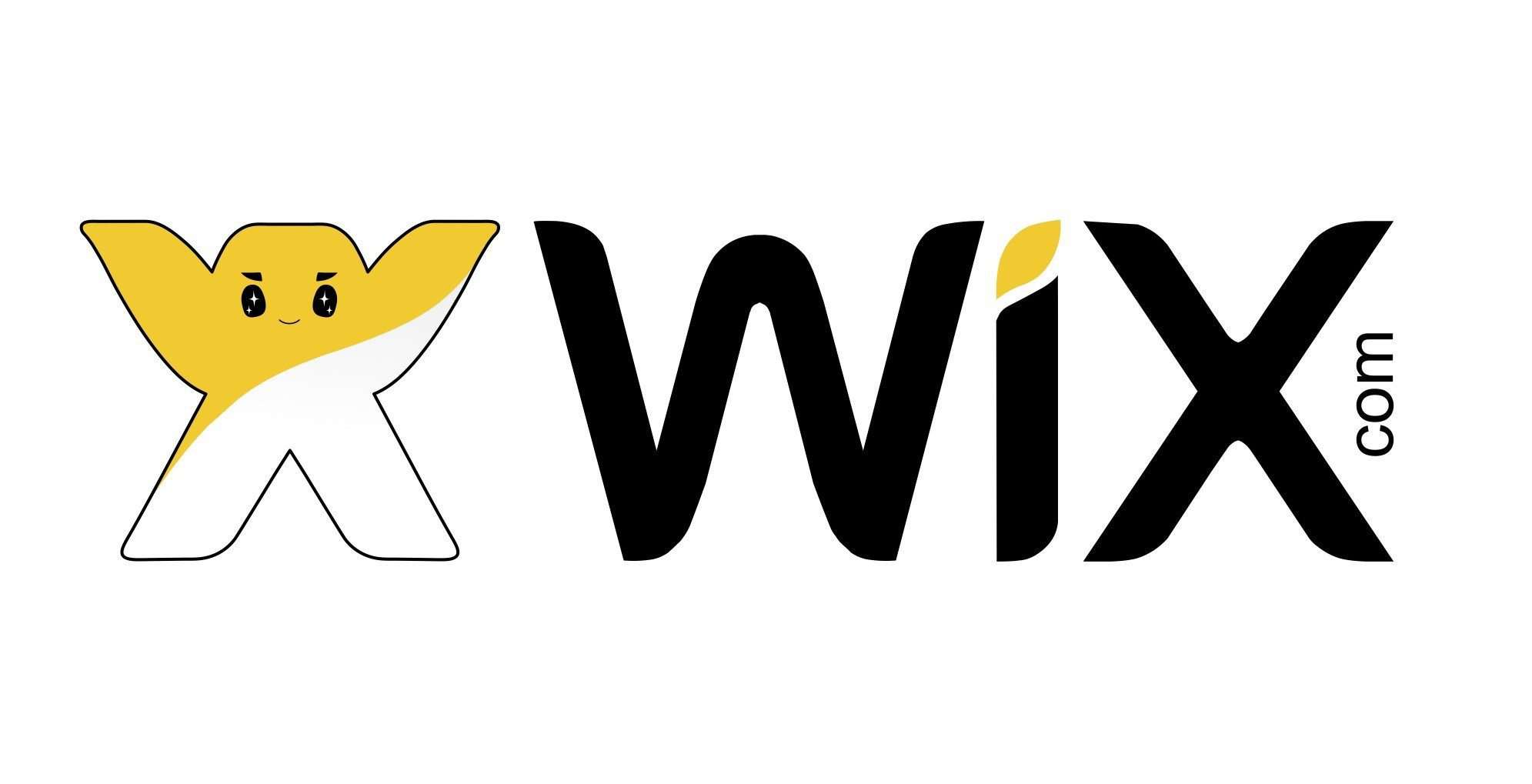 Wix (see our review) is a giant in the website builder field and provides an absolute bounty of options and features for the budding business. With offices in four continents and 77 million users in 190 countries, Wix is a truly global brand, and is one of the only website builders to be listed on the Nasdaq.
500+ attractive templates – the most in the field
Integrated eCommerce (In the top-tier plans)
Integration with Bigstock Photos
Lots of integrations available through the Wix App Market
Perhaps the coolest thing about Wix is their massive template selection. Dwarfing the selection of its nearest competitors, Wix has over 500 templates, and while they may be slightly less pretty than those of Squarespace, they're better looking than Weebly's templates… and did I mention there's over 500 of them? You'll have a ton of great template options in each of the following categories:
Business
Online Store
Photography
Music
Design
Restaurants & Food
Accommodation
Events
Portfolio & CV
Blog
Health & Wellness
Community & Education
Creative Arts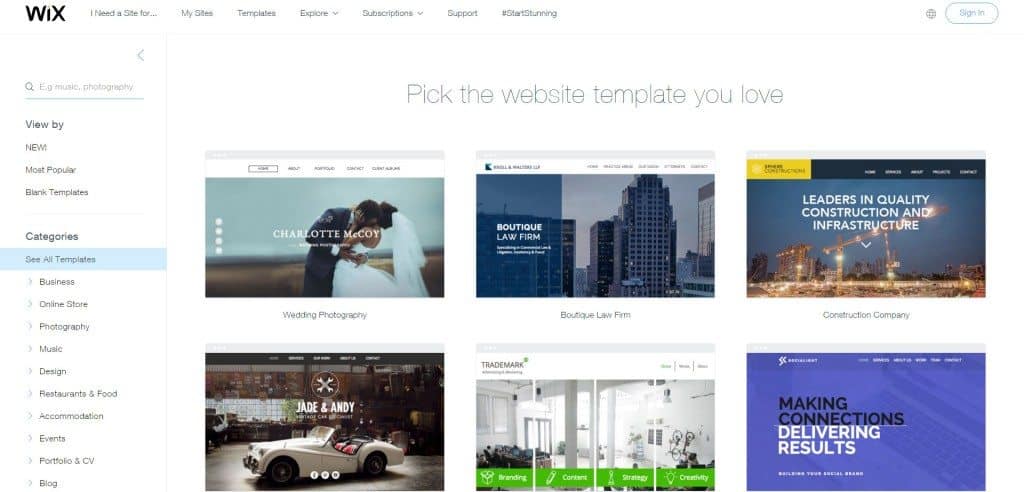 The only downside to Wix's templates compared to those of Squarespace and Weebly is that they are not fully mobile-responsive – they don't automatically adjust to different screen sizes.
Rather than just providing some free generic stock photos, Wix gives you access to Bigstock's enormous selection of attractive images, which can prove invaluable in making your site stand out from the pack. These photos will cost you $3 a pop, however.
Wix's eCommerce is strong and well-regarded. Wix's Online Store lets you use PayPal, WebMoney, Skrill, Authorize.net, and PayU LatAm (Latin America only) as payment processors. These payment processors will charge a fee per transaction, but, unlike Squarespace and Weebly, Wix itself does not charge transaction fees. Keep in mind, though, that Wix's Online Store is only available with Wix's two priciest plans, and Squarespace/Weebly waive their transaction fees in their priciest plans anyway. Like Squarespace and Weebly, Wix offers such features as inventory management and coupon codes. One true advantage of Wix's eCommerce is that they allow you to accept offline payments – cash, check, wire transfer, etc.
Additionally, Wix users can sell MP3s and other audio files through Wix Music for free without having an eCommerce or VIP plan. Very nice.
All manners of features can be integrated into your Wix site through the Wix App Market. Add an Etsy shop, and Ecwid online store, an Instagram feed, or about a million other things.
Wix's customer service options aren't as comprehensive as some others. They provide a toll-free number to call, a knowledge base and community forums, but no live chat or email support. Many have found this phone support to be considerably less than instant. VIP users are offered more instant assistance with a dedicated VIP phone line.
Find out more about Wix in our Wix review.
Conclusion
So, which website builder is best suited to your entrepreneurial heart? Cost-wise, our three finalists offer similarly-priced plans, though a closer comparison reveals that Wix users have to pay more – as in twice as much – for features such as eCommerce and priority support than do users of Weebly and Squarespace. However, unlike Squarespace, Wix and Weebly offer free starter plans for those who prefer to slowly ease themselves into the pool.
All things considered, I give a slight edge to Squarespace, with its best-in-class templates (face it, no matter the website builder you use, most of you will be sticking pretty closely to the provided templates), rich features, solid eCommerce and competitive, simple pricing. Wix follows slightly behind with its hundreds of great templates and plethora of 3rd-party apps. Weebly comes in third, but only just, with its membership features, custom video player, and great customer service.
Let us know if you agree!