Top 8 Add-Ons For Jimdo
Expert Analyst & Reviewer

UPDATED

So you're thinking of launching your own website. You decide to hire a web designer for the job. So far so good. The thing is, you have an expansive idea of what you'd like your website to be. You want an online store, a music player, a newsletter signup tool, live chat, and possibly some sort of unicorn. Now things are a bit more complicated. You hire a team of website designers to accommodate your vision. Thank goodness you've got tens of thousands of dollars laying around!
If this plan isn't a feasible option for you, you might want to consider using a website builder to — as they say — do it yourself. With over 15 million websites created using their platform, Jimdo (see our review) is a popular option for the digital self-starter. And though they currently lack a unicorn app, Jimdo does sport a variety of tools and integrations that should help you on your way to creating the versatile, multi-purpose website of your fever dreams.
We know it's not getting any easier to pay your rent out there. Sometimes it seems like the alligators and the vultures are circling in coordinated unison. There's no better time than now to start pulling in some revenue with your own website (I wrote a guide on this very topic, as it happens). Think of it as a way to buttress your savings so you'll be less likely to end up on the Cat Food Diet in your elder years.
Let's take a look at some of the add-ons Jimdo provides in the service of helping you realize your digital aspirations.
1. Gumroad
If you're looking for an alternative to Jimdo's in-house eCommerce, check out Gumroad. It's one of the many services compatible with Jimdo — you'll just have to paste its embed code into Jimdo's Widget/HTML element.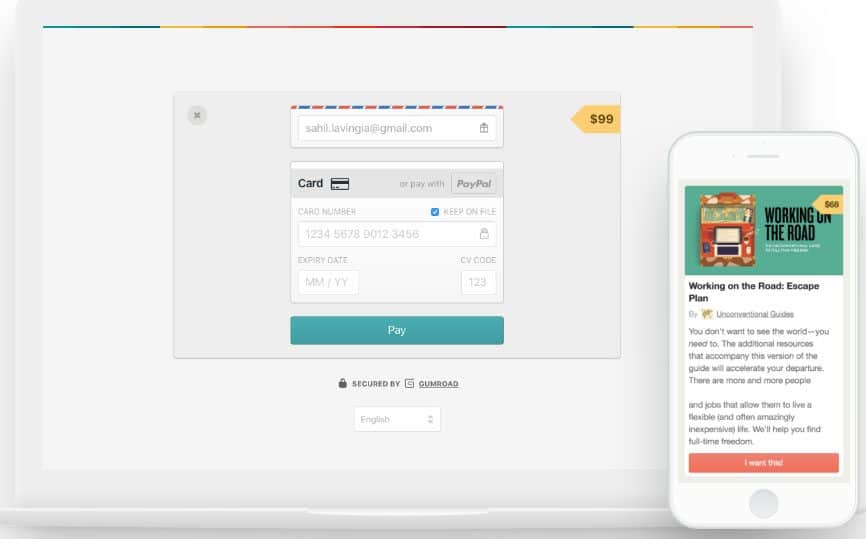 Gumroad's eCommerce system will allow you to sell both physical and digital goods right from your Jimdo site. It's a particularly handy way to sell software online, as Gumroad will generate the necessary license keys for you. You can also use Gumroad as your virtual video rental outlet. If you have a film for sale, Gumroad will let you make it available for streaming for 30 days. Once the customer clicks "play" they will have access to the video for 72 hours. They won't even have to remember to rewind it afterward.
A more comprehensive list of Gumroad features is available here. Subscriptions start at $10 per month.
2. Spectoos
Looking for an attractive way to showcase how great everyone thinks you are? If so, consider taking advantage of Jimdo's compatibility with Spectoos, a uniquely attractive widget for displaying testimonials.

With Spectoos, you'll be able to collect your existing customer reviews from wherever they may be located — Yelp, Amazon, LinkedIn Recommendations, etc. — and import them into Spectoos, along with the social profile of the person who wrote the testimonial. There's also a request form you can use to collect new testimonials. You can customize this form to include your logo and a personalized message.
The widget's appearance is fully customizable, so you'll be able to tweak it to match your Jimdo site. You'll get access to your performance stats as well. Spectoos plans run all the way from free to $50/month.
3. MailChimp
Jimdo is proud of its compatibility with the email marketing giant MailChimp, and justifiably so — MailChimp made it to #7 on Forbes's Cloud 100 list in 2016. Not too shabby! To find out more, read our full MailChimp review.
With MailChimp, you can easily manage your subscribers and send out attractive newsletters. In fact, it's what Jimdo uses to send out their own newsletter. Jimdo lays out exactly how to embed MailChimp into your site here.
With MailChimp's free plan, you can have up to 2,000 subscribers and send out 12,000 emails per month. MailChimp's Growing Business plan, which starts at $10/month, comes with access to such advanced features as automation workflows, engagement reports, and multi-user accounts to enable team collaboration. The Pro Marketing plan, at $199/month, is for high volume senders and includes such fancy features as multivariate testing.
4. SoundCloud
SoundCloud is Jimdo's recommended audio player. Embed the SoundCloud player into your site and then upload your tracks to SoundCloud to give your site visitors an audio experience to accompany their visual experience. You can even record an audio track directly to SoundCloud using your computer's microphone.
By adding the embed code to the sidebar or the footer of your template, you can make the SoundCloud player appear on every page of your site. The best part is: all this is available for free.
5. Tidio Chat
Tidio Chat is a live chat system by which you can provide customer support to your visitors, followers, critics, and acolytes. It's Jimdo's recommended live chat system, so you can count on it working seamlessly.
Tidio Chat has three subscription levels: Free, Pro and Premium. The details are as follows:
Free
Live Chat + Messenger + Email
Smart User Merging
iOS & Android App
Integration with 3rd Party Apps
Visitors List
Widget Customization
Unlimited Emails and Messages
Limit of 3 Concurrent Chats
Pro
$12 per operator per month
All of the Above PLUS:
Unlimited Concurrent Chats
Automation
Multi-language
Premium
$24 per operator per month
All of the Above PLUS:
Organize Your Team Into Separate Departments
Analytics
6. Google Custom Search
With Google's Custom Search tool, you can provide site visitors with an easy way to search your site or any other sites you specify. This tool is…wait for it…free!
To ensure that the search bar matches the look and feel of your site, you can select from a number of different layouts and themes. If the existing colors don't meet with your satisfaction, you can choose the Customize option to select your own.
Jimdo provides a guide to adding Custom Search to your website here.
7. ChowNow
If you operate a restaurant and you've got a Jimdo website, you're in luck, because Jimdo's compatibility with the ChowNow online food ordering system means that your customers will be able to place orders — either take-out or delivery — without ever leaving your website.
ChowNow's subscription details are thus (note that all prices are per location):
$119/month + $199 setup fee – annual plan
$99/month + $199 setup fee – 2-year plan
$149/month + $399 setup fee – monthly plan
All Plans Include:
Unlimited Orders
1 Wi-Fi-enabled ChowNow Tablet (per location)
Branded iPhone & Android Ordering Apps
Unlimited ChowNow Dashboard Access
Marketing Services
1 ChowNow Marketing Launch Package (per location)
Website Ordering
Facebook Ordering
Google Ordering
One-on-one Training
Menu Upload
24/7 Customer Support
8. Disqus
Jimdo includes a commenting system in its website packages. It's a serviceable feature, but if you want to be able to verify commenters' identity or have threaded responses, you'll need a more sophisticated tool. That's where Disqus comes in.
Other Disqus features include comment moderation, comment ranking, and the ability of commenters to login via social media sites and follow conversations. If you want a more in-depth way to engage with your readers and/or customers than Jimdo's standard commenting system provides, go with Disqus.
Conclusion
Jimdo is a popular and highly rated website builder, and plenty of Jimdo customers get by without deploying any of these add-ons. But you're different. I can tell. Your needs and dreams are bigger than those of the average internet jockey. To get the most out of the platform you have at your disposal, take advantage of these Jimdo-compatible tools. You'll be taking a paid gig away from some web designer out there, but given the money you'll save, I suspect this fact won't be keeping you up at night.
Now go forth and DIY!