Top 8 Add-Ons For Squarespace
Expert Analyst & Reviewer

UPDATED


Some website builders (Wix and Weebly, to name but a few) give you a huge array of add-ons and widgets, both in-house and third-party, to complement your website building experience. By contrast, Squarespace provides a more pared-down website builder – there is no Squarespace analogue to the Wix App Market or the Weebly App Center. Nonetheless, Squarespace does provide a selection of integrations to fill in any feature gaps left by its editor.
As part of my two-part series on Squarespace's widgets and apps (part two is here), let's take a look at the add-ons that give Squarespace the functionality boost it needs.

1. Instagram Block
Don't feel like creating a gallery from scratch to show off your photos? Why not just display a gallery comprised of your Instagram feed? Squarespace's Instagram block makes this as easy as possible.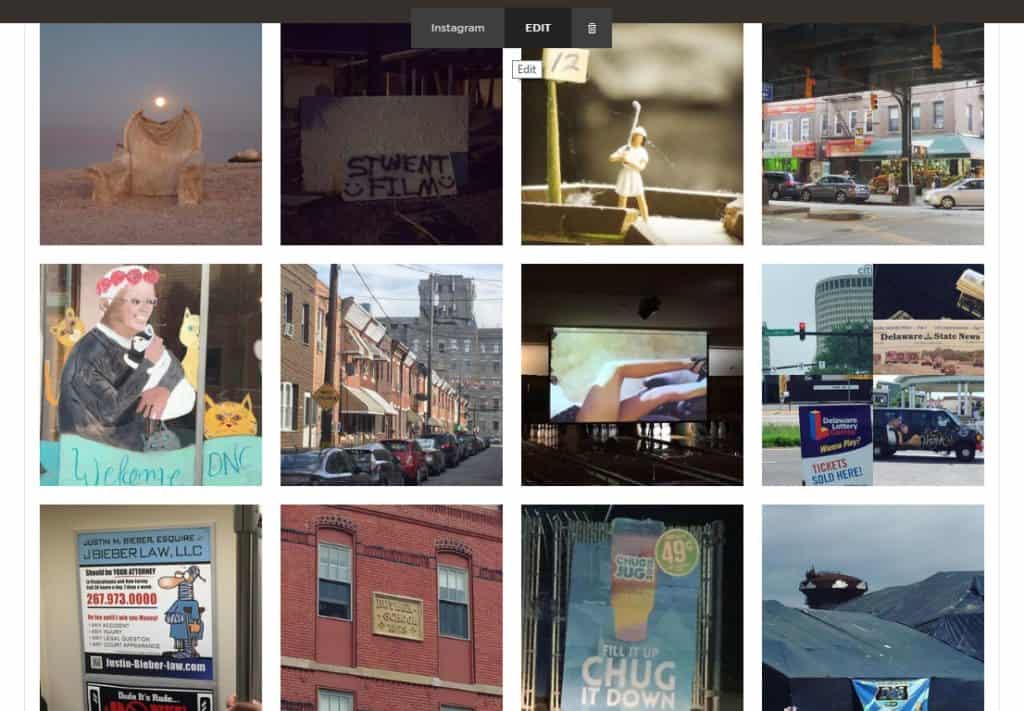 Once you've added the Instagram block to your page and connected it to your Instagram account, you'll have the option to choose from between four different display styles:
Slideshow
Carousel
Grid
Stacked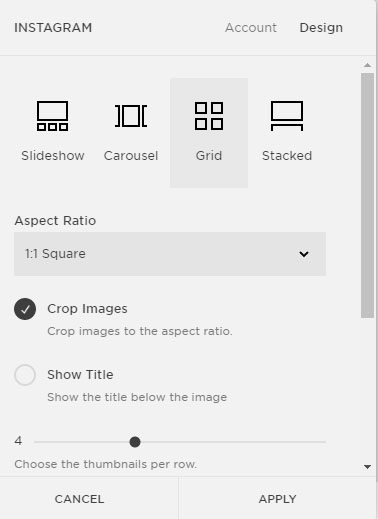 Each design style has individual settings associated with it, so you'll get a high degree of control over how your feed displays. Furthermore, you don't even have to just display your own Instagram feed. You can also display a feed of Instagram images filtered by hashtag. This way, if you've got a restaurant, you could set your Instagram block to display images in which your restaurant's name is hashtagged.
One point to remember: If you connect a private Instagram account to the block, clicking on the resulting thumbnails will send your site visitors to dead links. Make sure the Instagram account you're connecting to is public.
2. ChowNow
Speaking of restaurants, Squarespace's integration with the online food ordering system ChowNow is an ideal tool for letting your customers place orders right from your Squarespace site. (Alternately, via the social icon provided, you can link to your external ChowNow page.)
Once you've connected the widget to your ChowNow account using your ChowNow Company ID, you'll be able to add a ChowNow page to your site using Squarespace's New Page menu. When visitors click on the ChowNow page in your navigation, a collapsible ordering page will appear. Orders can then be placed, right from your site. Not too shabby, eh?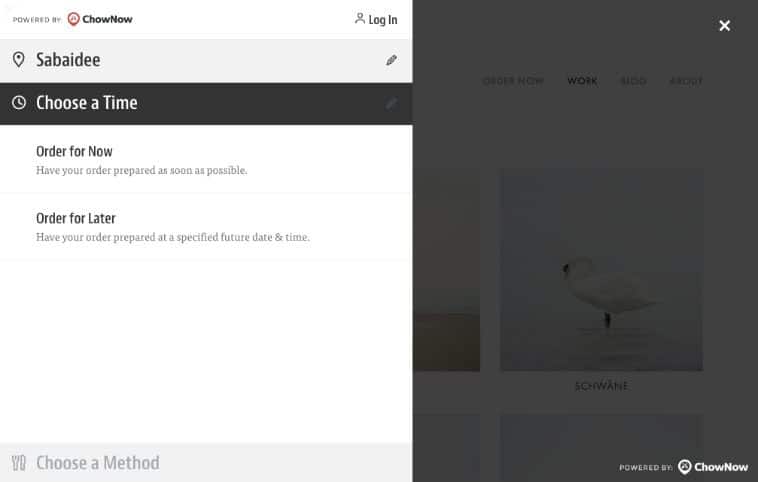 3. MailChimp
With Squarespace's MailChimp add-on, you'll be able to launch an email marketing campaign right from your site. Squarespace is integrated with MailChimp through the Form Block and the Newsletter Block. You can even use the RSS To Email Campaign feature to get visitors to subscribe to your Squarespace blog via email.
Additionally, if you have an online store, MailChimp lets you add a "join our mailing list" option to your checkout page. There's no better way to turn your customers into followers. Check out our full MailChimp review to find out more.
A word of caution: If you're sending out your newsletter from an email address with a Squarespace domain, you'll need to authenticate your domain (unless you want your emails to go straight to people's spam folders).
4. Xero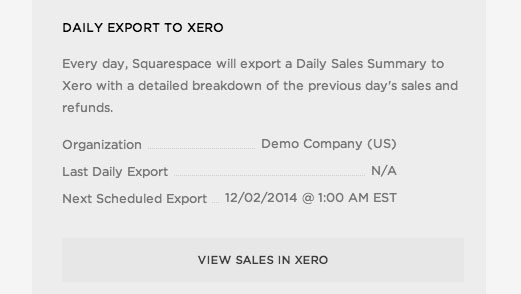 Squarespace's integration with Xero's accounting software (see our review), available only in the United States and only with Squarespace's Basic or Advanced Commerce plans, empowers you to export a Daily Sales Summary from your online store to your Xero account every day at 1 AM EST.
Once you've connected with your Xero account, you can choose which account each line item of your Daily Sales Summary will be filed under. You'll be able to add the following accounts to Xero:
"On Sale" Discounts – Discounts taken from sale items
Coupon Discounts – Discounts taken from applying coupons to orders
Credit Card Receivable – Money owed to you from credit card purchases
5. AMP
What's AMP, you ask? Well, it stands for Accelerated Mobile Pages, and it's a tool you can connect to your Squarespace blog to make your posts load faster on mobile devices. As you are probably aware, mobile traffic accounts for an ever-increasing share of the pie when it comes to internet traffic, so it's a tool you'd do well to consider if you're using Squarespace as a blogging tool.
With AMP, your blog posts will be streamlined and simplified when viewed on a mobile device. This means certain kinds of content blocks will be hidden from view. The following blocks, however, are AMP-compatible:
Audio Blocks
Embed Blocks
Gallery Blocks
Image Blocks
Line Blocks
Markdown Blocks
Quote Blocks
Text Blocks
Video Blocks
Click here to learn more about using AMP with your Squarespace blog.
6. Disqus
Disqus is a commenting platform you can implement on your Squarespace blog to replace Squarespace's native commenting system. Why would you want to do that? Well, Disqus's system does things Squarespace's doesn't, like support threaded conversations and image comments.

In order to comment, your blog readers will need to be logged into either their Disqus accounts or their Facebook, Twitter, or Google accounts. Alternately, they can just create a new Disqus name.
7. Amazon Block
Amazon Block is a tool you can use to display/link to an item for sale on Amazon. You can use this as a promotional tool to sell your wares. What's more, if you're part of Amazon's Associate program, you can add your Associate tag to your Amazon Block and make some change with every click!
Squarespace supports Amazon accounts only in the following countries:
United States
United Kingdom
Germany
France
Japan
Canada
Once you've linked to an Amazon item, you can customize the way the item displays, along with the amount of information you'd like to include with your product display.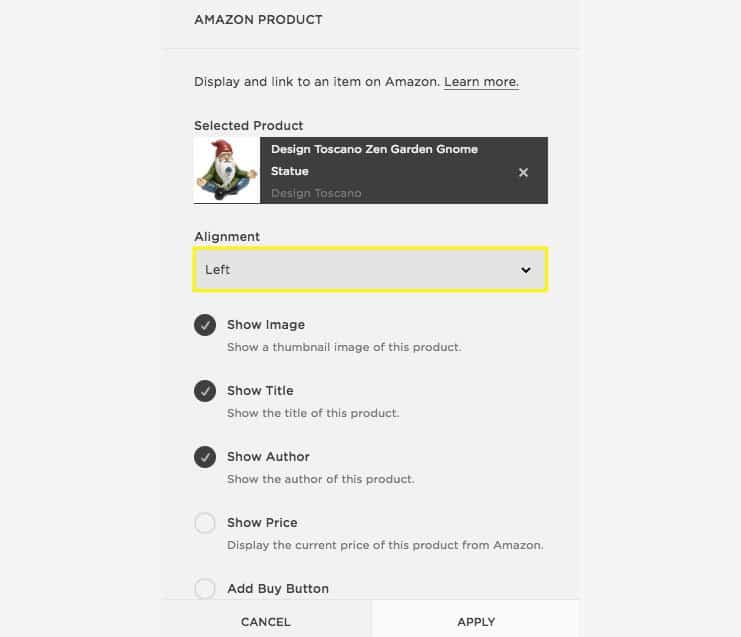 8. SoundCloud Block
Embed music tracks and playlists into your Squarespace site using the SoundCloud block. Your website will be greatly enlivened, and therefore your site visitors will be motivated to return!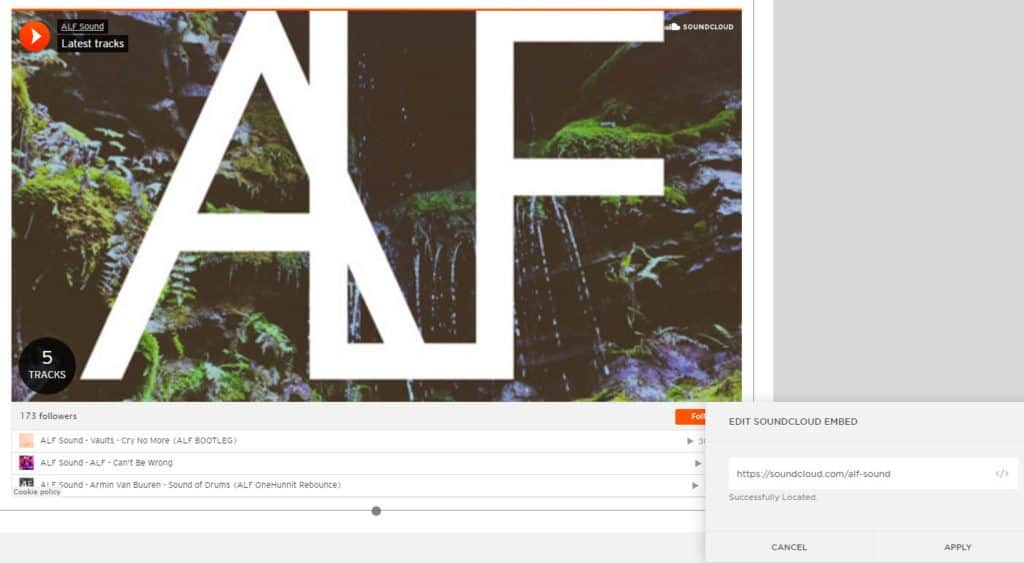 You can fill your SoundCloud Block with content by simply pasting the URL of a profile, playlist or track into the space provided. Should you desire a greater degree of control over how the content will display, you can paste SoundCloud-generated embed code into the appropriate area. This way, you can do things like make your music play automatically when your visitors open your page. Just in case you wanted to give your website a MySpace vibe, for whatever reason.
Conclusion
There's a reason why Squarespace has become such a popular website-building choice among the aesthetically minded and the creative classes. It's a flexible and powerful tool for creating websites with unparalleled style and flair. And with these add-ons taken into consideration, Squarespace becomes an even more formidable contender.
Just don't make me regret giving you the music auto-play idea.