Volusion Alternatives: The Top 5 Destinations For The Migrating Merchant
Contributor

UPDATED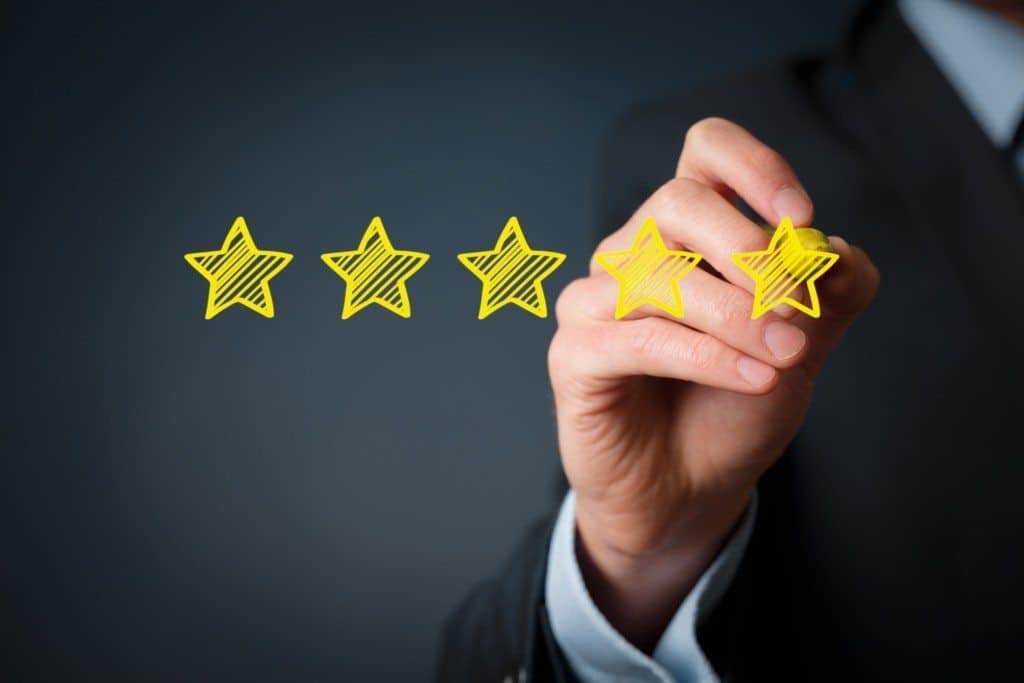 Choosing an eCommerce platform can be overwhelming. And when you've already invested time, energy, and money into one platform, the thought of migrating software programs can be downright terrifying.
However, there comes a point when migration is necessary, and if your current eCommerce platform isn't meeting your company's needs, it's better to switch vendors than to let your business go under.
We think Volusion is a perfectly acceptable eCommerce solution, earning a moderate 3.5 stars in our review. However, we've seen enough negative customer comments to know that many people are looking to ditch Volusion for another shopping cart option.
If you're a disgruntled customer or are simply wondering about your eCommerce options, keep reading! We'll be presenting five excellent shopping carts that deserve your attention.
Don't have time to read an entire article? Take a look at our top rated eCommerce solutions for a few quick recommendations. Every option we present here offers excellent customer support, superb web templates, and easy-to-use software, all for a reasonable price.
1. BigCommerce


BigCommerce (see our review) is the eCommerce solution of choice for brands for Toyota, Martha Stewart Cafe, and many others. What draws these names to the BigCommerce threshold? It could be any number of things! Here's a list of potential benefits you could find with this excellent alternative to Volusion:
No transaction fees
Unlimited storage, bandwidth, and products
Abandoned cart reports
Large number of apps and integrated features
Gift certificates, coupon codes, and promotions
How It Compares to Volusion
Our more comprehensive Volusion vs BigCommerce breakdown gets deeper into the details of how the two platforms stack up, but here's the quick and easy version…
As far as pricing goes, Volusion and BigCommerce offer similar options. When comparing their pricing plans (which are similar in terms of cost), take note of what distinguishes the cheaper plans from the more expensive ones. Volusion's plans are limited by the number of products while BigCommerce's are limited by your annual sales revenue. Depending on what your online store looks like, this could be a decision-maker for you.
Fortunately, both Volusion and BigCommerce offer unlimited storage and no transaction fees. However, BigCommerce also offers unlimited products and bandwidth, thereby one-upping Volusion, which limits both based on a customer's pricing.
Check out BigCommerce's available apps as well. Keep in mind that while BigCommerce provides a larger array of apps than Volusion, you won't want to add dozens of extensions to your platform.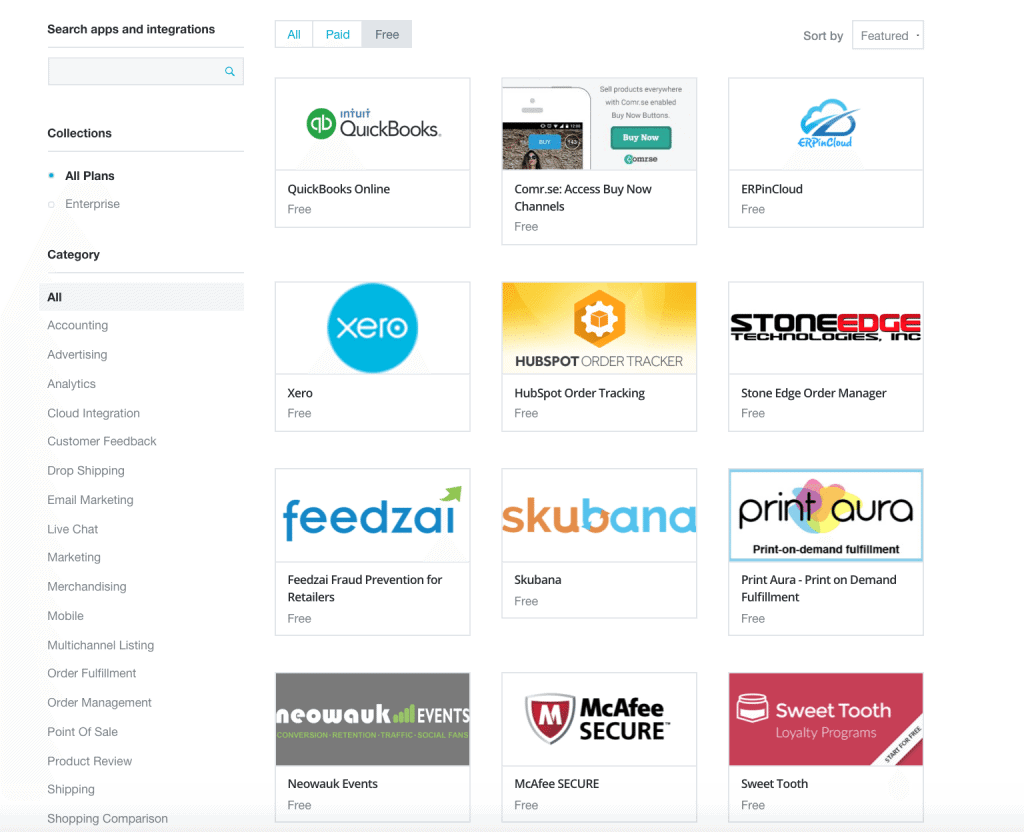 Both Volusion and BigCommerce have recently redone their theme selections. BigCommerce currently offers 23 unique themes with several variations on each theme, resulting is 87 different options. Some of these themes are free, while most are priced between $145-$195. All of these themes are mobile responsive and easy-to-edit using WYSIWYG, HTML, and CSS editors.
Fortunately, Volusion's themes are now also mobile responsive. Thirteen of these themes are available for free, and the rest are priced at $180. You can also edit Volusion's themes using WYSIWYG, HTML, and CSS editors.
All in all, BigCommerce is a great alternative and a strong contender among all the Volusion alternatives out there, especially considering its unlimited bandwidth and a greater variety of apps.
Read more in our full, unbiased review.
2. Shopify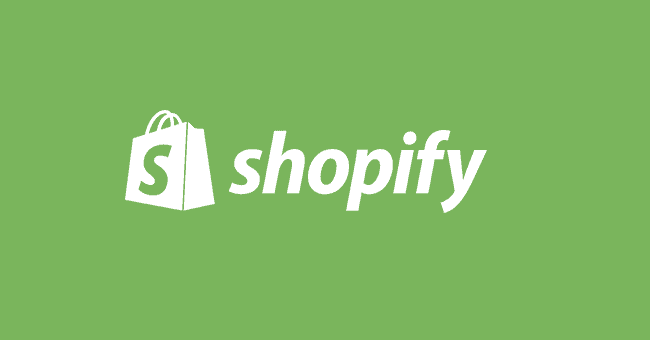 As you can see in our Shopify review, there's plenty to appreciate about this shopping cart. Shopify is one of the biggest names in eCommerce. And there's good reason for its popularity; some of the high-end features you'll enjoy include:
Unlimited storage, bandwidth, and products
A POS app that syncs your store's inventory with your device
Excellent themes
Full social media integration
$9/mo Lite Plan for vendors who don't want a full website, including only "Buy Now" buttons and a Facebook store
How It Compares to Volusion
If you're into epic eCommerce battles, these two carts go head-to-head in our Volusion vs Shopify comparison. Each comes with unlimited storage, reliable customer service, and easy-to-use interfaces.
One of the areas in which Shopify outshines Volusion is in their add-ons. In fact, when it comes to integrations, Shopify surpasses most other eCommerce solutions. To date, Shopify offers over 1,000 different add-ons, so you're sure to find the extensions you're looking for. But remember—because Shopify comes with fewer features out-of-the-box, you'll probably have to pay for more extensions.
If you're dubious about your web design skills, Shopify is a good way to go. Shopify's templates are as good as it gets! With Shopify's new Sections themes, you can even use a powerful drag-and-drop editor to make changes to the look and feel of your site.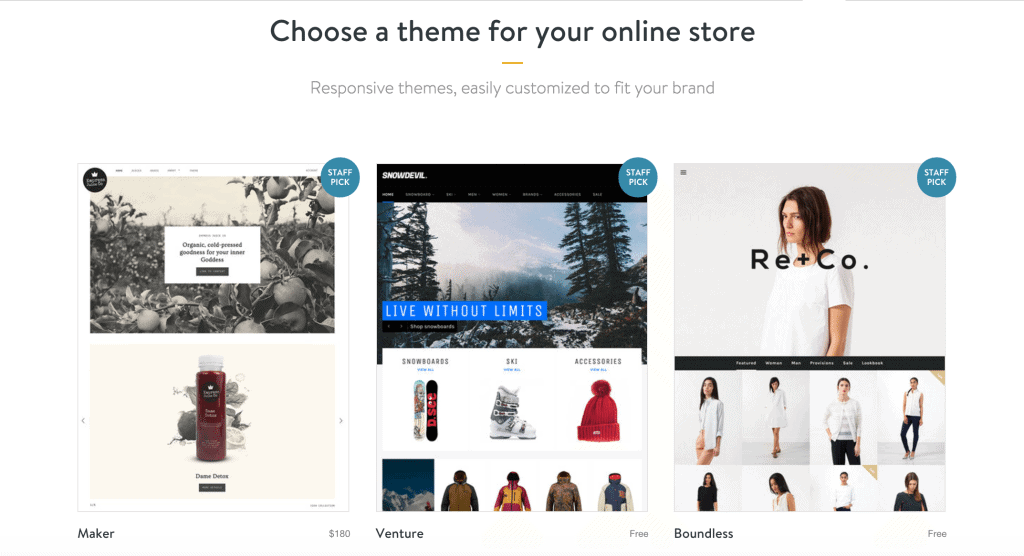 Now, there is one big downside to Shopify: transaction fees. These extra fees are unusual when compared to those of other Volusion alternatives, but never fear! You can avoid them by enrolling in Shopify Payments, Shopify's own payment gateway.
Note: Remember to always read the fine print before you count on a partnership with a payment processor. I've seen lots of customers complaining that they do not qualify for Shopify Payments. Always, read the Terms of Service before you sign on to anything.
If you're still turned off by the transaction fees, remember that Volusion catches many by surprise with its own bandwidth overage fees, especially for stores with high traffic, interactive content, and extra media such as videos.
When comparing the two, it's well worth your time to sit down and do the math for your store, keeping in mind how much site traffic and how many individual transactions you deal with. And don't forget to count in the monthly cost of your plan.
For more information, try our full review.
3. Pinnacle Cart

PinnacleCart (see our review) caters to a handful of large clients, including A&E, the Discovery Channel, Mike and Ike, The Onion, NBA, and others. Fortunately, PinnacleCart isn't just for large companies. PinnacleCart has made a point of creating a shopping cart that is easily accessible and understandable so that you can focus on the business aspect without getting bogged down by all the tech-y details. Other pluses include:
Easily customizable themes
Recurring billing available for subscription-based products
Awesome SEO services
Tons of available add-ons
Ability to manage multiple storefronts
How It Compares to Volusion
Like Volusion, PinnacleCart emphasizes its shopping cart migration services, which are ideal for anyone switching over from another cart. Both eCommerce solutions have forgone transaction fees entirely.
PinnacleCart's monthly price rates tend to be slightly higher than Volusion's, but again, it would behoove you to do the math for your own business. Volusion prices its plans by the number of products users list and the bandwidth they use. PinnacleCart, on the other hand, prices plans by storage and bandwidth usage. Don't forget those pesky Volusion bandwidth overage fees while you're estimating cost.
PinnacleCart's 30 themes are all free, mobile responsive, and completely customizable, even without coding experience! The only downside? While some of these templates meet industry standard, many are a bit dated.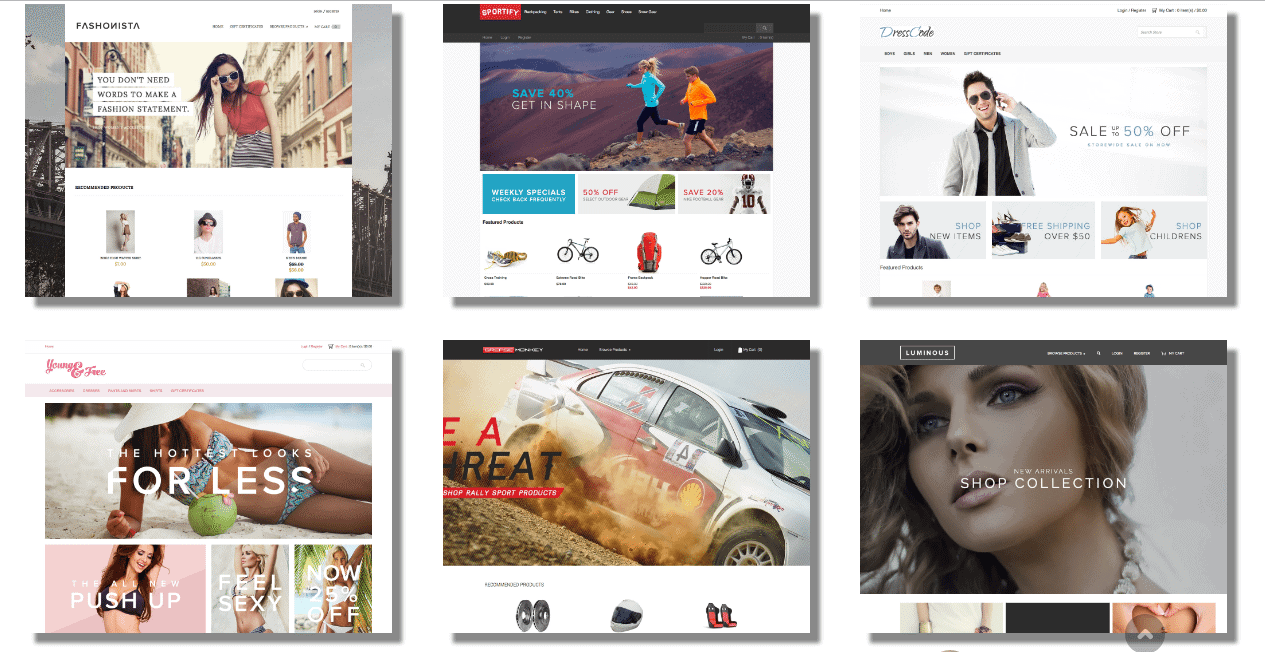 PinnacleCart currently offers around 42 integrations, which is a bit low compared to most of the other carts on the list. However, with so many features already built in, you probably won't need to use very many.
To learn more about PinnacleCart, check out our full review!
4. Spark Pay

Previously known as AmeriCommerce, Spark Pay is now owned by CapitalOne. You can read more about its rebranding journey in our more detailed review. Clients include ACLU, West Coast Shaving, and others. With Spark Pay, you can enjoy many features, including the following:
No transaction fees
Ability to manage multiple storefronts
Drop shipping features
Abandoned cart reports
Built-in blog
How It Compares to Volusion
Volusion and Spark Pay are actually pretty similar in several ways, especially when compared to the other Volusion alternatives we've touched on. Neither have transaction fees, both determine their plans based on the number of products for sale, and both limit bandwidth. In addition, both Volusion and Spark Pay charge bandwidth overage fees: $7 per GB with Volusion and $10 per GB with Spark Pay. As far as pricing goes, Spark Pay differs from Volusion in that it limits storage as well as bandwidth.
Overall, Volusion's plans end up being cheaper than Spark Pay's, especially when the number of products allowed is taken into account. For example, the Spark Pay Silver Plan is $99/mo and includes 5,000 products, while Volusion's comparable Pro Plan allows 10,000 for $75/mo. Don't let this turn you off from Spark Pay without looking at its other features, though.
Spark Pay offers plenty of things that Volusion does not, including a wider selection of free themes (and cheaper premium themes).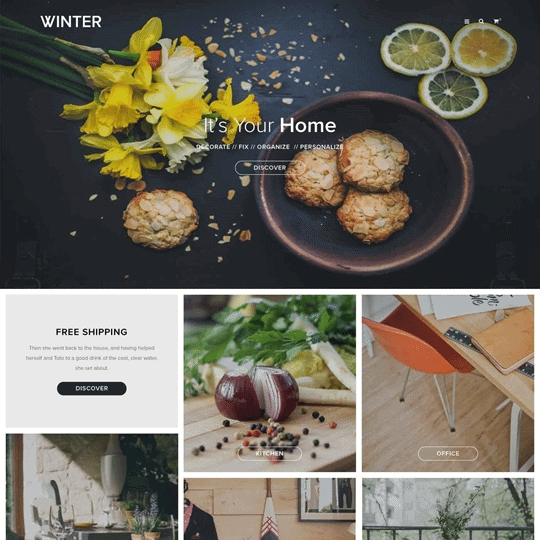 You can edit all of these themes the typical way, using WYSIWYG, drag-and-drop, HTML5 and CSS3 editors.
And don't forget that Spark Pay comes with the ability to manage multiple storefronts from the same admin. This is one of Spark Pay's most praised features.
Every eCommerce solution has its fair share of customer complaints, but Spark Pay seems to have a few more complaints than Volusion. Customers are especially frustrated that Spark Pay does not provide 24/7 live support. Keep in mind as you research Spark Pay that many complaints are directed at Spark Pay POS, which is a separate service.
Read more about Spark Pay Online Stores Builder in our full review.
5. LemonStand

Like every other solution on this list, LemonStand (see our review) is an easy-to-use Saas solution that lets you set up an online store with little web experience. LemonStand will take care of hosting, technical support, and online security for you.
LemonStand differs from other SaaS solutions in that they provide themes that are 100% open-source and fully customizable. If you have the skills necessary, you'll be able to change every aspect of the look at feel of your online store.
LemonStand currently hosts over 2,000 sellers. Those clients enjoy features like the following:
Recurring billing for subscription products
Built-in email marketing
Real-time shipping rates
Tiered pricing for B2B selling
Ability to sell digital products
How It Compares to Volusion
It's difficult to compare Volusion and LemonStand's pricing because their plans are broken up so differently. As we've discussed, Volusion assigns price depending on the number of products you want to list and the amount of bandwidth your store uses. LemonStand, on the other hand, bases price on the number of orders your store processes each month.
For example, Volusion's "Pro" $75/mo plan includes 10GB of bandwidth and 10,000 products. LemonStand's comparable mid-range plan costs $69/mo and specifies that you can process up to 300 orders per month. You'll have to determine on your own which platform is cheaper for you. Take a look at our full review of LemonStand to learn more.
LemonStand and Volusion are fairly similar in terms of features and security. They offer all of the basics, with a handful of advanced features. In order to access more advanced functionality, you'll have to purchase and install a few integrations. LemonStand offers a decent collection of extension and integrates with Zapier, which opens the door to hundreds of options.
LemonStand really stands apart in its web design. Although LemonStand only has 14 themes available, all of those themes are free, mobile-responsive, and open-source. If you have the web experience necessary, you should be able to change every part of your storefront.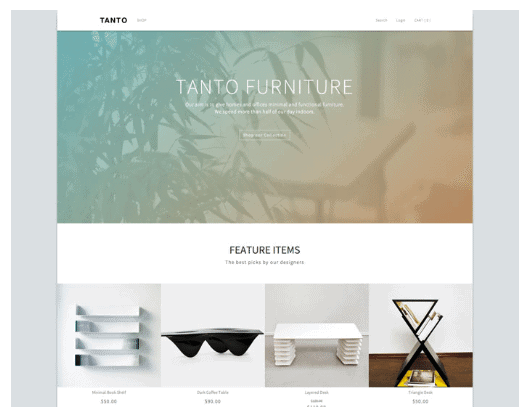 Unfortunately, if you don't have experience with HTML, CSS, or Twig, there isn't much you can do to customize the look and feel of your store. You can change a few colors and logos, but that's essentially it.
However, if you want control and customizability (and you know someone who can help with the coding), LemonStand may just be the way to go. Take a closer look at LemonStand in our full review.
Getting Started
Although it isn't for everyone, Volusion is a perfectly suitable eCommerce solution. With relatively low prices, a good collection of features, high usability, and 24/7 live support, Volusion can meet the needs of many smaller sellers.
However, we understand that many merchants may be looking for an alternative. If that's you, take a closer look at one (or five!) of these options and sign up for a free demo. Take the admin for a test drive, practice adding products and creating discounts, and put the customer service through its paces. We sincerely hope you find something you like.
Click one of the links below to get started with one of our top Volusion alternatives.