BigCommerce VS Volusion
Contributor

UPDATED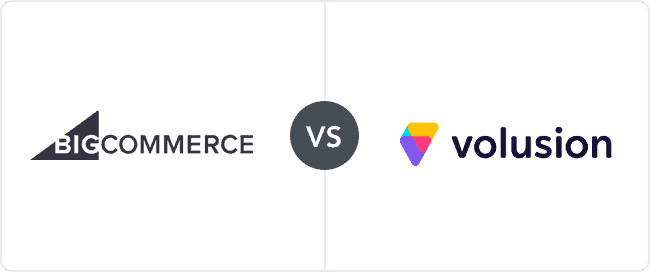 These days, most online merchants are turning their attention to SaaS solutions. These web-based selling platforms give you all the tools you need to set up an online shop, including web hosting, web security, rich feature sets, full-time technical support, and beautiful design templates for your storefront. And, best of all, you can operate a web-based eCommerce platform without any previous web experience.
Of all available SaaS solutions, Shopify is arguably the most popular option, followed closely by BigCommerce and Volusion. If you haven't yet researched Shopify, you should (take a look at our review of Shopify here). But, if you're looking for an alternative to Shopify, you've come to the right place.
BigCommerce (see our review) is one of Shopify's closest competitors. The platform was launched in 2009 by Eddi Machaalani and Mitchel Harper. BigCommerce has since grown to host over 95,000 stores in over 150 countries. To date, they have helped merchants conduct over $3 billion in transactions.
BigCommerce is most popular for its ease of use and beautiful, easy-to-edit themes. They also have a good reputation when it comes to customer support.
Volusion (see our review) began a decade earlier when Kevin Sproles realized the need for all-inclusive, easy to use eCommerce software. Volusion offers plans for small and large merchants alike and is currently used by over 40,000 merchants.
Like BigCommerce, Volusion is known for its 24/7 customer support. In addition, Volusion is said to run smoothly for many merchants, without many apparent bugs.
Both BigCommerce and Volusion are good options for merchants seeking an affordable, SaaS solution. However, you may find that one platform fits your business's needs better than the other.
To find out which software you should consider, stick around for our full comparison of BigCommerce and Volusion.
Don't have time to read a full article? Take a look our top rated eCommerce solutions for a few quick recommendations. Every option we present here offers excellent customer support, superb web templates, and easy-to-use software, all for a reasonable price.
Web-Hosted or Licensed
Both BigCommerce and Volusion are web-hosted shopping cart solutions.
Hardware and Software Requirements
BigCommerce and Volusion are completely web-based and only require a connection to the internet and a browser (Chrome, Firefox, Safari) to operate. That said, we recommend using the latest technology if possible.
Pricing
Winner: Volusion
Like most SaaS solutions, both BigCommerce and Volusion follow a subscription model. You pay monthly for access to the software, hosting, security, and support.
BigCommerce offers a free 15-day trial, no credit card required, so you can try out the platform risk-free. When you do decide to purchase a BigCommerce plan, you can rest easy knowing that they don't charge any setup or cancellation fees.
Although most SaaS solutions base pricing on the number of products you can list on your site, BigCommerce takes another approach. In the beginning of last year (2016), they introduced their new pricing model, which is based on a merchant's annual sales.
Note: This pricing change caused quite the uproar. See "Negative Reviews and Complaints" for more information.
All plans come with unlimited storage, products, and bandwidth. For the most part, features are the same between plans. The difference in pricing is directly related to your store's revenue. BigCommerce's cheapest plan, "Standard", is for merchants who sell up to $50K/year, and is priced at $29.95/month. "Pro", the most expensive plan, starts at $299.95/month and is for merchants selling more than $150K/year. For a full breakdown of pricing, try our review of BigCommerce.
Volusion also offers a free trial; theirs is for 14 days. You won't have to hand over any credit card information, and when you sign up for a Volusion plan, you won't have to worry about setup or cancellation fees.
Volusion's pricing structure is more traditional than BigCommerce's. Pricing is divided into four tiers. The lowest, "Mini," costs $15/month and comes with 1GB of bandwidth and the ability to list 100 products. Volusion's most expensive plan, "Premium," lets you list unlimited products and provides 35GB of bandwidth for $135/month.
Although Volusion does not charge any transaction fees, they do charge bandwidth overage fees. You'll have to pay $7/GB for any bandwidth you use above your allotted amount. Read our full review of Volusion for more information.
I'm declaring Volusion the winner of this section because their plans are typically priced lower than those of BigCommerce. Also, I'm still a little wary of BigCommerce's pricing. That pricing change in 2016 negatively impacted a lot of merchants, and I want to see a bit more consistency from BigCommerce.
Ease of Use
Winner: Tie
Both BigCommerce and Volusion are well known for their ease of use. Here's why:
When you log into your BigCommerce, you'll be greeted by a clean, well organized, admin panel.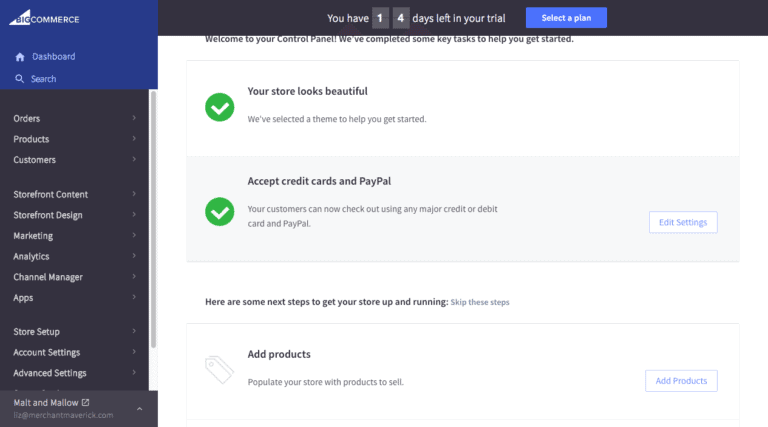 All the features you need are tucked away in nesting categories in the sidebar. BigCommerce provides a brief tutorial to help you figure out where those features are, but that one tutorial isn't incredibly helpful. Fortunately, it isn't too hard to figure out on your own.
Volusion has a similarly clean admin panel. Instead of listing features in a sidebar, features are categorized and filed away in the top of the admin.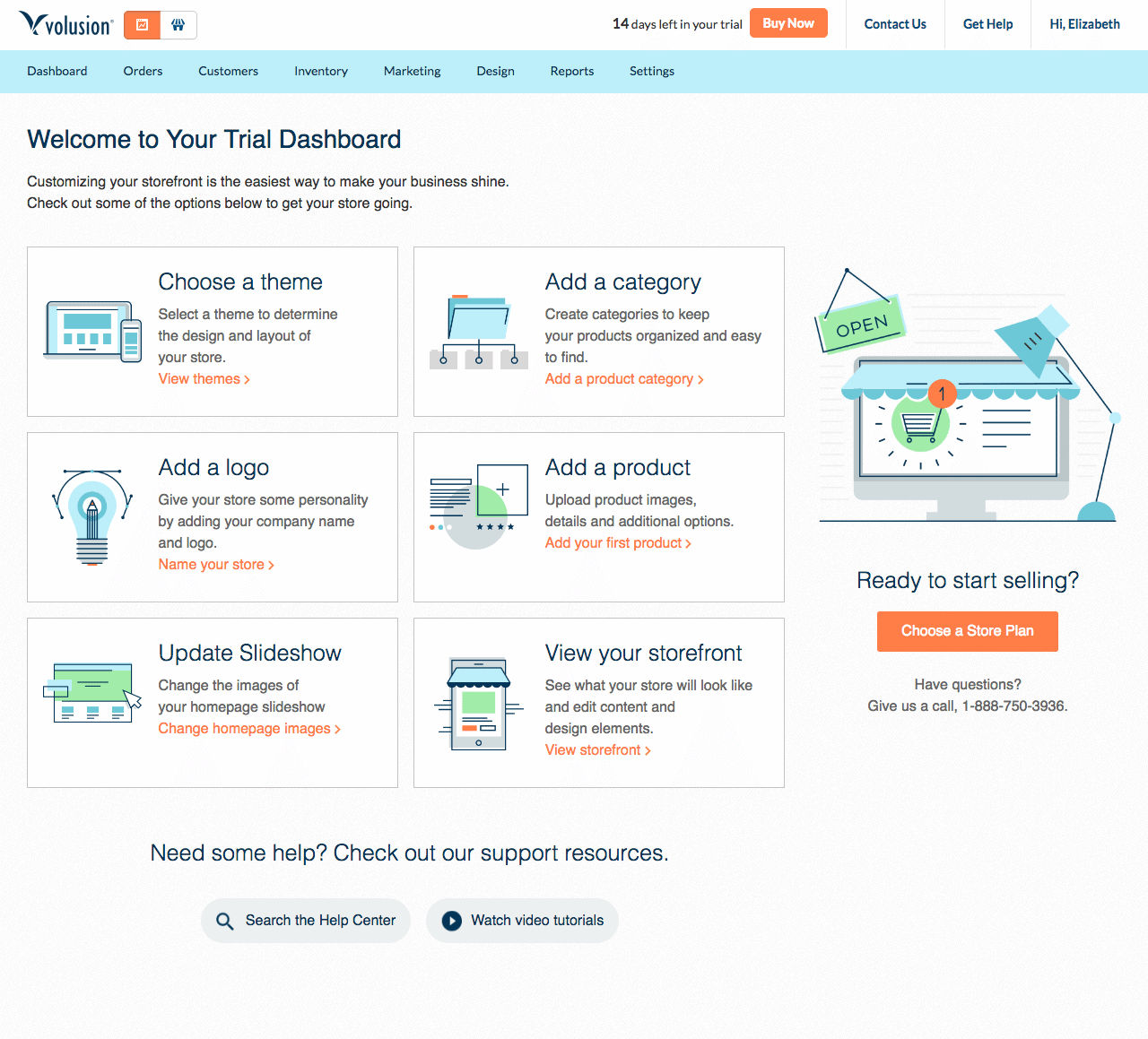 Volusion's video tutorials can help you learn the functions of operating your store. Fortunately, it's easy to add products, update your content, and create new discounts.
Volusion and BigCommerce score equally highly for usability. We'll declare a tie here.
Product Features
Winner: BigCommerce
BigCommerce and Volusion both come with all the features necessary to set up your online store. In fact, BigCommerce and Volusion offer the same feature set, more or less.
The main difference between BigCommerce and Volusion's features is the availability of those features.
BigCommerce's plans come with nearly the same features, regardless of the price. There are a few exceptions to this rule (for example, filtered search is only available at higher price points); however, for the most part, BigCommerce's features are available to all users.
Here are a few things you can find in BigCommerce's feature set:
Bulk import/export

Customer groups

Built-in blog

Product reviews

One page checkout

Native integrations with Amazon and eBay

Abandoned cart saver (at higher price points)
Filtered search (at higher price points)
Volusion, on the other hand, offers different features depending on your plan. As you move up in pricing, you are granted more and more features. Here are a few of Volusion's best features:
One page checkout

Abandoned cart reports and emails

Product reviews and ratings

Unlimited product options

Integrations with Facebook, Amazon, eBay
I'm awarding this category to BigCommerce because they offer more features at more price points.
Web Design
Winner: BigCommerce
SaaS platforms typically offer a wide range of pre-made web templates with easy editors. When you look for a template for your store, you'll want to make sure it is attractive, mobile responsive, and easy to alter.
Last year, BigCommerce unveiled their new Stencil themes. These 23 new themes come in several variations, leading to 87 different "styles."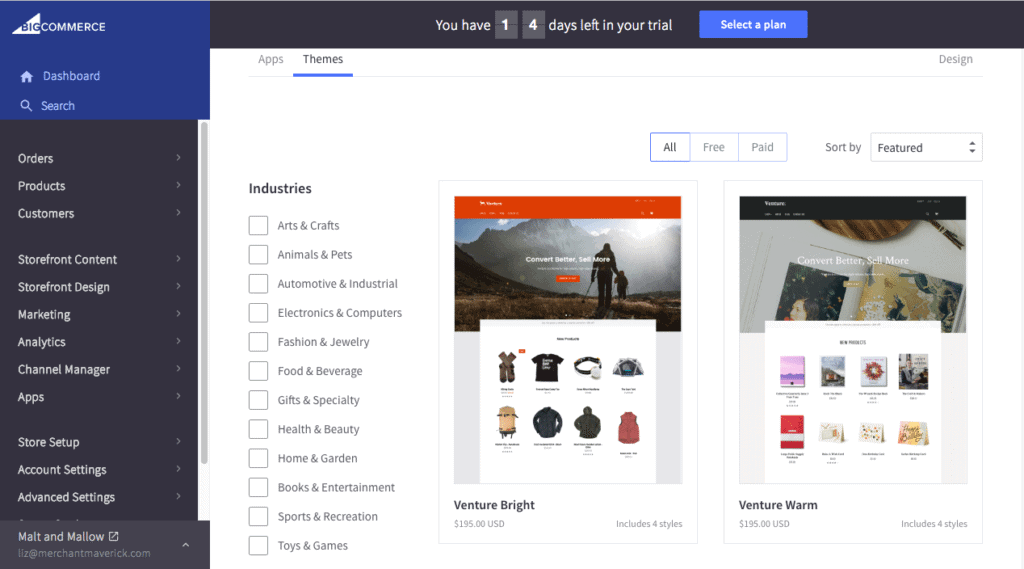 A couple of these themes are free, while most are priced between $145-$195. All options are mobile responsive.
Stencil's new easy editor lets you change your themes without any coding knowledge. There's also a WYSIWYG (what you see is what you get) editor and HTML/CSS editors available.
Volusion has recently revamped their themes, which means that they have significantly fewer options than in the past. Currently, there are 13 free themes, though fortunately, those themes are now all mobile responsive.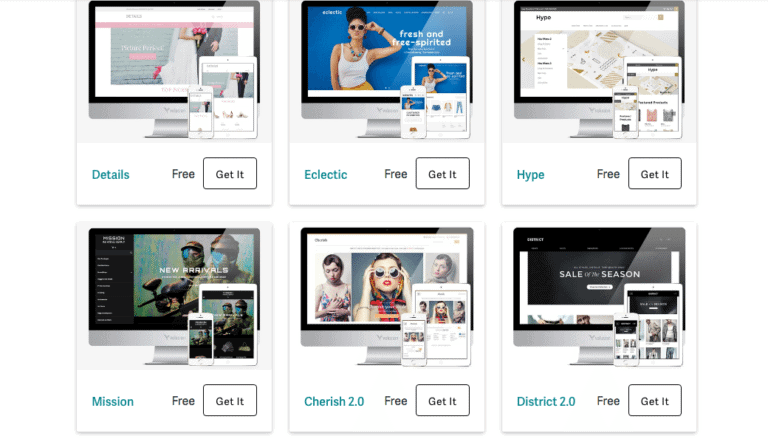 There are also premium themes available for purchase at $180.
To edit your theme, you can use Volusion's theme editor and WYSIWYG editor. Or, you can dive into the source code with HTML/CSS editors.
While Volusion and BigCommerce's available themes are similar in quality, BigCommerce currently has more options. BigCommerce wins this round.
Integrations and Add-Ons
Winner: BigCommerce
BigCommerce's app marketplace is stocked with 320 add-ons. While some of these are available for free, most are for purchase. BigCommerce also offers native integrations with eBay, Amazon, and ShipperHQ.
Volusion's marketplace features over 80 add-ons. These include popular options like MailChimp, Xero, and Quickbooks.
Both BigCommerce and Volusion offer APIs so your developers can build any missing connections for you.
I'm awarding this category to BigCommerce largely due to the number of add-ons available. In addition, BigCommerce offers some excellent native integrations with popular marketplaces.
Payment Processing
Winner: Tie
BigCommerce offers 40 payment gateways, so you can connect your site with your preferred payment processor. They also have an arrangement with PayPal (Powered by Braintree), which may give you a better deal than other payment service providers. Take a look at the screenshot below to see payment processing rates for each BigCommerce plan.
Volusion offers 30 payment gateways. They also offer their own in-house payment solution for US merchants: Volusion Merchant Services. Take a look at this solution to see if you can benefit from reduced rates.
Note: In my research of Volusion Merchant Services, I've seen a few rumors of hidden fees, contracts, and cancellation charges. Check our review of Volusion for more information.
Customer Service and Technical Support
Winner: Tie
BigCommerce and Volusion offer basically the same levels of support.
BigCommerce offers 24/7 personal support for all plans via email, live chat, and phone. They also provide a handful of self-help resources including a Resource Center, a Knowledge Base, webinars, Youtube videos, a community forum, and a design guide.
While in the past I've seen complaints about BigCommerce's support, current commenters are typically satisfied with their customer service experience.
Similarly, all of Volusion's plans (except "Mini") come with 24/7 personal support via phone, chat, and email. Self-help options include a Knowledge Base, webinars, video tutorials, and a Dev wiki.
I've seen mixed reviews about the quality of Volusion's support. While I've personally had good experiences, I've seen enough negative reviews to make me a little uneasy.
Negative Reviews and Complaints
Although both BigCommerce and Volusion are fairly reliable SaaS solutions, they certainly aren't perfect. Here are a few of the things customers complain about most frequently:
BigCommerce
The pricing change at the beginning of 2016: As I mentioned before, BigCommerce restructured their pricing at the beginning of last year. While this change made little difference to most merchants, a handful of sellers experienced a dramatic increase in price. For some, BigCommerce suddenly cost 800% more than before! BigCommerce only gave a couple of months notice of this change, which left these merchants feeling cheated.

Downtime: I've seen a few reports of downtime on BigCommerce's Twitter and Facebook.

Poor customer service: Reviews of BigCommerce's customer service are generally positive. However, there are still a handful of customers who complain about poor service.
Volusion
Bandwidth overage fees: Volusion charges $7/GB for bandwidth that exceeds your allotted amount. Make sure you choose the right plan for your bandwidth usage, or you may end up paying an arm and a leg in fees.

Dated software: Users often call Volusion's software "old school" and "behind the times." Volusion doesn't come with as many bells and whistles as most other modern SaaS solutions.

Misleading sales tactics: I've seen Volusion representatives (especially those based in the UK) blamed for bait-and-switch tactics. They are accused of overpromising and underdelivering.
Positive Reviews and Testimonials
On the other hand, BigCommerce and Volusion customers have a lot of good to say about their platforms. Here's what they like most:
BigCommerce
Ease of use: BigCommerce's dashboard is easy to navigate, and themes are simple to update.

Good customer support: The positive reports outweigh the bad.

Good SEO tools: BigCommerce comes with lots of built-in SEO features like customer URLs and an automatic sitemap.
Volusion
It works, no bugs: Volusion's software works well, with very few bugs.

Ease of use: Volusion users also love the platform's usability. It doesn't take much time to learn your way around the admin.

Good customer support: While there are plenty of negative reviews about Volusion, there are just as many positive.
Final Verdict
Winner: BigCommerce
While Volusion and BigCommerce are neck-and-neck in many categories, ultimately, BigCommerce wins out. With its diverse theme selection, more available feature set, and higher praised customer support, BigCommerce emerges the winner of this comparison.
Nevertheless, that doesn't make Volusion a bad option. If you're looking for a SaaS solution at a lower price range, and you don't mind missing out on a few features, you should take a closer look at Volusion. It may be just what you're looking for.
Either way, you should continue to research your options before you commit. Head on over to our full reviews of both of these platforms for more details on pricing and available features.