How To Choose Between Volusion VS Shopify
Expert Analyst & Reviewer

UPDATED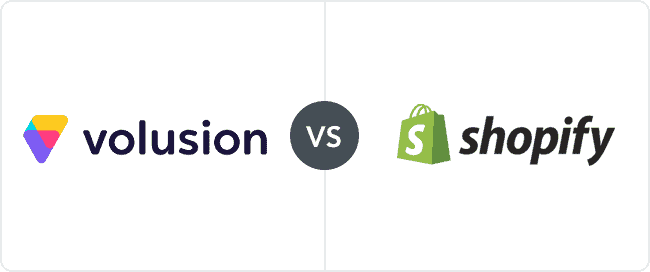 Volusion
Shopify
Features
Good
Excellent
Pricing
$29-$299/month
$9-$299/month
Ease Of Use
Good
Excellent
Customer Support
Excellent
Excellent
Reviews & Complaints
Fair
Excellent
Integrations
Fair
Excellent
Best For
Small businesses & startups looking for an easy-to-use, affordable eCommerce solution
Small to enterprise-size businesses looking for a full-featured, scalable eCommerce software
Visit Site
Read Review
Start Trial
Read Review
In head-to-head competition, both Shopify and Volusion come out strong. Each is a robust SaaS solution that provides web-based platforms for marketing and selling. Though they have their differences, they are comparable in ease of use, design, and price. So when it's Volusion VS Shopify, how do you choose?
Merchant Maverick is here to help!
We've compiled relevant information on each option to provide an in-depth comparison of the two platforms. Keep reading to see a head-to-head comparison of Volusion's and Shopify's offerings in categories like pricing, features, web design, and customer service. The goal is to give you the information you need to make the right decision for your eCommerce business.
In the crowded field of eCommerce platforms, both Volusion and Shopify stand out. Let's start with a little background information on each of these fully hosted shopping cart platforms.
Volusion Overview
In the years since its founding in 1999, Volusion has grown to power almost 60,000 sites and facilitated more than 185 million orders. They also developed an impressive customer list that includes Tiny House Coffee Roasters and USA Bride as well as Peterbilt and 3M.
While in the past Volusion has offered two versions of their software, they now focus on V2, which is the newer, more simple platform that's designed to get merchants selling quickly. It starts with a clean admin page that guides new users to choose a theme and customize their site with integrations like Discounts, Shippo, MailChimp, and more. It's easy to give Volusion a try. You can sign up for a two-week trial period without entering any credit card information, though you will need to provide and verify an email address.
Pros
Easy to use
No transaction fees
Free trial period
SSL included
Cons
Sales limits
Limited themes
No phone support on some service levels
Shopify Overview
Founded in 2004, Shopify is a Canada-based eCommerce solution that specializes in ease of use and elegant web design. Shopify hosts more than 1 million customers around the globe and helping to deliver products to more than 218 million people in the past year. Throughout its time in business, Shopify has facilitated over $100 billion in sales. Some well-known Shopify stores include the Lakers Store and Crabtree & Evelyn.
Shopify can deliver eCommerce solutions to merchants of all sizes, from startups to big players. You'll find everything you need to start and run an online store, including hundreds of apps and add-ons that integrate with Shopify's built-in features. Like Volusion, Shopify is known for its ease of use. Sign up for a free 14-day trial — there's no credit card required —and try out the user interface for yourself. The only information you'll have to enter is your name and address and the answers for a few very basic questions about what you're hoping to sell.
Though Shopify seems much bigger, is it much better? Read on to see how Volusion stacks up against its younger but larger competitor.
Pros
Easy to use
In-house fulfillment
Multichannel sales
Free themes
Cons
Transaction fees
No single-page checkout
Expensive apps
Don't have time to read an entire article? Take a look at our top-rated eCommerce solutions for a few quick recommendations. Every option we present here offers excellent customer support, superb web templates, and easy-to-use software, all for a reasonable price.
Volusion VS Shopify Features
Both Shopify and Volusion have some solid selling points. Each platform allows you to load and manage products, complete transactions, and ship products to customers. They're both mobile friendly, too. In fact, Shopify and Volusion offer several overlapping features, including SEO help, automated tax and shipping calculators, and reporting tools. Anything that's missing can likely be added from either platform's in-house app store. However, there are some important differences out of the box that could help you choose between the two. There are at least a few differences that are worth noting here:
| Features | Volusion | Shopify |
| --- | --- | --- |
| Inventory Management | ✓ | ✓ |
| MultiChannel Selling | ✓ | ✓ |
| SEO Tools | ✓ | ✓ |
| In-house Fulfillment | | ✓ |
| App Store | ✓ | ✓ |
| Guest Checkout | ✓ | ✓ |
| Automatic Shipping and Tax | ✓ | ✓ |
| Abandoned Cart Recovery | ✓ | ✓ |
| Discounts | ✓ | ✓ |
| Analytics | ✓ | ✓ |
| Unlimited Products | ✓ | ✓ |
| Unlimited Sales | | ✓ |
| Marketing Tools | ✓ | ✓ |
| Blog | | ✓ |
| Single-Page Checkout | ✓ | |
Checkout
Volusion offers at least one key feature that Shopify does not: single-page checkout. Although you can download an app to add this feature to your Shopify store, Volusion takes the lead by including it as a built-in feature. That may not create an insurmountable lead for Volusion, but it's a consideration as you compare the two services.
Transaction Fees
In 2018, Volusion eliminated transaction fees from all of its plans. Shopify has yet to follow suit. Expect to pay transaction fees ranging from 0.5% to 2% of each sale you make. The rate goes down as you choose higher-level plans. And you can avoid transaction fees on Shopify if you use the in-house payment processor, Shopify Payments. Be aware that you must apply for and be accepted to Shopify Payments, and some users have reported difficulty in the approval process.
Fulfillment
Shopify edges ahead in the features category when it comes to fulfillment services. Its in-house Shopify Fulfillment Network lets you know which fulfillment center you should ship your products depending on where your orders are coming from. You'll also be notified when inventory is running low, and you'll have the option of adding a custom packing option. While you will be able to pass off the pick-and-pull responsibility for orders, you'll maintain control from your admin dashboard. You'll pay storage fees to Shopify, based on square footage used at the warehouse, and a transaction fee for each sale.
Volusion partners with Shipwire to offer fulfillment services; and Shopify also offers different fulfillment integrations if you choose to work with a different provider for fulfillment services rather than shipping products yourself.
Sales Level
Volusion falls behind Shopify in another key area: Allowed sales. Every Shopify service plan, from the bottom to the top, allows you unlimited product listings and there's no cap on sales volume. Volusion, on the other hand, allows unlimited listings but caps sales on each plan. With caps at $50,000, $100,000, $250,000, and $500,000, you'll automatically be bumped up to a higher level plan once you hit the sales limit. While increasing sales is usually a good thing, finding you're paying more for your eCommerce platform can be a nasty shock.
Although both platforms deliver more than adequate solutions, Shopify has the edge when it comes to features. Check out our individual Volusion and Shopify reviews to learn more about each cart's feature set.
Payment Processing
Shopify offers a range of payment gateways, including 100 partner gateways and Shopify's in-house processor which lets you avoid Shopify's transaction fees. (You still pay processing fees to Shopify payments as to most other gateways.) Volusion, on the other hand, connects only to PayPal and Stripe.
Web Design
This is a category where Shopify unarguably holds the edge. While Volusion offers about 20 mobile-friendly templates, including free and paid options, Shopify offers more than 70 — and they're some of the best in the business.
While there's nothing wrong with Volusion's themes, they can't compare with the sheer variety of Shopify's offerings. Even better, Shopify's themes are easy to use and edit with a handy WYSIWYG (what you see is what you get) editor and HTML/CSS editors. To be fair, Volusion has a strong visual editor that lets you quickly change the look and feel of your site, and it's easy to use as well as practical. Still, Shopify offers a better collection of themes, period.
By the way, we also like that Shopify gives you a clean domain name that's essentially YourStore.myshopify.com, whereas Volusion assigned a domain name that contained the store name plus random letters and a .myvolusion.com extension.
Volusion VS Shopify Pricing
If you're looking at price as a deciding factor, you're probably going to be disappointed when you look at Volusion VS Shopify, because the numbers are close. Keep in mind that both platforms offer a free 14-day trial period — you can test out both sites and see which appeals to you more.
Volusion's pricing is based on three-months' prepaid service, though a slightly more expensive month-to-month version of each plan is available. That's an uncommon billing period for eCommerce platforms which typically offer a price break only at the 12-month mark. That could be an attractive feature for startups or eCommerce shops with limited cash on hand.
Volusion's Personal plan costs $26 per month and is good for sites with up to $50,000 in annual sales. That gets you unlimited products and storage, and online support. The Professional plan at $71 per month is good for up to $100,000 in annual sales, and it comes with telephone support in addition to online support. At that level, you also gain access to abandoned cart reports. Volusion's Startup plan at $161 per month covers up to $250,000 in annual sales and adds third-party gateways to the benefits list. Volusion's top plan, Business, starts at $269 per month and promises priority support and traffic growth consultation in addition to the tiered benefits of other plans.
Shopify offers similarly priced plans, with one addition: The Lite plan is just $9 per month and gives you an embeddable cart, the ability to complete face-to-face purchases, a buy button you can add to social media pages, but no standalone store. Billed annually, the main plans are priced at $9 a month, $29 a month, $79 a month, and $299 a month. Each step up in pricing includes more features and a lower transaction fee. All plans include unlimited products, 24/7 support, abandoned cart recovery, discount codes, and multichannel selling.
Again, Shopify still charges transaction fees even though most eCommerce platforms have dropped the practice. Merchants are not fans of these transaction fees. You may be able to have those fees waived if you sign up and are approved for Shopify Payments, the platform's in-house payment processor for US merchants.
Overall, Shopify and Volusion's pricing models are fairly comparable. The main difference is that Volusion offers three plans under $200 per month, in addition to its top plan, all of which cost less than Shopify's top plan. Combined with the fact that Volusion offers three-month plans, compared to Shopify's 12-month plans, that's enough to give Volusion a slight edge in the pricing department, despite its built-in sales caps.
Ease Of Use
Both Volusion and Shopify offer easy-to-use backends. Shopify is famous for its clean admin, easy to navigate features, and simple design. When you sign up for your trial of Shopify, you'll find a dashboard that looks a whole lot like this:
It doesn't take long at all to learn the basic features. Adding products, creating discounts, and publishing new content are all straightforward processes.
Volusion is similarly easy to learn. V2 places a strong focus on usability. Their dashboard uses colorful icons and simple language to help beginning merchants learn their way around.
Volusion does a lot of handholding in its daily operations. For example, when you go to add a product, you will be presented with a dropdown menu that guides you through the process of creating a product description. As an experienced marketer, I found this handholding a little annoying and the menu choices limiting. However, a new merchant may love the additional assistance. Either way, it's easy enough to skip the assistive function or to edit the basic descriptions you generate using it.
Volusion's UI needs a bit of work — in particular, it's lacking subcategories nested underneath each category in the toolbar. Click on Customers in Shopify's admin, for example, and you can choose from five subcategories: All Products, Inventory, Transfers, Collections, and Gift Cards. Click on the same tab on Volusion's admin, and your only choice is Start Adding Product. That lack of complexity may seem like a benefit to beginning users, but it will likely cause more experienced users to chafe.
Although I had little experience building stores, a quick tour of each platform's admin page left me feeling quite comfortable getting started with either platform. Both contenders are well-established in the market, and most of the credit is due to their focus on creating a user-friendly experience for first-time retailers. However, of the two, Shopify holds its edge.
Customer Service & Support
Both carts offer a variety of ways to get in touch.
Shopify offers strong customer service options. You'll be able to get answers to questions via several channels, including live chat, email, and phone support. Online support resources include a wiki and discussion forum, and Shopify even has a YouTube Help Channel.
Volusion also offers 24/7 live support via email, phone, and chat (with the exception of the Personal plan, which only qualifies for online support). There's also a robust Help Center with articles about designing your store, launching your business, connecting with customers, using and understanding analytics, and more. Users give mixed reviews about the quality of customer support, often complaining about long wait times. In our experience, Volusion has been quick to respond to inquiries.
Support is comparable between the two platforms. You should be able to find the helpful resources you'll need on either one.
Reviews & Complaints Of Shopify & Volusion
With few exceptions, the majority of users on both platforms are satisfied. However, no service wins over every user, all the time. If you're doing your own research online, you'll see that users have plenty of positive and some negative feedback for both shopping carts.
Merchants generally love Shopify's ease of use, killer templates, and strong customer support. Shopify users also like the cart's great uptime record and unlimited bandwidth. The main beef merchants have with Shopify? Transaction fees! (Remember that if you sign up for and are approved to use Shopify Payments, transaction fees will be waived, so that negative may not apply to your store.) Also, many users report that the cost of add-ons can add up. In addition, users dislike the lack of one-page checkout in the basic feature set.
Volusion's users appreciate the fact that the software is bug-free and easy to use. In addition, some customers report positive interactions with support representatives. Dissatisfied Volusion customers reported dismay at Volusion's "dated" software, meaning that Volusion is missing a few bells and whistles in their feature set. Customers also disliked that there's a limited number of free templates and the cost of the few available themes.
It's difficult to declare one negative review as better than another. It's a tie.
Integrations & Add-Ons
Winner: Shopify
Shopify offers an enormous number of integrations — 2,701 as of today — including tons of social media, shipping, marketing, and accounting plug-ins. In other words, if you think you need it, you probably can add it to your Shopify store. Most of the add-ons will come with their own price tag, of course.
By contrast, Volusion V2 integrates only with 29 applications. The saving grace is that one of those applications is Zapier, a service that allows you to connect to more software services. Unfortunately, Zapier comes at a cost, though there is a limited free forever plan. We hope Volusion continues to build out its app marketplace in the future.
In addition, Shopify and Volusion both offer APIs, so you can develop extensions and integrations for yourself. In the end, we award the win in this category to Shopify due to their overwhelming number of options.
The Key Differences Between Volusion & Shopify
Overall, Shopify seems to be a more sophisticated platform that's ready to grow with your business. That's not to say that Volusion can't meet your business needs, because it is more than capable. You may find yourself working harder to customize a Volusion eCommerce site, compared to a similar Shopify store. Here are some of the key differences.
Pricing Models: Although both platforms offer similarly priced service levels, Volusion offers a greater variety of plans and can help you choose the right plan for your needs, without paying for extras. Be aware that Volusion's plans include sales limits. We do like the $9 monthly plan Shopify offers: If your eCommerce goals are limited, you can use it to add a Buy button to your social media pages, without putting too much of your budget toward an online store you won't really need.
Web Design: You can use either platform to create a professional looking online store that fits your brand and meets your eCommerce goals. However, Shopify offers more options that let you find a site you really click with.
Add-Ons: How many add-on choices does one eCommerce store really need? The answer probably is somewhere in between the 29 add-ons Volusion offers and Shopify's 2,700. To be fair, though Volusion's offerings are few, they are excellent, and you may find it's a good thing to have fewer integrations to spend money on.
Payment Processing: Is this another area where there can be too many options? Volusion offers two: PayPal and Stripe. If those are the payment gateways you're already using or drawn to, this is a non-issue for you. If you lean toward any of the myriad gateways Shopify integrates with, pay attention to this key difference between the two platforms.
Transaction Fees: You really can't expect to avoid paying processing fees to your payment processor; there's an industry standard that you need to factor into your business plan. However, Shopify stands nearly alone among shopping cart platforms in charging transaction fees in addition to the processor fees. Those fees range from 2% to 0.5%, depending on the service plan you select. Yes, you can avoid those added fees by using Shopify Payments exclusively, assuming you qualify. Will that work for your business model?
Volusion VS Shopify: Which Is Best For My Business Needs?
Once again, when it comes to Volusion VS Shopify, you're looking at two good options that enjoy wide support in eCommerce circles. Each site does have a greater appeal to some types of users.
Choose Volusion If …
Volusion is a good choice for your eCommerce site under these conditions:
You have stable sales and do not expect sales growth to force you to pay for a higher level of service.
You are comfortable with a limited number of quality integrations and aren't looking for endless bells and whistles.
You operate on small margins and don't want to lose any unnecessary portion of each sale to transaction fees.
Choose Shopify If …
Shopify will be the right choice for your eCommerce venture when the following are true for you:
You're ready to set up a sophisticated store and want to use multiple integrations to manage every aspect of the process.
You are hoping for robust sales growth and don't want your service plan to be tied to sales limits.
You want a lot of options for designing a storefront that matches your style.
Comparing Volusion VS Shopify: The Final Verdict

In the end, the facts lead to one conclusion: Shopify wins the day. With its focus on usability and aesthetics, with a commitment to ongoing improvements, Shopify is a hard platform to beat.
However, that doesn't make Volusion a bad option. Volusion is a good solution for many small businesses. This cart offers features that should meet the needs of most beginning merchants, and its web design tools are continually improving.
If you still can't decide between Shopify and Volusion, I recommend that you sign up for free trials of both platforms. Or, take a look at our favorite eCommerce solutions for more options.